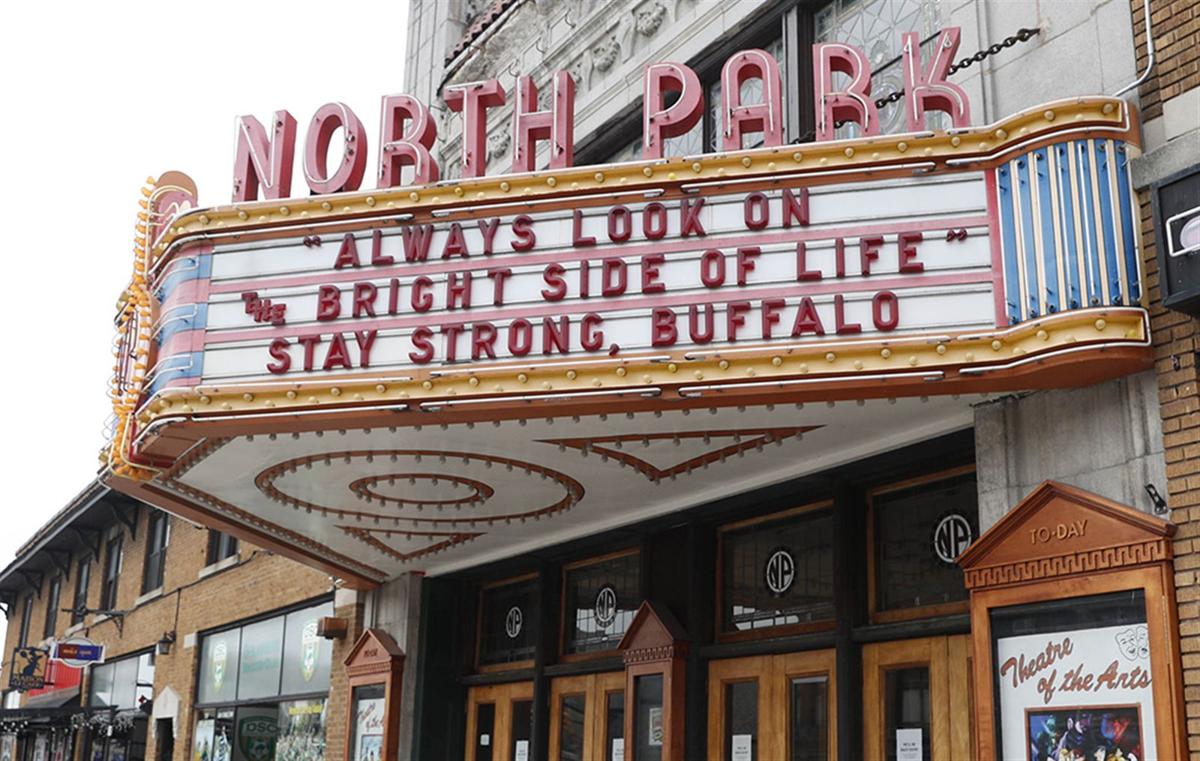 A couple of critics are sitting in the North Park Theatre watching a screening of Christopher Nolan's $200 million blockbuster "Tenet," the movie whose earlier release some months ago attempted to whet again the American public's old-style appetite for big zillion-dollar movies.
That appetite, sadly, remained discreet at best for "Tenet." But then, in so many places around the country, moviegoing itself was verboten, leaving a movie like "Tenet" in limbo.
Outside of us critics – socially distanced and properly masked – the North Park's marquee paid tribute to a great figure from another moviegoing age, whose like we are unlikely to see again. His name was Norm Dechert, the devoted North Park Theatre manager who truly loved the North Park and movies and audiences. People loved having a sweet older man asking how they liked the movie they just saw.
Mr. Dechert began working at the North Park in 1966 as a projectionist with the International Alliance of Theatrical and Stage Employees
As we critics watched the "Tenet" screening, it confirmed for me that, no, there is nothing in the world like a big movie shown with big sound in a big auditorium – especially if the circumstances had permitted a big crowd around us discovering, at the same moment, a dandy action and smartly envisioned blockbuster contrived out of a sci-fi premise that is pure mumbo-jumbo.
Movies are back – provisionally, as so many other things are in this pandemic world. That's what the widespread Buffalo appearance of "Tenet" means. It was a much-awaited film. Nolan, after all, is the fellow who has already given us "Insomnia," "The Dark Knight Rises" and "The Prestige," terrific films all. "The Dark Knight Rises" was, in my view, a nine-figure art movie whose lack of an Oscar nomination caused a Motion Picture Academy trauma that is still going on.
Audiences will, of course, have to be socially distanced and safely masked when not eating. In other words, the primal pleasure of movie going – the close communion with a packed house – can't happen again yet. Yes, you'll all be seeing it together, but sparsely seated with circumscribed numbers of others – just the way we critics have been seeing movie screenings, often, for decades.
"Tenet" is a lot of hooey about science inventing a way for time itself to invert – i.e., move backward. On first demonstration, our attention is called to a bullet that wasn't fired but was, in fact, zipped back into the gun.
A ton of mumbo-jumbo, at that point, is sure to overwhelm us, and good God, does it ever. But watching all those elaborate film images packed with people and vehicles and machines going forward and backward in time simultaneously is the sort of nutso visual splendor for which movies were invented.
My favorite bit of business in the film, in fact, isn't from its generous supply of massive heavy metal (wait until you see the newfangled helicopters), but was, in fact, the sight of a guy moving backward in time across the floor with spiderlike weirdness. It was as if going the wrong way chronologically had made him resemble a giant insect.
Did you ever go to the movies in a Buffalo theater between 1980 and early 2020? Jeff Simon says that film exhibition climate is no more. 
Remember "The Matrix" movies? Utterly indecipherable for many of us, but who cared because all those delirious martial arts scrimmages with Keanu Reeves and Co. were so much fun to watch?
That's the kind of fun that is, at long last, available to Buffalo again for audience members willing to brave going to movie theaters.
A great movie it most definitely isn't. But a great reminder of the kind of great fun you've had in moviehouses it very much is.
So what else is available now in moviehouses in this test period?
What "Tenet" makes obvious is that a certain kind of big movie is ridiculous when watched minimally even on television, much less desktops, tablets and phones. A miniature is a miniature is a miniature. On the other hand, shrinking others is just fine. That seems to be the case with these.
"The Empty Man": Scare the post-teens in Halloween season. It seems to be about a scary boogie man who doesn't really know how to boogie. It's in the new tradition of filmed urban legends and/or things trying to sound like urban legends.
"Unhinged": Road rage with Russell Crowe as the rager and Caren Pistorious as the suburban mom who's the ragee.
"The Honest Thief": Neeson action flick, a la "Taken," but lower grade. A former bank robber falls for a woman, yearns to give the money back and go straight, but is stopped by crooked FBI agents.
"The War with Grandpa": It's too easy to make sport of all the dreadful milquetoast comedies Robert DeNiro has made in the past 20 years. You always have to remember how much politicking and money-raising is required to keep his Tribeca Film Festival flourishing annually. In this one, a grandson connives to get his bedroom back from Grandpa after the old boy moves in. Believe me, DeNiro's presence is the only reason Uma Thurman and Christopher Walken are in the cast.
"The Broken Hearts Gallery": Post-teen (emphasis on "post") romantic comedy in which ribald young women invent a gallery immortalizing artifacts from when they were dumped. Look at the trailer, hear the joke about "sexual listerine" and you'll know exactly for whom the film was made. My guess is they might actually find it funny.
"The New Mutants": A creepy hospital for Halloween. Lots of those in film history, as you know.
"On the Rocks": The other substantial film of this week. The new film written and directed by Sofia Coppola and starring Bill Murray. Their first was the marvelous "Lost in Translation." This one has Murray and Rashida Jones playing a father and grown daughter.
Oldies-but-goodies and oldies-but-not-so-goodies fill out the programs in our new opening week, testing out Buffalo movie audiences.
Stay up-to-date on what's happening
Receive the latest in local entertainment news in your inbox weekly!