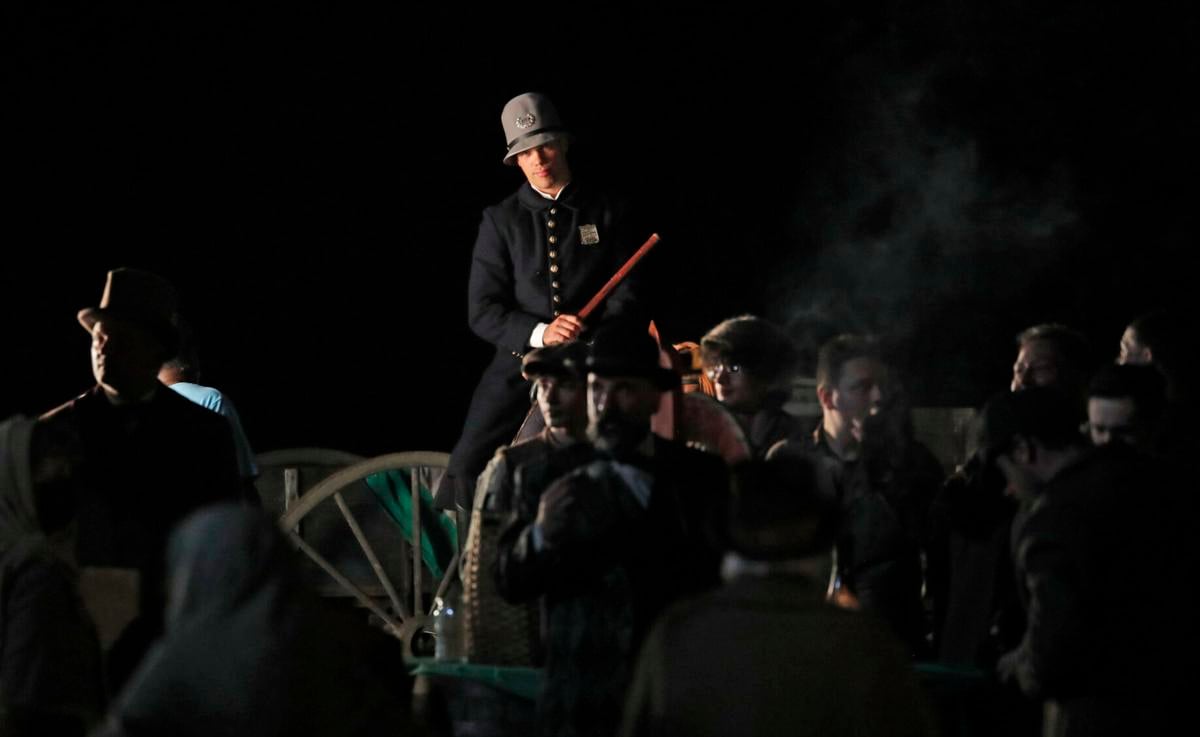 Class war broke out on a movie set in Delaware Park Thursday and Friday nights, in scenes filmed for a movie with the working title, "The Untitled Cabrini Film."
Francesca Cabrini is hoping to chip away at the New York gentry's anti-Italian bias by staging an Italian festival with an opera star and food vendors. More importantly, the nun wants to pry away contributions to build desperately needed hospitals, orphanages and schools for immigrant children.
Things go well at first. Men in top hats, gesturing with cigars, and female companions adorned in long dresses and flowery hats show their approval for an outdoor puppet show, with hardy laughs and a resounding round of applause at its conclusion.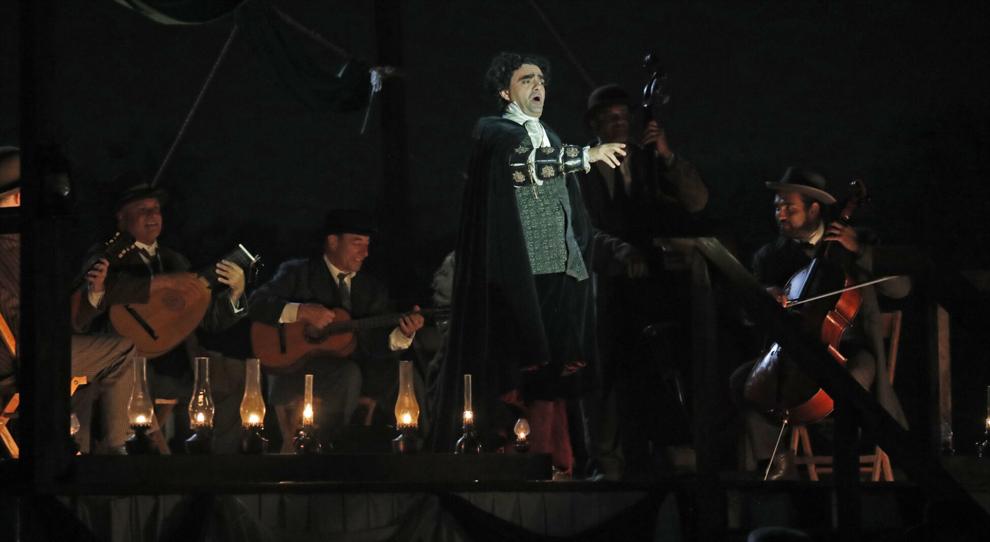 The well-heeled are in their seats a little later to watch the opera singer – historically based on Enrico Caruso – when a suspected Italian pick-pocket is singled out in the crowd and beaten by a policeman on horseback. Chaos ensues, nattily-dressed Italians scurry and Mother Cabrini's hopes are suddenly upended in what proves to be a temporary setback.
"Cut!" director Alejandro Monteverde yelled.
The elaborately choreographed scene, full of directorial stops and starts, on Friday alone called for 237 extras, according to the daily call sheet: "120 wealthy Americans, 60 poor Italians, 3 police officers, 15 Italian vendors, 30 orphans" and a band of nine "paisanos."
Watching carefully both nights in the grassy field on the south side of Hoyt Lake was Rob Barr, who helmed the screenplay and co-wrote the story with director and longtime collaborator Monteverde.
"It's always more heightened, more powerful and more interesting than I imagined," Barr said of how his words take flight in a motion picture.
The film, which is being filmed in both English and Italian, began principal photography July 16 in Buffalo, which portrays the 19th-century New York City neighborhood of Five Points. The film is entirely filmed in Buffalo with the exception of two days of shooting in Rome.
Starring as Mother Cabrini is Cristiana Dell'Anna, known for her role in "Gomorrah." Other cast members include opera star Rolando Villazon, David Morse, John Lithgow and Montserrat Espada.
Monteverde, production designer Carlos Lagunas Hernar and cinematographer Gorka Gomez Andreu were responsible for developing the film's look.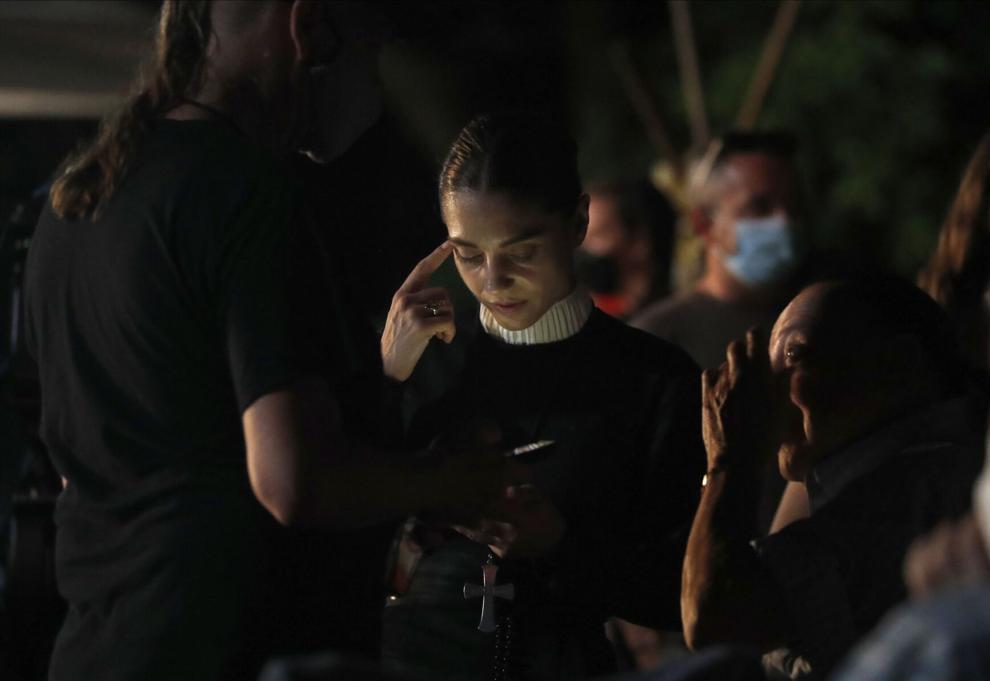 Cabrini was born in what's now Lombardy, Italy, and died in 1917 in Chicago. She was the first U.S. citizen to be canonized by the Catholic church.
"Mother Cabrini was such an amazing woman, and it's an inspirational story that I think will have broad appeal," Barr said. 
Barr's thrilled to have Dell'Anna in the lead role.
"There was a moment when I saw her during her screen test that I knew we were going to be fine," Barr said. "It's like a writer's dream – you know the whole movie depends on that one person and their ability to deliver nuance and power and vulnerability and a million other things you haven't even thought of. She's off the charts good."
Dell'Anna arrived in Buffalo ahead of schedule to immerse herself in her role.
"I came to Buffalo a month prior to shooting, which is the best thing I could have done," she said.
Dell'Anna became familiar with the serenity of Hoyt Lake by regularly taking a seat on a bench, close to the Marcy Casino, in preparation for her role.
"I literally came almost every day," Dell'Anna said. "I tried to be as alone as possible to try and go through the script several times to understand the character and the story, and it served me really well." 
Federico Ielapi, who plays Paolo, an Italian child, is one of the film's most experienced performers. He has appeared in 25 movies in Italy and just turned 11 last month.
"Paolo is really a street guy, and I'm a bit like Paolo, not a lot," Federico said. "I love it."
He also likes wearing "old movie costumes," he said.
"For Federico, it is a dream because when he was younger than he is now he wanted to go to the United States to shoot a movie," said Tanya Ielapi, his mother. 
The film has been an exciting opportunity for hundreds of extras. 
Julia Polisoto is one of them. The East Amherst native studies acting at a conservatory in Pittsburgh, and was wearing an evening outfit in rusty orange, with a burgundy lapel and petticoat and corset underneath.
The costume designer told her the dress was from the 1880s or 1890s, she said.
"I play a wealthy American and my job is to walk through the crowd, look at the immigrants with a little bit of disgust, and then take my seat for the opera," Polisoto said, before, on cue, she began walking through a throng toward the stage.
Jerry Caci is also an extra. He can't speak or hear but was able to receive instructions on how to do his scene from someone on the set who knows sign language.
Caci also has an app on his phone that translates words for him to respond to. 
He pantomimes a scene with Frederick Gazzoli, another extra.
"The people on the set have been so patient and understanding in making an effort to make sure he's comfortable," Gazzoli said.     
Locations for "The Untitled Cabrini Film" have included Lafayette Square, a three-block backlot on Elk Street, St. Paul's Episcopal Cathedral and InnBuffalo off Elmwood.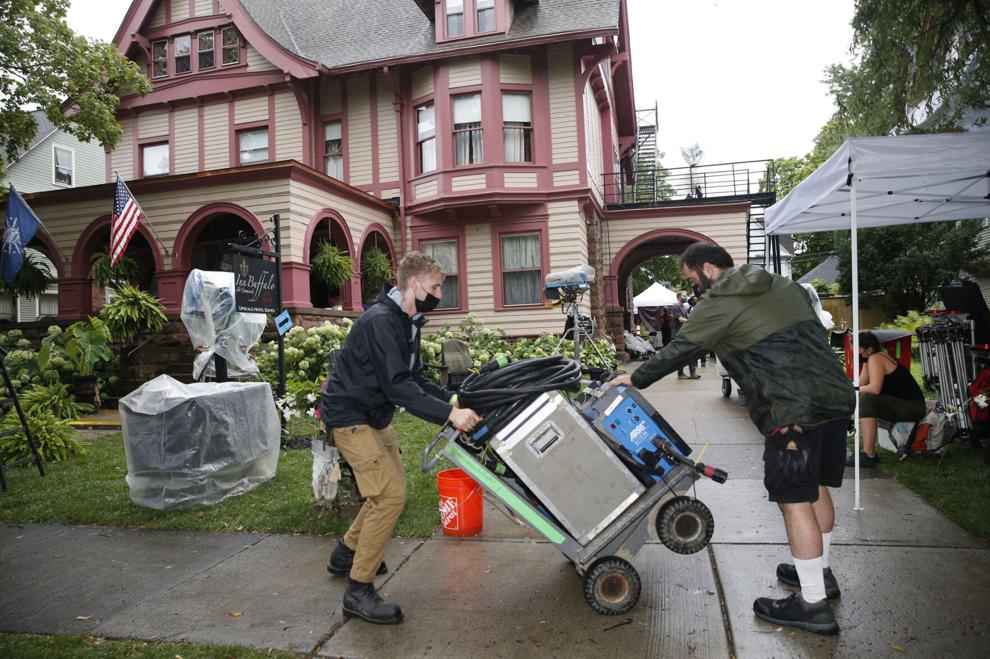 The inn, located at 619 Lafayette Ave., was converted into a movie set Tuesday and Wednesday nights. 
The billiards room became a kitchen, the library, outfitted with cots, was turned into an orphanage, the living room was converted into a school classroom and the dining room became a play area.
Cedar shake and chestnut timber were used on the back of the house to resemble the building's original design for filming a garden scene.
"The way it translated onto the screen was nothing short of remarkable," said Joe Lettieri, the inn's proprietor.
All 11 bedrooms were rented for the week. Some were used by cast members as makeup rooms or spaces to relax.
Ellen Lettieri made her signature blueberry scones both days "for everyone from the movie stars to the production people," Joe Lettieri said.
Lettieri had the secret agenda he always has for the inn: "I wanted to make each person a Buffalo ambassador."
He need not have bothered. 
Interviews during breaks in the filming revealed that's already happening.
"Buffalo's been fantastic," Barr said. "The locations are amazing and the people are very welcoming. I've been to places where the filming is hard but the life outside it is even harder, and Buffalo makes it easy."
"I love Buffalo, and the architecture is spectacular," said Jonathan Sanger, the film's producer who previously filmed "Marshall" in Buffalo. 
Sanger said the hospitality offered by the Buffalo Niagara Film Office is unmatched.  
"The film office here is spectacular – they are the best I've ever worked with," he said. "They really, really go the extra yard. The mayor has also been great to us."
"Buffalo's cute – I like it," said Sarah Santizo, who plays Sister Margherita. "I went to Niagara Falls and had Buffalo wings." 
Count Dell'Anna in the Buffalo fan club, too.
"What I've seen is amazing," said Dell'Anna, who grew up in Naples and lives in Tuscany. "The food is great, the architecture is amazing and the people are so friendly, which I never take for granted.
"It's been nice to be surrounded by such a welcoming community," she said.
Mark Sommer covers preservation, development, the waterfront, culture and more. He's also a former arts editor at The News.