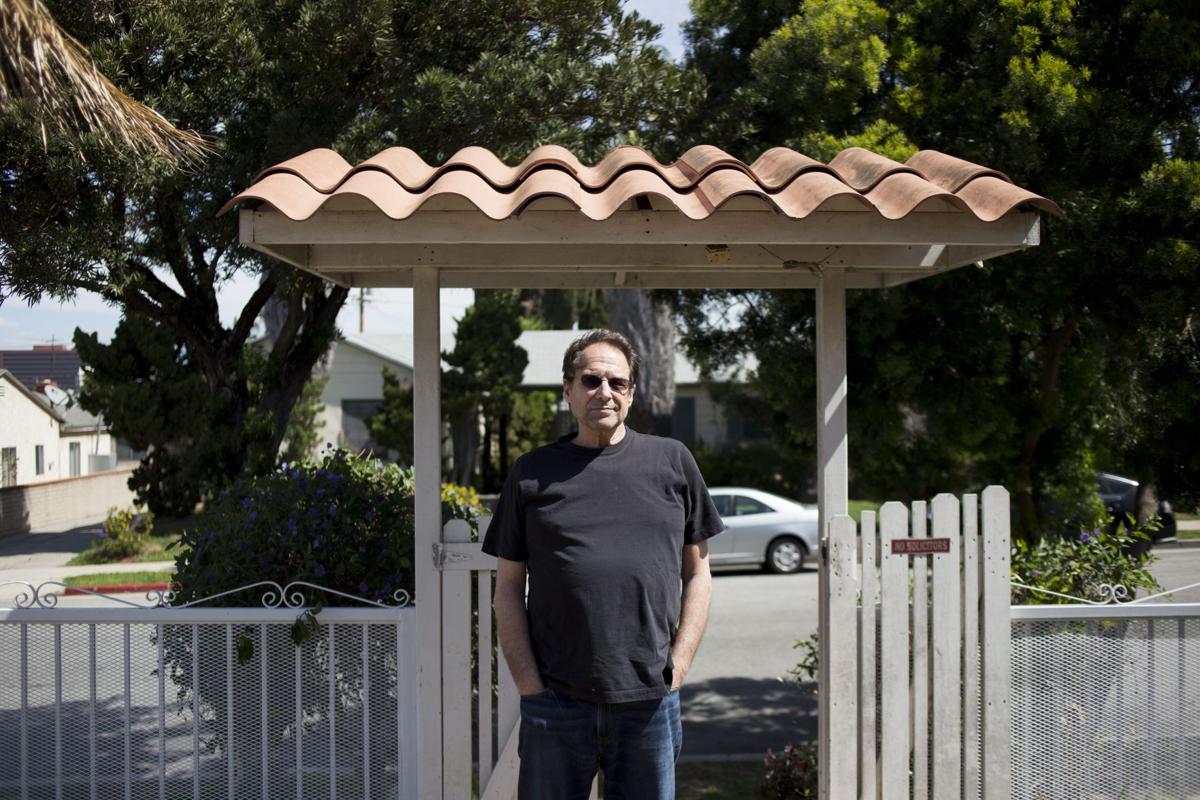 SANTA MONICA, CALIF. – David Milch points to a framed black-and-white photo of a man in a suit, clutching a rake, cleaning a pile of garbage.
"It's my wife's idea of my mind," he said. The debris, piled high and towering like a mountain, represents the past. The rake is twice the height of the man. "His instrument is more powerful than he is," Milch said.
Milch's instrument is writing. It, too, is more powerful than he, and it happens here in this small room inside a small blue house on a Santa Monica side street. This house is the office for Milch's company, Red Board Productions. It's nice, but nice as in modest, not glamorous. The house has white lattice trim. There's a picnic table on a patchy front lawn.
This is where Milch makes stories. This is his Hollywood.
It's not what you'd expect from the Buffalo native who created shows like "NYPD Blue" and "Deadwood," the man who racked up dozens of awards and many tens of millions of dollars for his writing. Some of those awards – a plaque of his star from the Hollywood Walk of Fame, a handful of Humanitas prizes, a pair of Peabody trophies, "the ones I didn't sell," Milch said – are in the next room over. So is a cream-colored couch with a yellowish stain. "This is a lovely sofa," said Milch, wearing a dark T-shirt and jeans. "I don't know what this is. Wax of some kind?"
On WBFO: Tim O'Shei reports from Santa Monica, Calif., where Milch, at 71, is rebuilding his life while working on his next projects for HBO
The place has the feel of a startup production company, one started by a scrappy pair of young producers who scraped together some money, salvaged some furniture and masked their bare-bones operation with unbreakable self-belief.
But it's not. This is the headquarters of a 71-year-old Hollywood legend, a man who's widely considered to be one of the most celebrated writers in television history, a man whose creativity danced with demons to bring him to this place.
On the wall above the sofa are index cards with the names of characters from "Shadow Country," a novel Milch is adapting for HBO. Steps away, in the writing room, are stacks of treatments and scripts for a revival-to-be of "Deadwood," his acclaimed HBO series set in the lawless Wild West.
There's a painting, done by his wife, Rita Milch, with colorful splashes of greens and blues. It shows the Milches' estate on Martha's Vineyard, the place where they used to bring their three now-grown children. They don't go there anymore. That place, along with their Southern California mansion, was put on the market. Today, the Milches live in a Santa Monica rental home. They're in debt – $17 million of debt – according to media reports.
But they don't seem unhappy. They don't seem defeated.
"Today I'm blessed to be relieved of certain obsessions that have organized my behavior in the past," Milch said in his soft growl of a voice. "Is that adequately euphemistic?"
Milch is writing. He's teaching. And the only bets he's making are on his own creative muscles.
Growing up in the Delaware-Amherst area of Buffalo, Milch, a Nichols School graduate, was the second of two sons. His father, Elmer, was a physician; his mother, Mollie, served on the Buffalo Board of Education. Milch's family was close-knit, he said, but didn't spend a lot of time doing things together. The influence of his father ran deep. Elmer Milch, said his son, had three primary interests: his family, his profession, and horse racing.
David's older brother, Robert, embraced one of his dad's passions and became a doctor. David latched on to another: Horse racing.
Starting at age 6, David traveled with his father every August to the races in Saratoga. "He was kind of an elusive figure in my life," David said. "That was about the only thing we really did together."
On that first trip, Elmer Milch handed David a $20 bill and had the waiter run his little boy's bets. David won a third of his wagers that day, "but I kept all the tickets," Milch wrote in his 1995 book, "True Blue." Those early lessons in handicapping and wagering stoked what became a fiery obsession. As a wealthy television writer and producer, Milch became a horse owner and won two Breeders' Cup races. Milch was a big bettor, winning – and losing – loads of money. (He also parlayed his passion for breeding into an HBO series called "Luck," starring Dustin Hoffman. It was canceled in its first season after the deaths of multiple horses raised animal-welfare concerns.)
"I think that the interest in horse racing was very much of a permutation of my relationship with (my father)," Milch said, "so there was a driven-ness to it, and a compulsion that … wasn't necessarily one of the best parts of my life."
Milch has battled a battery of demons: drinking, drugs, death.
He had a young friend in Buffalo named Almon – nicknamed "Judgy," after his grandfather, who was a judge. "He looked like Puck, like a clownish figure, a bit of a devil," Milch said. "Great grin, always looking for trouble, and it tended to find him."
Milch and Judgy drank. A lot. One night, Milch recalled, Judgy had a 106-degree fever and was standing by a second-floor railing. He leaned over and toppled, falling to the first floor and landing on his bottom.
"He got right up," Milch recalled, "and I had the sense at that moment that this guy was immortal. Nothing was going to take him."
Milch doesn't recall all the details – he thinks this happened in Ithaca, "but I'm probably wrong" – but Judgy was killed in a car accident. He was just out of high school.
Struggling to make sense of his friend's death, Milch coped by writing. He penned a story in which he imagined Judgy's family from the time of his death until his funeral. By the time he wrote the story, Milch was 19 or 20 and a student at Yale University. He decided to show it to one of his English professors, the poet and novelist Robert Penn Warren.
"It looked like a very formed and conceived piece of work," Milch said. "It wasn't, but Mr. Warren saw something in it."
Warren took the young writer on as an apprentice of sorts, having him read drafts of poetry, and later involving him in a multiyear project studying the work of great American writers. After Milch graduated from Yale, Warren set up Milch with a teaching fellowship at the University of Iowa's Writers Workshop, where literary luminaries including Kurt Vonnegut were on faculty.
That time became a hazy period in Milch's history: He briefly enrolled in Yale Law School for a draft deferment, got mixed up with guns and drugs, ended up for a time in Mexican jail. "I was in a little trouble," Milch said, offering no details. "I was more or less in and out of trouble pretty continuously."
After his stint locked up south of the border, Milch ended up back in Iowa, where he studied for his master's degree and, according to a 2005 profile in the New Yorker, had a side job manufacturing dope. Following that, he returned to Yale, now as a teacher and still working with Warren. He met a young woman named Rita Stern, fell in love, and they married in 1982 – the same year Milch moved to Hollywood and began writing for the cop show "Hill Street Blues." He eventually became executive producer of the show, earning enough money to fly to Vegas every night to gamble, then jet back to California for work the next morning.
If "Hill Street" established Milch financially – according to that New Yorker profile, he earned $12 million on a three-year contract – his next big move etched his place in Hollywood history: With his former "Hill Street" boss Steven Bochco, Milch created the landmark cop show "NYPD Blue." Bochco ran production; Milch ran the writing. With edgy language – a Milch hallmark – and occasional nudity, the ABC series, which ran from 1993 to 2005, redefined network TV boundaries.
It also made Milch a fortune, one his demons would wrest away.
"Listen, where there's a will, there's a way," he said wryly at a 2006 Storytellers Series talk organized by the Writers Guide Foundation. "I have (lost) millions and millions of dollars. There is not an amount of money that a writer can earn that I can't blow."
Milch, with the slightest smile curving his lips, was talking about horse racing. His audience laughed. They probably thought he was joking, or at least exaggerating. He wasn't.
"How the $100 Million 'NYPD Blue' Creator Gambled Away His Fortune."
That February 2016 headline turned heads and dropped jaws. The Hollywood Reporter claimed that Milch, whom the publication estimated earned $100 million in his career, is $17 million in debt and on a repayment plan with the IRS.
It also claimed Milch, a race-track fixture, had lost $25 million gambling between 2000 and 2011. A lawsuit filed by Rita Milch against the couple's business managers Nigro Karlin Segal Feldstein & Bolno LLP claims she wasn't kept fully informed of his large withdrawals.
To prevent her husband from gambling, Rita Milch provides him $40 a week in cash.
The article also said the Milches put their Brentwood, Calif., mansion and Martha's Vineyard estate on the market, and sold personal items to raise money. (The Brentwood home sold in 2014 for $4.8 million.) They now live in a rental home not far from the house converted to an office for David's company.
In separate interviews with The News, both David and Rita Milch acknowledged the story was accurate. Rita Milch noted some of the figures were off, but declined to clarify them, citing ongoing litigation.
Though neither discussed the lawsuit in depth, both are open about David's struggles, which they say are in the past.
"All I do is work and be with my family," David said.
"That is true," Rita said in a separate conversation. "We have cleared away all the rest." Then, laughing softly she said, "Oh, Dave … "
In a telephone interview, Rita's devotion to her husband is clear and unwavering. Asked why she fell in love with him many years ago, she said, "His mind, his sense of humor, and his generosity. Those are three pretty good ones, right there."
She laughed softly, and continued. "I've never met anyone else like him, that compares to him," she said. "Yeah, he's complicated and he can be difficult, but he's also wonderful and generous and sweet and to me, very touching. He just melts my heart."
Milch speaks of Rita in equally endearing terms. He says she raised their children – Elizabeth, 32, who works for Genius.com; Ben, 30, an artist; and Olivia, 27, a screenwriter – "pretty much on her own, and they've turned out wonderfully well."
"There's no question that had I not been blessed with that relationship," he said, "things wouldn't have turned out well."
Did his wife save him? Milch pondered the question for a beat.
"Sure," he said. "Sure. Not by grabbing me by the scruff of the neck, but simply by not participating, and judging as minimally as possible. So during momentary bouts of lucidity, I always saw what was possible, if only I'd stop."
Here's what's possible: Despite the financial tremors and attention on his personal life, Milch is still writing. Under his deal with HBO, the network sometimes tells him what to write. An example of that is the adaptation of "Shadow Country," a novel by Peter Matthiessen set in the 1900s about a land developer who is also a serial killer.
Milch also can pitch projects of his own creation, such as the revival of "Deadwood," likely to be released in one, possibly two, film-length installments.
Milch's unorthodox creative process is rooted in his long battle with obsessive-compulsive tendencies: He never touches a keyboard when he writes; it's a distraction. Instead, he sits in a black leather chair and verbalizes the script. One of his assistant writers, a muscular, tattooed man named Scott, types Milch's words from behind a desk. One computer screen faces Scott; another two are turned outward, toward Milch, who sees the script develop in front of him. He'll revise – and revise, and revise – until each sentence achieves perfection.
Earl Brown, an actor on "Deadwood," compared Milch's writing process to watching a piece of coal being compressed into a diamond. "I thought that was such a beautiful way to put it," said Rita Milch.
"It's kind of an intuitive process," Milch said. "I wish that it were more systematic, but it just isn't. Someone said, 'Man's accidents are God's purposes. We miss the good we seek, and we do the good we little sought.' You've just got to stay available to doing the good you little sought."
Here's what else is possible: Milch is still teaching and mentoring. Twice a week, sometimes more, actor Michael Harney, who worked for Milch on "NYPD Blue" and "Deadwood," comes to the office with his 17-year-old son Dylan, who is autistic. Dylan writes and shares his work with Milch, who gives feedback.
The invitation to write was extended by Milch during a lunch with Harney. Milch asked the actor how Dylan was doing in English class, and Harney said, "He's doing OK. It's kind of standardized, how they're teaching it."
"Well, I can teach it," Milch said to Harney, who at first thought Milch was joking. But it was a serious offer.
"Bring him in," Milch said.
So Harney did, and soon began writing alongside his son in the room with the old couch and the awards that haven't been sold. Dylan writes about his observations and feelings. His father, who often has played the role of law enforcer on camera, has been working on poetry, short stories and screenplays.
Rita Milch said her husband does "some of his best thinking" when he's teaching. David Milch takes it further. He's his "best self," he said, when teaching.
"You want to be your best self, and that happens at least 2 percent of the time," he said. "But typically your best chance to be your best self is when you're teaching. It's because you respect yourself. So much of what we do is shame-based, and when you're teaching, you have the opportunity to answer to the best parts of your nature, so I'm always grateful for that chance."
For Harney, who's spent Dylan's entire life fighting for his son's "right to be heard, to be seen, to participate," Milch's interest has been life-changing.
"David never wrote him off," Harney said. "He just says, 'Hey man, what do you got? Keep going. What do you got? Keep going.' "
Which is what Milch does, too: He keeps going.