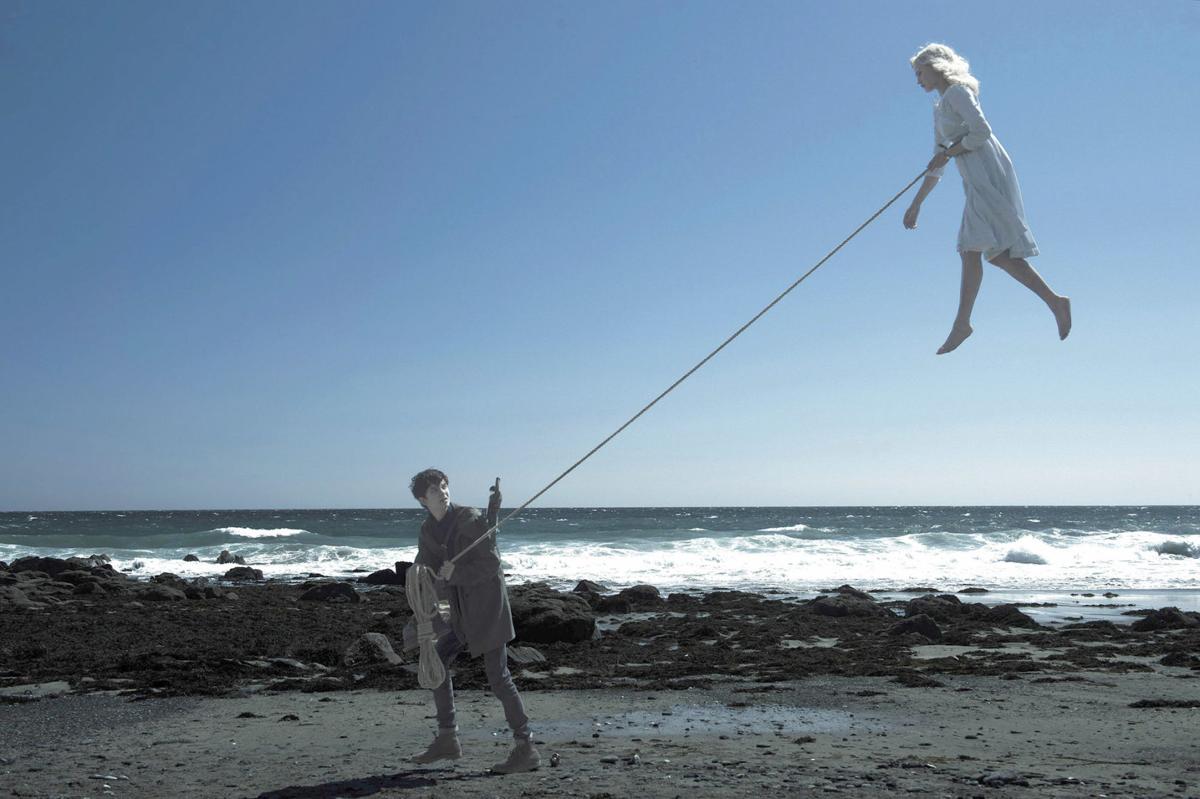 It's tough to choose, that's for sure.
My personal favorite of the "Peculiar Children" in Tim Burton's "Miss Peregrine's Home for Peculiar Children," is Fiona I think. What makes her "peculiar" isn't quite as showy or as weird as some of the others but I can't help it.
She can't , for instance, devour a chicken leg with a second, tiger-like mouth in the back of her neck the way Claire can. She isn't the strongest girl in the world, either, as Bronwyn is. Millard is invisible and Enoch can, ever-so-briefly, bring the dead back to life in case they're needed to do battle against monsters.
The "peculiar" that we're supposed to love the most is Emma. She's played by Ella Purnell, a lovely young actress with a wide-eyed kind of beauty you've not seen before. Emma is, literally, lighter than air. If she weren't wearing heavy iron shoes she'd just float away. At the same time, she can do anything with air she wants to - like blow enough air into a sunken ship to make it rise again and float.
They're all good, but Fiona's peculiarity is the one that made me laugh. She can make things grow to giant size in seconds. This is a little girl with the world's greenest thumb.
When Miss Peregrine observes that the handful of "peculiar children" in her charge could use some vegetables for dinner, Fiona instantly makes a carrot grow in the earth that's the size of a felled tree log and then hauls the 15-foot behemoth with her into the kitchen - presumably for washing, chopping, mixing with dressing and other veggies.
Wegmans and Tops could use this kid.
Let me recommend that little game for anyone caught lugging kids to and from "Miss Peregrine." A rousing game of "Who's your favorite?" could well fill car rides home nicely for certain kinds of kids.
I wish the movie were always that gripping. There are, alas, many slack spots where the attention of young and old alike is liable to wander and eyelids get heavy.
Nevertheless, this is one of the better movies Tim Burton has made in a while. He has, in the 21st century, all-too-often succumbed to being a movie brand expected to produce box office rather than an artist. I prefer the artist - an early life reject from the Disney animation corps who has made all sorts of gloriously macabre fantasies ("Batman" and, especially, his masterpiece "Edward Scissorhands.") I hated what he did to "Alice in Wonderland" but I understand why it was a box office hit for parents who needed their local megaplex to babysit for a couple hours.
In this movie, discipline was required. He needed to stick with some fidelity to the Young Adult Bestseller by Ransom Riggs who, as a child, actually went to a Florida School called the Pine School for the Gifted.
"Peculiar" is the newest Burton film shot, in part, in Tampa, Fla. "Edward Scissorhands" was shot there too and, when it's at its best, "Peregrine" reminded me a tiny little bit of "Scissorhands."
Our story here is about a teenage boy (Asa Butterfield) whose beloved Grandpa (a wonderfully cast Terence Stamp) has filled his head with crazy stories about a school he knew in Wales during World War II. When Grandpa dies, the kid convinces his father to take him to Wales to try to find it.
They find so much else - 20-foot monsters called Hollows, and Samuel L. Jackson in bad guy mode, and Miss Peregrine herself played by Eva Green with dark, winking wit as she smokes a Meerschaum Pipe even Sherlock Holmes might have found excessive.
Excess is not high on the list of Burton worries but even so, this is an artfully crafted movie by most standards.
I can't claim that it's unfailingly compelling but this is good Tim Burton, the delightful film fantasist rather than the hack fantasy brand name called upon to fill studio coffers when failsafe wildness in the megaplex is needed.
There's a lot of story to get through here, but it keeps Burton a respectful and, at times, gloriously gifted illustrator.
Even if we never again see a filmmaker as great as he was in "Batman" and "Scissorhands," we need Tim Burton to keep on working on films as good as this for as long as he wants to.
"Miss Peregrine's Home for Peculiar Children"
Starring Eva Green, Asa Butterfield, Allison Janney, Dame Judi Dench, Samuel L. Jackson, Terence Stamp and Ella Burnell. Directed by Tim Burton.
127 minutes. Rated PG-13 for intense fantasy sequences.
Stay up-to-date on what's happening
Receive the latest in local entertainment news in your inbox weekly!