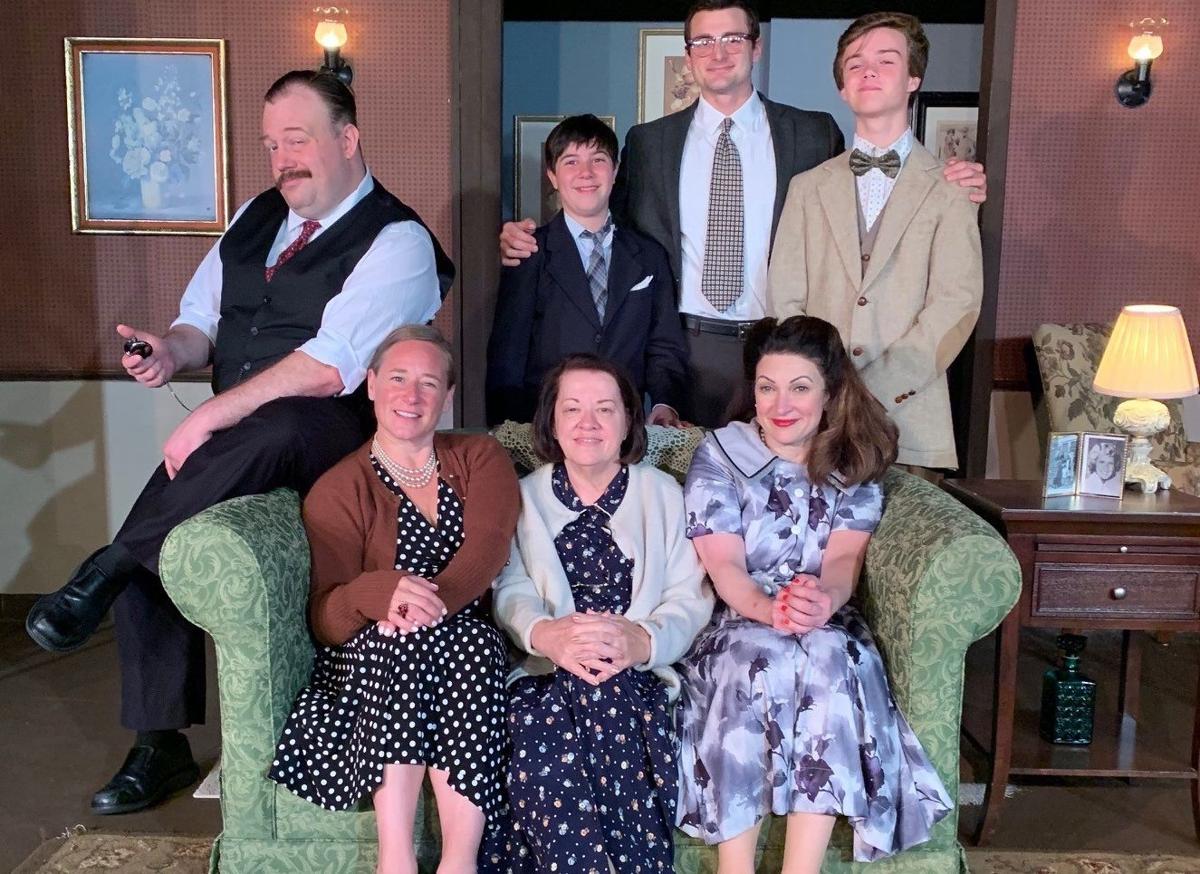 If it were customary, in a less imaginative world, for dinner theaters to serve the food eaten or talked about on stage, then Neil Simon's "Lost in Yonkers" would be a tough swallow.
Think German mustard soup, the medicinal solution Grandma Kurnitz serves when someone's sick. Think bowls of it, forced upon her live-in grandson, Arty, as he suffers a fever on her uptight, doilied couch – a taste of survival but certainly not comfort. This is how Grandma Kurnitz, a stoic survivor of wartime Germany, delivers love: with an acid tongue and backhanded support.
In contrast, think of Aunt Bella's favorite ice cream soda, four scoops of varied flavors buoyed in an effervescent swirl of overflowing decadence. Think a thick slap of fresh whipped cream lining your upper lip, crushed walnuts for a reminding bite of earth. Bella, at 35 years old, is the spirit of American youth, of innocence and indulgence and the sneaky intuition to break rules in its pursuit.
Two poles of the culinary spectrum – of emotional and mental spectra, too – both too much in their own way.
Thank goodness for the menu at Desiderio's Dinner Theatre, where a charming production of Simon's Pulitzer-winning play now runs. In the back banquet room of Bobby J's, a cup of tender, homemade pasta e fagioli whispers affection, buttery beans a creamy delight in a summery tomato broth. It tastes like affection, like balance – like loving comfort.
This might be more poeticism than either Neil Simon (his New York City sensibility, streetwise wit, Semitic cynicism) or eggplant parmigiana (gooey fat, zingy sauce, crispy coating) warrants. But there's symmetry in this Jewish-Italian feast. Savor the good things in life, my night suggested, before they hurt you.
This production, under Lisa Ludwig's direction, is delicious in its own right. She uses the long, shallow Desiderio's stage to best effect, focusing on character dialogue and less on their movement, often awkward within these dimensions. 
Timothy Whipple is an utter joy as Arty, the 13-and-a-half year-old fast-talker who's generations wiser than his age. He grasps deadpan better than you might expect. A continuous crackup.
Ayden Herreid, as his older brother Jay, rightfully captures the conflict of being a 15-and-a-half year-old, craving respect and fun in equal measure. Together they are quintessential Simon boys – at odds one minute and joking the next. Such fine line readings, such embodied goals and hopes in these boys' eyes. Theirs are impressive turns.
As the stern Grandma Kurnitz, the great Ellen Horst delivers with Meryl-esque consistency and fortitude. She's no stranger to these types of roles, but here she feels definitive. Walking Grandma's microscopic line between perceived hate and precise love requires a confident spine that few others in our midst can translate so well. We are lucky to have her.
These formidable performances (and supporting turns from Kevin Nagel, Eliot Fox and Kelly Cammarata) notwithstanding, I must say I was blown away by Diane DiBernardo's portrayal of Aunt Bella, a woman of endless ambition and romance for the great big world outside Grandma Kurnitz's strict household, where she lives, despite mental limitations and stunted growth, partially at her mother's hand. She is the dreamer of this story, despite two dear boys at its core.
Some might see her fast-paced performance as overwrought, a Sally Field-like display begging to be toned down. But not me. Throughout her triumphant moment of truth, my head hung in my hands, tears swelling up for her pain and strength, for our own sense of hope in a difficult world – in 1942 Yonkers or 2019 America. And for all the understanding we could now glean about her frothy, frivolous ice cream sodas.
"Lost in Yonkers" by Desiderio's Dinner Theatre
Through Sept. 29 at the dinner theater in Bobby J's, 204 Como Park Blvd., Cheektowaga. Performances at 7:30 p.m. Thursday and Saturday (with dinner at 6 p.m.), and at 2:30 p.m. Sunday, with lunch at 1 p.m. Tickets are $50-$60 and include the three-course meal. Call 395-3207.