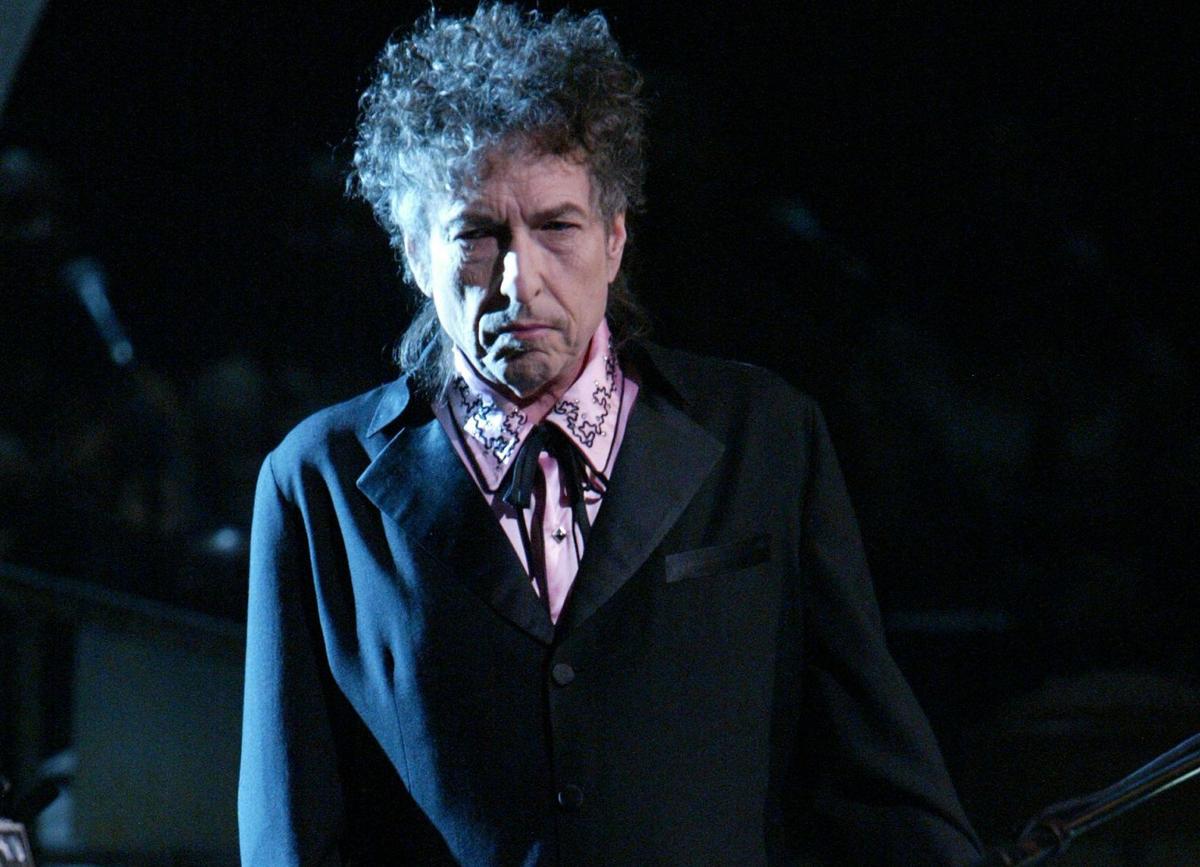 Bob Dylan walks out his front door into the sunlight. He looks up, and it starts to rain. He lets the door slam behind him, not bothering to lock it. What would be the point?
He turns left, shuffles past a café, Django Reinhardt and Stephane Grappelli playing their hearts out inside, the sound bleeding into the street.
Twenty paces more and he pauses by the door of a gin joint, puts his hand on the bricks, feels the throb and sway of Jimmy Reed playing inside. He almost smiles, but it fades quickly, and he keeps moving.
The sun comes out again. He looks upward and winks at God. Abruptly, he turns right, down a blind alley, and walks smack into the Devil.
He's only a block away from home.
Dylan pulls a weathered notebook and a pen with chewed tip from a pocket, and he writes, his mouth a thin, tight line, blood in his eyes.
"I feel the holy spirit inside/See the light that freedom gives/I believe it's in the reach of every man who lives/Keep as far away as possible/It's darkest 'fore the dawn (Oh, Lord)/
I turned the key, I broke it off/And I crossed the Rubicon …"
The Devil, reading over his shoulder, nods his head and smirks.
A new album from Bob Dylan is normally something I await with giddy anticipation, time carved in my schedule well in advance of its arrival, to give it the attention it's likely to demand and deserve. But not this go-round. Time has already been carved into a bloody mess. Nothing is where I left it. I can't sit still but there's nowhere to go.
What am I even supposed to do with this music? Where do I put it? There's no room in here. And the place is a mess.
I waited a week, tried to straighten things up and dust them down a bit, wanting to make "Rough and Rowdy Ways" feel welcome, even if I made it wear a mask and sit at least 6 feet away. "I'm nervous and I'm just not ready yet, you understand," I tell it, hoping I'm not being rude.
It responds with weary resignation set to a supple, lilting tune.
"You greedy old wolf, I'll show you my heart/But not all of it, only the hateful part/I'll sell you down the river, I'll put a price on your head/What more can I tell you?/I sleep with life and death in the same bed."
So much for one beer. It's gonna be a long night ...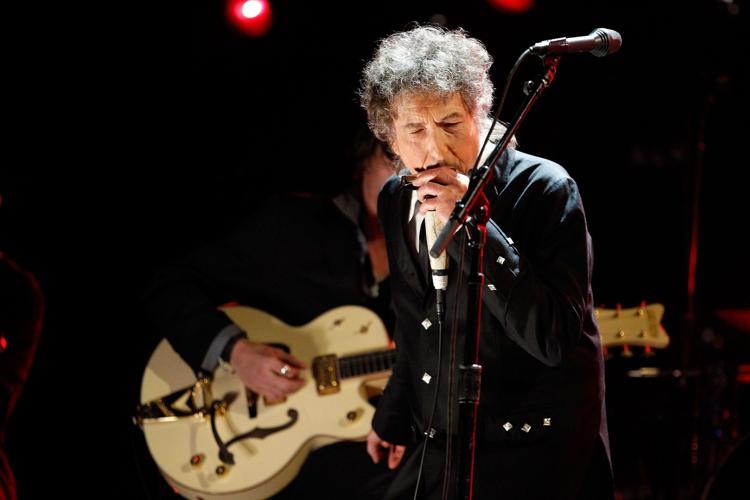 The fear I'd had about the prospect of welcoming a new Dylan album through my door is really a testament to his brilliance as a writer. When he sings of death, moral decay, dissolution of decency and the fragile, fleeting moments of relief afforded by love, I don't experience his words as something "other," something particular to the author alone. No, when Dylan sings about death, you think of your own and that of those close to you. That's heavy. I wasn't sure I could handle it at present.
But "Rough and Rowdy Ways," while decidedly dark, is a gorgeous album full of dream-like songs beautifully performed by Dylan's touring band – guitarists Charlie Sexton and Bob Britt, multi-instrumentalist Donnie Herron, bassist Tony Garnier and drummer Matt Chamberlain, with guests including Fiona Apple. They are sung with true investment by their creator, who moves easily between aching melodies ("I've Made Up My Mind to Give Myself to You," "Key West (Philosopher Pirate)") and strident juke-joint blues ("False Prophet," "Goodbye Jimmy Reed").
It has its moments of existential dread, but it is also marked by levity and wit, playful but intellectually incisive references to historical and literary figures – Walt Whitman, William Blake, Beethoven, and dozens more – and true attention to ambiance and subtle sonic detail. While Dylan's last album of new original material, 2012's "Tempest," often sounded like the aural equivalent of Moses shattering the stone tablets containing the 10 Commandments in disgust as he looked down on the false idol-worshiping masses, this new album feels less judgmental, more welcoming, less eager to dazzle and alienate with snarky allusion.
Dylan is 79, and he was never a particularly mellifluous singer, even as a young man. But within his own parameters, he sounds excellent here. Perhaps those three recent often baffling and occasionally brilliant collections of covers of American standards made popular – and largely owned – by Frank Sinatra had a deeper purpose for Dylan than we might've imagined as we made our laborious way over their rough terrain. Dylan was never under the impression that he could sing with the virtuosic majesty of Sinatra. But he certainly learned a thing or two about phrasing from his time spent immersing himself in the land overseen by Ol' Blue Eyes, and he applies what he's learned in a deeply moving way here.
It's the lyrics that steer the ship, however, and as a result, that ship is forever listing toward the rocks, catastrophe forever a real possibility.
"The lyrics are the real thing, tangible, they're not metaphors," Dylan told the New York Times in a fascinating recent interview, and though taking Dylan at his word when he's speaking publicly comes with its fair share of risk, the relative inclusiveness that seems to inform "Rough and Rowdy Ways" reinforces that claim.
While the waves crash around him, a desperate Dylan summons the muse of epic poetry in "Mother of Muses."
"I'm falling in love with Calliope/She don't belong to anyone, why not give her to me?/She's speaking to me, speaking with her eyes/I've grown so tired of chasing lies/Mother of Muses, wherever you are/I've already outlived my life, by far."
"My Own Version of You" blends a macabre tale of a man assembling a Frankenstein's monster from body parts found in the morgue with a wry wit masking serious intent.
"I'm gonna make you play the piano like Leon Russell/Like Liberace, like St. John the Apostle/I'll play every number that I can play/I'll see you maybe on Judgment Day/After midnight, if you still wanna meet/I'll be at the Black Horse Tavern on Armageddon Street/Two doors down, not that far a walk/I'll hear your footsteps, you won't have to knock."
He finishes the song – a lambent waltz played with translucent beauty by the band – with lyrics that form the core of an album that feels at once ancient and timeless and tailor-made for this troubled moment in time.
"I can see the history of the whole human race/It's all right there, it's carved into your face/Should I break it all down? Should I fall on my knees?/Is there light at the end of the tunnel, can you tell me, please?"
Dylan turns away from the Devil and heads for home. Twenty paces on, and he's seized by a thirst. He shuffles into a bar. Women and men seated at tables with drinks turn toward him, expectantly, their raised eyebrows a query.
Dylan pulls the hood of his sweatshirt up over his head, averts his gaze from theirs.
"It is what it is," he says, his voice a ravaged whisper.
"And it's murder most foul."
Stay up-to-date on what's happening
Receive the latest in local entertainment news in your inbox weekly!