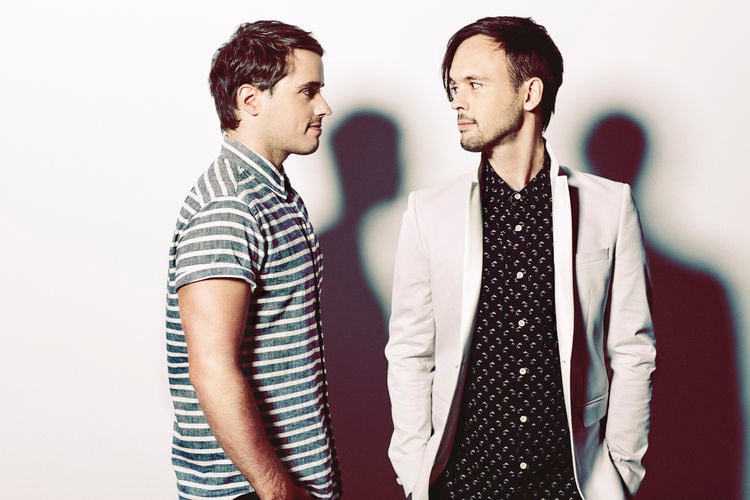 One of the city's more anticipated winter events, Alternative Buffalo's Kerfuffle Before Christmas, has announced its lineup. The holiday-focused counterpart to the radio station's Canalside summer festival, 2016's TKBC will be headlined by Atlas Genius and Andrew McMahon in the Wilderness. The show, scheduled for 6 p.m. Dec. 2 at the KeyBank Center also features Capital Cities, Dirty Heads, Grouplove and Judah & The Lion.
Tickets will go on sale for $25 to $45 at 10 a.m. Sept. 22 via alternativebuffalo.com, Tickets.com or charge by phone at (888) 223-6000. #AltFamily VIP packages will also be available to purchase.
This year's Kerfuffle Before Christmas acts should be no strangers to the station's loyal followers, but with more than two months to go, it wouldn't hurt to take a few moments to read up on the performers.
The internet-made Australian group rose to fame thanks to a feature on the influential music blog Neon Gold, one that led to the frantic downloading of its glossy, self-recorded first single "Trojans." Formed by the Jeffrey brothers (Keith and Michael), the indie-tronic group had labels begging to sign it while the band laid a foundation for future collections of stadium-ready anthems. The brotherly outfit's most recent record, 2015's lively "Inanimate Objects," wasted little time in establishing itself as one of alternative rock's heavy hitters.
Andrew McMahon in the Wilderness
After making a name for himself with emo outfit Something Corporate and his introspective side project Jack's Mannequin, McMahon changed gears to focus on his pop sensibilities with his earnest, electro-tinged new vehicle ...in the Wilderness. With a handful of local appearances over the years at Town Ballroom and Waiting Room allowing him the opportunity to share the new musical direction, McMahon will bring his collection of Passion Pit/Fun.-esque ear candy, mostly found on his 2014 self-titled album, to the arena stage.
Born out of a Craigslist connection by composer/songwriters Ryan Merchant and Sebu Simonian, the Los Angeles duo has turned into a festival staple since the release of its 2013 debut album "In a Tidal Wave of Mystery." Focusing heavily on computer-generated instruments and electronic samples, the ambitious pair specializes infectious, synth-driven melodies.
Mixing hip-hop, reggae and laid-back So-Cal rock, the groove-heavy five-piece should be a palette cleansing change of pace during the long night of music. Since 2008, the group has been a torchbearer for fellow Cali genre-blending act Sublime (not necessarily a good thing depending on who you ask). After years of hard work, the confident and eager Dirty Heads members are ready to bring their sunny vibes to #AltFamily masses.
The spirited Los Angeles-based act found a perfect middle ground to mesh its experimental, neo-folk with passionate dance-rock. Along the way, the band become a YouTube superstar following the release of its sophomore record's breakthrough single and accompanying video (nearly 15 million views) for "Ways to Go." The group's third album, "Big Mess," sees it aiming for more radio-ready material by honing in its welcome yet at times, over-the-top insanity. Along with Dirty Heads and Capital Cities, the rousing Grouplove will keep the Golden State well represented at the KeyBank Center in December.
A Nashville folk quartet may seem out of place on an alternative music showcase, but so did Madisen Ward and The Mama Bear at the summer Kerfuffle, and that went just fine. The nostalgia-heavy group masterfully conjures a timeless sound of gospel, rock and soul, all while staying true to its Americana roots. Judah & The Lion makes a fine case for being on time to this year's show.