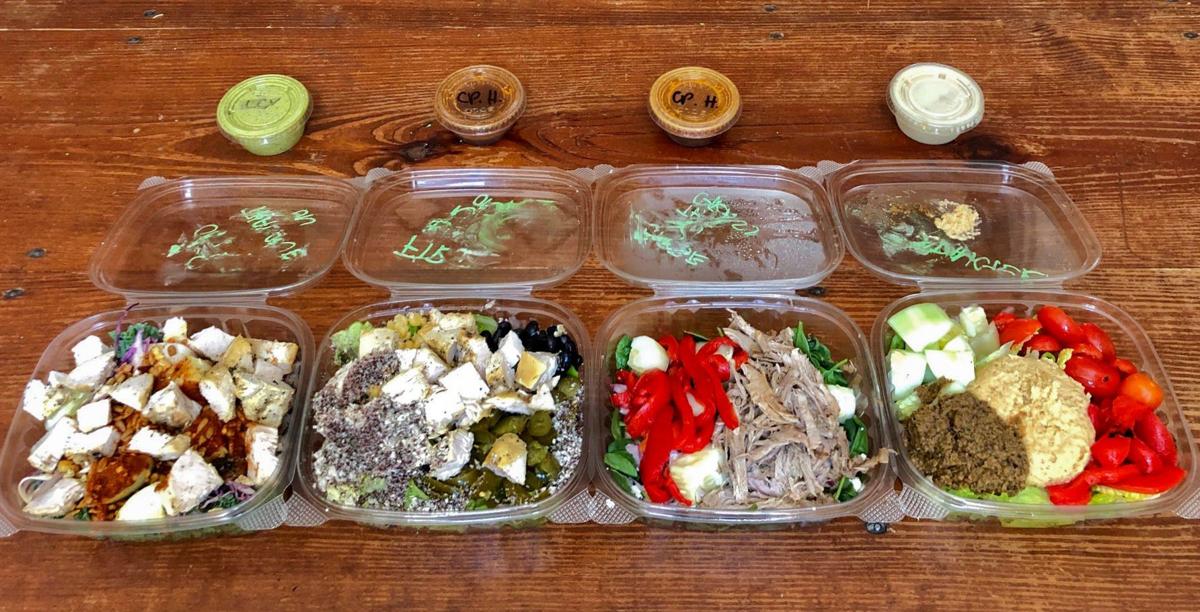 In the midst of Buffalo setting a heat record of consecutive days with a high of 90 degrees or above, eating big meals, fried food and piping hot dishes are likely the last thing on your mind. Finding something to eat can become a greater challenge, especially if you intend to support a local restaurant, so here are some ideas.
The debut of Griddle & Greens, the trend of smoothie bowls, farm-to-table fine dining and refreshing Burmese cold salads are all wise ideas to eat well while staying cool and limber. No need for an air-conditioned snooze after these meals.
The newcomer
Try Griddle & Greens (125 Elmwood Ave., 248-2007). Takeout with curbside pickup, online ordering, small patio, eat-in with eight seats inside.
Almost half the menu at Griddle & Greens, which opened in Allentown on July 3 after a short stint in the Ellicott Square Building, is devoted to creative salads. The salads are nutritious meals and a decent balance between portion and cost.
The highlights are bestseller Thai One On with seasoned chicken, kale, spicy sunflower seeds and lime-cilantro vinaigrette ($9.95); Humdinger with hummus, romaine, olive tapenade and roasted red peppers ($9.95); and the Fire Bird, which packs in the flavor with pickled jalapeños, seasoned chicken, za'atar breadcrumbs and chipotle honey vinaigrette ($9.95).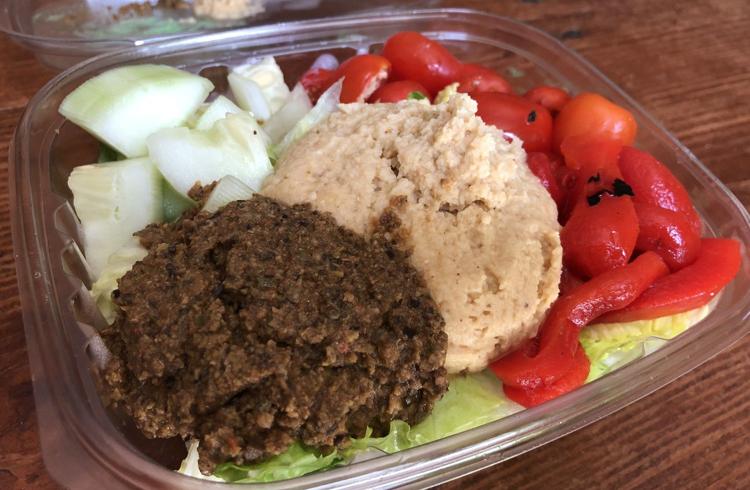 Smoothie bowl central
With Ashker's focused on its Elmwood location only, for now, and scaling back its food menu until later in July, Squeeze and Kornerstone are the two remaining local businesses pairing light fare with fresh-pressed juices and smoothies.
Both offer at least six smoothie bowls, a hot summer trend. Consider Squeeze's Afternoon Delight (acai, blueberries, banana and almond milk blend, topped with more fruit, granola and coconut, $9.75) and Kornerstone's PB&J Acai, with peanut butter protein powder, acai, honey and strawberries.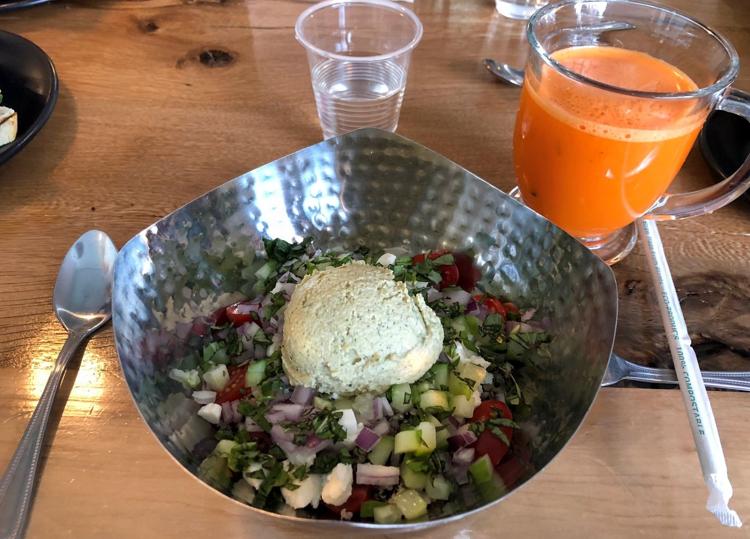 Fine dining
Try Dapper Goose (491 Amherst St.) and Craving (1472 Hertel Ave.). Both offer online ordering; Dapper Goose has limited outdoor seating and takeout, while Craving has limited indoor and outdoor seating, with a focus on takeout.
Buffalo's farm-to-table movement, plus the smaller plates emblematic of more upscale restaurants, equals a win for healthy eaters in the heat. Peak season for local produce means that asparagus, cauliflower and blackened green beans all shine on the Dapper Goose's patio menu, with smart and often simple preparations that allow the fresh veggies to star.
Adam Goetz has built strong relationships with local farmers, so you'll see Groundwork Market Garden, Oles Farm and Erba Verde among the producers spotlighted on Craving's July 8 menu. Consider the summer pasta ($22), summer salad ($12), vegetable plate ($12) and fish plate ($14) to experience the fruits of these farms' labor and enjoy suitable foods for the heat.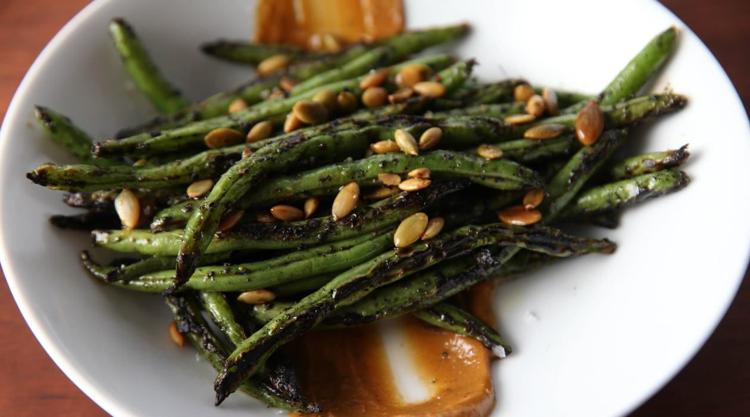 Seafood
Michael Tobin, who owns both Fresh Catch and Shuck Shack, is meticulous about sourcing seafood, from the sesame-crusted ahi tuna recently starring in Fresh Catch's bowls – most under 600 calories, Tobin said – to the fresh oysters, served on ice, at the new Shuck Shack. You might have reservations about eating raw seafood in the relentless heat of summer, but you can trust the quality and consistency of these two businesses.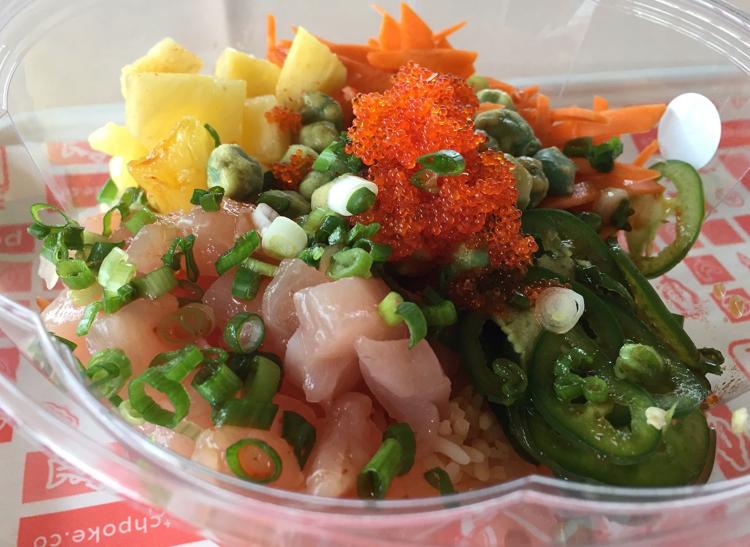 Cold Burmese salads
Try Lin Restaurant (927 Tonawanda St., 260-2625) and Street Asian Food (516 Elmwood Ave., 886-4001). Also consider Sun Restaurants and Taste of Siam, among many others.
Among Buffalo's ethnic restaurants, Asian cultures prepare some of the lightest and most healthy fare (when the dishes aren't drowned in soy sauce and excess salt). Riverside Burmese restaurant Lin, whose reopening Andrew Galarneau highlighted in his last food and drink newsletter, boasts six cold salads ($9-$11), starring the tea leaf salad and the "very refreshing" ginger salad.
Street Asian Food's premise is healthy street food, with regions such as Burma, Japan, Southeast Asia and Thailand represented. The takeout-only spot touts a similar list of cold salads as Lin, as well as eye-catching black-rice sushi.
Fast-casual
Fast-casual is a perfect partner for hot weather: you won't spend any time around a hot oven, portions are sized reasonably and prepackaged, and, in Rachel's case, there's an abundance of opportunity to customize your order. Brown rice and organic spring mix can serve as the base of bowls or wraps, a healthy foundation with a dozen of vegetable and topping choices. 
You might not have thought of ...
Owner Mike Caputi's menu is unusual and healthy, with bakuli (natural palm leaf bowls filled with squash, quinoa or vegetables) and rolo (filled tortillas housing combinations of sweet potato and avocado, grilled chicken and pesto, and hummus and zucchini) as two of the chief sections.
Stay up-to-date on what's happening
Receive the latest in local entertainment news in your inbox weekly!