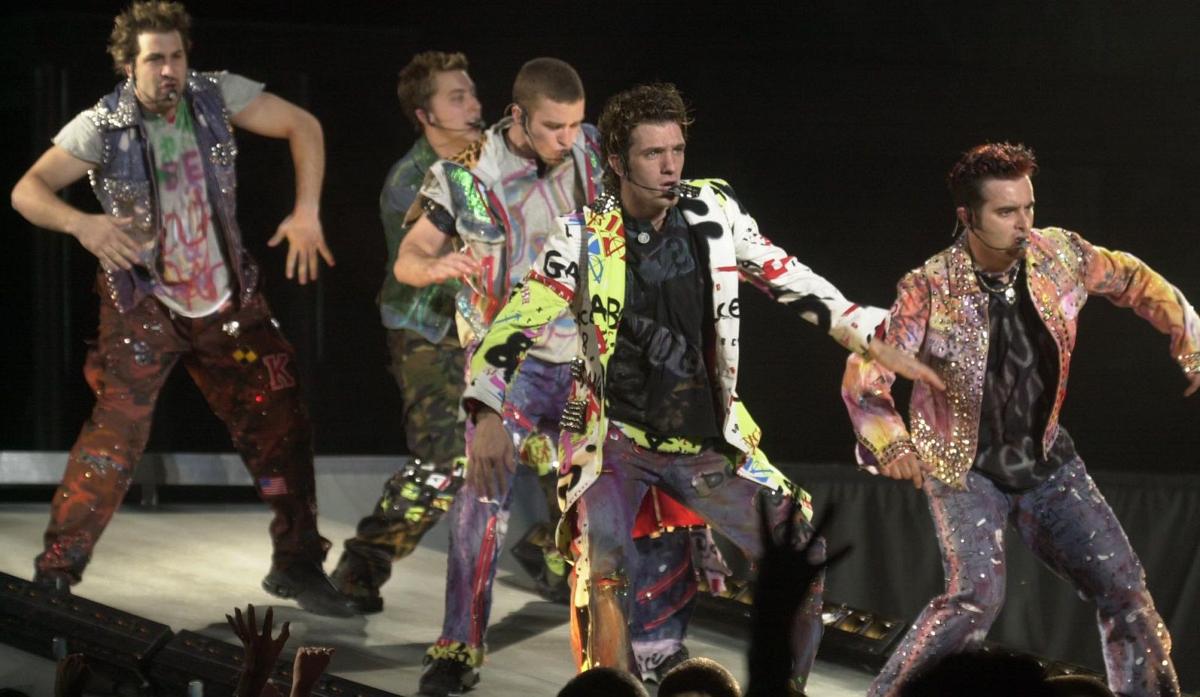 You want to meet them. Or at least come close enough to hear those tea-time accents with your own ears, or snipe a glimpse of their much-tweeted-about tattoos, or reach outward with a selfie-stick and – well, you see where this is going.
Or, if all that fails – and not to be a downer, but it probably will, because as one of their contemporaries puts it, "they're the most famous dudes in the whole world" – you at least want to be in the presence of One Direction.
Even if you don't realize it.
The four-man British boy band (it used to have five members, but we'll save that tear-flooded drama for another story) stops in the Buffalo area Thursday for a show that will fill Ralph Wilson Stadium with tweens, teens, 20-somethings … and a much older crowd, too.
Though One Direction's prime audience is markedly young (if you're old enough to rent a car, you're outside the core demo), those fans come with more mature guardians in tow. You may think those parents, grandparents, aunts (sometimes uncles), older cousins and siblings provide the ride and wallet. And they do.
But put them in a grand concert setting with snazzy staging and towering screens and screaming girls, and you'll send them right back a generation or two. Back then, they were the ones whose vocal cords were hangin' tough through loud concerts at which the guys on stage were larger than life. Even long after the groups' popularity dissipated, those fans were not quite ready to say "bye bye bye" to the boy bands that defined their youth. Which is why even decades later – say, when a member of the first great boy band ever is booked to play an arena – fans still clamor to see him.
Because maybe, just maybe, he still wants to hold your hand.
Before we go further, let's test the theory that (almost) everyone has an inner desire to soak up a bit of boy-band greatness. Did you get the not-so-subtle references above to New Kids on the Block, Backstreet Boys, 'N Sync and Paul McCartney and the Beatles?
If you caught even one, it proves the point: Albeit intermittently, boy bands (defined for our purposes as a male-only group with an enormous and deeply devoted fan base made up mostly of young women) have been embedded in our culture for more than 50 years.
First came the Beatles, though calling the lads from Liverpool a boy band is an admittedly "overstated example," said Tom Calderone, a Buffalo State grad and music-industry executive who recently ended an 18-year tenure at MTV Networks. Though John, Paul, George and Ringo played their own instruments and wrote music – two qualities that counter the stereotype of guy group members who sing and dance to studio-created backing tracks – the Beatles were arguably the first boy band for a single reason. "Lots of girls liking a particular band," Calderone said.
Following that criteria, the next quarter-century saw other boy bands that – to varying degrees – experienced success: The Jackson Five in the '70s; New Edition and Menudo in the '80s; Boyz II Men and New Kids on the Block in the late '80s and early '90s. Today, those groups are remembered in part for their music (both Boyz II Men and New Kids still perform; the latter draws arena-size crowds, including one in Buffalo earlier this summer) and in part for the superstar careers they spawned, including those of Michael Jackson (Jackson Five), Bobby Brown (New Edition) and Ricky Martin (Menudo).
The true boy-band craze didn't strike until the mid-1990s, when a group of former Disney Channel preteen stars grew into teen musical sensations. Former "Mickey Mouse Club" castmates Britney Spears and Christina Aguilera launched solo pop careers, while Justin Timberlake became one-fifth of the boy band 'N Sync. At the same time, five young men were chosen for an Orlando-based group known as the Backstreet Boys, and four college-age guys from Ohio moved to Los Angeles and formed 98 Degrees.
While that was happening, five young British women – the Spice Girls – were zig-a-zig-ah-ing around the globe with their hit "Wannabe" and whetting pop music appetites in the post-Nirvana grunge era, and a trio of brothers from Oklahoma named Hanson were revving up a massive teen girl fan base with "Mmmbop."
"It created a phenomenon because there really wasn't anything musically going on for that generation that they not only could relate to, but was kind of theirs," said Calderone, who was overseeing MTV's music programming at the end of the 1990s. "New Kids and acts like that were big, but they were almost anomalies, where I think when Backstreet and 'N Sync and Britney came on board, it was not only a trend, but a force."
By midway through the first decade of the millennium, that force subsided. Musical tastes changed; sugary pop was out, and edgier R&B and hip-hop was in. 'N Sync disbanded and Justin Timberlake launched a massively successful solo career. (He remains the only modern-day boy-band member to achieve that.) 98 Degrees took a long hiatus. Backstreet stayed together but went quiet. Other boy bands – from O-Town to LFO to BB Mak to No Authority – broke up or retreated into the musical shadows.
It may have seemed the boy-band era was over. But it wasn't. Instead, those fans of New Kids, 'N Sync and Backstreet just needed time to grow up and become moms and aunts to the next generation of fangirls, one that would be perfectly poised to embrace and empower five guys discovered on a British talent show.
In 2010, British music executive-turned-reality show judge Simon Cowell left "American Idol" to focus on his own musical competition show, "The X Factor." That summer, five young lads auditioned as solo artists on the British version of the show. When Cowell saw Niall Horan, Zayn Malik, Liam Payne, Harry Styles and Louis Tomlinson, he envisioned them as a group. Playing musical god, Cowell put them together, a move that's proven to have had a deity's touch.
"They went on 'The X Factor' at a time when people were tuning out of 'American Idol' and searching for new shows," says Shy Guy Shawn, a longtime WKSE-FM radio personality. "They had the biggest platform to get their name out there."
It worked. Though the fivesome didn't even win "The X Factor" competition that summer (they finished third), fans fell fast for the group that would become One Direction, propelling it via social media to quick success.
"It's the sense of discovery," Calderone said. "Social media has taken fandom to a whole other level, to the point when a band like One Direction is still trending on Twitter with or without new music, with or without a tour, with or without a television appearance. That's when it becomes a phenomenon."
But why One Direction over, say, the handful of other boy bands (The Wanted, Midnight Red, Suite 44) that have surfaced in recent years? Others – especially The Wanted – have had success, but nothing like One Direction's.
"There's a whole mix of things," said Kendall Schmidt, 24, one-fourth of Big Time Rush, a boy band formed to be the stars of a Nickelodeon show of the same name that broadcast from 2009 to 2013. "Catchy songs mixed with good-looking dudes mixed with great performances and huge production mixed with awesome and clever promotion mixed with being British mixed with –"
Schmidt cuts himself off. He knows the music business intimately; he's currently producing, recording and gearing up for a tour with his rock band, Heffron Drive, and recently recorded a single ("Night Like This") with Hilary Duff. He could list reasons infinitely, but simply said, "It's just so many variables."
One Direction is big. So big, in fact, that nowadays its members are largely avoiding interviews. That's not a surprise: Between Malik's departure last March, the recent news that Tomlinson soon will be a dad, and the announcement that the group will go on hiatus in 2016, there are reasons aplenty to keep the four guys away from reporters with prying questions.
Though he hasn't seen them in a while, Schmidt knows the guys. One Direction opened for Big Time Rush's 2012 tour.
"They're as normal as any kids in your early 20s can be, except they're the most famous dudes in the whole world," he said. "Dealing with all the things that anyone who's 22 deals with, plus dealing with having even grandmas and grandpas taking photos of you."
To that point, few adult figures in the lives of a One Direction fan will admit to jamming along with songs like "What Makes You Beautiful" or "Story of My Life" or "Live While We're Young." But watch this week when One Direction gets to town: Those same adults – very possibly including you – will stand and sing and snap selfies and more. The reason is simple psychology: If you were a fan of New Kids or the '90-era power groups, it'll send you back to the concerts of your childhood. If you grew up on the Beatles, there's a decent chance you never experienced a Fab Four show. Experientially, if not musically, this is as close as you'll get.
"It's a great bonding experience for a parent and a child," Calderone said. "When you think about the concert experience and the bonding that is created around it, no matter what is on that stage, it's become a really cool way of experiencing music."