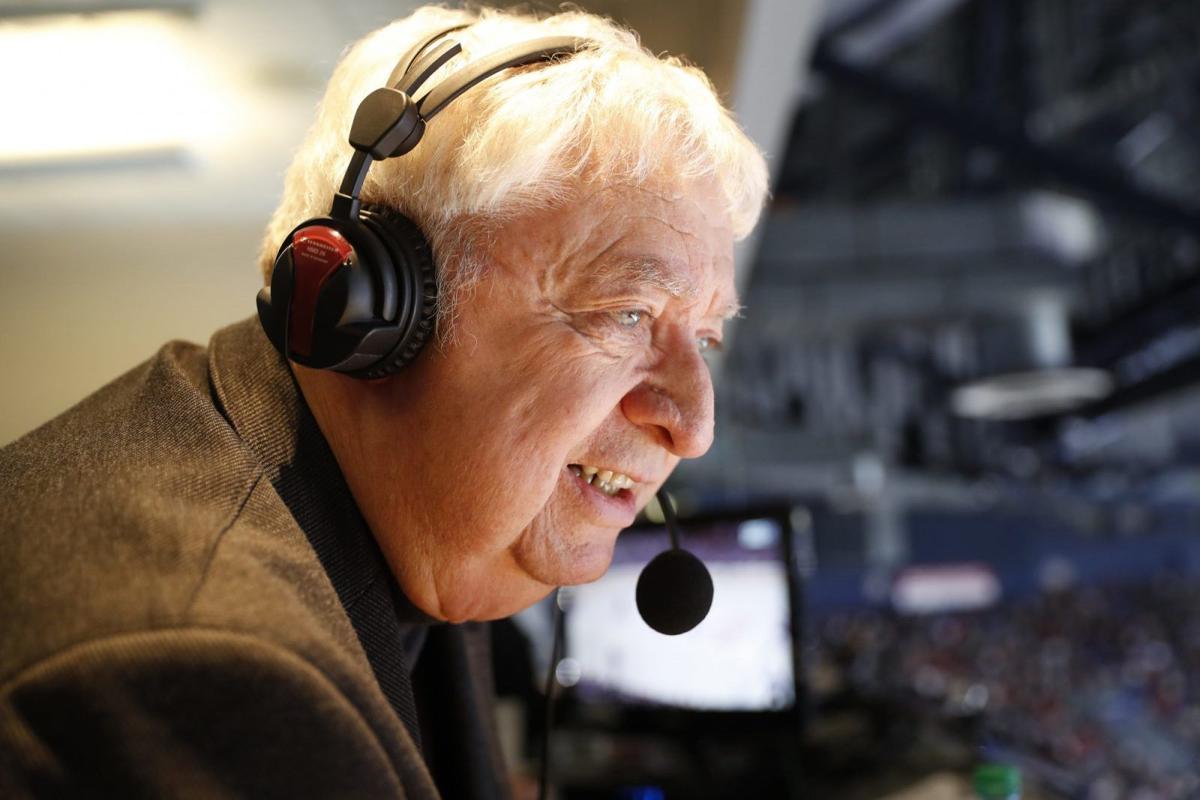 Rick Jeanneret is coming back for another year to do play by play on the Buffalo Sabres' 50th season.
Jeanneret, who turns 77 in July, said he thought about whether to return for his 49th season calling games on radio or television or both for about three months before deciding to come back. He began his Sabres career doing games on radio in the team's second season.
"I like the job," said Jeanneret in a telephone interview in which he explained his decision. "I guess I don't really consider it a job. If I did, I would have been gone 30 years ago."
"I enjoy what has happened so far, except for the fact they haven't made the playoffs in eight years," added Jeanneret. "I still am the ultimate believer. And I think they are very close to being pretty darn good and not that far away from being awfully good."
Mark Preisler, the executive vice president of media and content for Pegula Sports and Entertainment, said the organization "couldn't be happier" about Jeanneret returning.
"Hard to imagine the Sabres and Sabres fans celebrating our Golden Anniversary without RJ," wrote Preisler in an email. "Fortunately we don't have to. The Hall of Famer is back to share his enthusiasm and stories from his 48 seasons as one of the best play-by-play men in NHL history."
Jeanneret said the deciding factor in returning was his hopes for next season.
"Because I am the eternal optimist," he said. "And I am looking forward to a season where we don't have to sit there night after night and make excuses and things like that. We can rejoice along with the fans that things are going in the right direction."
He added his wife, Sandra, was "a bit surprised" by his decision because he was thinking about whether to return a lot more than he usually does.
"I did some heavy thinking about it," said Jeanneret. "She knew it wasn't getting easy. It is not. As we all know, the older we get things don't quite work anymore. I don't see as well as I used to. I don't react as well as I used to. Any senior citizen has the same problems."
Of course, the great majority of Sabre fans feel the iconic broadcaster's enthusiasm and catchy expressions more than compensate for any decline that he referenced.
"I definitely thought I would take plenty of time this offseason and think about it," said Jeanneret of his return. "I wasn't going to jump and say, 'Oh, no, I shouldn't have done that.' Now I feel confident that I am fine."
He expects to do half the games this season, with Dan Dunleavy doing the other half.
He won't be going to Sweden when the Sabres play two games in November.
"None of us are," said Jeanneret. "The broadcast crew isn't going."
He said the announcers are going to do those games watching them on television from Buffalo, as they did several seasons ago when the Sabres opened the season with games in Finland and Germany.
Stay up-to-date on what's happening
Receive the latest in local entertainment news in your inbox weekly!