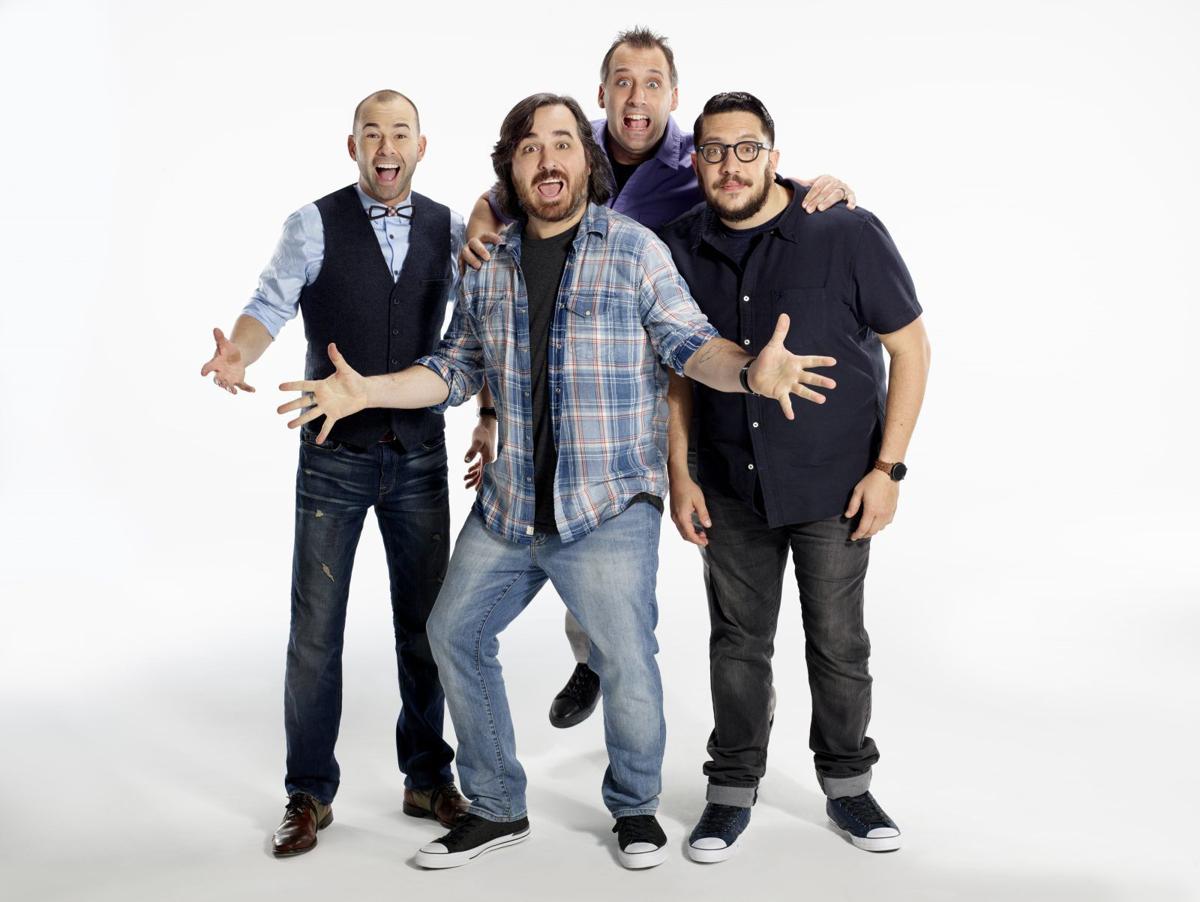 Here's a simple theory on the success of the Impractical Jokers: It's about being vulnerable.
This weekend, the Jokers – four Staten Island guys in their early 40s – will draw a pair of packed crowds to their two Saturday evening performances at Shea's Performing Arts Center.
They'll show video clips from their smash-hit TruTV series, which is based on pranks and punishments. They'll tell stories behind the scenes — tales that could date back decades. The four Jokers – Brian "Q" Quinn, James "Murr" Murray, Sal Vulcano and Joe Gatto – have been friends since high school. And they manage to remain friends even as they bust each other through crazy-comedic social experiments and scarring, sometime permanent punishments.
Quinn, for example, had a prank failures that led to him being chained to a table as tarantulas crawled across his body. Another punishment: Having a labor simulation device attached to his lower abdomen during a birthing class for expectant women. And one he'll always remember, because he can always see it: A tattoo on his right bicep that says: "38, Lives Alone, Has 3 Cats."
The TV show, which premiered in 2011, is largely fun, not deep. So is the Jokers' live show, which Quinn described as "stand-up-slash-hang-out" in a recent telephone interview.
But beyond it, there's a broader impact rooted in that sense of vulnerability.
Quinn, 41, originally wanted to be not a comic, but rather a firefighter for the Fire Department of New York. He joined the FDNY in 2005 and, in the midst of the Jokers' success, retired a decade  later. But conversations he had before his Jokers fame – in the firehouse, and as an unknown podcaster – are conversations he is still having today. Those are conversations about mental health, and about busting stereotypes to be open and happy and help people.
In our phone conversation, Quinn talked about his decision to speak openly about his battles with depression, and the benefits of the wide-open conversation about problems in America today.
Here are excerpts of our interview, edited for space, clarity and language:
Q: On "Impractical Jokers," you guys go at each other relentlessly. Do you ever make each other angry because somebody goes too far?
A: No, we never do that. We know where can go and where we can't go. We've been friends for 28 years at this point. I'd be a bad friend if I didn't know what not to say to my boys. But the flip side of that is it's obviously very difficult to offend one of us or upset one of us. We're pretty thick-skinned.
Q: Has the experience of being on the TV show changed your view on comedy?
(Quinn pauses, and seems briefly confused.)
Sorry, the producer just walked by and gave me the middle finger. See? The whole crew is like that. Repeat that.
Q: Has the success of "Impractical Jokers" changed your view on comedy?
A: No, not really. I didn't want to be a comedian. Six years ago, I was a fireman with the FDNY. I didn't have an aspiration to perform. I still like what I like. I have a little more respect for what goes into it. I think there's a balancing act in terms of what is funny. The definition of what's comedy and what's not comedy has changed so rapidly in the past five years. That remains a challenge, but I think the show is better because of it. But what makes me laugh has always made me laugh. The guys make me laugh everyday.
And look, we're not doing brain surgery. We're not doing anything that's very intense. Just have fun and be stupid. That seems to be what's working.
Q: You were already an adult when 9/11 happened, but did the attack inspire you to join the FDNY?
A: I had wanted to be a fireman already, and I had taken the test. (Quinn explains the series of tests that follow the written exam, plus waiting for an opening, can take years.)
But it definitely made me – more than anything – want to get on there and just be like a middle finger to anybody who attacks New York City: You're not keeping us down, and we're going to do what we've got to do.
Q: As a performer, how do you set boundaries for yourself?
A: It's three different things. I've done this podcast called "Tell 'Em Steve-Dave!" for a long time now, and I'll talk about anything on that. I'll talk about my battles with depression. I'll talk about the (stuff) I've done that I'm embarrassed about.
On the TV show, we're very aware than an 80-year-old grandmother will watch it with her 14-year-old grandchild. We don't want to do anything that's gross to people, because we know what we're trying to make.
The stage show, in the first version of it, we were up there cursing and telling all these sex stories and stuff like that. But then we'd look at the audience and see that 10-year-old kid and we were like, oh, man, the audience that watches the TV show is obviously coming to the live show, and I don't want to make someone uncomfortable because they're sitting next to their kid.
It's a choice not to do that, but I don't look at it as censorship, because I don't want to do it. I don't want to stand in front of a 12-year-old kid and tell some sort of horrible sex foibles from when I was a teenager.
It's reading the room and playing to your audience. It depends what outlet we're on. You could ask me any question and I would answer it, because it's an interview.
Q: I was listening to a podcast episode where you talked about your battle with depression. Walk me through your decision to open up about it.
A: I've always talked about it; it never seemed anything to be ashamed of. When I started doing "Tell 'Em Steve-Dave!," which predates "Jokers," I would talk about it on there assuming nobody would care, because it was just me and my friends doing a podcast, and I never felt embarrassed by it. I always felt like I had a difficult time in my 20s but I had good people looking out for me. I went to therapy; I found a great therapist. All that stuff helped so immensely.
Before the TV show, I would talk about it at work, at the firehouse … Then I would talk to a friend who wouldn't be open to talking about it, at a bar or something like that, and be like, "Look, man, I just spent time in therapy. I went through this." I would see it made them feel better, which I had people do for me.
It never occured to me not to talk about it. What the hell — I spent three years morose and upset. What am I going to do? Pretend that didn't happen? Be embarrassed? You can't beat yourself up over being depressed. Because then you're not only depressed, but you're also beating yourself up about it and only compounding the problem. I figured that out pretty early on. I was like, alright, if I've gotta deal with it, then everybody around me has just gotta deal with it, too. (Quinn laughs) It never seemed anything not to talk about.
Q: Do you feel there's enough open conversation about mental health happening today?
A: I think we're at the easiest point to talk about it in history. We understand it more. We understand how prevalent it is. We understand that's is something that can be worked on and addressed, and lives can be made better. You look back in history, and these people who didn't know what was going on back then, I actually feel bad for them. I think it's super easy and accepted to talk about, because everybody has it. Who the hell is happy these days? (He laughs again.) Everybody's got something going on. I think it's great that, really, almost everything is on the table to discuss these days.
When I got on the fire department, it was four years after 9/11. The guys at the firehouse would talk about it constantly. They wouldn't hold it in. That stereotype – I'm a man, and I don't talk about my feelings – was not there. It was: This is horrible. This is what we went through. The guys who had been there talked about it.
It just seems like maybe 50 years ago, you wouldn't have had that. You know what I mean? And I don't think that's healthy.
I think we're at a great point for that, and a lot of things. Look at all the sexual harassment (stuff) that's coming out. I think it's great that those conversations are being had. We're just at a point where these conversations are happening. It's pretty good, right?