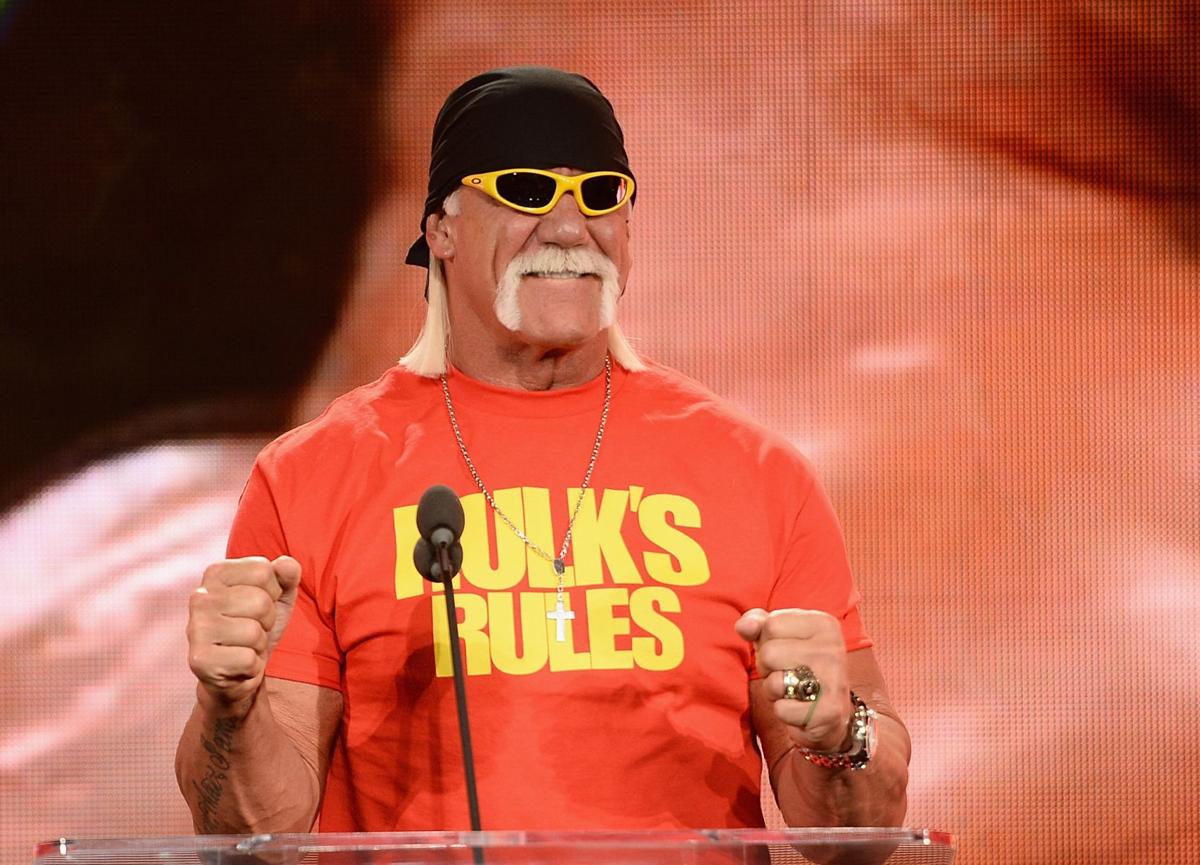 As one of the most successful pro wrestlers ever, Hulk Hogan staged thousands of last-minute comebacks to overcome his opponents in the ring. Now as rumors swirl of Hogan returning to the WWE, the wrestling hall of famer hopes to complete his biggest comeback yet. Hogan will appear May 19 as part of Nickel City Con. The three-day pop-culture convention will be held May 18 to 20 in the Buffalo Niagara Convention Center.
Hogan was a near-superhero to WWE fans in the 1980s, and a dastardly villain as "Hollywood" Hogan to WCW fans in the '90s, but recent years have seen a number of personal and professional setbacks. A sex tape of Hogan leaked without his permission, and included footage of Hogan using racial slurs. In the resulting firestorm, WWE severed all ties with Hogan, arguably their biggest star ever, in 2015.
Speaking from his home in Clearwater Beach, Fla., (where he's opening Hogan's Hangout restaurant with fellow pro grappler "Bushwacker" Luke Williams), Hogan was in good spirits as he recognized his past mistakes.
"Everybody gets knocked down," he said. "A true champion gets back up and moves forward in a positive way. Nobody ever said life would be fair or you'd always make the right decisions, but through tenacity and a willingness to learn from your mistakes is what I'm all about."
The comments shocked many longtime fans as they grappled with the failings of a childhood hero. After an initial public apology tour, Hogan has been working to rehabilitate his image. The Boys and Girls Club of America just inducted Hogan into their Hall of Fame.
"People know me," Hogan said. "I'm human being like anybody else, and sometimes, people make mistakes. When they do, you watch that person a little bit more closely than you did before to see what kind of person they really are. I just want people to judge me by my actions, not a few misspoken words.
"To those few fans who feel (hurt), I'm forever sorry, and I'll do whatever I can to make them feel comfortable with me."
As his in-ring career sunsets, Hogan now interacts with fans through conventions like the Nickel City Con, where he'll sign autographs and take pictures with fans from 9 a.m. to 2 p.m. on May 19. (Prices and packages are available online). He praises his "Hulkamaniacs" for their continued support, which helped him survive the dark days.
"Wrestling fans are some of the most true, loyal fans you can ever meet, and whether you're in a good situation with your business and personal life, or you slipped on a banana peel and gone through some bad times, the wrestling fans will never turn their back on you," Hogan said.
Hogan traveled to Buffalo many times during his career, even having knee surgery here. He particularly enjoyed working the old Buffalo Memorial Auditorium before it closed in 1996.
"I had some great matches in there," Hogan said. "I'd hit people with a punch in the middle of that ring, and it sounded like a cannon would go off. The whole crowd would go along with it, (chanting) 'Boom, boom!' It's a great wrestling crowd, a great city and a (I have) lot of fond memories of Buffalo."
As for those WWE rumors, Hogan wouldn't confirm or deny them. For their part, WWE released a statement in March confirming conversations, but he was not under contract.
"Until you hit a home run, it's not a home run," Hogan said. "All these things say it's imminent or rumors, that's like saying 'maybe, possibly, could be.' Until I'm back home with the WWE, I'm not home. Hopefully some day I can go back home and be with my family, the wrestlers and all the people I love. I just really, really hope it happens."
Hours are 3:30 to 8 p.m. May 18, 10 a.m. to 7 p.m. May 19, 10 a.m. to 4 p.m. May 20 in the Buffalo Niagara Convention Center. Hulk Hogan appears May 19 only. Tickets are $15-$20 in advance, $18-$25 at the door, $40 full weekend, $75 VIP weekend. Celebrity autographs and photos are additional. Visit nickelcitycon.com