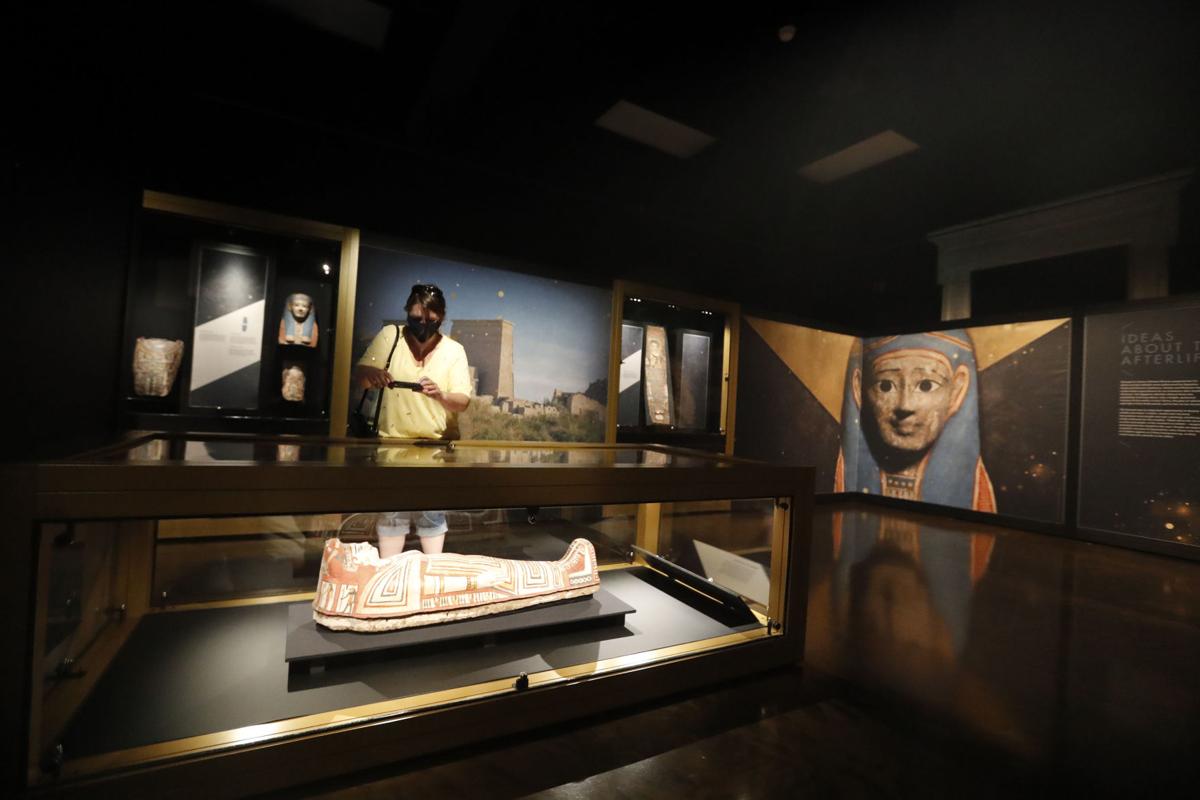 Katherine Hellerman had an immediate, one-word response to the reopening of the Buffalo Museum of Science Friday after being closed since March 14 due to Covid-19.
"It's nice to get the kids out and have them do something besides sitting at home," said Hellerman, returning with her husband and two children to see "Golden Mummies of Egypt" for a second time. "My son's very interested in the mummies, and it's a great experience," she said.
The museum reopened its second floor, which includes the world premiere of the mummy exhibit that has been extended to Oct. 18 after being shuttered five weeks into its run. The more interactive floors are closed until they can be modified to meet new safety protocols. 
Occupancy has been kept below New York State's phase four 25% capacity mandate to give staff time to evaluate procedures. Colorful styluses were given out to keep hands from touching museum surfaces. 
"I'm really pleased with the pacing and the flow," said Marisa Wigglesworth, the Buffalo Society of Natural Sciences president and CEO. "We've had a nice steady flow but not overwhelming crowds. It's allowed us to work through our process and make it a little bit smoother."
To promote social distancing, only 20 ticketed visitors and about the same number of general members were allowed into the "Golden Mummies" exhibit every 15 minutes. The times are staggered to reduce the number of people at any one time.
"We have a really informed understanding of about how long a family takes and how long an adult couple takes," Wigglesworth said.
The museum said about 250 people came Friday. 
Jason Reinhardt of Williamsville made a spur-of-the-moment decision to go to the museum. He felt good about the safety protocols and was glad to get out of the house.
"It's hot out, there's not much to do and it's nice and cool in here," Reinhardt said.
Reinhardt, who said he's always had an interest in Egyptian culture, brought his 10-year-old daughter Jasmin "to actually learn some things and get her off the iPad."   
Suzanne Fatta expressed pride at the museum's appearance. She used to visit as a child and volunteered for two years in high school.
"I feel the museum has done everything to maintain safety and hygiene, so I feel safe being here," Fatta said.
She was also impressed by the exhibition of mummies and other artifacts never seen before outside Manchester Museum's permanent collection in Manchester, England.  
"These are high-quality pieces," Fatta said. "There are not a ton of them, but it's extremely well curated. The information is very clear for people who don't know a lot about specifically the Greco-Roman part of Egypt."
"It is awesome, a wonderful, wonderful showing of the mummies," said Jan Simons, who grew up in Chafee and now lives in Sterling, Va. 
She visited with her husband.
"I'm so glad we came," she said.
The exhibit was supposed to leave in June before an agreement with Nomad Exhibitions and the museum extended it into the fall. 
"The exhibit's Buffalo engagement will likely be the only opportunity for our region to experience this world-class collection during its limited tour," Wigglesworth said.
Signs accompanying the exhibit are a response to calls for racial justice that have spread across the country since the May 25 police killing of George Floyd in Minneapolis.
Under the heading, "WE WILL DO BETTER," the museum offered this message: "As a 159-year-old collecting institution, we must acknowledge the colonialism and objectification that are undeniable parts of our deep history, and the passivity that has been pervasive for too long. We hope to encourage discussion about the changing role of collectors, collections and colonialism in museums." 
The curators of the mummy exhibit also raise those issues in short films and text panels.
"We've recognized our role in needing to do better in how we're telling these stories and presenting this information," Wigglesworth said. "So we thought some additional signage before and after 'Golden Mummies of Egypt' will begin to raise some of those questions with our visitors."
Volunteer Brian Engler was behind a table on the second floor, showing off a couple of classic plastic toy dinosaurs to children, along with illustrations of how dinosaurs were portrayed by Barnum Brown, an influential paleontologist and early fossil hunter.
Engler said he missed the museum and was "bored out of my skull, I really was."
"I'm happy to back, and really looking forward to it being back to full capacity again," Engler said. "Hopefully that will be soon."
As he spoke, staff members were wiping down benches and display cases with a disinfectant.
Michael Gilmer of Niagara Falls said he was glad to be back in the museum, but also can't wait until things are back to the way they used to. 
"I'm glad that it's open but I want to do all the cool stuff upstairs, all the touch-and-go stuff, but with Covid I understand," Gilmer said.  
Mark Sommer covers preservation, development, the waterfront, culture and more. He's also a former arts editor at The News.