During the Covid-19 pandemic, Billy Finnerty estimates 70% of the takeout business at Finnerty's, his Ellicottville bar-restaurant, has come from Hamburg customers.
Given that support, combined with his ownership team's background, there's significant promise for his new project: Finn's, a bar-restaurant at 14 Pierce Ave. in Hamburg, scheduled to open in mid-August.
Finnerty will oversee Finn's with Freddie Pawlikowski, one of his partners in Ellicottville, and Jake Dolegala, a former St. Francis High School football quarterback who's entering his second season with the NFL's Cincinnati Bengals. The trio is united by a shared St. Francis experience and growing up in the Boston/Hamburg area.
"We have lots of connections [in Hamburg], we were just looking for right situation to come back," said Finnerty, who views Finn's as a "really cool neighborhood bar." 
Roughly splitting 5,000 square feet with a connected 7-Eleven, Finn's replaces the Burg. It's where Pierce meets Main Street, next to the Knights of Columbus and less than a block from Memorial Park.
The new space will open for takeout only initially, with the aim of introducing Hamburg to Finn's food before the sports bar experience can be executed safely. At 100% capacity, Finn's will be able to seat roughly 75-80 customers. 
A banker-turned-chef Finnerty has known since Little Loop football, Pawlikowski heads the kitchen, producing an unorthodox food menu – spanning several cultures – that earned acclaim at Finnerty's and at the Meatball Street Brawl, where his Reuben meatballs earned the People's Choice award.
A Polish platter ($14.95), pad Thai ($14.95) and #Finntastic Tacos (three for $12.95) jump from Europe to Asia to Mexico in one swoop. "We're out there – we're different," Finnerty said regarding Finn's menu.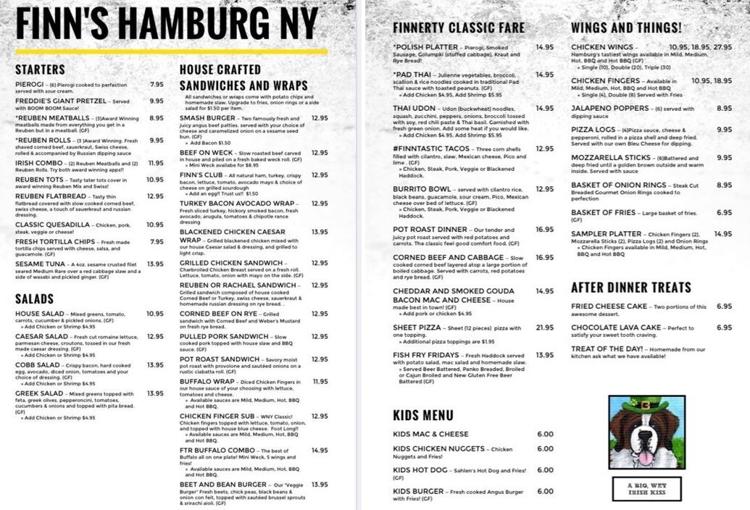 Finnerty will handle the bar duties, a comfortable environment after spending more than two decades at J.P. Fitzgerald's in Hamburg. He's eager to draw a crowd for live music or Buffalo Bills games, whenever larger parties are permitted.
"I want it to be a place to bring the family or watch a game," Finnerty said. "I want the 'Bar-Bill mugs behind the bar' sort of [neighborhood] feel."
Named after Finnerty's St. Bernard – also the restaurant's logo – Finn's mission is to bring the "best parts of the Ellicottville experience to Hamburg," Finnerty said, even if it means dueling with changing industry conditions in a pandemic. 
"We're figuring out how to surf these waves and open a restaurant," Finnerty said. "We finally have our chance to come back home."
INFO: Finn's, 14 Pierce Ave., Hamburg. Expected to open Aug. 15 for takeout only, with the aim of Sept. 1 for full service, pandemic-permitting.
Stay up-to-date on what's happening
Receive the latest in local entertainment news in your inbox weekly!