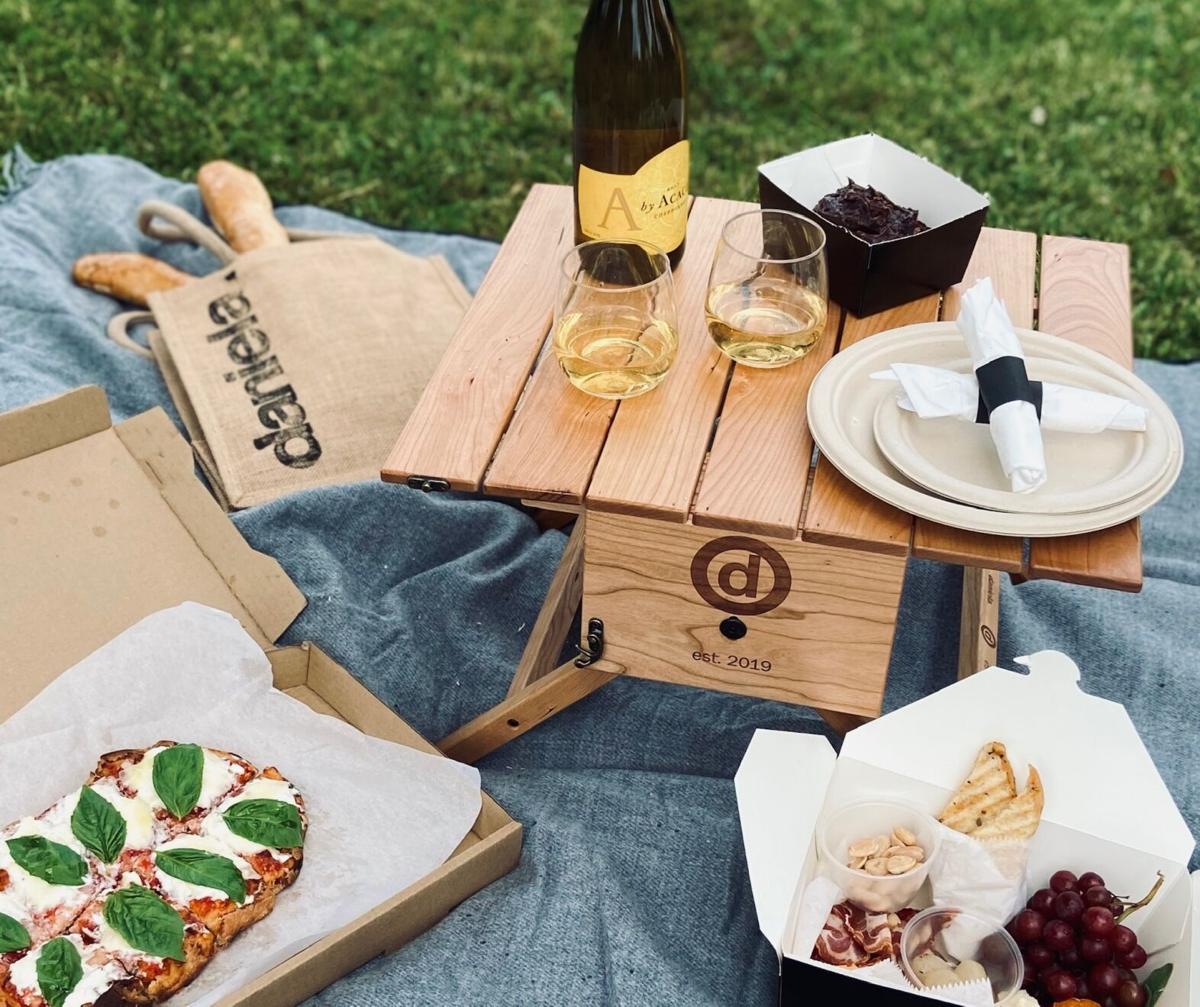 There's something about a picnic that transports you to simpler times. Picnics have been a family tradition for decades, forever steeped in American summertime tradition.
If you'd rather skip the step of raiding your fridge, just grab a blanket and one of these picnic kits and you're good to go. These four restaurants have curated specialty to-go kits designed to make any spot an instant picnic experience. Whether you decide to post up at Delaware Park, or relax in your backyard, you can enjoy these homemade creations with the view of your choice.
Daniela
387 Forest Ave. (235-8598)
As the only pinseria in Buffalo, Daniela has introduced the area to the ancient, Roman way of making pizza. Pinsa is a lighter dough, made from a blend of wheat, soy, rice and sourdough flours, which results in a cloud-like base.
Its picnic kit ($60) includes two cans of wine (Chardonnay or Rosé) or a four pack of water, a salumi board, a choice of pinsa, and a Nutella brownie. Pinsa choices include nduja melanzane (spicy salami with eggplant), capricciosa (mozzarella with ham, artichoke and mushroom), funghi e rucola (mushroom and arugula), margherita (tomato with basil and grana Padano), quattro formaggi (gorgonzola, grana Padano, mozzarella and gouda), salmone affumicato (smoked salmon with crème fraîche and capers) and a vegan option that includes a garlic wash, zucchini, eggplant and red bell pepper.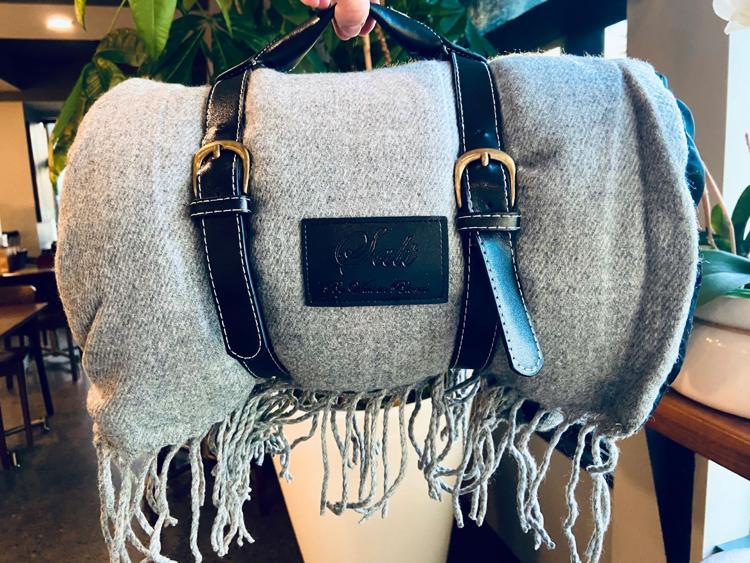 Kits also include a free two-hour rental of a picnic carrier, which must be returned by 7:30 p.m. that day. Also for sale: a picnic blanket and signature canvas bag combo for $35.
Place your order online at app.upserve.com/s/daniela-buffalo. Pull up to a designated spot for curbside pickup, call and your order will be brought to you. Hours are noon to 8 p.m. Tuesday through Saturday; closed Sunday and Monday.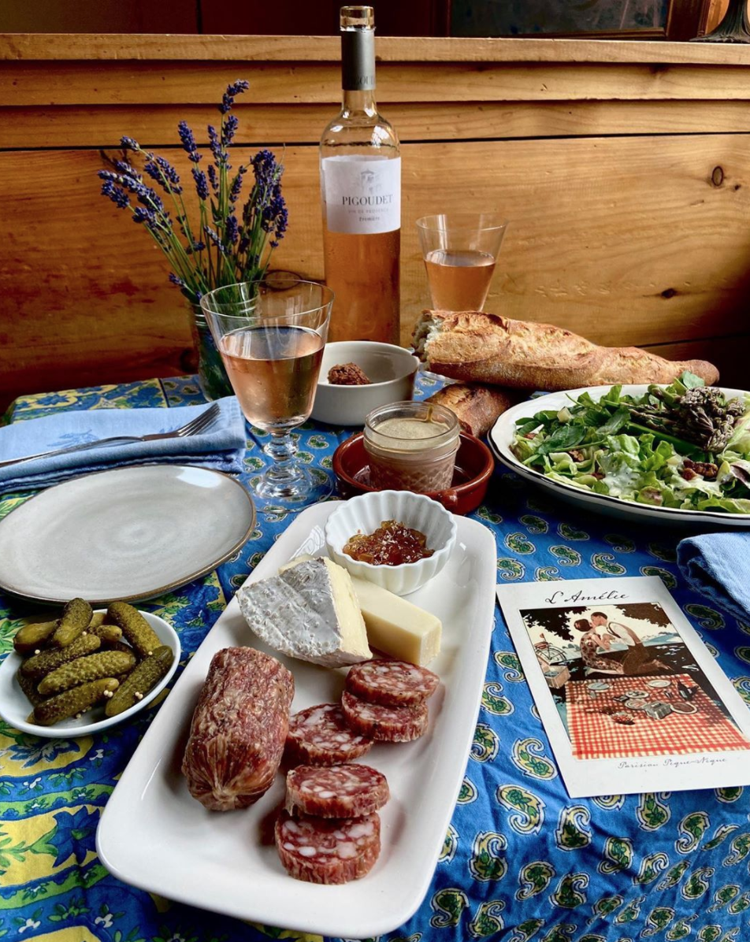 Elm Street Bakery
72 Elm St., East Aurora (652-4720)
Elm Street Bakery, which prides itself on using ingredients sourced from local farms and from-scratch recipes, offers two picnic kits of homemade delights.
The Betty ($45) is an all-American picnic, inspired by 1950s nostalgia. Take your choice of two sandwiches, plus fingerling potato salad, ESB bean salad, pickles, two local apples and two chocolate chip cookies. Sandwich options include a jambon beurre, muffaletta or Freddy's assorted (salami, capicola, ham, provolone, arugula, roasted red pepper and banana pepper aioli on toasted sourdough).
If you're looking for that special je ne sais quois, you'll find it in L'Amélie Parisian Pique-Nique. This French-inspired kit ($50) includes a baguette, chicken liver pâté, tapenade, cornichons, a charcuterie and cheese board, as well as a trio of macarons. You can complete this Parisian dream by adding a bottle of wine for $20.
Call or order online at elmstreetbakery.com/takeout, specifying your arrival time. Once you've arrived, text 346-4822 with your full name and whether your car is parked at the front or back door for curbside pickup. Hours are 8 a.m. to 7 p.m. Tuesday through Saturday; closed Sundays and Mondays.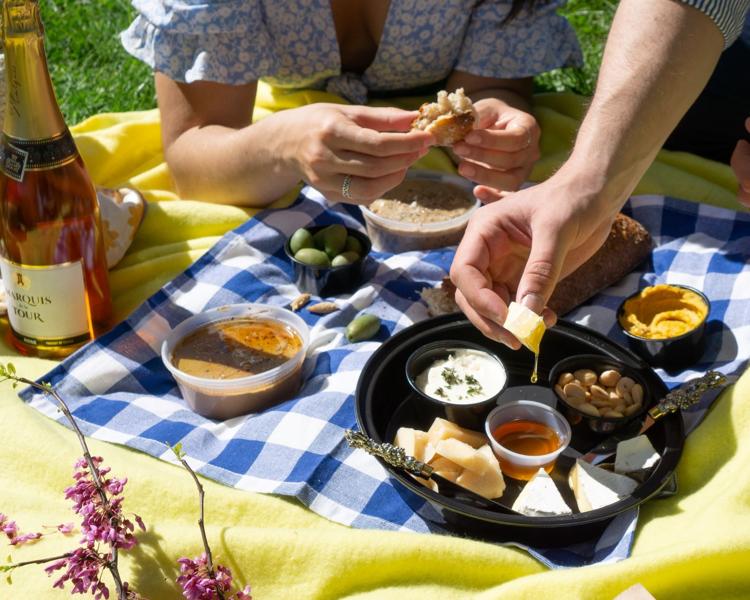 100 Acres: The Kitchens at Hotel Henry
444 Forest Ave. (955-1511)
100 Aces has an Al Fresco picnic box ($75) that includes assorted cheeses, chicken liver pâté, Marcona almonds, hummus with flatbread, raw local honey, marinated olives, sourdough batard, prosciutto di San Daniele, pickled vegetables and homemade mustard. This box serves four, but it could provide generous portions for two with leftovers.
Along with selectively sourced items from local farms, you can add a summer cocktail kit or shareable dessert. A Summer Sangria kit ($25) makes six drinks and is complete with pinot grigio, malbec, Triple Sec, orange bitters, oranges, apples and cherries. To satisfy your sweet tooth, you can finish off the meal with an eight-pack of chocolate chip, sea salt cookies ($15).
To order, make your selection online at 100acresbflo.com and choose a Saturday time slot between 11 a.m. and 3 p.m.. Once you arrive, call for curbside delivery.
Apple Granny's at Artpark
450 South 4th St., Lewiston (754-4375)
How about a picnic and an activity in nature? Apple Granny's is providing picnic fare to enjoy along with Artpark's hourlong "Art of Walking" tour. Designed for groups of up to 25 people, this walking tour encourages you to be an active participant in nature through stillness, listening and onsite performances led by two trained artists. You'll be provided headphones to hear the guides, as well as ambient sounds of the park. This interactive tour was created by New York-based theater and visual artist Carin Jean White and Spanish artists Itaso Iribarren and Germán de la Riva.
The tour includes the option to add on one of Apple Granny's picnic baskets to enjoy at the end of your tour, where you'll be surrounded by Artpark's sprawling landscape. Options are grilled chicken salad, beef on weck, tuna fish sandwich or Greek salad. Each entree comes with chips and cookies, as well as either pop or water ($13) or wine or beer ($15).
Tour tickets are $25 and can be purchased online at artpark.net/art-of-walking. The picnic basket upgrade must be purchased by phone. The program is running until Aug. 29 and is recommended for ages 14 and up.
Stay up-to-date on what's happening
Receive the latest in local entertainment news in your inbox weekly!