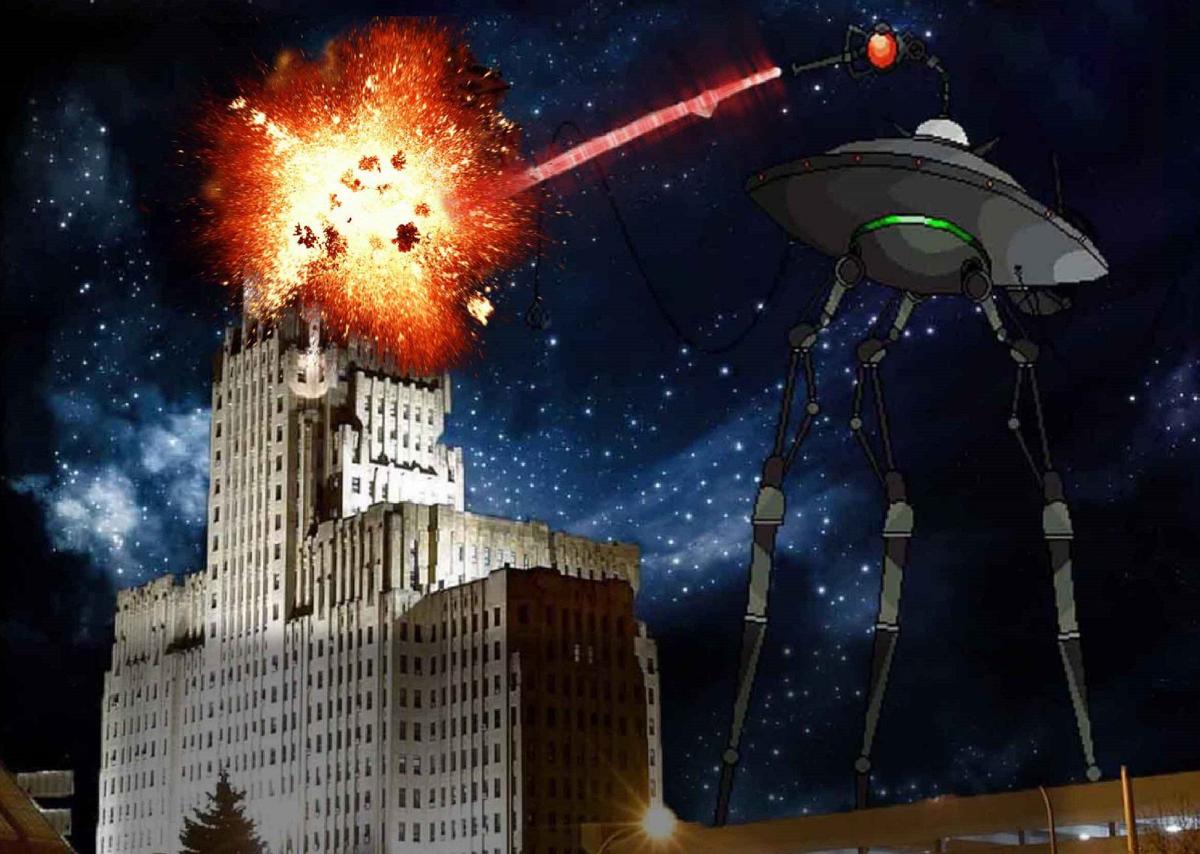 Fifty years after the world came to an end on local radio, a documentary is being made about it.
A new documentary, "WKBW Radio's War of the Worlds, 50 Years later," is taking an in-depth look at the 1968 Halloween night adaptation of H.G. Wells' classic.
The original program produced by Jeff Kaye and Dan Kreigler featured local radio and TV personalities covering the fiction that aliens had landed on Grand Island and led to panic among listeners who didn't hear the explanation at the start or recognize Wells' classic.
Produced by Bob Koshinski of All Services WNY in partnership with the Buffalo/Niagara Film Office, a screening of "50 Years Later" and panel discussion by Danny Neaverth, Pat Feldballe and others will be held at 7 p.m. Oct. 30 at the North Park Theatre.
The 30-minute film includes interviews with radio broadcasters Neaverth, Hager, Jim Pastrick, Greg Ried, Tim Wenger, John Zach and Feldballe, as well as actor William Fichtner, who was about 12 years old when it aired.
Before their deaths, Irv Weinstein, Kaye and Fagan were among others also interviewed.
In the KB version, Weinstein played himself as Channel 7's anchor and was "killed" by a Martian heat ray atop Buffalo City Hall as he covered the fictional alien landing.
Kaye was the WKBW program director and played himself. He "died" on Main Street of poison gas.
On Halloween night -- the day after the screening at North Park -- the original WKBW radio program will air on WWKB 1520 AM and 97 Rock will air its 1998 production of "War of the Worlds."
On the same night, WECK radio will air the original 1938 Orson Welles' "War of the Worlds program" about Martians invading Earth that inspired WKBW's version 30 years later.
Koshinski, who did a similar documentary in 1998 that ran on WNED-TV, also is talking to local TV stations about airing the new documentary on Halloween night.
"This will be a tribute to the famous radio production in Buffalo's history and a salute to the people who made it happen," said Koshinski.
He was 14 when WKBW carried its 1968 version.
"It really inspired me to want to work in radio and eventually television," said Koshinski, who started his career at WLVL in Lockport and went on to become a sports anchor and sports director at Channel 7 and general manager of the former Empire Sports Network.