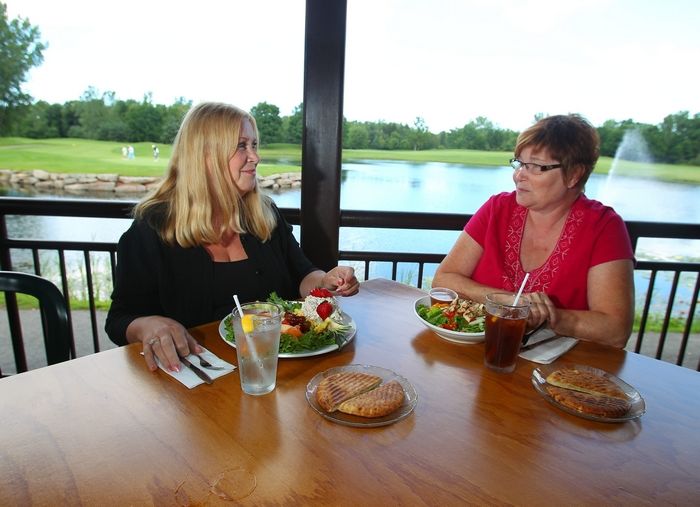 Even if you don't know a birdie from a bogie or Phil Mickelson from Phil Collins, you should know about the good food at the Willowbrook Restaurant on the grounds of Willowbrook Golf Course in Lockport.
The dinners at the restaurant, served after 4 p.m. daily, run from $9.95 for spaghetti and meatballs to $19.95 for an 8-ounce New York strip steak. But the lighter side of the menu offers a wide variety of choices, including panini ($7.95 to $8.50), half-pound Angus burgers ($7.50 to $8.25), salads ($8.50 to $10.95) and sandwiches dubbed the 19th Hole ($5.95 to $7.50).
The setting is nothing short of glorious, with a stone path winding from the parking lot through colorful gardens, and a fountain gurgling in a small pond lined with cattails. The restaurant, in a separate building from the clubhouse and snack bar, offers seating on the patio under a green-and-white-striped awning or in the cool dining room. (It closes for the season when the course closes, in October or November.)
On our weekend noontime visit, John, Pat, John and I took seats at a table not far from the bar, which is decorated with photos, golf paraphernalia and plaques, including one listing lucky golfers who made holes in one. The deep red walls are set off by light oak woodwork, which continues up the vaulted ceiling.
There was a lot to choose from on the menu. Unusual offerings included the Bleu Cheeseburger Wedge, described as a slice of iceberg lettuce on a bed of onion rings with an Angus burger served with blue cheese and tomato ($8.95) and the Thai chicken wrap, made with grilled marinated chicken, crisp romaine, tomatoes, cukes, mandarin oranges and Asian dressing ($7.95).
We were also impressed by the fish fry for $7.95. It included breaded haddock, cole slaw and French fries rather than the classic potato and macaroni salads, but you could add a side of either of those for $3 more.
We made two of our selections from a specials board, and they were special, for sure. Every plate was nicely arranged, with a dill spear on a frill of lettuce, and the sauces applied in squiggly designs.
The first was a fish sandwich ($6.95), a triangular slab of breaded haddock perched on a roll and hanging over on every side. The thick fillet was fresh and sweet-tasting, with a slightly yielding, flaky texture. The diner had to use two hands to raise the sandwich for the first bite, and later described it as "a fish dinner on a roll." It was served with a small dish of potato salad ($2 more than the rippled chips that were included), home made and dusted with a bit of paprika.
The jerk chicken sandwich special ($7.95) was made with a chicken breast fillet, grilled to perfection and sprinkled with the peppery jerk spice mix. The cook was judicious to the point of being too conservative for our spice-lover, but the flavor was very good. The side of pasta salad somehow managed to be extraordinary, utterly fresh and delicious.
The pot roast burger ($8.50), which our friendly server told us was one of the best sellers, isn't a burger at all. It is two thick slices of meltingly tender slow-roasted Angus chuck, juicy and flavorful, on a toasted roll, topped with a layer of caramelized onions, cheddar and a smear of horseradish mayo. The sandwich was a masterpiece, and after one bite we understood why it was a favorite.
Our fourth sandwich was very good, too, but came with a bit of a glitch. We ordered the Alessandro panini, made with grilled chicken, spinach, roasted red peppers, provolone, cheese and bacon ($8.50) but were served the Cuban, made of roasted pork, ham, Swiss, sliced pickle and mustard ($7.95). The Cuban was lovely, with plenty of sliced meat, but the mustard was a no-go, so we sent it back. The apologetic server explained that the buttons for the two are next to each other on the computer and the wrong sandwich was punched in. It took close to 10 minutes for the replacement to appear, but when it was served, it was steaming hot, beautifully cooked and delicious. The cheaper Cuban was left on the bill.
On the way back to our cars, we stopped and admired the verdant view. The golfers were just moving toward the course from the clubhouse, so for a moment, all was quiet.
The kitchen at Willowbrook Restaurant opens at 11 daily and closes around 9, except when rain chases away the golfers; then it might close earlier. Call in advance to be sure.
Where: 4200 Lake Ave., Lockport (434-0111, Ext. 22)
Hours: The kitchen opens at 11 daily and closes around 9 p.m., except when the rain chases away the golfers; then it might close earlier. Call in advance.