Husband-and-wife duo Alain Rodriguez and Maria del Carmen spent three years preparing authentic Puerto Rican and Mexican food in their commissary at 345 W. Ferry St., then lugging their dishes through a parking lot – dealing with snow, slush and wind, at times – into a small, kitchenless counter in the West Side Bazaar to serve customers.
As of Oct. 1, those two worlds are now together as their restaurant Kiosko Latino moved into the commissary space where they are offering takeout/curbside pickup and delivery, with the intention of adding a 15- to 20-seat dining room.
In the meantime, customers call to place orders, then call again when they're outside for curbside, or use a delivery/pickup service like Grubhub. The door to the restaurant is locked, although instructions have been taped to the window. Parking is free in the lot west of the building, just a short walk from La Nova Pizzeria.
Teach For America's headquarters, which previously shared the space with Kiosko Latino commissary, moved out when the organization decided its employees could work from home. Del Carmen was happy to step in and fill the void, especially since the West Side Bazaar has not reopened for in-person eating.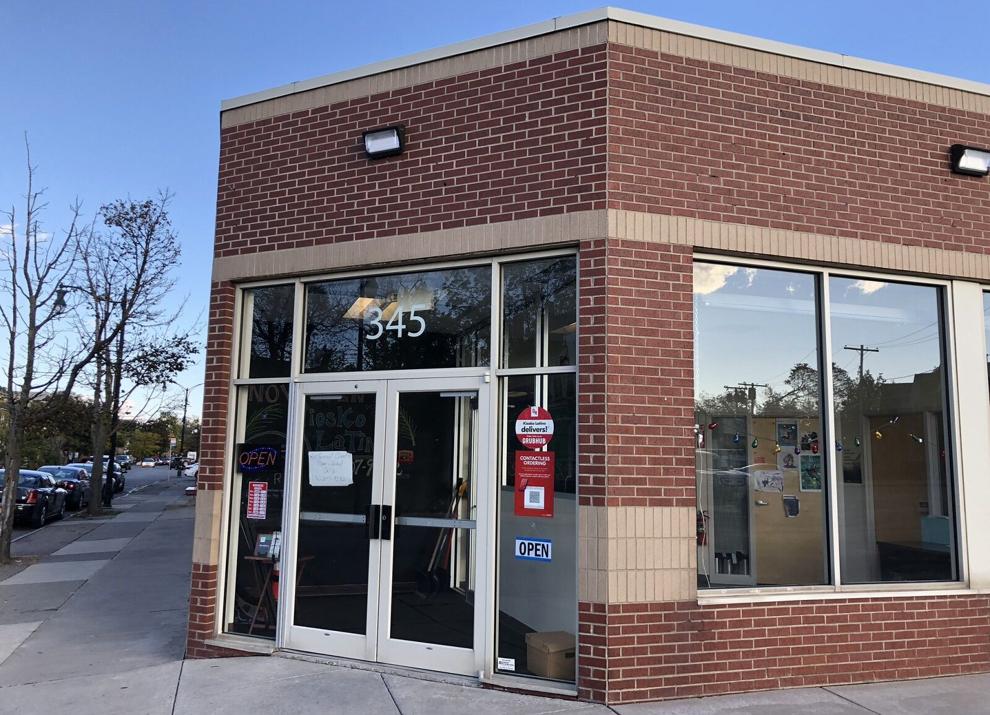 Del Carmen reflected on her food experience in the bazaar, in which she and Rodriguez shared an 8-foot-by-9-foot space.
"Thank God my husband and I always get along very well," del Carmen said with a laugh. "It was very tiny. I don't really know how we did it – that whole menu in that small space."
Del Carmen and Rodriguez said they are excited about the comfort of their full-time space, which dodges the previous logistical obstacles and will allow them to expand their Mexican-Puerto Rican hybrid menus.
Both owners were born in New York City yet raised in Puerto Rico, where del Carmen learned to cook the native cuisine from her grandmother.
"She used to cook so good. For me she was the best cook. Everything that she made, I loved," del Carmen said. "I learned from her, from her dishes and from my mother, too."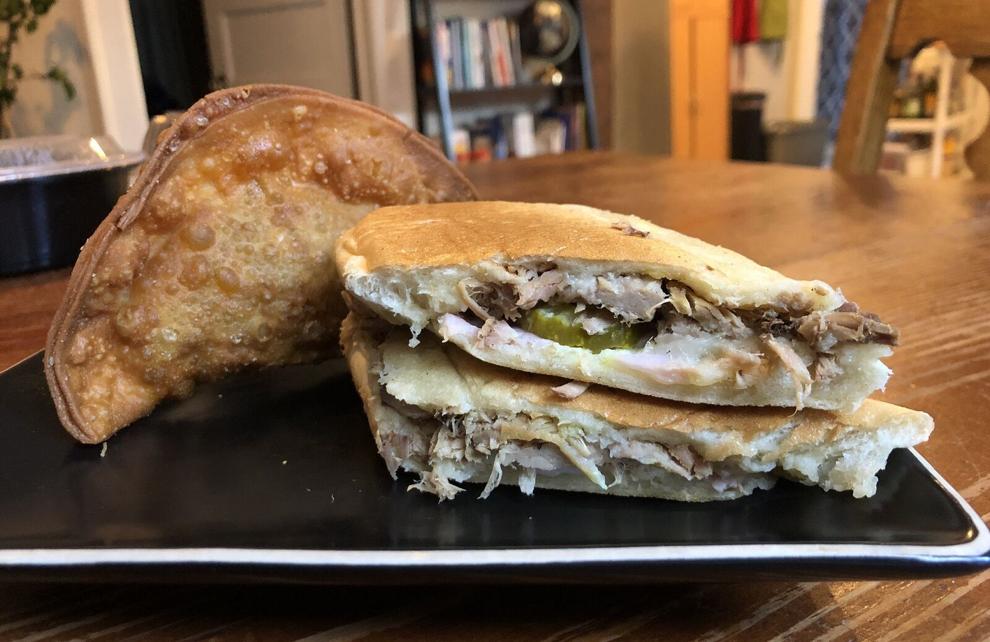 Later, when Rodriguez was stationed in California with the Navy, the couple shared an apartment with a Mexican family and they exchanged recipes. The Mexican and Puerto Rican cuisines, despite their countries' proximity, are far from alike.
"The spices and the seasoning is different, the Mexican cuisine uses a lot of white corn tortillas, and tortillas in general, flour tortillas," she said. "There are more chiles and jalapeños in Mexican food."
Among Kiosko Latino's most popular items from the Puerto Rican side of the menu are the pernil combo (roasted pork, pigeon peas, tostones, $11.95) and pastelillos (deep-fried pockets with various fillings, $2.65). The Gordo Burrito (choice of meat, Mexican rice, refried beans, pico de gallo, guacamole, sour cream in 14-inch tortilla, $8.75) stars from the Mexican options.
Rodriguez was eager to highlight one dish that fuses the two menus: The Mexi-Rito, a burrito that joins Mexican beef and rice with Puerto Rican sweet plantains and beans ($7.49).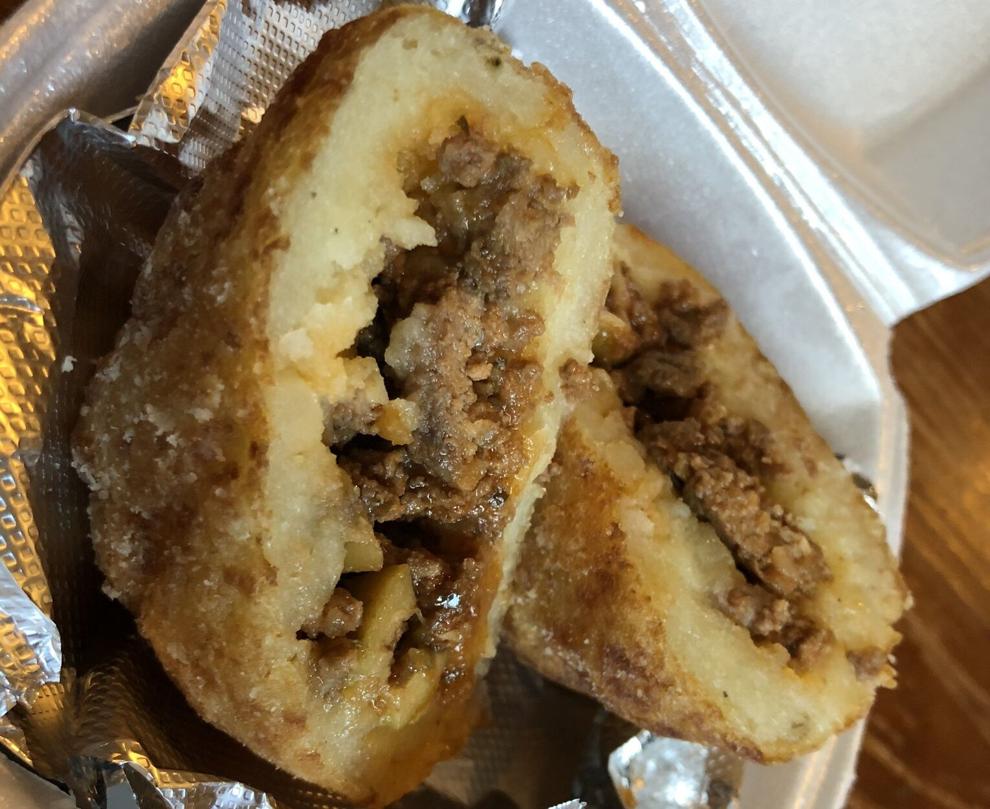 The owners were part of the small business incubator in the West Side Bazaar, managed by WEDI Buffalo, which del Carmen credited for providing the tools and experience to venture out on her own, much like the bazaar did for Gourmet Lao Foods, which opened its first brick-and-mortar by SUNY Buffalo State College in 2018.
While the program gives you a quick start, del Carmen said, it goes beyond that. "They help you all the way with counseling and checking on you to see how you're doing, and giving you advice on what to do to get better and get customers. It's a blessing."
Carolynn Welch, WEDI Buffalo's executive director, praised the couple.
"To watch [del Carmen and Rodriguez] grow as businesspeople and be successful in what they love doing is inspiration not only to me, but to other West Side Bazaar businesses and WEDI staff," she said.
INFO: Kiosko Latino, 345 W. Ferry St. (207-9282). Hours: 11:30 a.m. to 6 p.m. Tuesday through Thursday, 11:30 a.m. to 7 p.m. Friday and Saturday. Closed Sunday and Monday. During the pandemic, ordering is limited to delivery, scheduled between 11:30 a.m. and 1 p.m. for lunch, with pickup and delivery both available after 1 p.m.