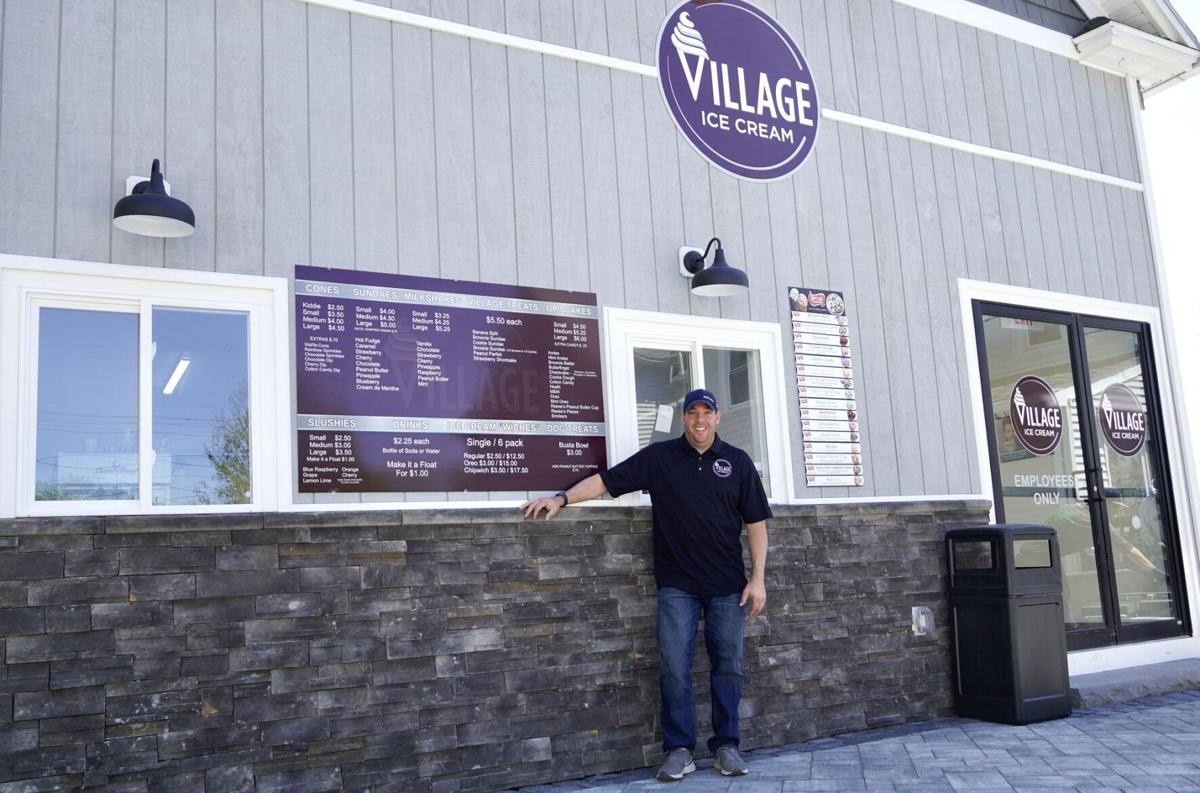 The Village of Orchard Park has long been a relative desert for ice cream options. Route 20 Ice Cream and Taffy's have all warranted special trips to OP's periphery, but the heart of the village has sorely lacked a walkable destination for creamy treats.
That void is about to be filled May 20, when Village Ice Cream of Orchard Park opens at 6413 W. Quaker St. (Route 20A), a block from Orchard Park Middle School and the Boys & Girls Club. 
Brian Tefft, owner of T & R Seasonal Services and co-owner of the new ice cream stand, remembers the 80-degree day in September 2017 that planted the vision of a side business in his mind. His team of landscapers was handling parking and selling mums, scarecrows and pumpkins at the annual Quaker Arts Festival (now the OP Festival of the Arts). When visitors were getting in their cars to leave, the most frequently asked question was: "Is there any place we can get ice cream around here?" The answer then was no.
Already in the process of moving his landscape company out of 6413 W. Quaker St., Tefft had to make a decision for the future of that property. Instead of selling, he and his wife, Jillian, decided to revamp the barn space into an ice cream stand, with no indoor seating and two windows, for ordering and pickup, set back from 20A between a law office and a family eye doctor.
Village Ice Cream will have limited parking in its lot, with two or three tables for seating and a couple of chairs on a small patio. "We're going for a hometown village feel," Tefft said.
The setup is standard for a community ice cream shop. The Teffts use Perry's Ice Cream, with 16 flavors of hard ice cream plus vanilla, chocolate and twist soft serve. Quakes ($4.50-$6) are the stand's take on Dairy Queen Blizzards, with Butterfinger, Snickers, Andes Mints, Heath and Reese's among the toppings to be mixed in. Cones ($2.50-$4.50), sundaes ($4-$5), milkshakes ($3.25-$5.25), slushies, floats and prepackaged ice cream sandwiches also dot the menu. 
For healthier and dietary options, Village Ice Cream will carry one flavor of Dole Whip, Wow Cow and Perry's dairy-free cookies-and-cream hard ice cream. The Busta Bowl ($3), named in memory of Brian's original furry landscaping partner, is an edible dog bowl, vanilla custard and a dog biscuit, with the choice of adding a scoop of peanut butter for an additional 70 cents. 
Even though it's his first business connected to food, Brian has put in time to prepare, installing a soft serve ice cream machine in his garage and eating ice cream around three times each week. Co-owner Jillian, a teacher in South Buffalo, and the couple's 13-year-old daughter will be intimately involved in the family-run enterprise.
INFO: Village Ice Cream of Orchard Park, 6413 W. Quaker St. (20A). Hours: Noon to 9 p.m. daily beginning May 20. Will operate seasonally, from roughly April 1 to Nov. 15.