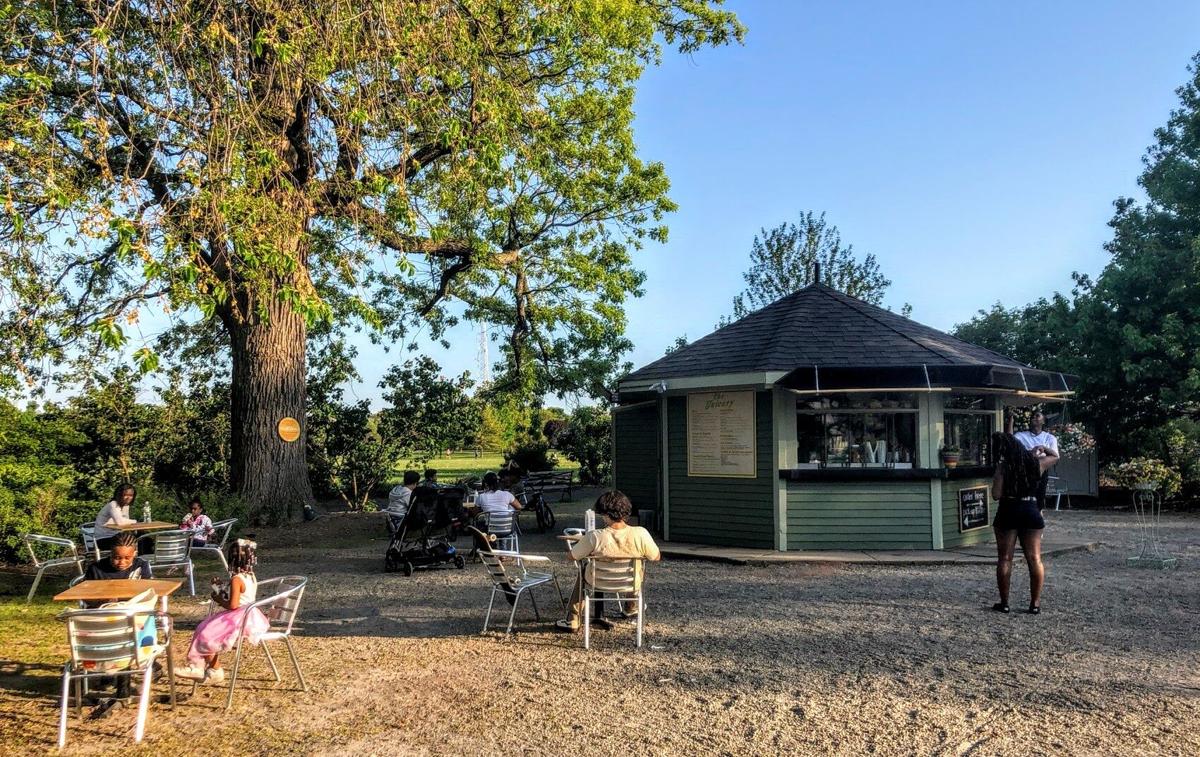 Angelo Canna, the new owner of the Juicery in Delaware Park, cherishes his memories of the park's concessions area as a kid in the Parkside neighborhood.
"I loved the tuna pockets with alfalfa sprouts – I'd get $10 from my mom and then she wouldn't see me the whole afternoon," Canna remembers.
The restaurateur, who also owns Hooked in Williamsville and Dos on the Lake in Blasdell, explored taking over the 200-square-foot stand, where Meadow Drive meets Nottingham Terrace, from previous owner Angelo Ashker last September. Canna officially opened it in May as a quick-stop option for parkgoers. 
Jake Caprow is the Juicery's manager and minority owner. He and Canna work in concert with the Buffalo Olmsted Parks Conservancy, the nonprofit organization that oversees operations at all six Olmsted parks.
The Juicery's concept centers on fare that's "as close to the earth as possible," Canna explained, with fresh juices, smoothies, handheld pita pockets, yogurt and acai bowls, and salads among the stars of the small menu. The balance between nutrition and treats caters to the variety of visitors to the park, which include droves of youth soccer players and their families, adult kickball teams and adults exercising or picnicking. 
The stand sources almost all of its products from Braymiller Market, the Hamburg grocer dedicated to supporting small, local farms. The seasonal fruits and vegetables available from the supplier will dictate some of the Juicery's menu items.
The tuna salad pocket ($8.25, with mixed greens and miso dressing) Canna mentioned is housemade tuna salad with alfalfa sprouts, tomato, red onion and cucumber. The chicken Caesar pita pocket ($8.50) features grilled chicken, romaine, Parmesan and Caesar dressing on the side. Egg salad, the veggie pocket and the hummus pocket, all $7.25, represent meatless options.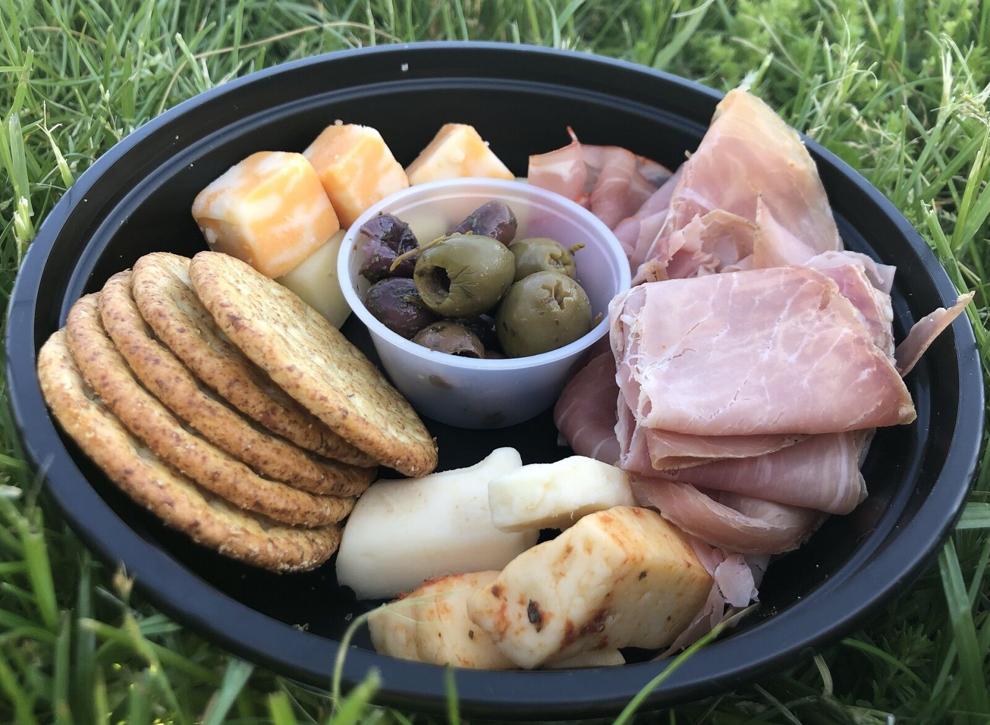 A meat-and-cheese pack ($10) – think picnic-style charcuterie – touts a rotating cast of flavors, with cured meats such as prosciutto joining cheeses ranging from colby jack to Muenster and more. A small cup of green and black olives is a perk, and a handful of crackers can serve as the foundation for the meats and cheeses.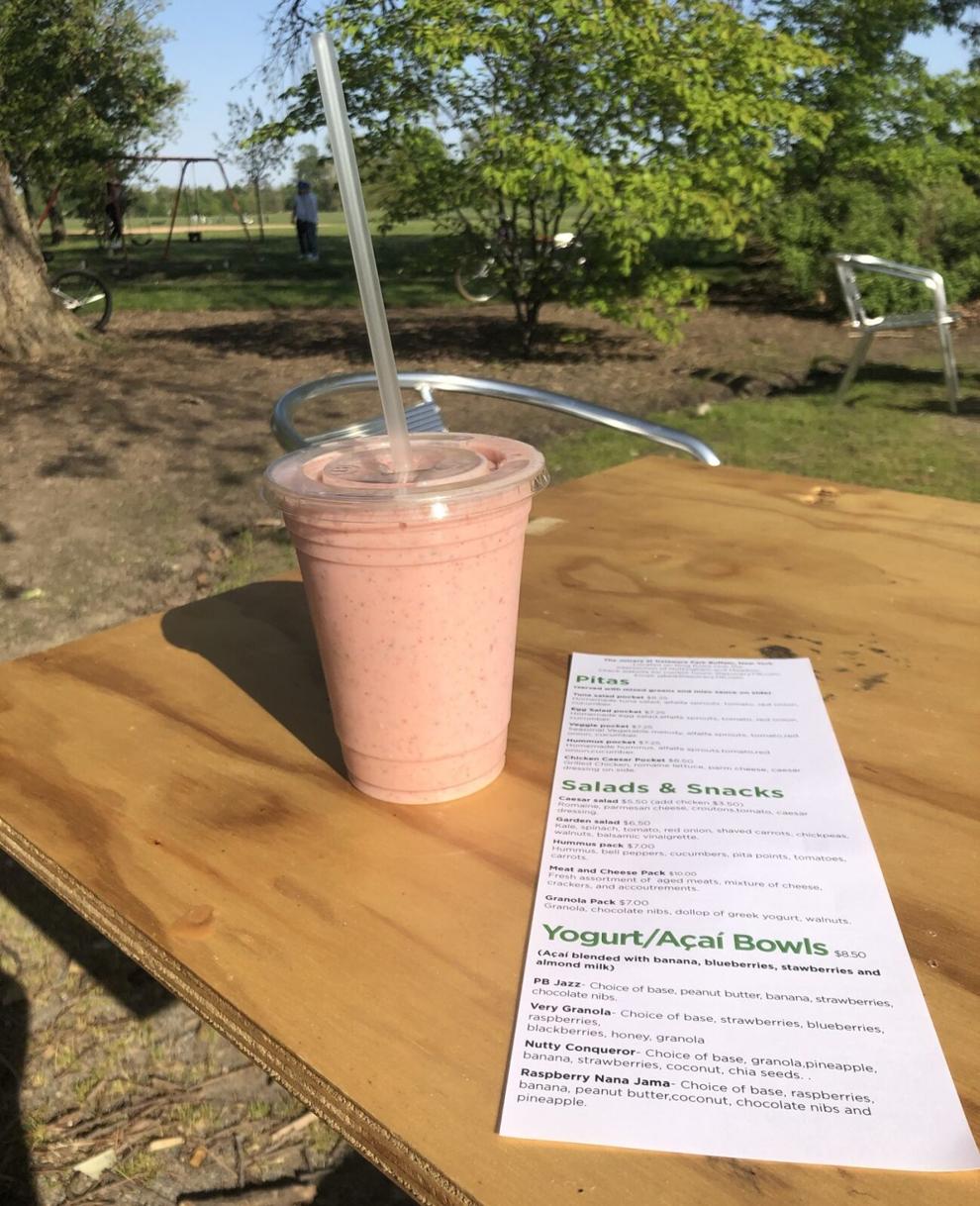 Smoothies aim to refresh, with fruity options like Berry Passion and Orange Twist blending fresh fruit with Greek yogurt and almond milk, and veggie-infused drinks like Greens Dream and Veggie Passion adding ingredients like spinach, cucumber and kale to stronger flavors like lemonade, pineapple and mango. Smoothies are all $7.75, with the option for adding a scoop of whey protein for an additional $1.50.
Four specialty smoothie bowls ($8.50), available with either yogurt or an acai base, work in chocolate, blackberries, granola, coconut, chia seeds and several other ingredients.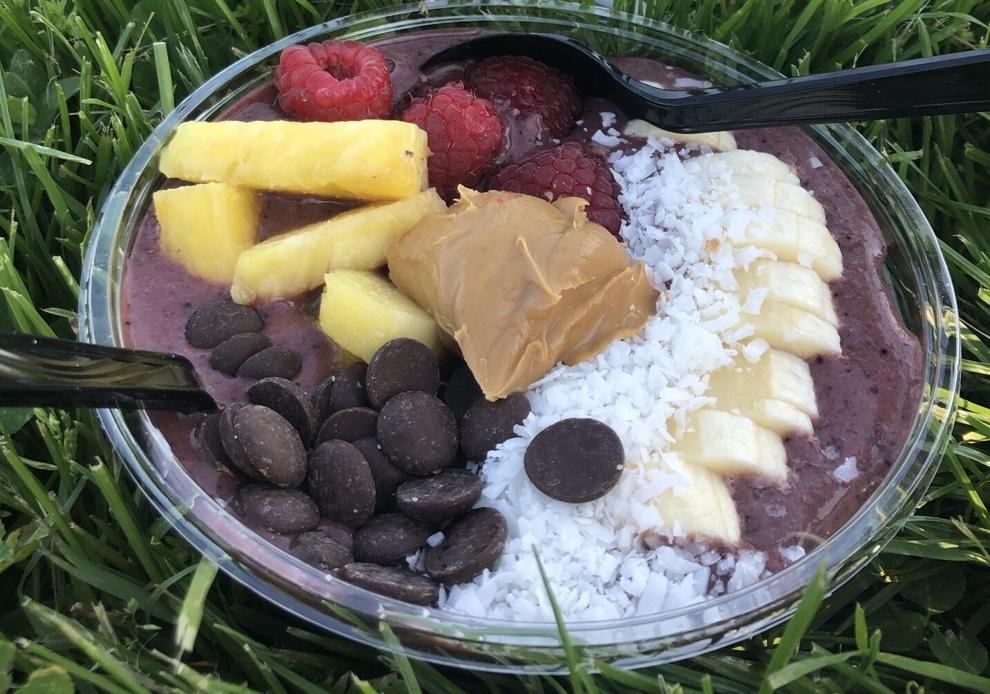 Perry's ice cream comes in a dish or a waffle cone ($3 small, $5 large). Toppings like fruit, melted chocolate, melted caramel and sprinkles can be added for $1 apiece. Milkshakes, too, grace the menu.
Canna complimented the Olmsted Parks Conservancy in listening to his suggestions for the space, which included greater seating (roughly 10 tables and 20 chairs), a portable potty nearby and several ideas for how to keep the previously seasonal space relevant in the fall and winter. The conservancy has approved the Juicery's initiative to pair live music with a wine night on Thursdays throughout the summer while a miniature farmers market, essentially Braymiller produce and goods like fresh garlic, navel oranges, apples, marmalades, honeys, olive oil, Canna teased, will soon be displayed daily.
For the colder months, Canna envisions decorating the Juicery with pumpkins, gourds, hay bales and corn stalks while embracing the fall harvest from Braymiller. Activities such as hayrides in the fall and sleigh rides around the holidays could attract enough customers to make the venture worthwhile. Canna plans to be open from dawn to dusk daily from April through December; hours are roughly 8:30 a.m. to 8:30 p.m. during the summer.