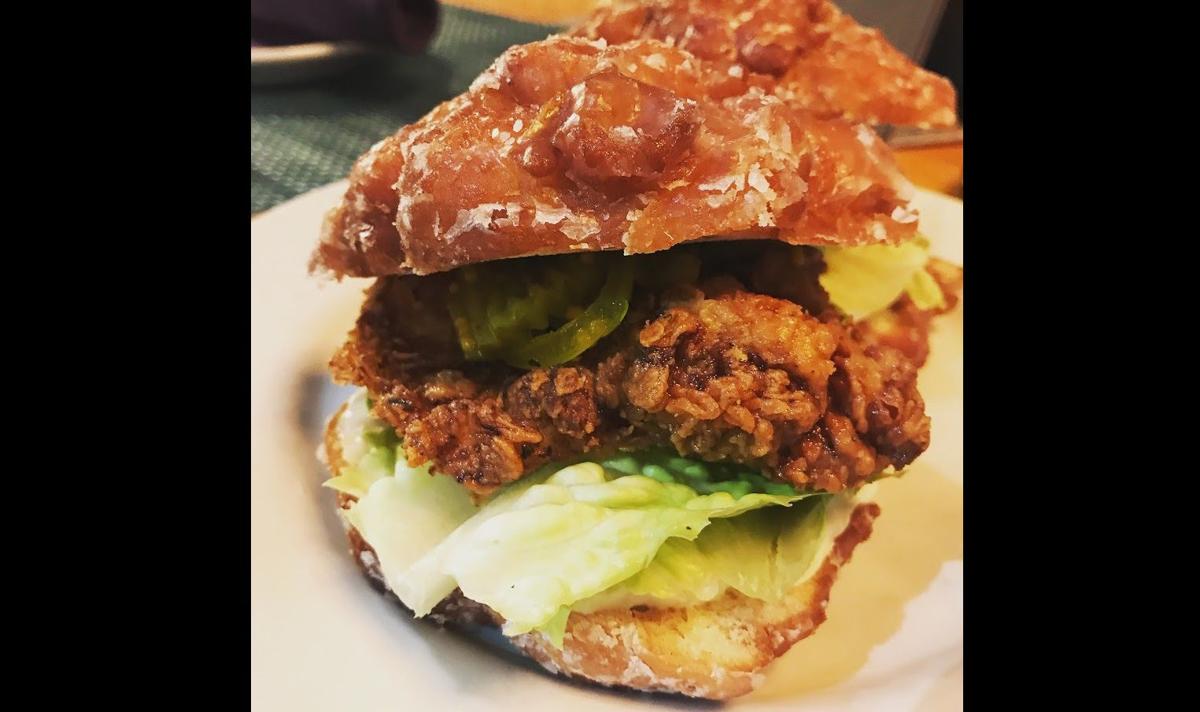 Summer's roundup of drool-inducing food photos from Buffalo restaurants proved one thing: an easy way to halt absent-minded feed-scrolling is an image of a delicious dish.
It's why the Tasty instructional videos are popular, it's why restaurants invest in professional-level photography to showcase their dishes, and it's one reason why The Garage Cafe can barely keep up with the demand for its gargantuan cinnamon rolls on weekends.
1502 Niagara St. 259-9306.
To know: One of Buffalo's more coveted brunch options rolled out this prime rib eggs Benedict last weekend, a luxurious option that's (perhaps) just as pleasurable for your eyes as it is for your stomach. Martin Danilowicz's Niagara Street restaurant offers an upscale play on steak and eggs each Saturday and Sunday in its menu, which ranges from $8-$30.
Brunch! Prime Rib Eggs Benedict...#roost #roostbuffalo #roostwny #food #foodie #foodporn #delicious #gourmet #brunch...

Posted by Roost on Saturday, November 3, 2018
351 Fries Road, Tonawanda. 836-8020.
To know: Gino Pinzone is one of the most gregarious owners around, eager to crack a joke or carry on conversation (and star in the occasional social media video). Gino's Instagram page approaches 2,000 followers, and images - like this close-up of barbecue wings finished on the grill - give another dimension to a takeout joint that's steadily rolled out Buffalo comfort food for 35 years.
2872 Delaware Ave., Kenmore. 322-1704.
To know: Jay's social media accounts are a window into the culinary mind of pizzaiolo Jay Langfelder, who recently earned national plaudits from The Daily Meal for his nduja pizza. (Beyond The Mess Hall and Jay's, nduja - an Italian pork spread - is fairly hard to find on Buffalo menus).
From Langfelder's obsession with perfecting Neapolitan crust to his Instagram posts trumpeting Tuesday night specials ($10 for this marinara pizza, below), the small Kenmore operation continues to up the ante for Buffalo's pizza expectations.
4401 Transit Road, Clarence. 580-7872.
To know: Even though This Little Pig has been working on a sizable restaurant expansion, owners Jeff Cooke Jr. and Mandy Cooke haven't slacked on their Sunday brunch offerings, with this sweet-and-salty sandwich - wrapped in a Paula's Donuts apple fritter (!) - a recent addition to the menu.
Honorable mention to Chef Jane Cooke's Miss Piggy Sundae, too, which lays candied bacon on top of housemade cinnamon ice cream. Take note of the Clarence restaurant's Beyond Big Mack, too, a brunch item that tailors the plant-based Beyond Burger to embrace classic fast-food tastes.
4236 N. Buffalo St., Orchard Park. 508-8491.
To know: After publishing the first "tantalizing photos" post, several readers took issue with Kaylena Marie's absence from the list. Judging by the popularity of the Orchard Park bakery's Facebook page, where each photo receives roughly 100-300 likes, we were remiss, so we won't snub them twice.
The bakery turned 2 years old last month, and Bills rookie quarterback Josh Allen even paid a visit recently. With respect to Kaylena Marie's caramel apple cake, the caramel apple French toast skillet is a lusty fall treat. (It even plays tricks on your eyes).
720 Main St., East Aurora. 714-9293.
To know: It's about time that mousse debuted in the tantalizing photos series! This elegant, smooth dessert from a relatively new wine/chocolate/small plate spot named after a legendary Southtowns horse looks plenty rich.
437 Ellicott St. 342-2901.
To know: When Buffalonians hear the word "stinger," late-night visits to Jim's Steakout are typically first to mind. But other eateries tackle the stinger concept, too, like New Orleans-inspired Toutant did in mid-September.
This meaty behemoth was just a very short-term special, but chefs James Roberts and Joseph Fenush will unpredictably craft late-night treats and share them to social media (even Twitter!). It's one reason to keep your eyes peeled to Toutant's social media channels.
So you're saying there's a chance.......
Word on the street is there is a sneaky sandwich feature today in the bar starting at 5pm. It's a real humdinger. With smoked prime rib and buttermilk chicken fingers it's a definite ringer. It's limited in quantity so I wouldn't linger. pic.twitter.com/MGAvMJxAPI

— Toutant Buffalo (@ToutantBuffalo) September 17, 2018
To know: Not every food photo need be fancy to warrant inclusion, as the Filling Station's belly-warming grilled cheese and tomato soup special (Oct. 5) looks simple, satisfying and quite cheesy. And those croutons!
Even though the Larkin restaurant is undergoing a kitchen transition - it'll be closed Nov. 9-12, reopening 11 a.m. Nov. 13 - it's well-suited for cold-weather eating, with a wealth of chili options and rotating soups. Major props for the backdrop of the photo, below, too.
9800 Main St., Clarence. 759-8961.
To know: Just as we were about to publish this post, Kennedy's Cove dropped a buzzer-beating cup of French onion soup on Facebook. Look at the cheese! (And maybe disregard the corny joke).