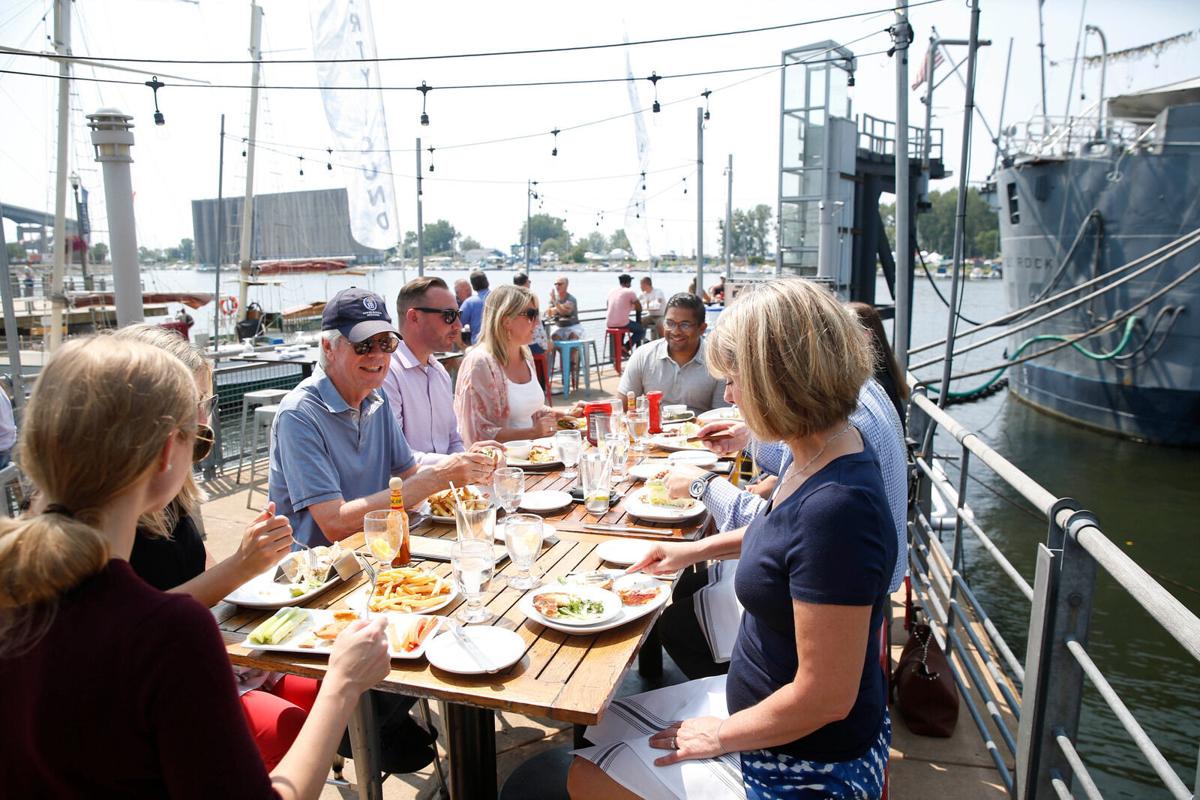 Late summer and early fall have always been my favorite times of year. With still balmy weather, I'm happiest when sitting back with an ice cold something-or-other admiring the sunset on the water. In the process of scoping out various spots throughout Buffalo, I've developed a pool of my favorite patio restaurants with water views to soak up the last bits of summer and welcome the fall.
Picture this: You're on a boardwalk, among twinkling string lights, and sitting at a high-top table in the middle of a boatyard on Buffalo's downtown waterfront. That's Liberty Hound.
Appetizers include truffle oil fry baskets, nachos, calamari and Buffalo Wing Pierogi (all around $12-$14). For entrées, guests can take their pick from mostly seafood, handhelds and salads. The fish tacos are a favorite, complete with cerveza-battered cod or grilled shrimp corn tortillas, cole slaw, pico de gallo, tomatillo salsa and cotija cheese. Other notables are the Chicken & Brie sandwich, shrimp po'boy, seafood jambalaya, fish fry and Buddha Bowl. If dining out with the family, kids can pick from the fish fry, shrimp basket, chicken fingers, hot dog or grilled cheese for about $8.
With a gorgeous view of the Buffalo Harbor and City Hall, Templeton Landing is an upscale dining experience with spectacular waterfront views at indoor dining tables and outdoors by the fire pits.
Living up to its standard of having "something for everyone," Templeton's starter menu includes crab cakes ($16), beer-buttered littleneck clams ($18) and truffle butter and Parmesan fries ($9). The seafood-driven entrée menu has the Templeton Landing fish fry ($20) and Grilled Faroe Island Salmon ($26), along with meat options like USDA Choice Grilled Ribeye ($40) and Filet Mignon ($36). A raw bar of chilled seasonal oysters ($16), shrimp cocktail ($16) and littleneck clams ($13) would be great to split with any entrée. Add a bowl of clam chowder ($8) or salad ($10-$13).
Templeton's bar menu has the best variety on this list. Cocktails include the Strawberry Mule ($11) and Gin Membership ($10). Also offered are white and red sangrias ($10), mojitos ($10-$11), frozen drinks ($10), draft beer ($4-$7), craft beer ($7-$8), hard seltzers ($7) plus white ($7-$14), red ($10-$12) and sparkling ($9-$11) wines. Happy hour is from 4:30 to 6:30 p.m. Wednesdays through Fridays with food and drink specials including $3 off some appetizers.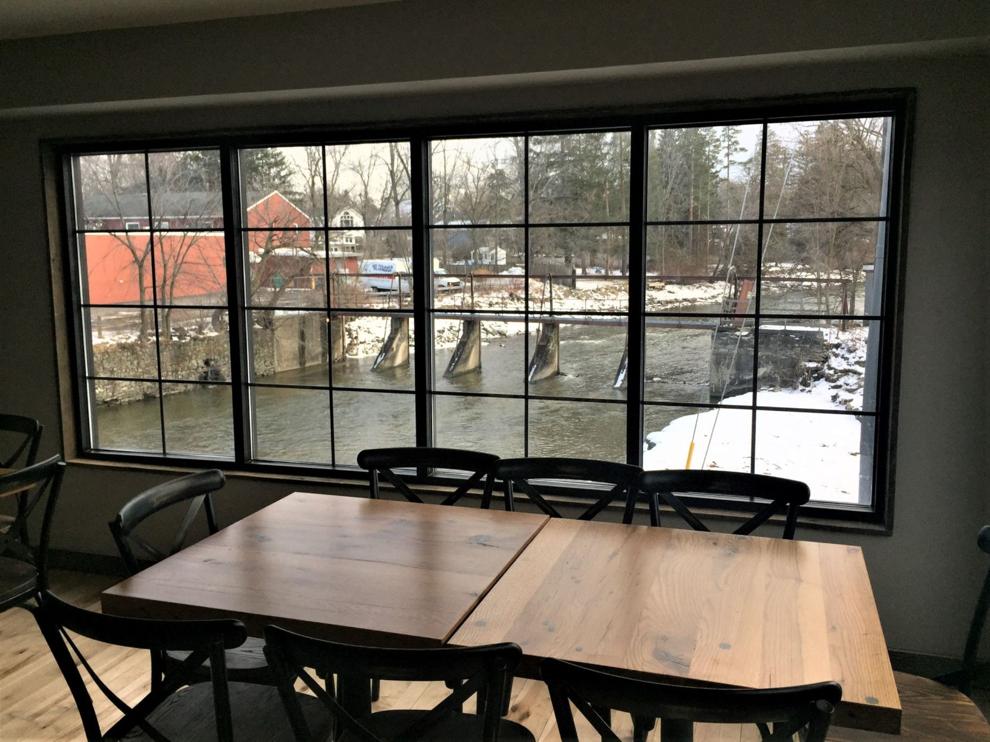 Williamsville: Ellicott Creek
Britesmith promises guests that it will serve "perfectly polished pints in Williamsville, NY," and boy, do they deliver. Located in an 1800s blacksmith shop overlooking Ellicott Creek, near Glen Falls and Island Park in the village, it has a variety of Britesmith craft beers such as the Strawberry Mango Sour ($8) and Creekside Cream Ale ($7), along with dark beer, Pilsner and IPAs ($7-$8). Britesmith welcomes guest brews as well with choices like Thin Man Brewery's Minkey Boodle ($8), the Run Wild nonalcoholic IPA from Stratford, Conn. ($6), a Nine Pin Cider from Albany ($7), and a Black Marble Nitro stout from Kilkenny, Ireland ($8). Wines ($8-$14) and cocktails ($10) are also on the menu.
As if the gorgeous waterfall creek views and beer assortments aren't enough, this spot has some of the best brewpub bites I've had in a while. Shares, or, apps, range from $9 to $22. I tried the Beet Pickled Deviled Eggs ($8) and Cheek on Weck Sliders ($16), both of which I'd give a strong recommendation. Britesmith offers a variety of Neapolitan pizzas, burgers, sandwiches and salads ($10-$29). The fried chicken sandwich with tomato jam is worth every penny of $17.
Just across Ellicott Creek from Britesmith, Creekview offers a more upscale dining experience. If you sit at one of the tables along the row of windows, you can enjoy your entrée with a view of the running creek.
Creekview is a prime spot for date night with water view ambience and a variety of delicious options. The restaurant offers a choice of appetizers including fried calamari ($14.95), steamed mussels ($14.95) and a Greek Tapas Plate (12.95), among options ranging from $8.95 to $23.95 (for two dozen Clams Casino). Entrées include pastas, handhelds, burgers and seafoods ($11.95 to $32.95). Guests can add a salad for around $12-$15. The "Little Ones" menu ranges from about $7 to $10.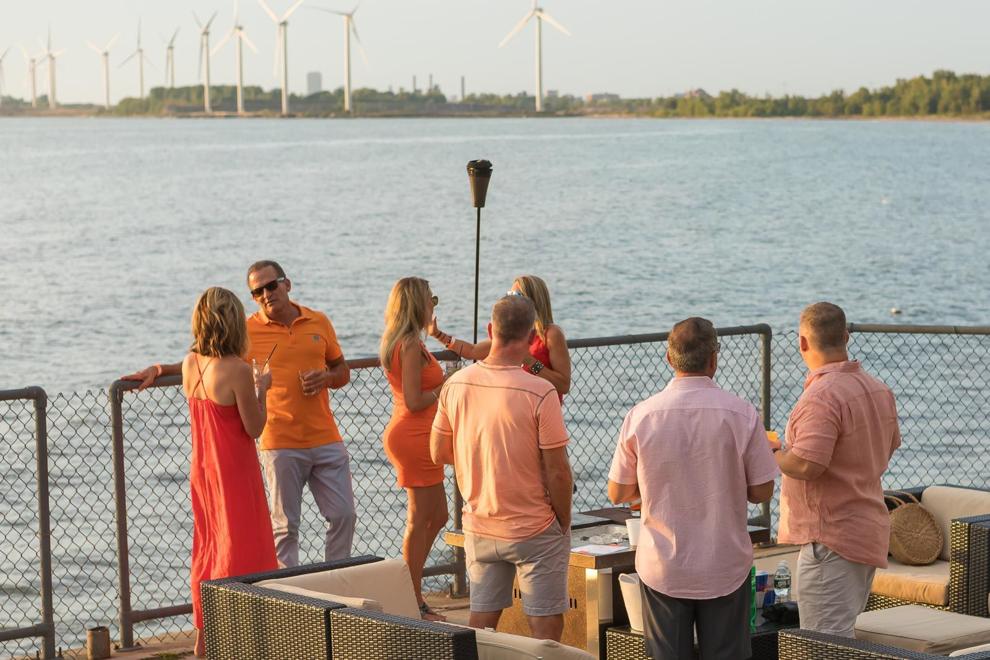 This comfortable and picturesque patio spot, situated in a former inn dating back to 1805, has gorgeous views of Lake Erie. Guests can meander through the windowed interior dining room that overlooks the lake to find a spacious patio with outdoor tables and couch seating, cradled by hanging lights. The sunsets are hard to beat, with only the lake for miles in the horizon.
The menu oscillates between Buffalo favorites and seafood. Appetizers include the Lobster Roll ($17), Buffalo wings ($16) and Bang Bang Shrimp ($14). Salads and sandwiches are from about $16 to $18 with such choices as Avocado Chicken Bacon ($17) and Cubano ($16). Seafood selections include Scallops & Chorizo ($30), Balsamic Glazed Salmon ($28) and lobster ravioli ($27) with "land" options like the garlic-ginger chicken with cilantro and mint ($24) or apple cider BBQ pork chop ($30).