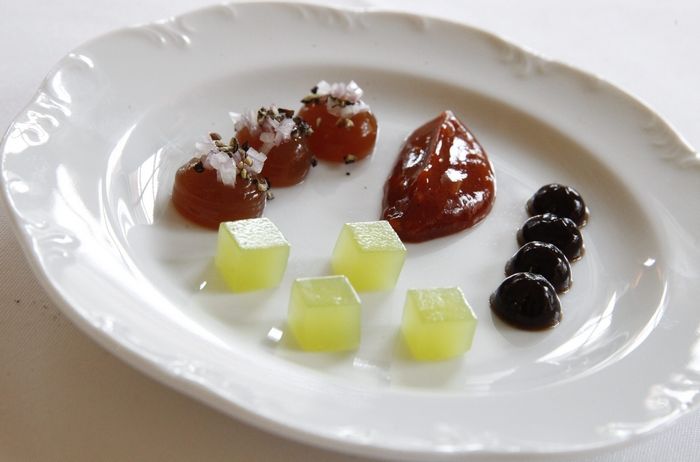 Restaurant years are like dog years. Five years can be a memorable place's lifetime, 10 years a "great run." Yet longevity is no guarantee of excellence by itself. Some of the longest-lived places are fueled by diners' fond memories more than fine food. Which brings us to Rue Franklin, one of the most highly regarded restaurants in Buffalo since the Jimmy Griffin administration. It was sold in 2011, often a precursor to fading cuisine. Not at Rue Franklin. A recent dinner there left me stunned, thankful that Buffalo's finest restaurants include this unassuming French-inspired jewel box. ¶ After parking in the lot next to the restaurant, we bundled inside and were relieved of our coats. A small central bar leads to dining rooms on either side. We were led to a white-clad table overlooking the courtyard, where lights winked from snow-covered shrubbery. Faint strains of accordion played in the background.
The menu included appetizers like salads, oysters, caviar and foie gras ($9-$20), and entrees like yellow pike, veal short ribs and filet mignon ($28-$36). Then there was "Oui, Chef," a lamb-anchored tasting menu ranging up to six courses, including a cheese course and dessert ($87). A three-course prix fixe dinner, offered Tuesday through Thursday, is a serious bargain at $37.
Warm, crusty bread, served individually, and a ramekin of butter topped with salt crystals started us off.
Menus firmly rooted in tradition can become fusty, but chef-owner Corey Kley delivers fresh enhancements to old favorites. Toasted brioche slices as an accompaniment to foie gras is ordinary, but getting perfectly crunchy slices like these is not. Fruity and acidic flavors are the other standard foie partners. Kley chose slices of sightly pickled kumquats, compressed to amplify their flavor, and dainty pyramids of blood orange gelee. It was pretty, and delicious, and set to rest my fear that Kley was content to play the classics on repeat.
Dish after dish demonstrated diamond-cutter precision in technique, proportion and seasoning. The table's saltshaker and pepper mill went untouched. Skin on the yellow pike entree ($28) arrived crisp, while the flesh was creamy. I thought the Dijon cream sauce was underseasoned until I mingled it with the braised red cabbage and the plate's parts sang in dulcet harmony.
Kley uses molecular gastronomy techniques, but not to turn out edible magic tricks. Accoutrements with the oyster appetizer ($17) were a good example. There was a dab of house-made ketchup with aromatic local horseradish, and black dots of seaweed-soy reduction delivered essence of the sea. Mini-dice of apple-cucumber gelee offered a vegetal-fruit counterpoint. Instead of mignonette, the classic shallot-vinegar sauce, there were dabs of reduced shallot-vinegar gel carrying crunchy minced shallots and cracked pepper – all of the flavor without diluting oysters' prized natural liquor.
That's just the seasoning choices for raw oysters. I won't go to that level of detail with all of the dishes because it misses the point. The joy of dinner at Rue Franklin is that it makes these minor palate epiphanies seem effortless.
A bowl of wild mushroom purée topped with a herb-infused milk foam ($11) was a black-and-white study in mushroom essence, with black trumpets, porcini and a touch of black garlic giving it a husky flavor that belied its smoothness. It reminded me fondly of the forest. Another subtly rustic dish on the menu is a winter vegetable salad ($14) with a hay-based glaze, hay-smoked egg yolks and hay ash oil, which I regret not trying.
Cat's breast of squab ($35) cut through the rosy poultry's livery note with supremes of blood and navel oranges and ruby grapefruit, blood orange gel and broadened with Swiss chard and smoked almond cream. Veal short ribs ($34) were spoon-tender meat with plenty of gelatin left to add lushness, over a purée of root vegetables like parsnips, carrots and celery root that still had texture, and sautéed baby spinach for greenery.
I chose the full tasting menu. My first course was a warm lobster salad with orange and pomegranate, a cylinder of tender nuggets of lobster and finely diced root vegetables crowned with shiso microgreens amid lettuce, shaved radish and scattered pomegranate seeds. A pomegranate vinaigrette dressed the salad, with supremes of blood and navel oranges for a burst of sweet acid.
Second: Sweet bay scallops in an orange brown-butter were jumbled with roasted cauliflower, brown butter, microgreens and citrus supremes, a repeated element that I didn't mind seeing again.
There was good ol' meat and potatoes, too. Three ounces of buttery-rich seared, sliced Australian wagyu steak was served with batons of crispy hash-browned potato and red wine sauce. Then came lamb, pink and tender, moistened with herbed jus and served with pave, a slab of gratin made with phyllo-thin potato slices.
Fifth was a cheese course, offering five, made from pasteurized and raw cow's milk, sheep and goat's milk, and St. Augur blue. They were accompanied by gently candied pecans, dried cherries, golden raisins and apricots, and grapes macerated in spiced port, served with Five Points Bakery walnut-raisin bread.
Sixth was an apple tart with crisp pastry and tender apples that ended my long sulk about apple tarts, even before I tasted the intense caramel ice cream. The warm chocolate soufflé cake was intense and aromatic yet light. The sticky toffee pudding was more restrained than the Black Sheep's, but it was satisfying cozied up in toffee sauce and whipped cream. Then there was the classic Ile de flottante, a meringue cloud that arrives floating on crème Anglaise, with a crunchy caramel drizzle and toasted almonds. When it was time to pay the bill, the meal ended with bites of nougat studded with pistachios.
Our server was polite and attentive. Her suggested glass of French Syrah with my lamb enhanced the pleasure of both. She managed our meal so that my six courses were woven into the flow of my dining partners' three, with simultaneous presentations of appetizers, entrees and desserts.
The mixed greens salad with Dijon vinaigrette ($9) had pieces of lettuce that should have been smaller. Our server did not offer coffee before dessert. Those are all the complaints I had.
By freshening up classic dishes with a discreet innovative streak, and serving them adeptly in quiet comfort, Rue Franklin remains among the first rank of Buffalo restaurants.
Longtime favorite offers fresh touches to classic dishes in subdued comfort.
HOURS: 5:30 p.m. to 10 p.m., Tuesday through Saturday; closed Sunday, Monday.
PRICE RANGE: Appetizers, $9-$20; entrees, $28-$36.
PARKING: Lot. WHEELCHAIR ACCESS: Yes.