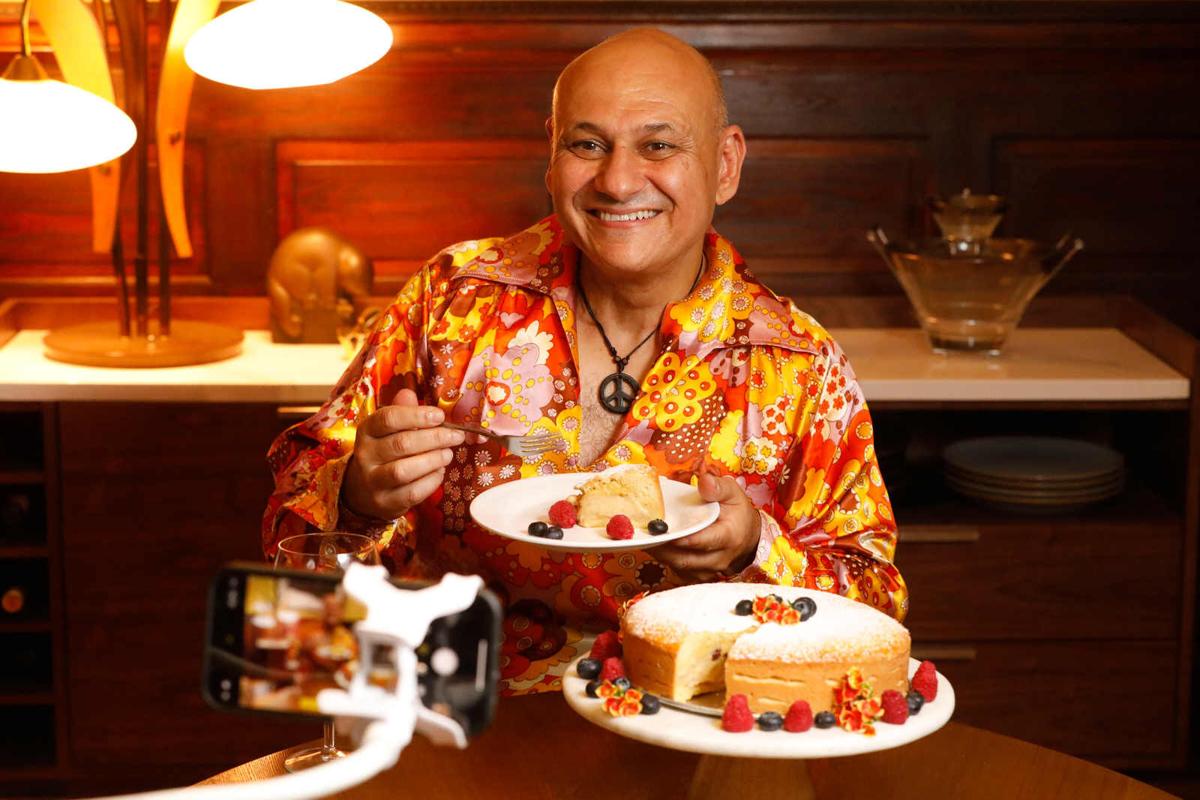 Food is my bailiwick, not art, but when the two collide in spectacular fashion, providing a tonic to the soul, I feel compelled to bring the results to your attention.
I suggest you look at an account on Instagram, the only place that you can get the full grandeur of Polyester Bakes (instagram.com/polyesterbakes).
Artist Michael Mararian picks a vintage outfit and bakes a classic cake that fits the look. This isn't just eye candy, though. Mararian's detailed exegesis of the history and cooking techniques in the classic recipes he's unearthed and produced are worthy reading even without the pictures.
But what pictures. To go with the "ornate doozy" from Baroque times called a Spanische Windtorte, Mararian dressed up as Amadeus Mozart, down to the powdered wig and visage.
To honor the memory of his mother, who struggled with her weight to her dismay, Mararian posed in a silvery Saunette suit, "The miracle vinyl outfit that melts away the fat while you go about your daily activities," next to a cherry buttercream number mom would have loved.
Then there's Mararian doing a Tour de France nod in vintage cycling gear presenting Paris-Brest pastries, a wheel-shaped pistachio praline buttercream puff named after another famous French bicycle race.
He's done more than 30, at the rate of one a week, and is getting an extraordinary response on social media. A calendar, flipbook, or other giftable versions of the project may soon be in the offing, Mararian said.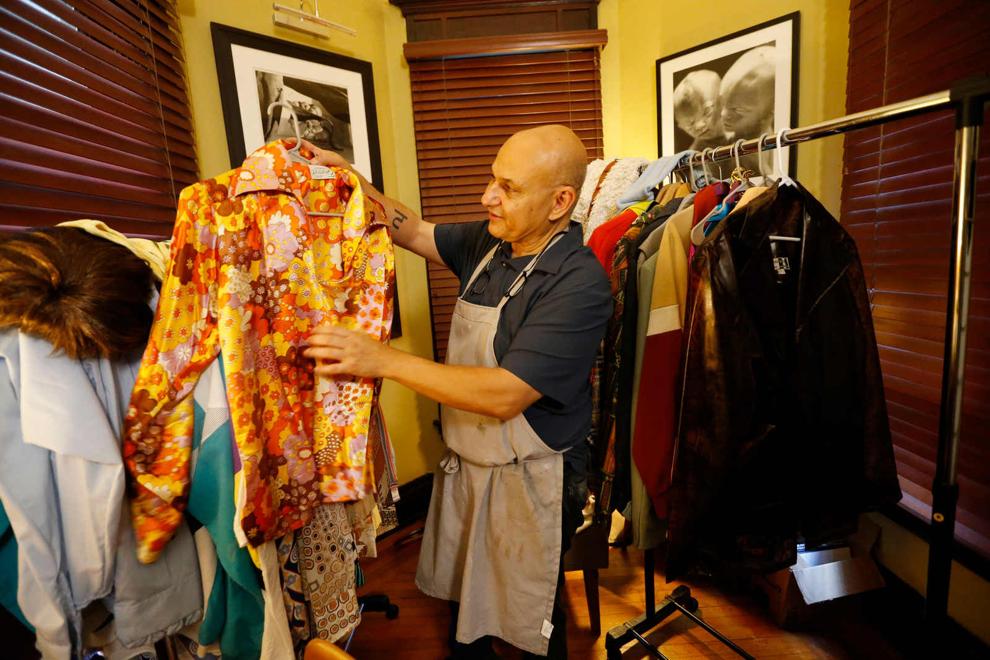 The backstory of the project mixes sweet and sad.
In 2003, two weeks after Elizabeth Lambert accepted Mararian's proposal of marriage, she found out she had cancer.
After they got married, they made the most of the time they had. The cancer went away, came back, and returned in 2008, Mararian said.
"In the final stages of her life, she was doing heavy brain radiation, and she was really wiped out. But she could still taste, it wasn't like some other radiations where you lose your taste and everything," he said.
So they would spend time together watching the Great British Baking Show. "Then every Sunday, to give me something to do, and to make her have fun, I'd bake something from the show that we saw, and we'd eat it."
Even though "I didn't know what the hell I was doing," he said, "she was always really, really forgiving."
After Lambert died in 2015, Mararian still baked some fancy cakes. Then his creative attention turned to felting, and he put the cake pans away for a while.
"When the pandemic hit, there was just nothing to do," Mararian said. So he went back to his baking ways. Around Christmastime, he made cookies, and posed with "this old vintage Christmas sweater on," and posted the photographs to social media.
He got more comments on the sweater than any baked goods he'd ever posted. "I was like, 'Hmm.' The next week I thought: I've got another old vintage Christmas sweater."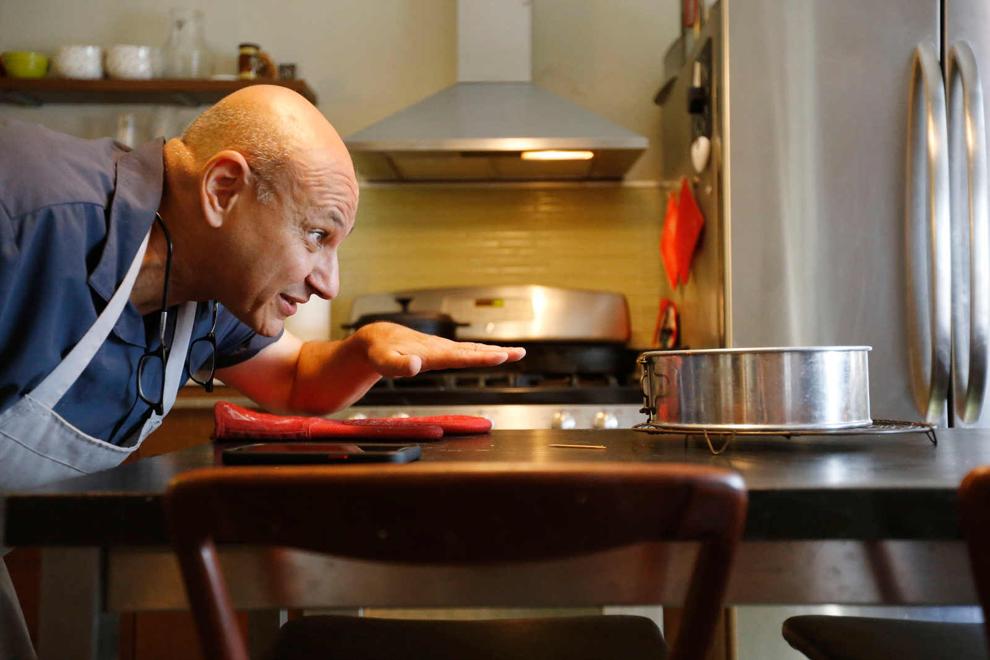 Then the artist took over from the baker. "Then I started buying vintage clothes, and posing with these crazy cakes I started making, and then that was it."
Challenged to wear a "sort of jumper" donned by James Bond, Mararian scoured the internet until he found a guy who would make him one.
Then there was the Spanish "wind torte," a sprawling baroque dessert made of artfully engineered meringues. "I'm doing the '70s, I'm doing the '80s, why can't I do the Baroque period?"
So Mararian went to DC Theatricks, 747 Main St., and asked the person at the theatrical supply house, "Have you got an 'Amadeus' kind of outfit?"
The answer was yes, which kind? Then Mararian ordered a wig, powdered it, and was all set.
To head off the flood of suggestions, yes the Sean Connery outfit from "Zardoz" has been pitched to him, and he's hesitant, fair to say.
After he makes the cakes, Mararian usually takes them to a party where they are a guest star. When he brought the Spanische Windtorte to a friend's party, in full costume of course, she told Mararian she'd been trying to have that cake for 15 years.
She'd gone to Austria 15 years ago and asked for it everywhere, to no avail.
Then Polyester Bakes happened, and her dream came true – in Buffalo.
Photos: Cake and fashion collide in Polyester Bakes
Polyester Bakes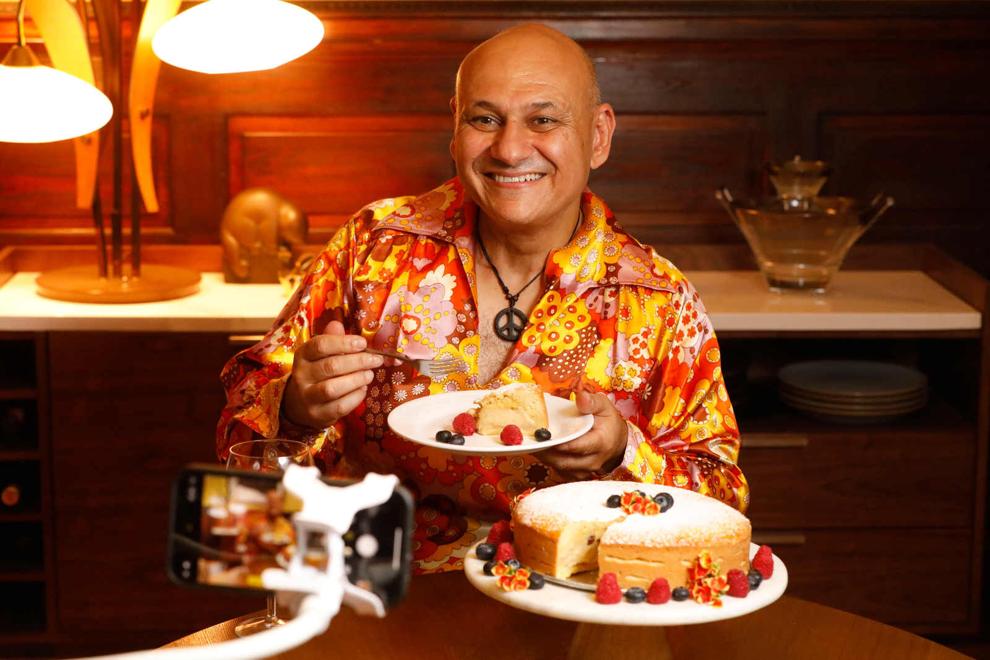 Art of cake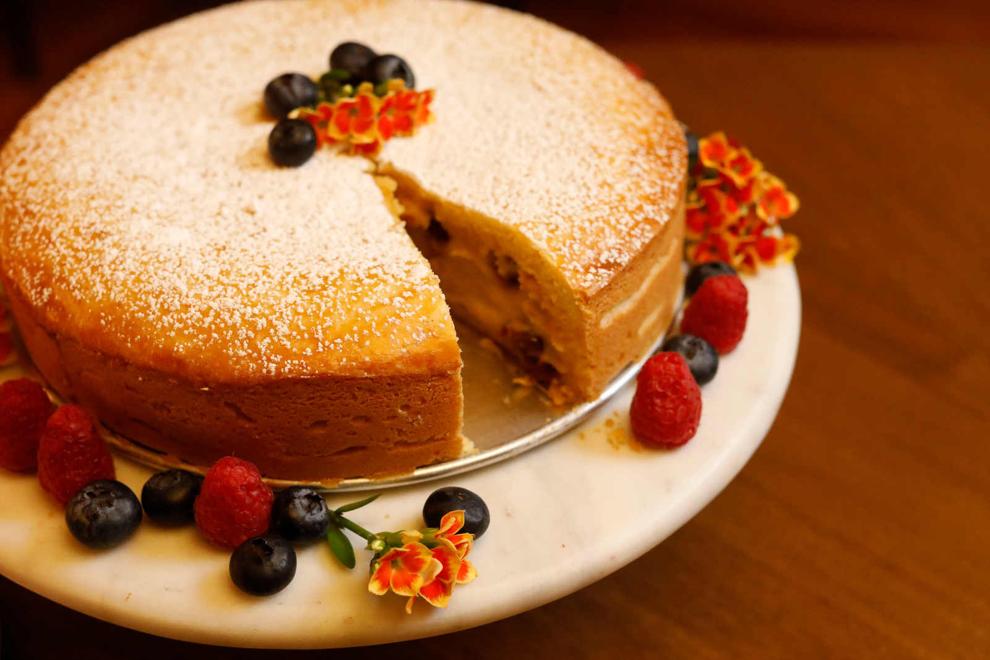 Trust the process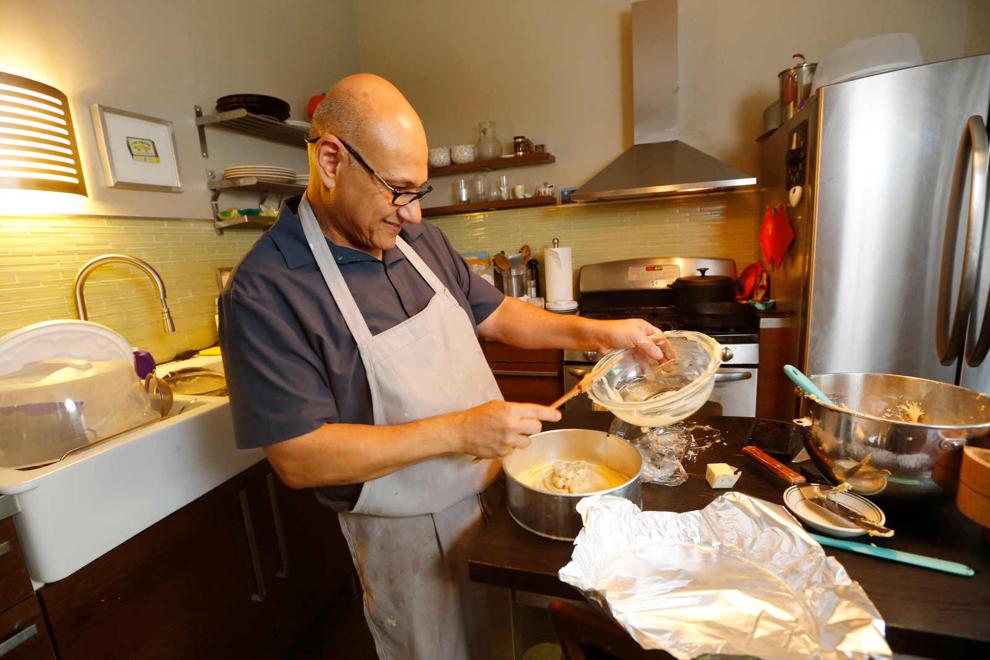 Professional technique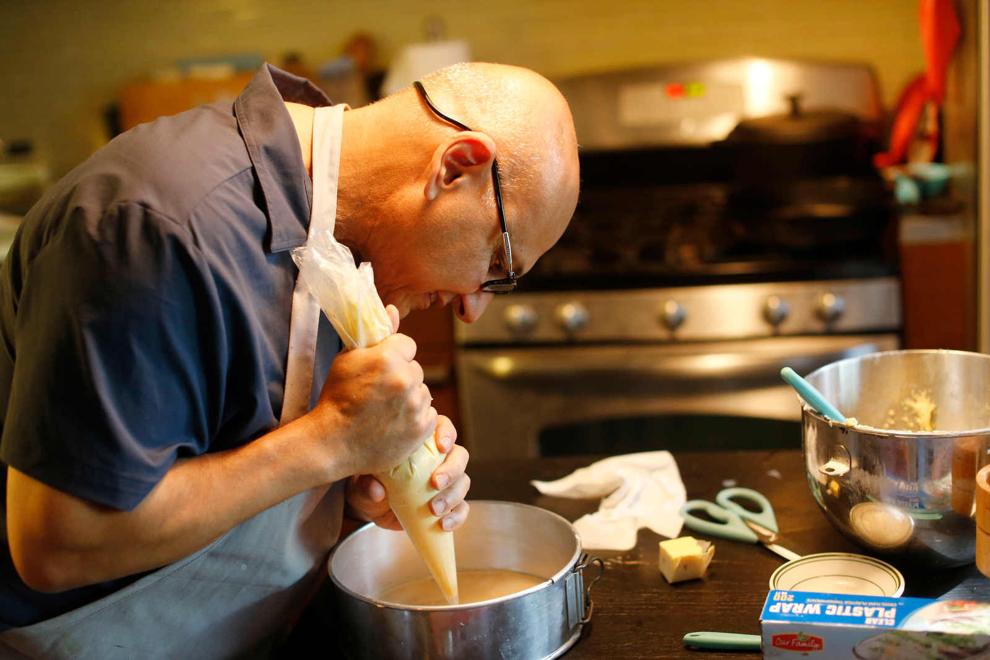 Bottom layer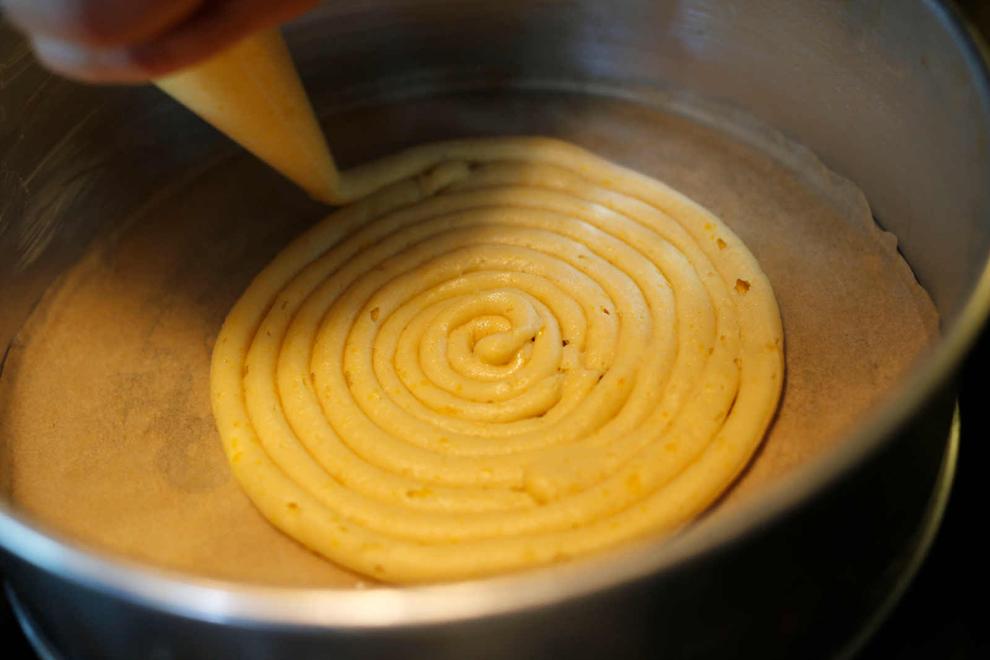 Sneaking a peak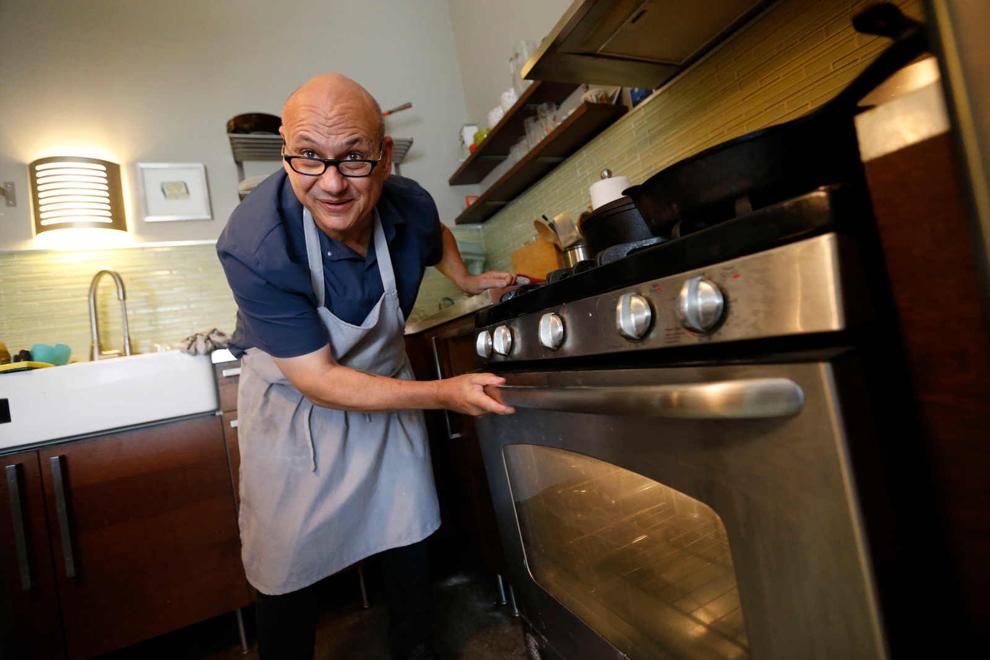 Anticipation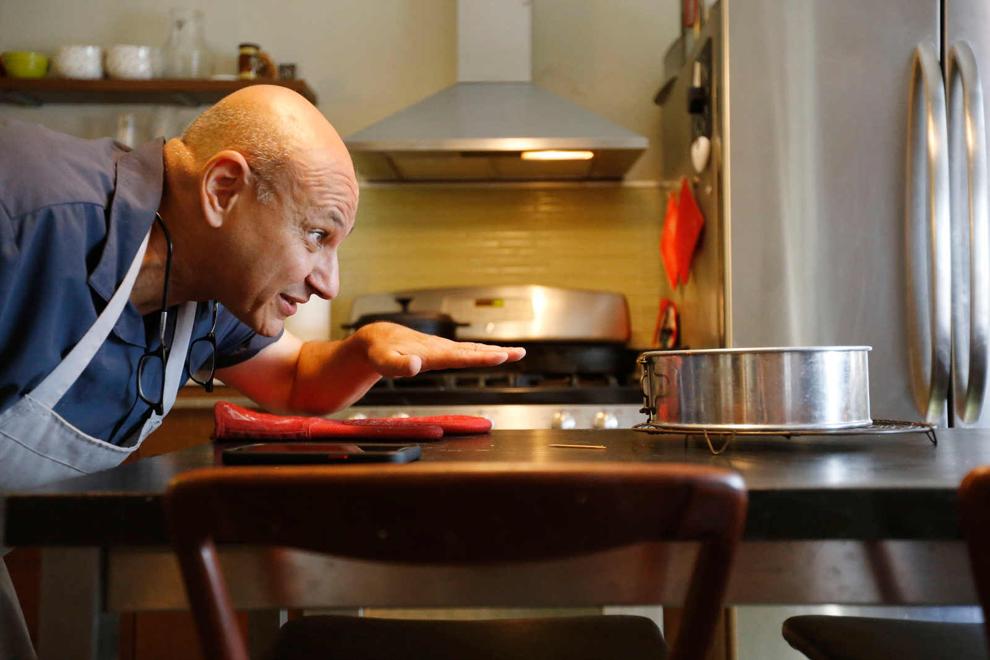 Success out of the oven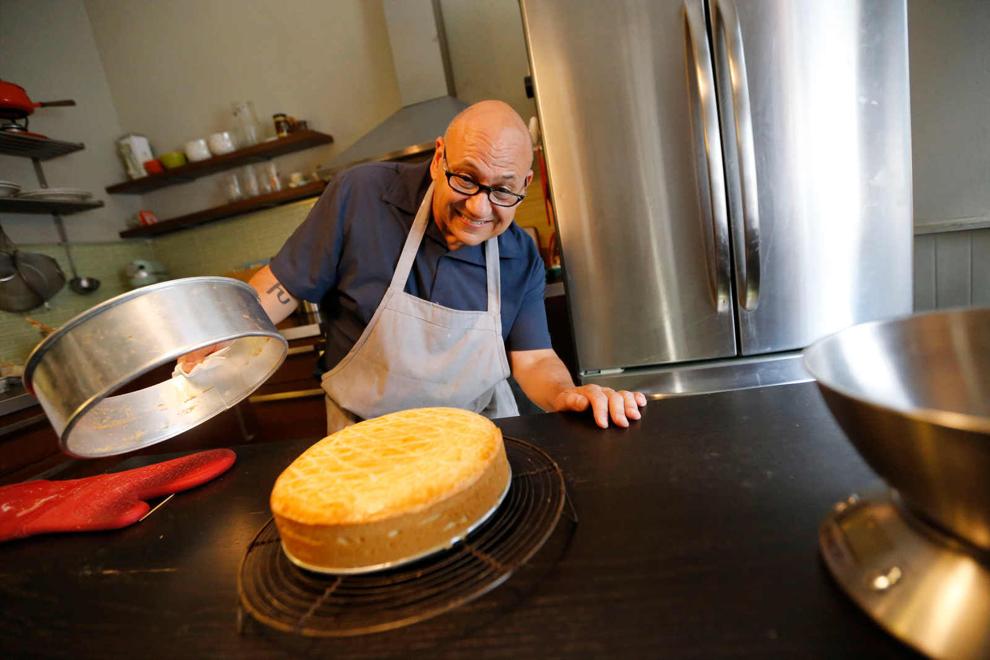 Dressing up the cake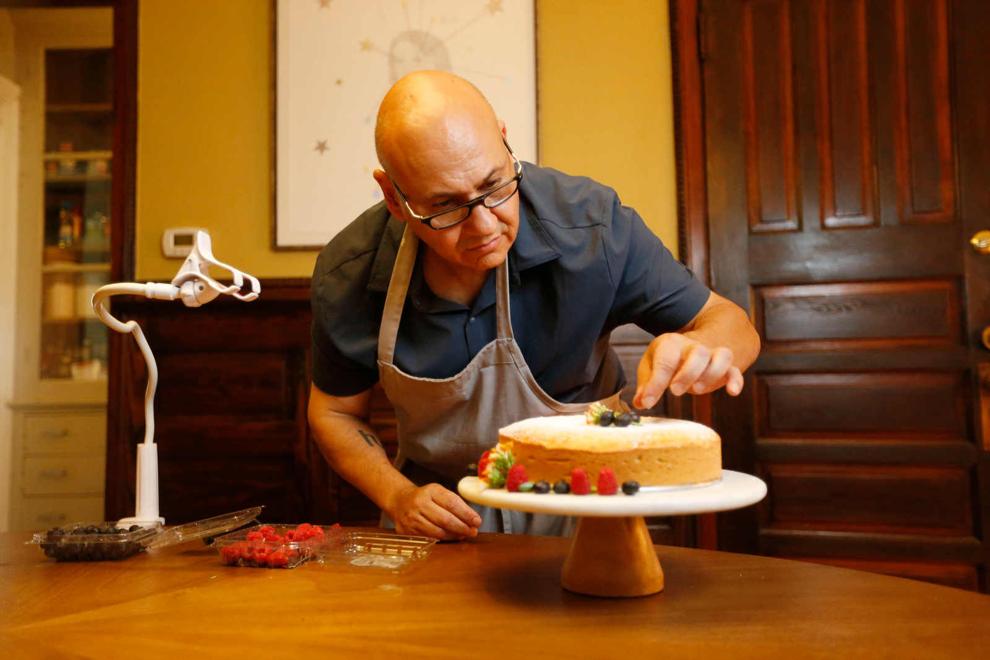 Basque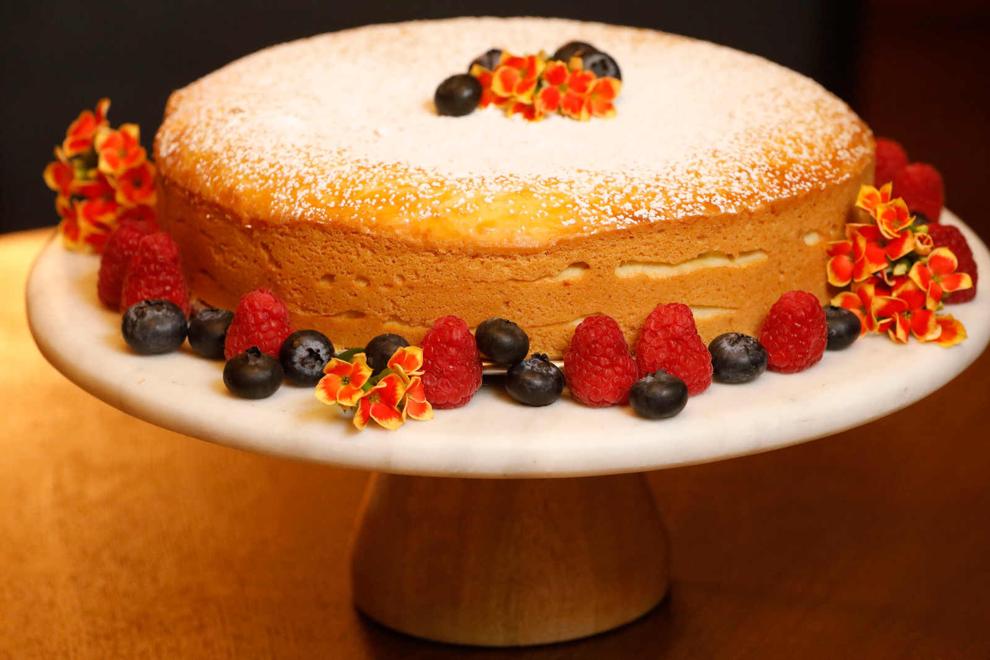 Picture perfect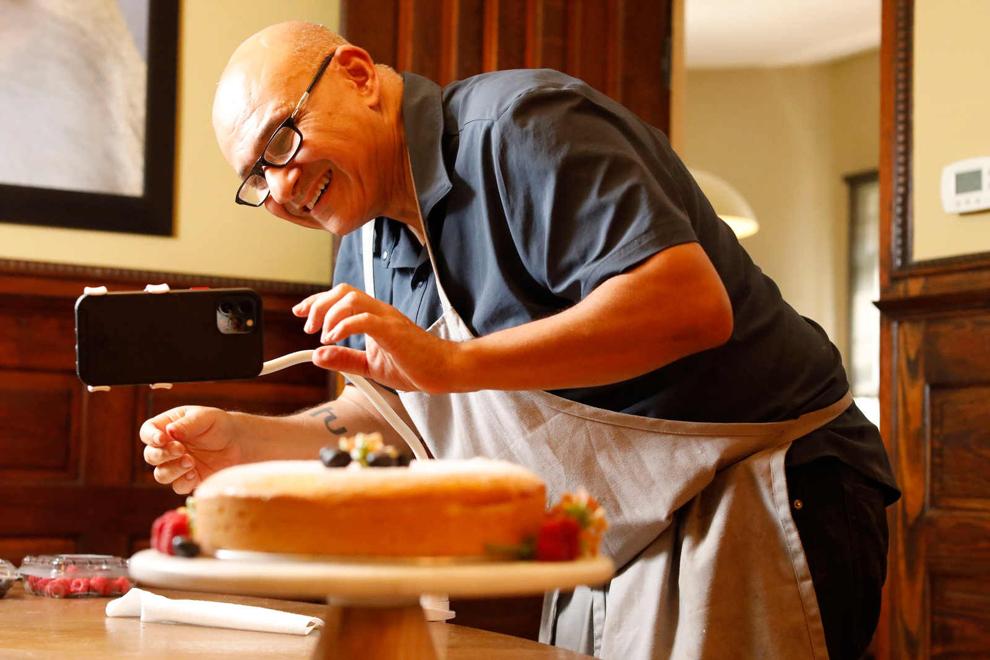 Curating the clothes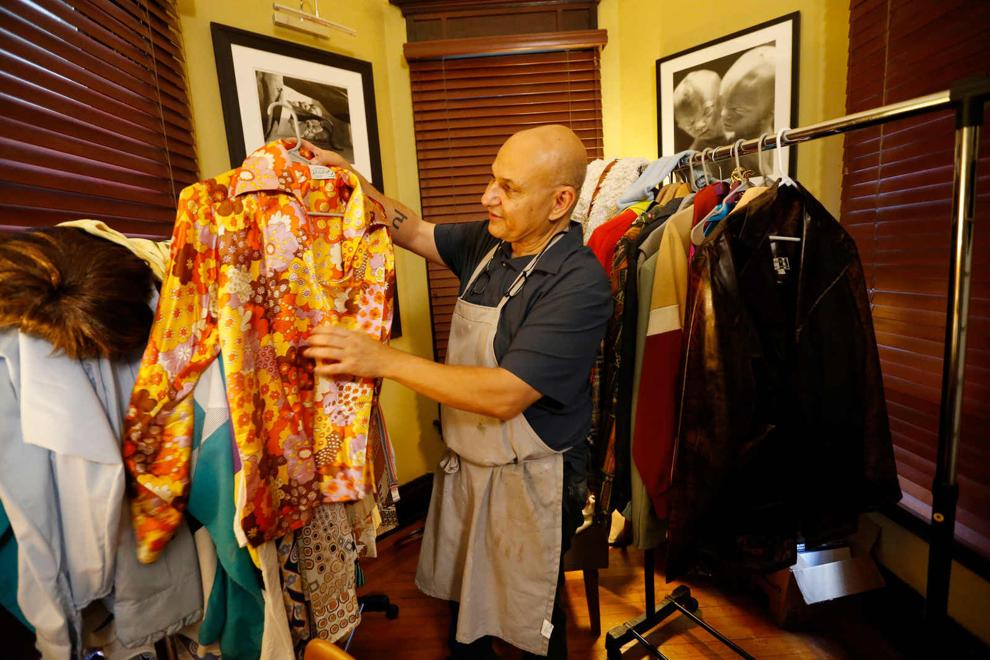 Accessorizing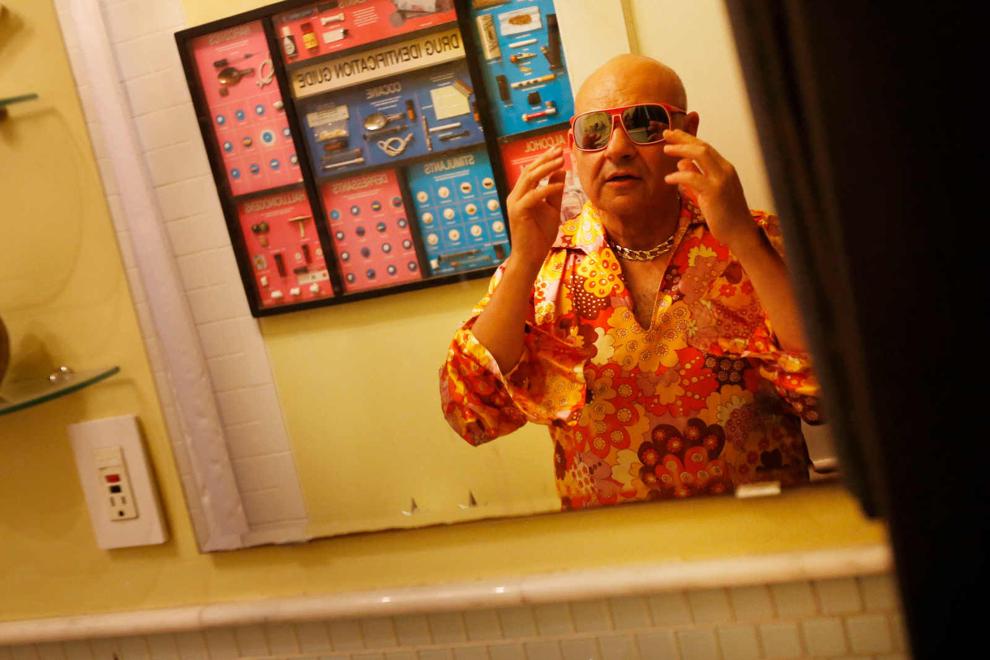 Chromatic theme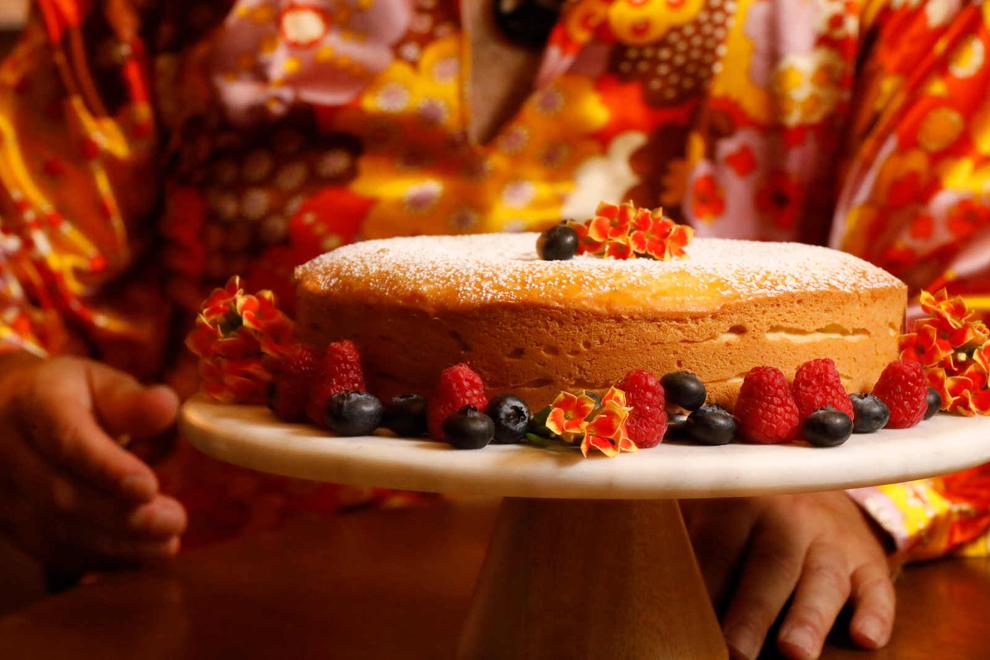 Fun with the photos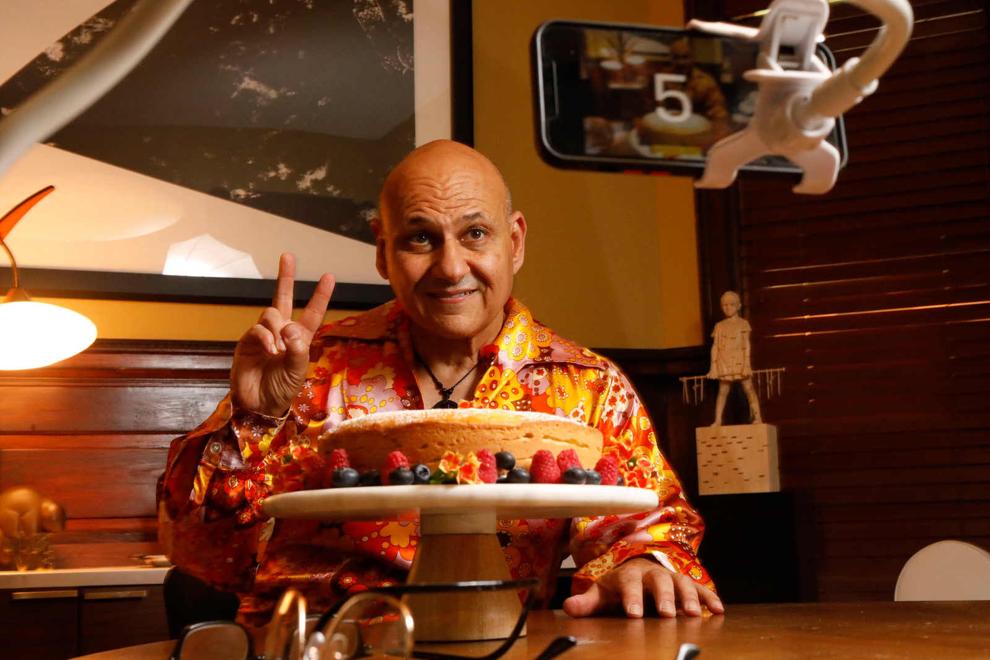 Moment of truth