In the three years since 27 Chandler St. was transformed from a mothballed Black Rock factory building into Buffalo's foremost food operation incubator space, I've written about its inhabitants and assorted going-on more than 50 times.
Judging from the perplexed looks that greet me when lauding 27 Chandler's pleasures to hungry crowds, it has not been sufficient. Before I get to the compelling reasons you should make Tiny Thai part of your summer explorations, let me pull back the camera and give you the big picture.
First, 37 Chandler St. is home to Flat 12 Mushrooms, the indoor mushroom farm offering six types by the pound, and pastries such as beef-and-mushroom borek. On Saturdays, a half-dozen more operations offer wares edible and wearable at an open-air parking lot market.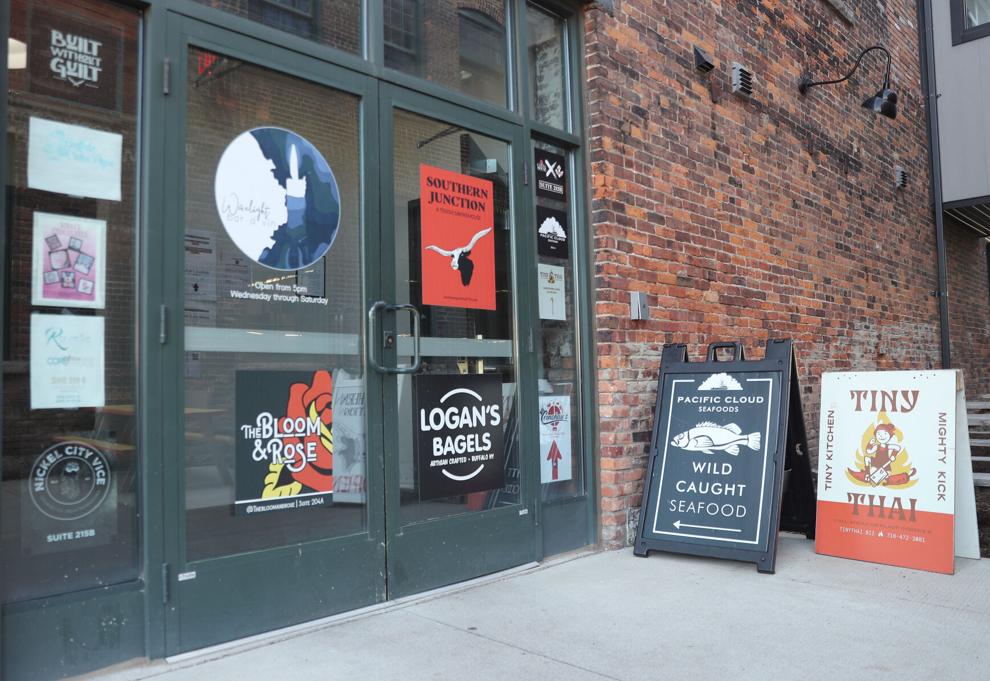 Next door, at 27 Chandler St., the first floor holds Texan-Indian innovator Southern Junction's takeout window, and Waxlight Bar a Vin, the unique Buffalo restaurant recently honored for its drinks program.
The second floor is home to Logan's Bagels, the only Buffalo bagel outfit whose fans have told me they stock up on before returning to New York City. Plus Bloom & Rose, purveyors of knishes in flavors traditional and untraditional, plus kosher-style house-smoked pastrami sandwiches.
A second-floor bridge from 27 Chandler to its neighbor is how you get to Tiny Thai. It shares the space with Crenshaw's Chicken & Waffles, both serving their audiences to-go menus. In clement weather, folks looking for a cozy nosh nook take their parcels downstairs and spread them out over the picnic tables between the Chandler buildings.
In 2021, Thai native Wanthureerat "Kae" Baramee started her culinary outreach to her new hometown with a food truck, which still makes the rounds. From my first taste of her coconut curries, Baramee has been on my shortlist of Cooks Who Must Have Restaurants.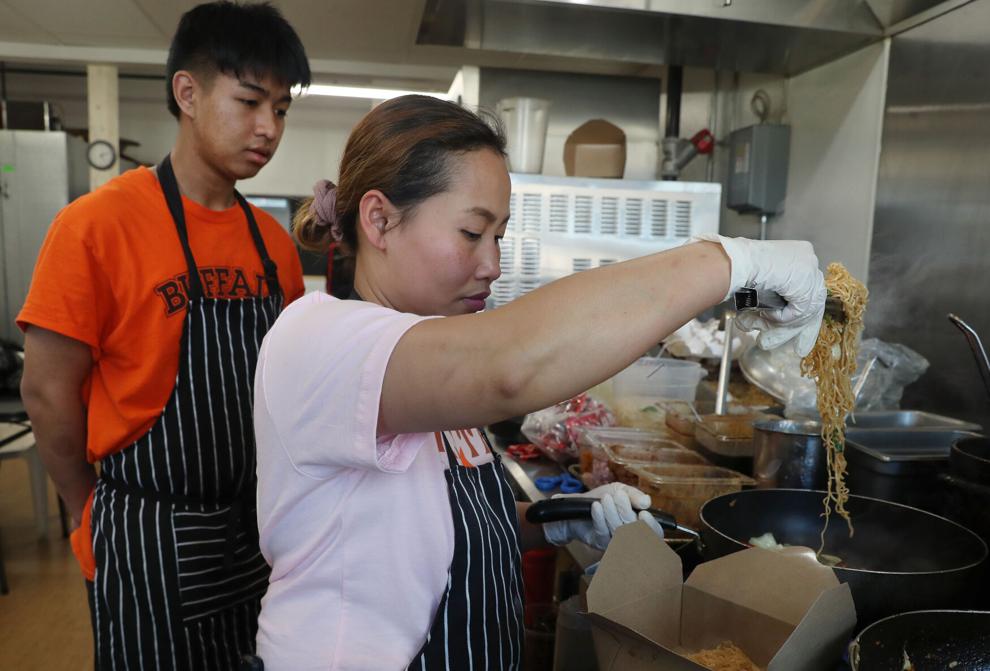 It was worth the wait. Baramee has a whole arsenal of deep cuts from her Thai repertoire that she's workshopping into her menu, one bite at a time. Even the Thai standards you thought you knew land different here.
She's turbocharged the cream-cheese-and-surimi experience by capturing it in thin-skinned spring rolls, fried to a crisp, four for $8, with sweet chile dip. If you're a Rangoon ranger narked by skimpy wontons: Tiny Thai has the mother lode.
Brilliant pale blue or crimson flowers don't say "dumpling" at first glance. Colored with pea blossoms and shaped with skilled hands, they're almost too pretty to bite. Once you get into the chicken and peanut filling of chor muang ($10), though, reservations vanish. (Baramee teaches chor muang classes, also held at 27 Chandler.)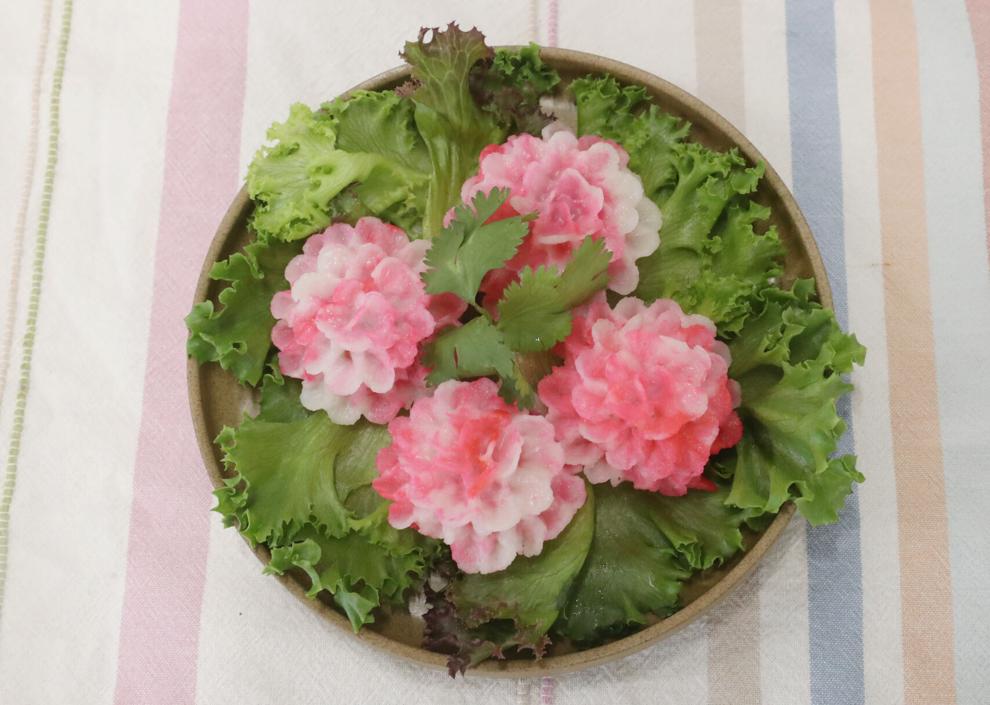 Green curry ($15) comes in chicken, or tempeh, fermented soybean cake.
Most Thai restaurants use canned curry pastes in a rainbow of colors to turn coconut milk into the Thai curry lineup you may have tried. Barramee's curries carry the manifold subtle nuances of freshly ground curry paste, so that a spoonful expands its meaning in your mouth, unfolding like origami in reverse.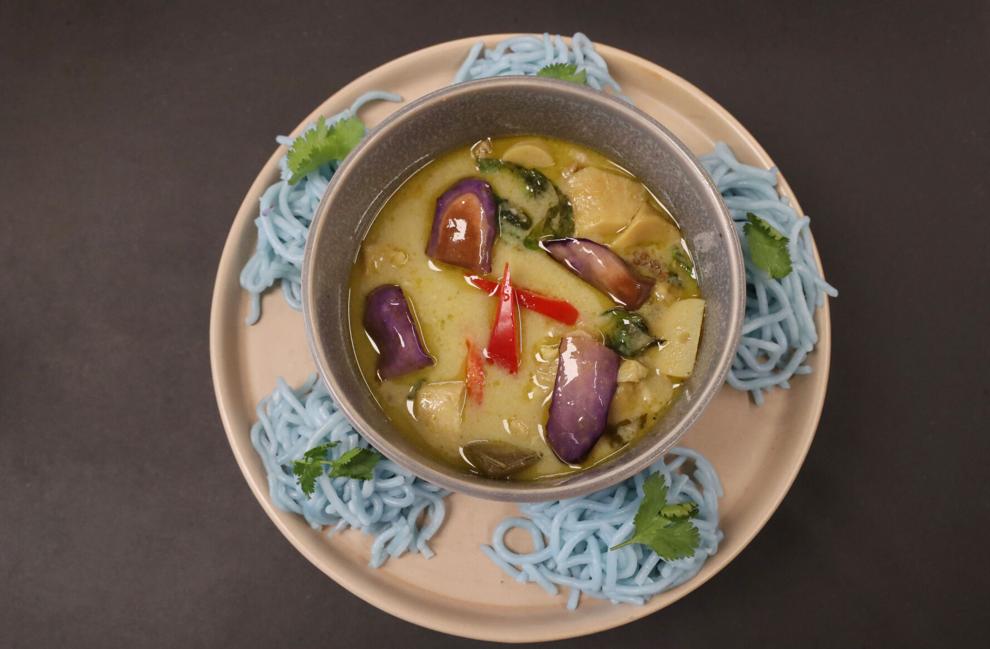 Gai yang sticky chicken ($17) was the dish that tipped the Tiny Thai switch for me. It's a dish you must eat with your hands, not the polite distance of silverware. Marinated chicken roasted to caramel duskiness, tender to the bone, arrives with a mound of warm sticky rice, slabs of cabbage, sliced cucumber and cilantro.
Pull off a plum-sized piece of sticky rice. Pad it into a disc with your thumb. With your other hand, tear off a piece of bird, making sure to include a piece of skin, and stick it on the rice. Add cabbage, cucumber and cilantro, dunk in roasted chile vinaigrette, and mangia.
Baramee's som tum, green papaya salad ($14), is a full-throated shout of vegetal crunch, racy lime and chile notes, punctuated by the staccato salty crunch of roasted peanuts.
Fresh mango over warm sticky rice with coconut cream ($12), and housemade coconut ice cream ($8) are notable desserts. Thai iced tea, Vietnamese iced coffee, lavender lemonade, peach lemonade (all $7) are housemade beverages worth a sip, among the soft drinks served.
Tiny Thai's online ordering is simple, so if you're not in the mood to wander the complex looking for signs of what's coming next, just punch in your desires, grab and scoot.
What Baramee has accomplished with a bare toehold on the Buffalo restaurant world fills me with gratitude and suspense in equal measure. Water this rare sprout with attention and money, and as it grows, so will its reach, so that we might all fit into a fully fledged restaurant one day.
Followed by a cold-eyed fact: If you seek deeper dives into Thai cuisine, overlooking Tiny Thai would be a huge mistake.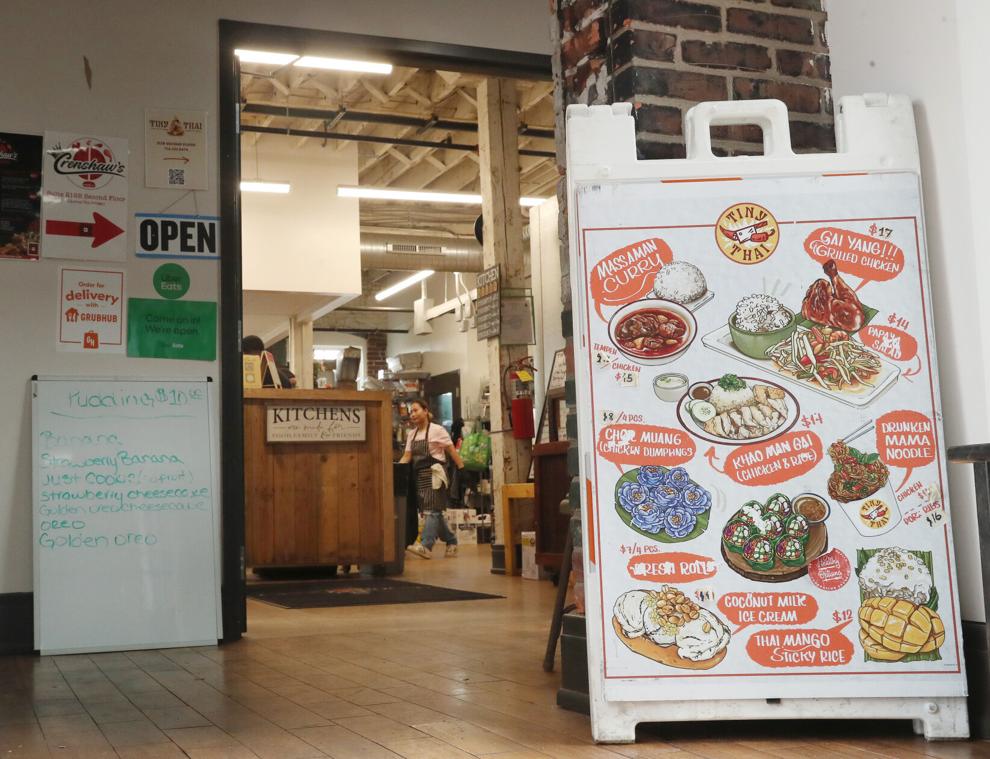 Hours: 5 to 9 p.m. Tuesday through Friday, 11 a.m. to 8:30 p.m. Saturday. Closed Sunday, Monday.
Prices: appetizers, $5-10; entrees, $9-$17.
Wheelchair accessible: no, three steps after bridge
Gluten-free options: pad thai, dumplings, curries
Outdoor dining: Chandler courtyard picnic tables