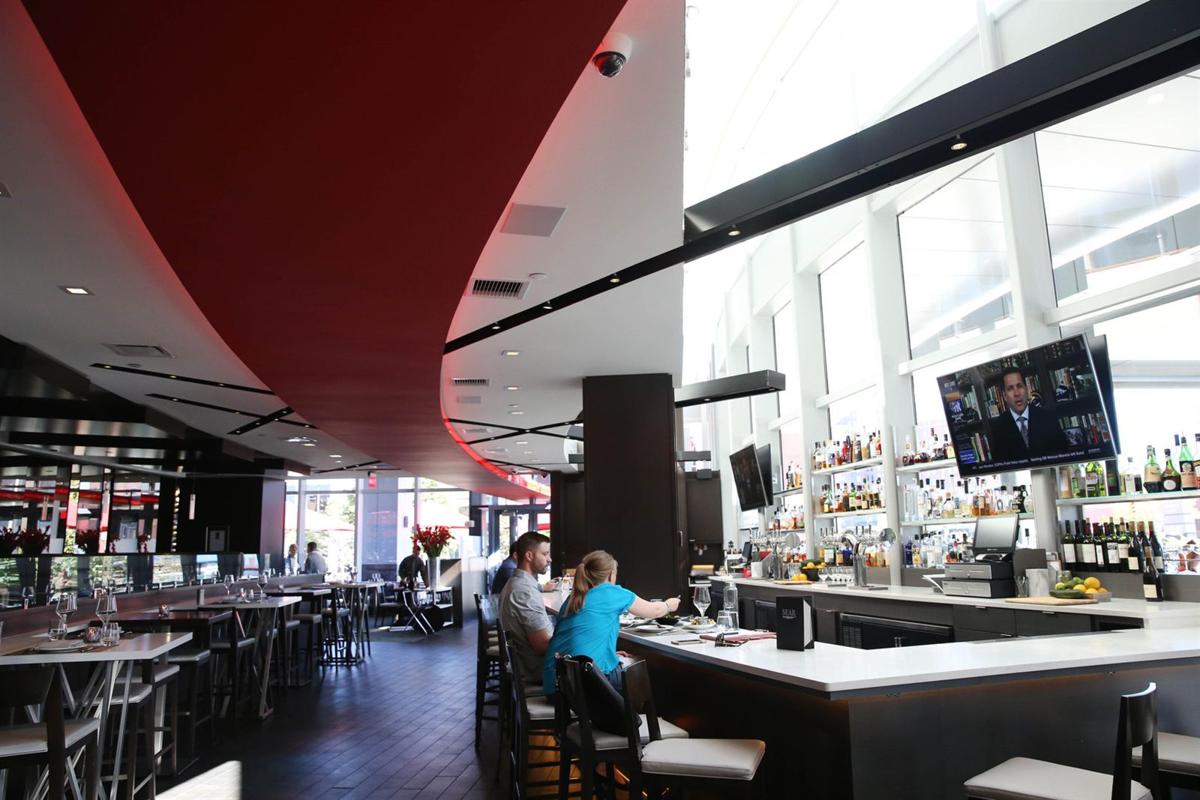 Former Buffalo Bills running back Fred Jackson and cornerback Terrence McGee have a beef with the landlord for their Sear Restaurant downtown – and they're taking it to court.
Four years ago, they teamed up with a group of local investors to open Sear in the Avant Building, bringing a high-end steakhouse to a building that also is home to the Embassy Suites hotel upstairs.
The investment group spent more than $1.5 million to redesign and rebuild the restaurant's first-floor space, and has paid the building's owner, Uniland Development Co., nearly $1 million in monthly utilization fees – different from a standard lease or rent – since it opened.
But within months of opening to fanfare in November 2016, and despite being at least break-even if not profitable since then, the restaurant team says Uniland "hindered their business efforts and abilities," failed to fix repeated problems and even bullied them. And the situation only worsened since the pandemic began and the state shut down restaurants.
Now the investors have had enough.
On Wednesday, the Sear owners sued Uniland, accusing the developer of "an extensive menu of complaints" about "bad business dealings."
In a 53-page lawsuit filed in State Supreme Court, the owners and investors of the steakhouse laid out "a litany of unkept promises" and "draconian decisions" by Uniland and its operating entities, Uniquest Hospitality and Brookwood Hospitality.
The suit also cited payments that were delayed for up to three years, complained that Uniland improperly used the closed restaurant's facilities during the Covid-19 pandemic, and other accusations.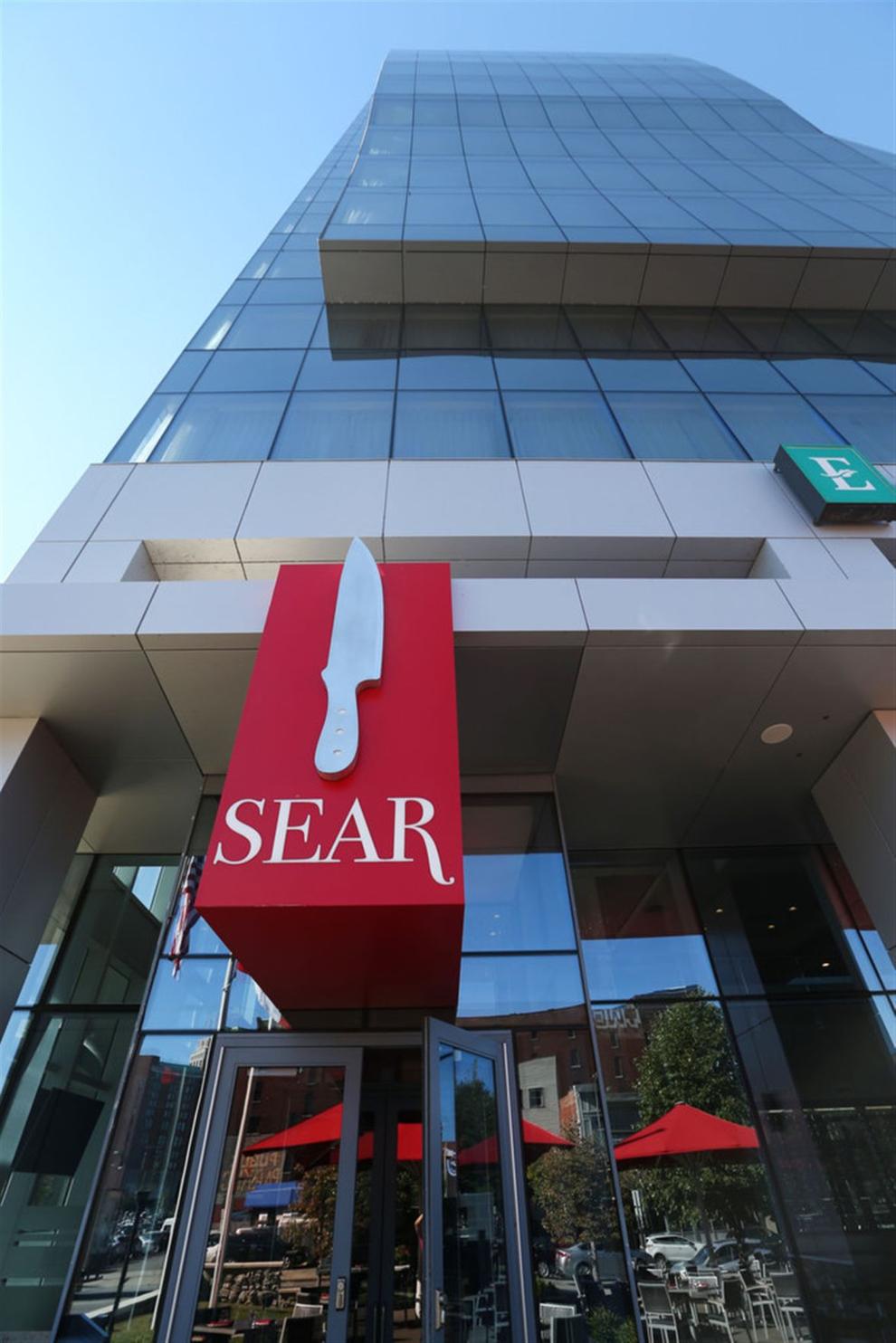 "Sear's partners, despite adhering to the contract, have been put through the wringer by a property owner that withholds payments, sends invoices for charges outside their agreement, and generally hinders running a successful investor-led business," said Sear's attorney, partner Marc W. Brown of Goldberg Segalla.
"We feel the only way to be able to reopen after the Covid-19 pandemic and serve our loyal clientele is through court intervention," he said.
Uniland, in a statement, confirmed what it called a "contractual dispute," but said it was "surprised to see legal action" because a settlement offer is still pending.
"We are also surprised at the false accusations and inaccurate statements contained in Sear's media release and can only guess they are attempting to damage our fine reputation before they attempt to receive a more favorable settlement in court," the developer said.
Uniland spokeswoman Jill Pawlik said the firm hired Sear to provide food and beverage services not only for the hotel guests but for the condominium owners, office workers and for private events. But "they simply fell short of those obligations," she added.
Pawlik also said that Sear terminated the agreement in June, so "we are now looking for an operator who can handle the business and provide a great experience for all of our guests."
"There's not much meat in the press release because they don't have a case," Pawlik said.
Sear is located on the ground floor of the Avant at 200 Delaware Ave. The restaurant also provided breakfast service, special events catering and a coffee shop for the Embassy Suites Hotel that is located in the building. Prior to the pandemic shutdown, it employed 70. It has not reopened.
The eatery is majority-owned by Jackson and McGee. Other investors include former Bills punter Brian Moorman, Oliver's and Schutte Hospitality Group owner Dave Schutte, HealthNow New York CEO David W. Anderson, ADPRO Sports president Ronald Raccuia, David Pietrowski and the Weiss Family LLC, led by attorney Steven J. Weiss of Cannon Heyman Weiss.
The group was recruited to open the restaurant in 2014 by Michael J. Montante, then a vice president at Uniland but now its president and CEO.
Sear's principals say their relationship with Uniland first became fried in the spring of 2017. That's when they sought to open an outdoor patio along Delaware Avenue – as permitted in their contract with Uniland – but learned that the developer hadn't told them that the city had long since denied a patio permit "because windows were falling out of the building, endangering anyone nearby," the restaurant's owners said in a statement.
Under pressure from the investors, Uniland fixed the problem on the side facing Delaware, but nowhere else. "Thus began an almost unending series of bullying tactics by Uniland's managers and nearly endless promises to mitigate problems and make payments that seldom came to fruition," the statement said.
Since then, the suit notes, Sear has also suffered a power outage, three overhead water pipe failures and a sewer drain backup. The latter incident forced the relocation of diners to another restaurant at a cost of $9,000. And while the partners claim they repeatedly spoke to Montante about their issues, they said the problems continued.
Then, after the state ordered all restaurants to close in mid-March because of the pandemic, Uniland continued to demand the "utilization fee" payments in April and again in May, even though the restaurant couldn't open. On May 18, it allegedly demanded that Sear reopen, despite the ongoing state order, according to the lawsuit.
"Given the Covid-19 pandemic, Uniquest was legally obligated to prevent SEAR from performing on its premises during April 2020."
The developer also never provided the Sear team with Covid-19 protocols for reopening as they had requested – including for cleaning public bathrooms – and didn't include Sear in the hotel guest liability waiver for Covid, the lawsuit said. And Uniland didn't address the restaurant's higher operating costs, it added.
Adding to the problems, the Embassy Suites operators invoiced Sear in May for "unfounded charges that were not Sear's responsibility" and not ordered by the restaurant. Those included fire inspections, audits, drain repairs, cleaning of grease traps, changes to electrical receptacles and purchases of Chex Mix, water and soda – some of which were billed when the restaurant wasn't open.
The Sear investors also accused Uniland managers of entering the restaurant and using its equipment – citing video and audio evidence – and even asserted that Uniland entities tried to seize Sear's furniture, fixtures and equipment – valued at $159,690 – by claiming that Sear had failed to pay its obligations.
Smiles at SEAR's first anniversary celebration
See who attended the classy first anniversary celebration at SEAR steakhouse in the Avant Building at 200 Delaware Ave., Thursday, Nov. 16, 2017.