Prompted by a recent uptick in questions seeking specialties of the Kingdom of Thailand, here's a guide to my favorite purveyors of tom kha gai, moo ping, pad ka pow and other dishes that are almost as much fun to say as eat.
This Southtowns standout helped keep its regular customers' spirits up with unflagging quality during trying times. Like many other excellent restaurants these days, it hasn't reopened its dining room. That shouldn't deter you from asking for dishes like the roast duck ($22). This poultry specialty highlights the skin, as much as the meat. Patient, skilled cooking turns a quarter-inch of duck blubber into a savory topcoat, after most of the underlying fat has been rendered.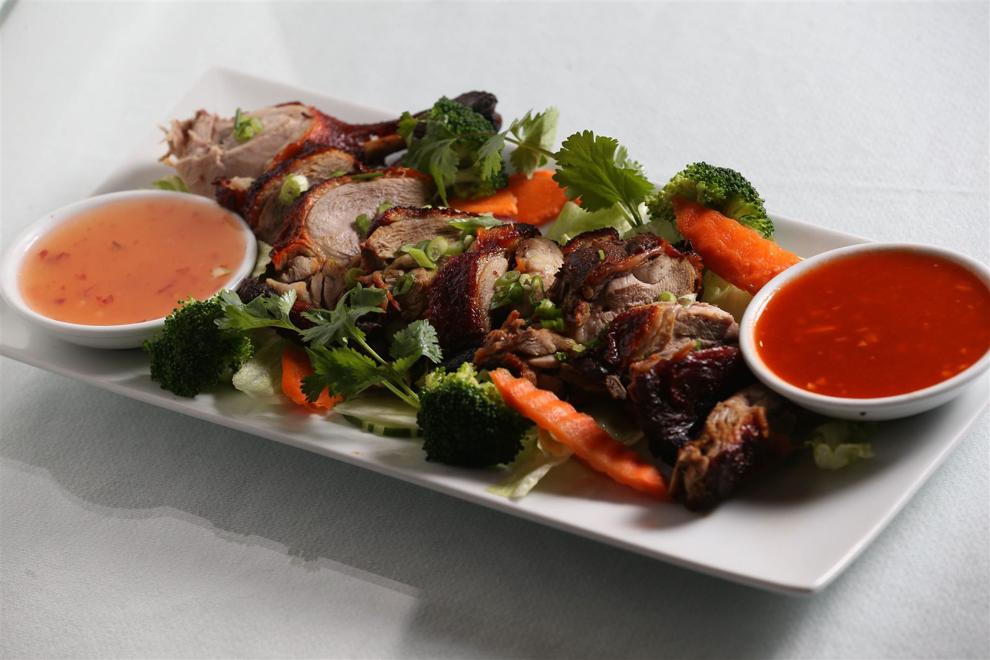 Consider the splurge of a whole flounder ($22) that's been marinated, fried to a crisp, and served with a sauce flavored with curry and tamarind. Or consider the eggplant special ($17), marinated slices battered, fried and used as a platform for a seafood saute, with shrimp, scallop, bamboo shoots and basil leaves. Ordered without seafood, it's a vegetarian standout.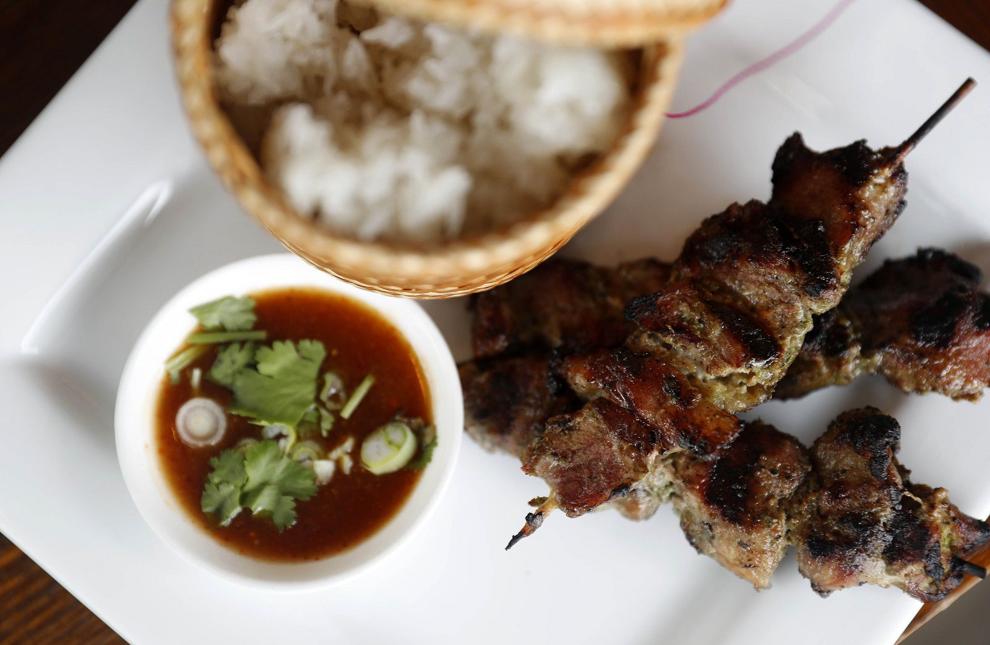 Elmwood Avenue's loss was Snyder's gain after restaurateur Rin Suphankomut turned up in Snyder. Her versions of tom kha ($6), coconut milk soup with ginger and lime leaf, and tom yum ($6), the hot-and-sour lemongrass-chile potage, are definitive.
Moo ping, grilled marinated pork skewers with tamarind sauce ($10.50), and an idealized coconut shrimp ($8.50) are outstanding appetizers. The ubiquitous pad Thai ($15.50) is smoky, balanced and not sweet as most versions.
(Heatseekers: Suphankomut has an unadvertised housemade hot sauce that you should try, delivering a brilliant flush of flavorful heat that fades before it hurts.)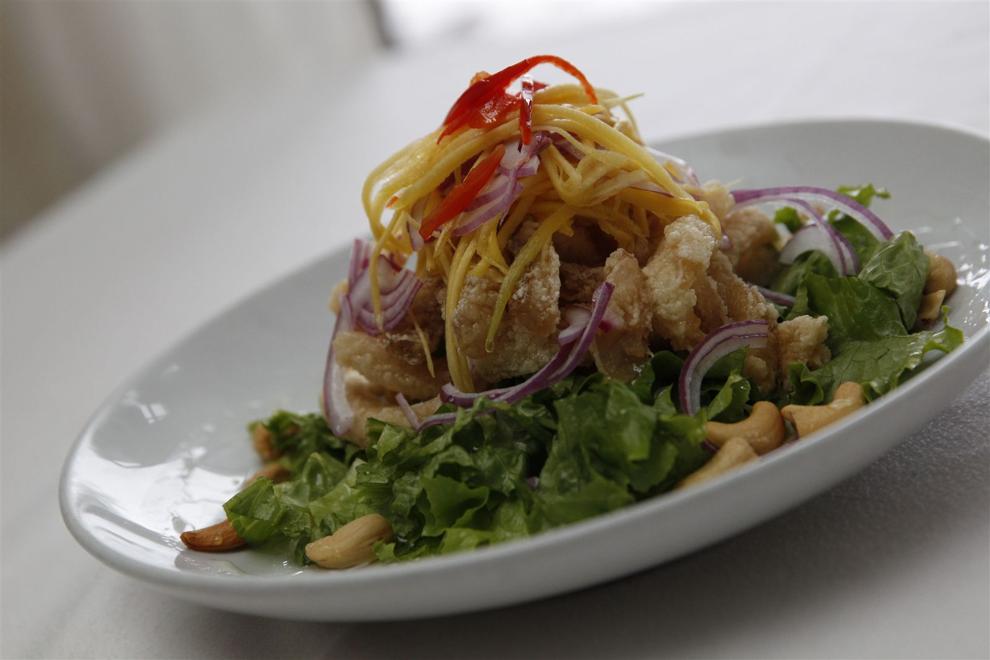 The Amherst Thai veteran draws me back for tod mun (fish cakes, $5.95), the appetizer of fried discs of fish sausage studded with chopped long beans, with cucumber, crushed peanut and sweet-and-sour sauce. 
Since there's no sitting in the dining room, I recommend you hammer the crispy catfish salad ($10.95) as soon as you get it to your car. It's thinly sliced catfish that's been rolled in seasoned flour and fried, then presented over salad greens with fresh mango, red bell pepper and cashews, in a tangy-funky lime and fish sauce dressing.
In this season of takeout, if you don't have a Maid-of-the-Mist-like poncho in your car to shield you during driver's-seat dining, you might want to add it to your car kit.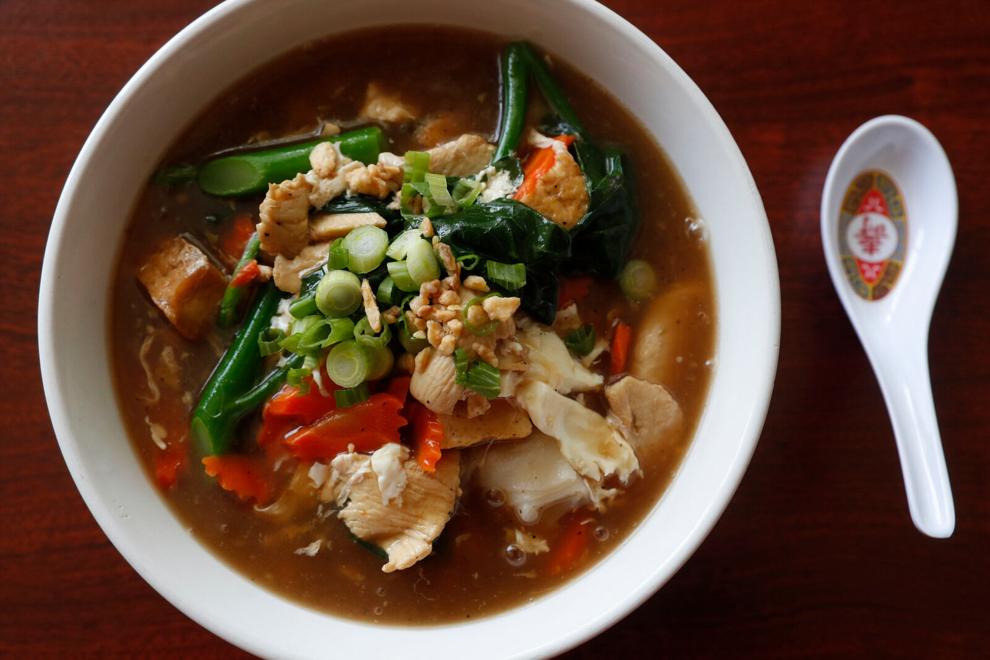 In Riverside, the Thai salad called larb reaches its Buffalo pinnacle. It's minced chicken, pork or beef, or a combination of seafood ($8.99-$9.99), gently poached and dressed in lime, cilantro and onion, given a faint crunch with roasted rice powder.
Yum meat ($8.99-$9.99) is its raucous cousin, punchy with the distinctive punch of lemongrass and chile that powers tom yum soup.
Both of these dishes are meant to be eaten with a pile of white rice, a fact that will become essential knowledge if you ask for medium heat.
Consider also lard na soup, flat rice noodles covered in garlic gravy, with Chinese broccoli, beaten eggs, carrots and your choice of protein, with the overall effect of an Asian blue-plate special, with sweet-spicy soy sauce on the side.
Representing Thai cuisine in the international food court that is West Side Bazaar, owner Htay Naing's consistency and speed has earned him a neighborhood of regulars.
Especially striking is pad ka pow ($8.99), which I order with pork, a wok-fired basil-imbued saute with just the right tickle of chile heat. Served over a mound of white rice, topped with a fried egg, it's also an effective hangover remedy. 
Thai coconut curries are standard, but the vegetal quality of the Nine & Night green curry ($9.99), with your choice of protein – including tofu – makes it stand out.
Mandalay, 6621 Niagara Falls Blvd., Niagara Falls (283-8100)
A Coach bag's throw from the Factory Outlets, you can find tom yum fried rice ($13.95) fired with lemongrass and chile, bearing the "breath of the wok," that tinge of smoke from high-heat cooking. Ask nicely and you might be able to get that fried rice Pattaya beach style, rolled in a thin omelet ($12.95 with pork or chicken, $13.95 for shrimp or beef).
Steak lovers might consider the Eastern Thailand beef salad ($15.95), grilled beef still pink inside that's been sliced and tossed with lime-garlic-fish sauce dressing, tossed with sliced red onion, scallion, cilantro and toasted rice powder, which provides a gritty crunch.