On Chandler Street, Flat 12's business is mushrooming.
The tendrils of Robert Gianadda's fungus business have tapped into multiple mushroom needs of the people of Buffalo.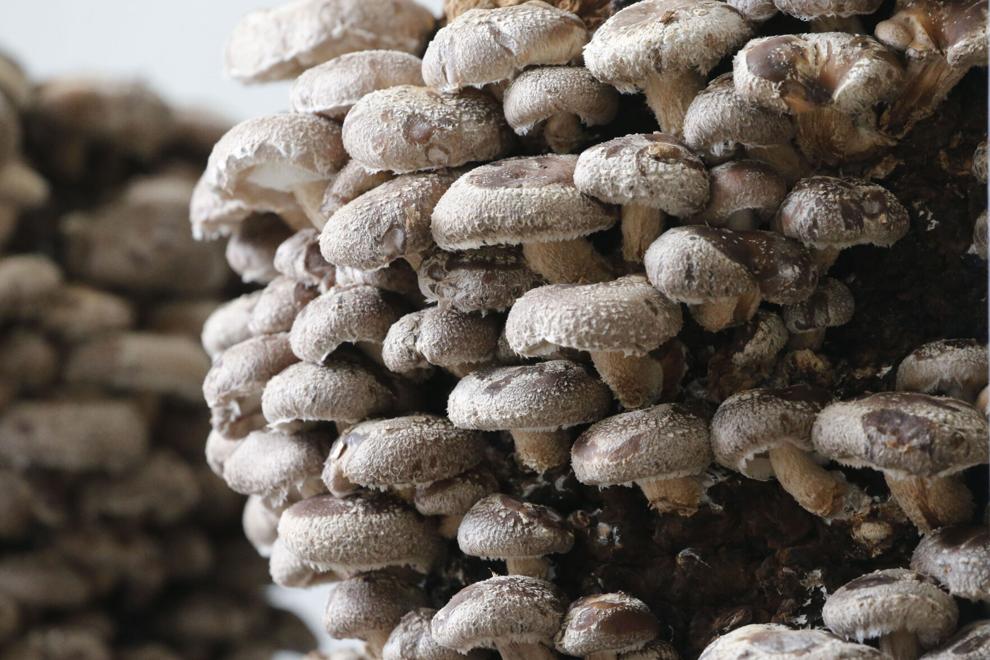 There's the fresh mushrooms available daily in three or more flavors at the urban farm, 37 Chandler St. Oyster, shiitake and lion's mane mushrooms are standards, while varieties like pink oyster are available periodically.
Flat 12's crew has refined its fungus knowledge and practices to increase business 200% despite the pandemic disruptions. With three full-time employees, Gianadda's operation produces 700 to 800 pounds of fresh mushrooms weekly.
The mushroom guy helped organize a weekly urban market on Chandler Street, drawing on the talents of neighboring culinary businesses like Southern Junction and Built Without Guilt. The Chandler Street After-Market runs from 3 to 7 p.m. Saturdays – dinnertime.
Then Flat 12 offers ready-to-eat food like fried oyster mushrooms in chickpea batter, and mushroom quiche. Roasted mushroom borek pastries (ricotta, spinach, feta) and mushroom galettes are available for pickup Sunday, as well.
Then there's the mushroom coffee, dried and ground lion's manes blended with Bean Bastard Coffee's Colombian Huila beans for a hot cup of caffeine and mushroom enzymes.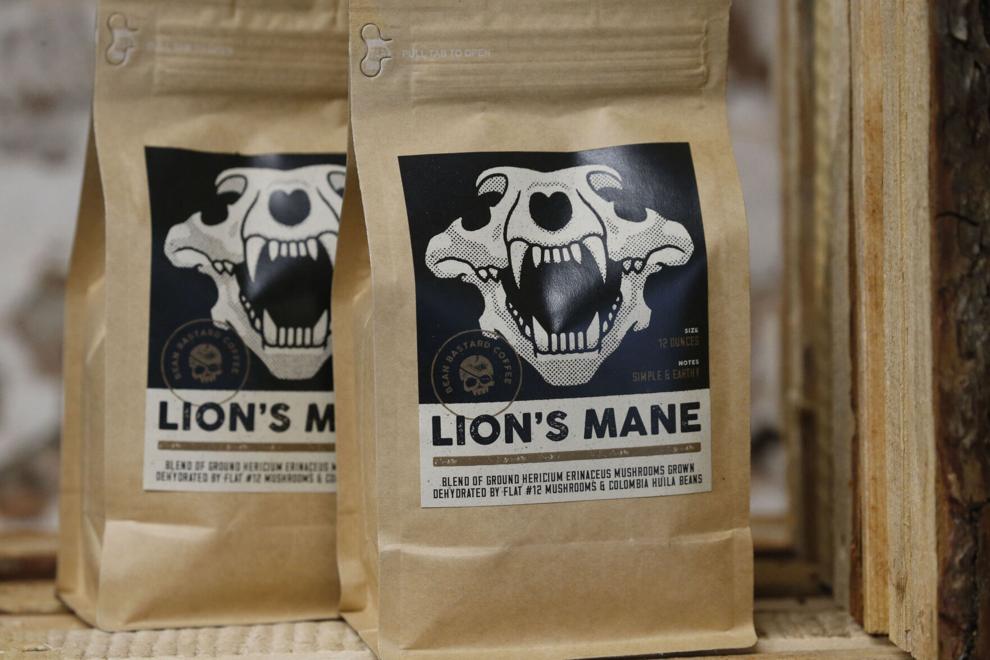 If it's mushroom nutrition you're after, Flat 12 offers tinctures that concentrate the fungus' FDA-backed medicinal properties in concentrated doses.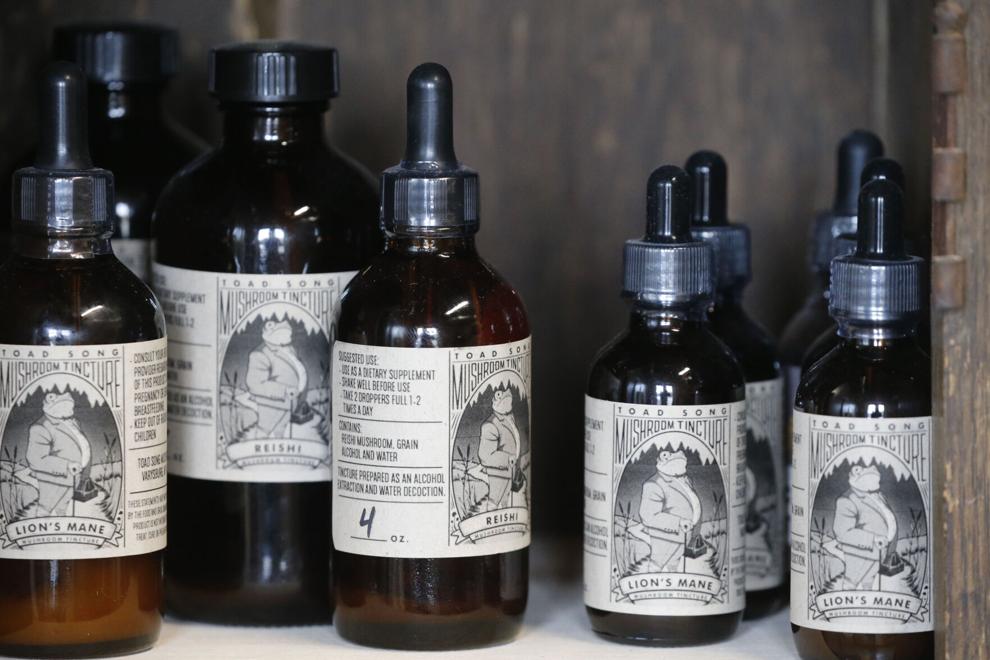 "We've been growing the business by making connections," Gianadda said. "It's the most mushroomy thing you could do."
The business packs bags full of stuff fungi love, inoculates them with mushroom spores, then fools them into fruiting by manipulating their climate.
At any point in that months-long process, the wrong spore or bacteria getting an upper hand will turn the bag into compost. So mushroom farming is a battle for control over the elements: heat, humidity and all the microbes nature has to offer.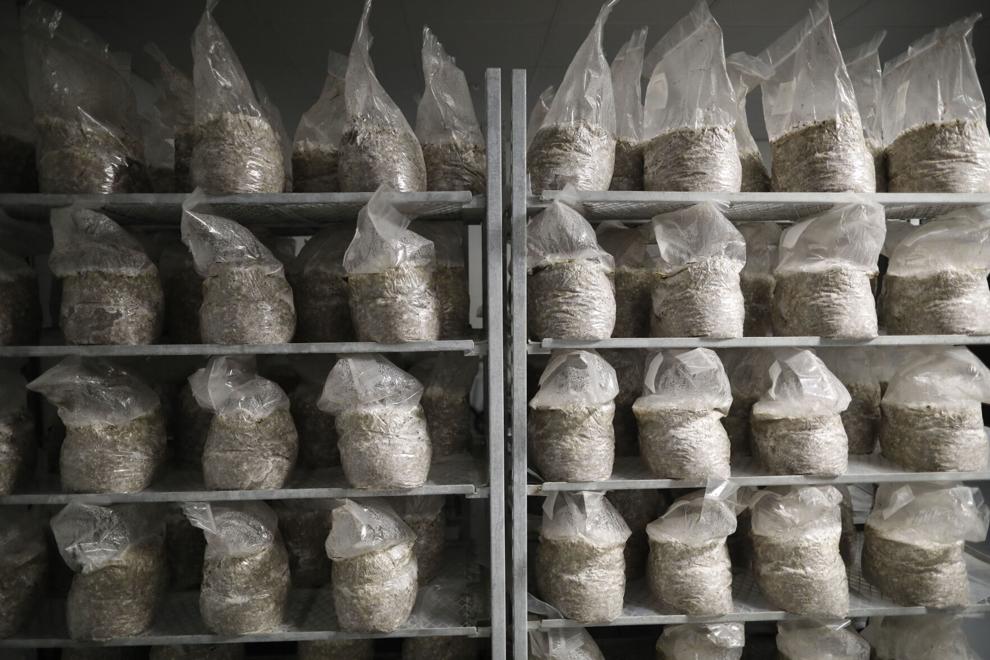 To win, you have to control the air itself. In July, that struggle is particularly difficult. In mushroom farming, the slogan of dread is the reverse of "Game of Thrones' ": "Summer is coming."
Gianadda and his band of fungus wranglers are winning the battles more often, through a combination of hard-won lessons and technological advancements.
A computer-guided scale pours the right amount of growing material into bags, misting it with just enough water, automatically adjusting to compensate for the current moisture of the air.
Racks upon racks get baked in a room-sized oven to kill most of the microscopic organisms inside. The mixture of sawdust and soybean hulls doesn't become sterile, quite, but Gianadda and crew get as close as they can. Eliminating competitors, antagonists and spoilers on a microscopic level gives the mushroom spores a much better chance at successfully producing fruit.
In a room next door, equipped with a laboratory-like air filtration system, spores are introduced to the substrate via syringe. Then they're moved to another room where moisture and temperature are controlled to mimic the seasonal changes that would cause the mushrooms to grow if they were in the wild.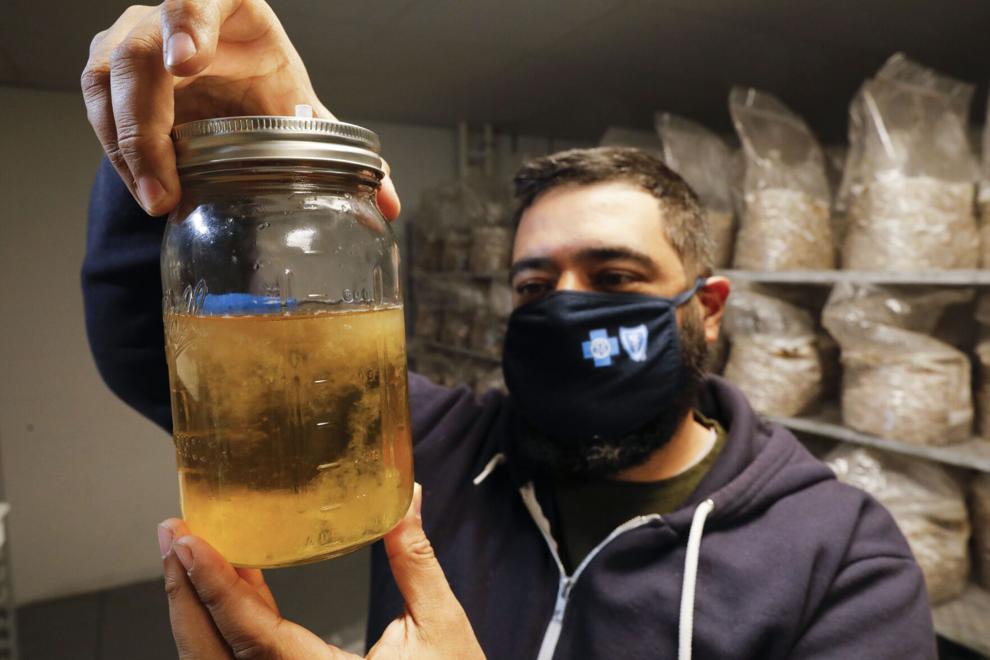 First, the spores need a chance to thoroughly colonize the block. Little whiskers shoot out looking for food, and for company. Once the fungus has blindly, thoroughly searched out all the surrounding food and landscape, making it a single organism throughout, it's ready to fruit.
Autumn comes fast at 37 Chandler St. Different mushrooms fruit at different times and seasons, so the climate is controlled to give the fungi the nudge they need.
Doing this in a retrofitted industrial building can be challenging, but Gianadda and his crew have stuck together and figured it out before. It helps that the three full-time employees are siblings. John Herr was the first, then his brother Judah, and Lydia bakes mushroom delights like the borek.
"This my first time being an employer, ever," Gianadda said, so he's not sure where spore herding will lead him in the years to come. "Right now, it feels like a family."