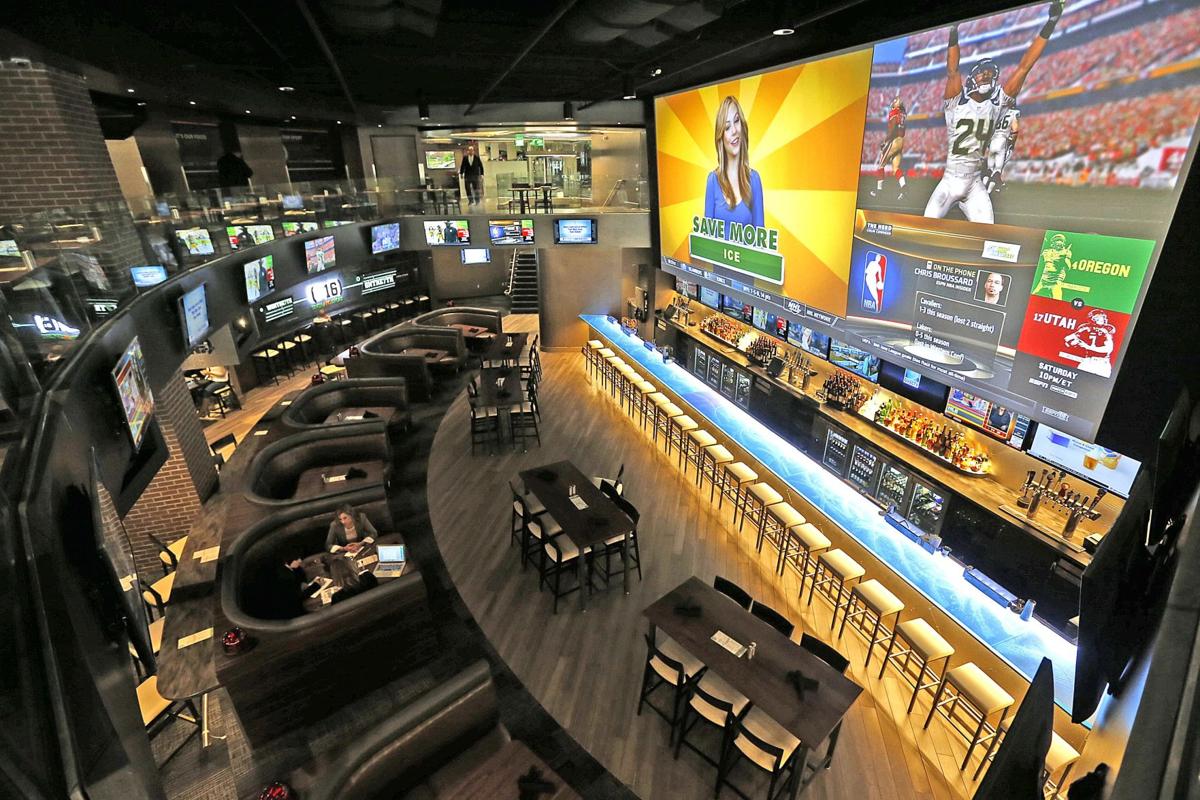 The people of Buffalo and Southern Ontario have carried the Buffalo Sabres in their hearts, and powered the franchise with their wallets, for more than a half-century.
Southern Tier Brewing Company will take over (716) Food and Sport, the massive two-story sports bar in LECOM Harborcenter.
Today their hearts are sore, and wallets thinner. Yet Sabres fans persist, doggedly refusing to abandon hope in a relationship that has lately been, well, icy.
When Pegula Sports & Entertainment announced it was replacing sports bar 716 with a brewpub run by Southern Tier Brewing Company, it only seemed fair to let fans in on the discussion.
Here's the arena-adjacent sports bar experience Sabres fans want:
Unless restricted to game nights, a restaurant has to draw locals who just want to eat, drink and enjoy the atmosphere. If the food is better in their neighborhood tavern or restaurant, why should anyone drive downtown and find parking to get there? A few snazzy signature items are great, especially if they lure Instagram crowds.
After an initial strong showing, with a diverse menu, the quality at 716 faded. This is Buffalo: Nail the wings, weck, and fish fry, or prepare for a blizzard of boos.
Focus on personal exchanges when it comes to service, instead of the by-squad concept, which emphasized quick exchanges and drive-by plate deliveries.  
Diversified offering of drinks
Southern Tier Brewing Company did not undertake the big leap to downtown Buffalo to sell other people's beer. Naturally, its brewers' work will hold pride of place in the revamped sports bar.
That said, diversifying its other taps into a best-in-Buffalo array – and how about a few ciders? – would expand its clientele significantly. Several commenters also noted a pleasantly memorable craft cocktail list would be a welcome asset.
Go big on Buffalonian roots
When you look up from a television at this sports bar, you don't want to think you're just in any sports bar on the planet. "Make it something other than 'Downtown Applebee's,' " suggested David J. Cervi.
A huge investment was made in a restaurant whose exterior spaces seem to ignore a viewshed from the other side of the building that includes a waterfront view, which is pretty nice. "The patio should be on the second floor, off the street with views of the water, not on side that is always in shade" commented @dubslovescubs.
It's not a just gameday amenity, but waterfront-adjacent, and consider the ice-free months. A proper patio could help make this sports bar become part of the community year-round.
The main room's design at 716 mimicked Toronto "Real Sports Bar and Grill" as commenter Dan Roesch noted, except in a space seemingly half the size. The result felt like too much noise packed into too little space. The new layout should offer some screen-free seating.
Welcome to Buffalo, Southern Tier Brewing Company. Do it right, and like our favorite hockey team, you'll have fans for life.