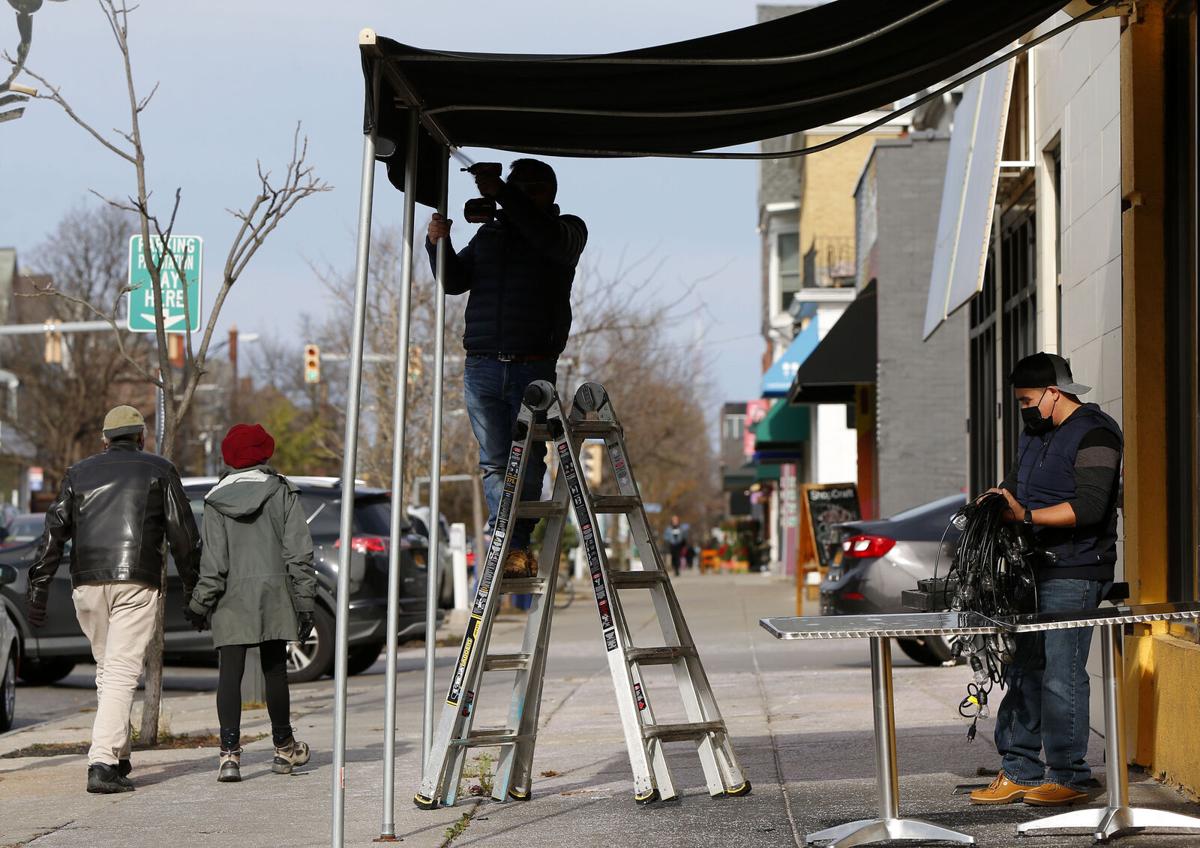 Erie County restaurants in "orange zones" can reopen for indoor dining – at least for now.
But with no indication of how long that reprieve might last, it is not clear how many will take advantage of the opportunity.
Erie County officials quickly fell in line on Thursday, saying the health department would not enforce orange zone limits. And the Cuomo administration, while saying it disagreed with the rollback, said it, too, would allow all of the county's restaurants to resume operating under yellow zone limits while it reviewed the case.
That left local restaurants relieved and free to reopen, but still uncertain how quickly another shutdown order might come.
Burdened with the high price tag of reopening and the possibility of another sudden shutdown, they are weighing whether it would make sense to staff up and invest in a reopening that could be cut short any time, without warning.
James Roberts, owner of Toutant and Dobutsu, will wait until the temporary restraining order is permanent.
"Last thing I want to do is fire everything back up, get going, hire everybody back, buy groceries and prep tons of stuff and then get closed again," he said. "That would be a devastating blow, especially multiplied by two restaurants."
As eager as Roberts and other restaurateurs are to get back to business, the financial risk is just too high for many business owners to undertake.
"Once the permanent conditions are established, I'll get my people hired again, tested, and then we will get to work," Roberts said. "We desperately want to work. But I can't afford to open and close again."
All Erie County restaurants in orange zones can reopen under yellow zone regulations, the Erie County Department of Health said Thursday.
The department said its decision is based solely on the preliminary injunction that 91 restaurants won from State Supreme Court Justice Henry J. Nowak on Wednesday to prevent the state from enforcing Covid-19 restrictions. The health department made the decision after meeting with its legal counsel, county officials said.
As a result, the health department said restaurants in Erie County will be able to offer indoor dining up to 50% capacity. They must still adhere to yellow zone rules, which include seating a maximum of four people per table and keeping tables a minimum of 6-feet apart.
By New York State Covid-19 regulations, bars and restaurants will still have to close at 10 p.m. State officials said Wednesday they are keeping the 10 p.m. closing time in place and rejected pleas from local restaurant owners and other officials to lift the restriction.
"This action is only effective as long as Judge Nowak's preliminary injunction is in place. If an appellate court of law should rule differently, ECDOH will follow such new judicial order," the health department's statement said.
Also on Thursday, the Cuomo administration said it will allow all restaurants in Erie County to operate under yellow zone rules while it reviews the court ruling.
"While that process is ongoing, to ensure uniformity and fairness, all restaurants operating in orange zones can now operate under rules governing yellow zones," Counsel to the Governor Kumiki Gibson said in a statement.
"We disagree with the court's decision and its impact on public health as Federal CDC data clearly demonstrates indoor dining increases COVID-19 spread," Gibson said. "From the start of this pandemic, the State has acted based on facts and the advice of public health experts, and we will continue that approach."
But Erie County officials also warned that the Health Department would remain on the lookout for violations of the safety guidelines.
"ECDOH public health sanitarians are continuing educational outreach to permitted facilities along with complaint investigations and inspections as appropriate," the department's statement said.
Andrew Galarneau contributed to this report.