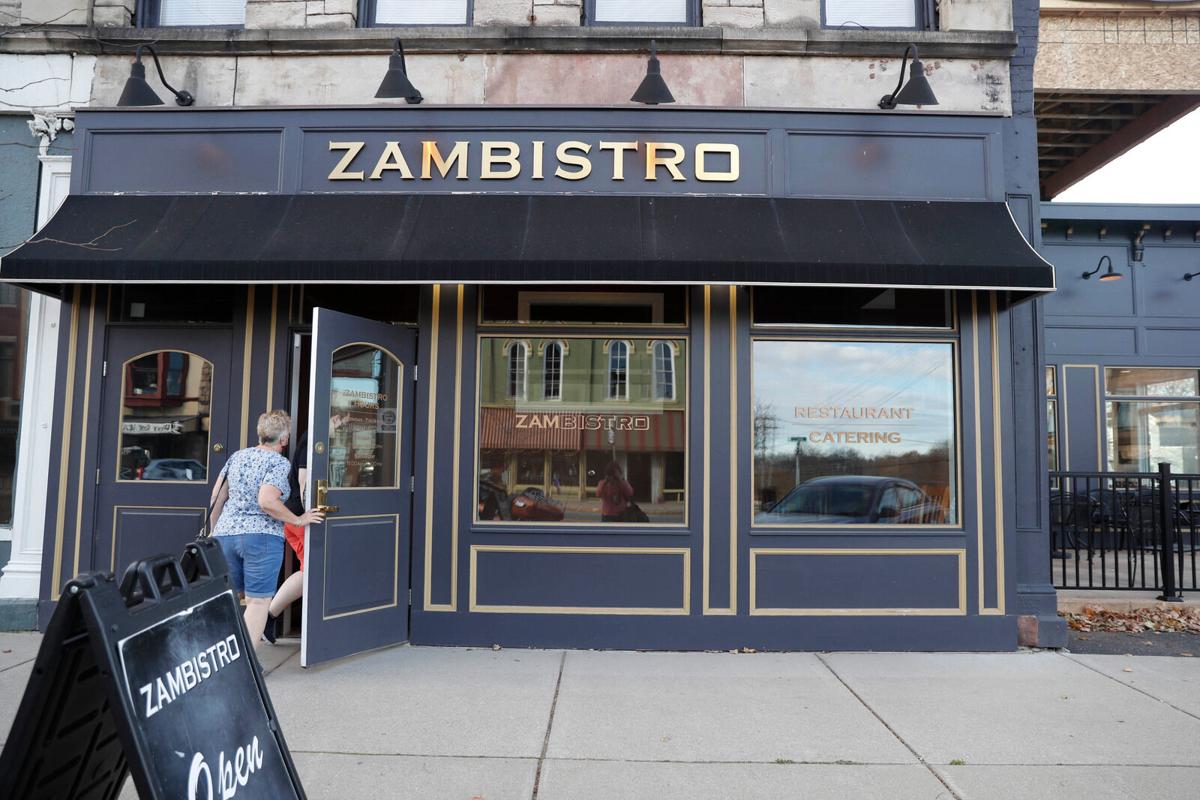 In recent years, hungry people in Orleans County have found a growing number of excuses to head for Medina. There they can find classy little cafés and Mexican enchiladas, Irish Guinness stew and hipster basics like avocado toast with a poached egg. There's even more coming, with a chic restaurant planned to anchor the restored Bent's Opera House. Because of pandemic uncertainty, like so many other plans, it's on hold.
Covid-19 didn't stop Zambistro, though. Anchoring the Main Street strip since 2005, Michael Zambito's place finished construction on a balcony patio and expanded first-floor dining space. All that extra room comes in handy in a time of social distancing.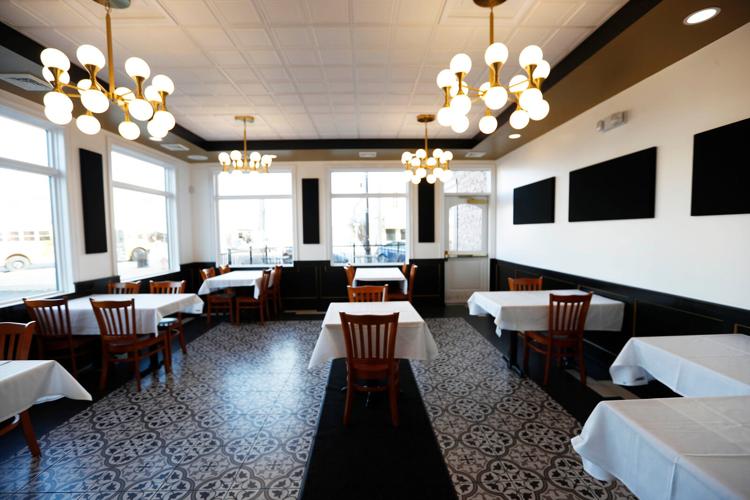 Folks who happen across Zambistro on the way back from picking apples at LynOaken Farms can be forgiven a double-take at the menu. Parisian bistro? Uptown pasta house? It's not easy to pigeonhole, unless you just call it the finest restaurant in Orleans County.
There's white paper over tablecloths to set the stage for a display of culinary creativity, along with the usual burgers and pasta with meatballs.
Foie gras was on the menu – as a little pitcher of gravy the diner pours over first-class, housemade french fries, pointed up with scallion and tender diced duck niblets. Bound by melted white cheddar curds that stretched like taffy, Zambito's duck fries ($15) were an exuberant upgrade of standard poutine. If duty did not compel me to sample sparingly, my meal would have ended there.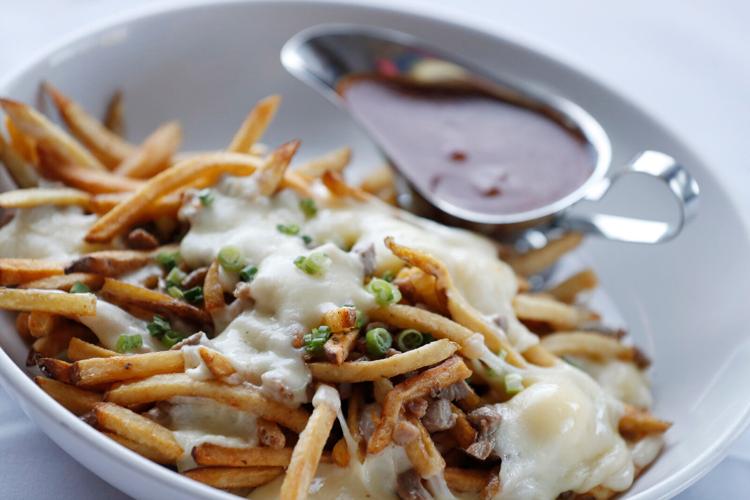 The first tuna package I saw was at Toro, the Elmwood tapas bar. But here it was in Medina ($15), allowing us to enjoy an ingot of tuna rolled in bread crumbs, seared and sauced. Sour, saucy Bing cherries and spicy mayonnaise provided a diverting context for the mostly rare fish to disappear.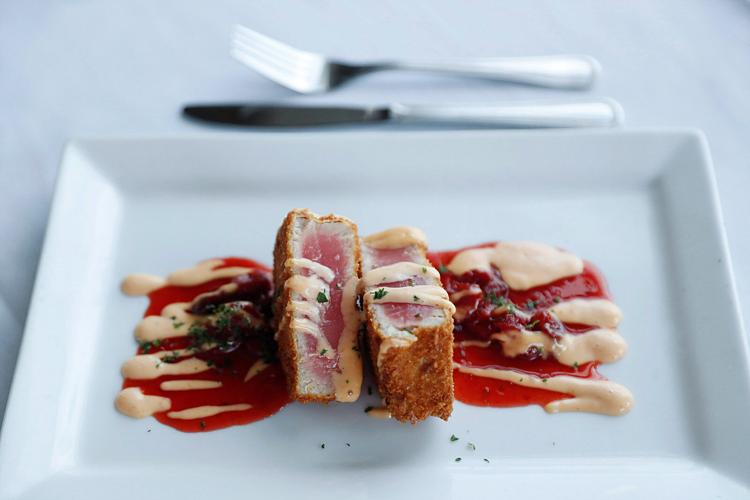 Fried olives ($9) are a crispy, briny treat for olive lovers, a classy little nibble with a glass of wine. Or a martini, if that's the way you swing.
A warm, grapefruit-sized loaf of bread arrived with two butters, standard and birthday cake. You read that right. Birthday cake butter, like a cake mix beaten into butterfat. Don't make that face when you know you would spread buttercream frosting on bread if no one was looking. And I'd be lying if I said that birthday cake butter was left behind for our server to clear.
Salmon might be the most cliché-ridden seafood, but at Zambistro the ubiquitous fish ($30) was freshly grounded in the Italian canon, a Norwegian fillet seared and splayed over a bowl of gnocchi, beans and greens and broth.
This was a dish to hunker over with a handful of bread. Pasta pillows, slightly bitter escarole greens, saltiness of pancetta and the earthiness of beans made me want to slow down and take it all in.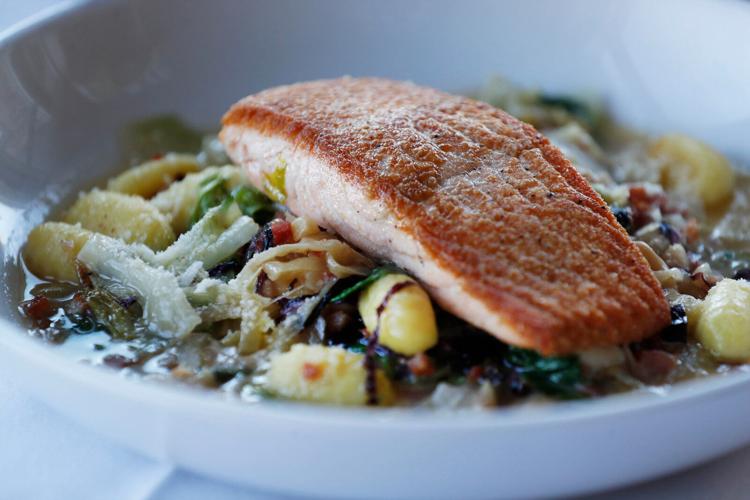 Zambito's Beef Stroganoff ($32) certainly has the potential to be controversial.
Stroganoff is a pasta dish, and Zambistro's has that, with ribbons of noodles wider than fettuccine. There was creamy sauce in abundance, pointed up with brandy. What threw me off was the beef: sliced steak.
Don't get me wrong: I love sliced steak, and this was good stuff, cooked accurately. But stroganoff has usually meant braised beef tenderness to me.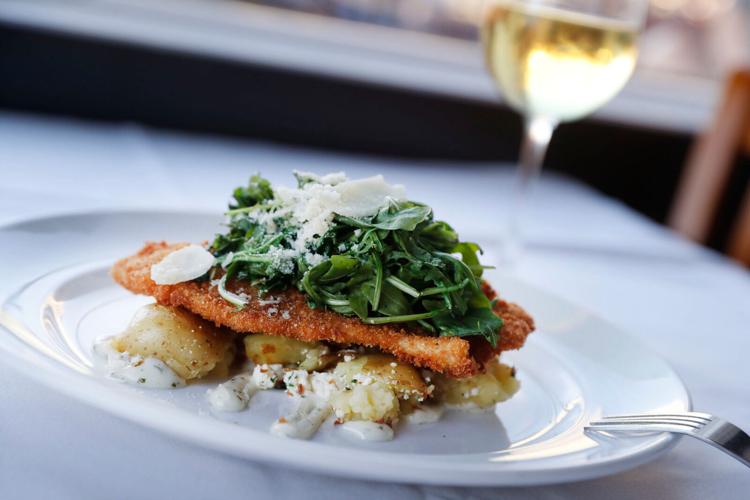 Crispy panko-coated chicken cutlet ($25) got a satisfying reboot at Zambistro, still topped with arugula salad but resting on a foundation of crushed skin-on potatoes tumbled with feta cheese and diced prosciutto. Underneath it all, herbed aioli added rich tang. Taking the ubiquitous chicken cutlet and pointing it toward Athens instead of Milan is a welcome change.
Over-the-top macaroni and cheese is a perennial pursuit of hip fine restaurants, and Zambistro's entry ($9/$20) is worth meeting. Smoked Gouda, mini-shell pasta and truffled breadcrumbs combine for an intoxicating hot tub of aroma and texture, topped off with parsley and snowflakes of Romano cheese.
The menu offered one vegetarian entrée listed as vegan-capable: potato gnocchi ($25), this time with butternut squash, kale and golden raisins in a cranberry butter sauce.
Desserts included a compelling espresso crème brûlée ($9), chock full of coffee flavor infused into properly velvety custard.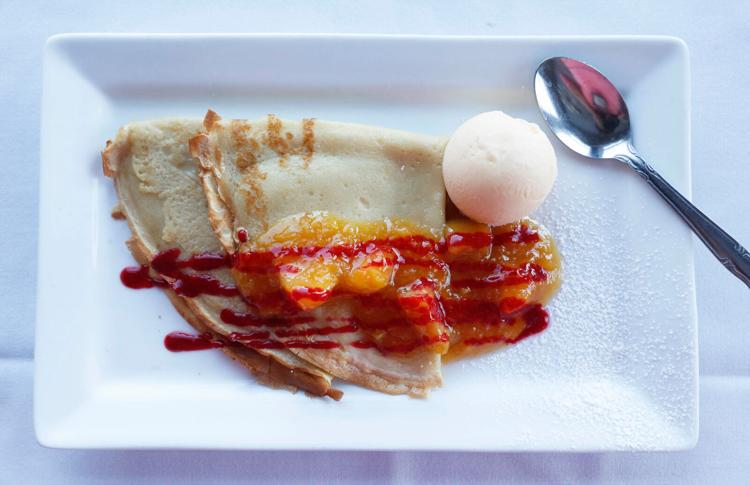 Peach crêpes ($8) were pure Orleans County soul food. Two crêpe pancakes folded in quarters, a scoop of ice cream, and a vibrant peach compote reminded me that we were in orchard country. The intoxicating aroma of peaches stayed with me for a while.
Service was solidly professional, with no hitch in moving my party to a larger table when it became clear how much food was coming.
In this part of Orleans County, there's quite a few good places to eat everyday meals. But it's Zambistro you want if you're in search of fine Medining.
Hours: 11 a.m. to 9 p.m. Monday through Thursday, 11 a.m. to 10 p.m. Friday and Saturday. Closed Sunday.
Prices: Appetizers, $9-$15; entrées, $16-$36.
Atmosphere: low-key classy.
Wheelchair accessible: yes
Gluten-free options: many choices.