The weird thing about Ellicottville is that it is a tourist town almost 100 kilometers from the Canadian border with retail businesses that depend on both Canadians and Americans for annual revenues.
Thus the food in Ellicottville tends to play it down the middle. American, then more American, with a few wild cards slipped into the deck, like Bike and Bean, a bicycle repair shop with a sideline in preposterously tasty burritos.
Brad Rowell and Caryn Dujanovich, who created one of the best new restaurants of the decade in Grange Community Kitchen in Hamburg, were recruited to join the mix on Ellicottville's Main Street, with longtime sous Anthony Petrilli as a partner.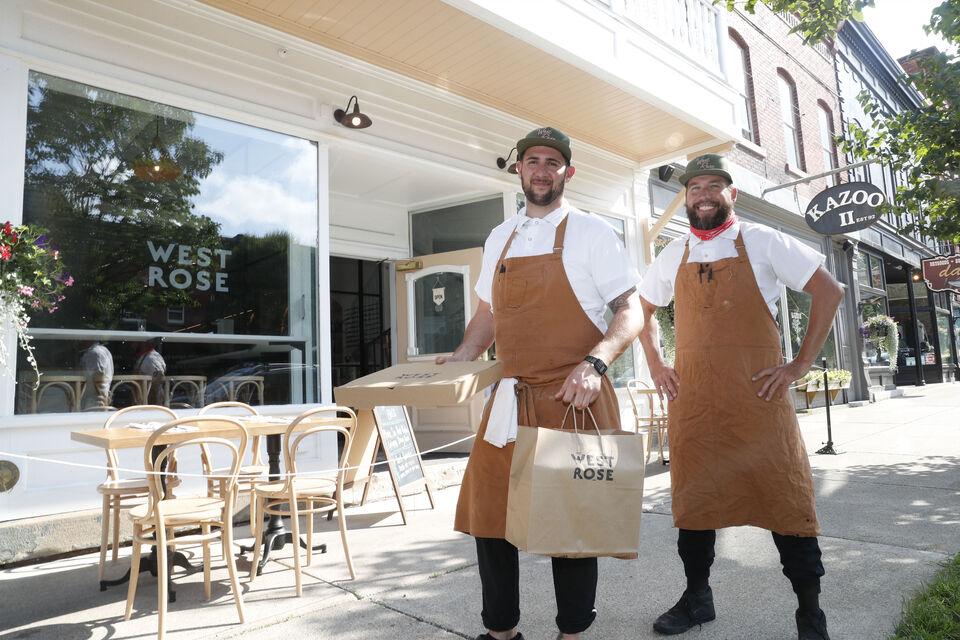 Neapolitan-style pizza plus a slim menu focused on celebrating local produce is at the core, as at Grange. West Rose gets to take advantage of Grange's full-scale bakery program, as well as knocking out some of its own specialties.
With a menu this small, everything must slap, as the kids say today. Bedazzled with grace notes, even a dish as simple as cheese and bread can have you nodding with approval.
House-baked focaccia arrived sparkling with large flakes of Maldon salt, an English variety known for its pure flavor and crunch. A second plate held milky whipped ricotta sprinkled with more texture: toasted fennel seed, black pepper and lemon zest. A crimson dab of Calabrian chile allowed diners to customize the heat level – from none to lots – for each swipe through the goodies.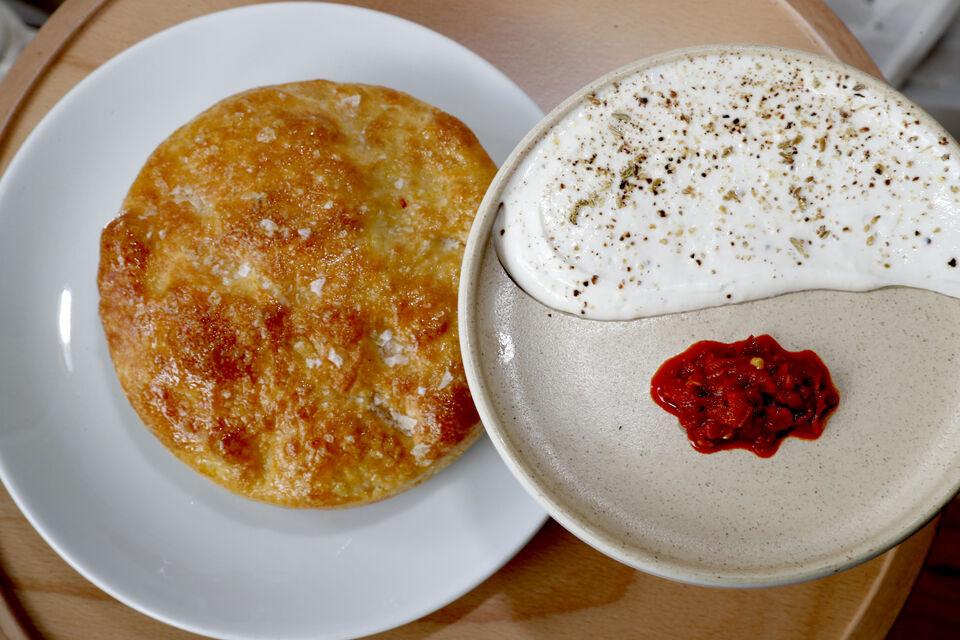 Smoked trout dip ($12) leapt in flavor when scooped with a layer of caper-shallot-parsley vinaigrette and smeared over snappishly crisp rye bread wafers. Bolstered with pickled onion and cucumber, it would have made the perfect snack if not for running smack into my blood oath against mason jars as service containers.
Juicy watermelon salad ($8) with snap peas, rhubarb and pistachio vinaigrette thrilled me with freshness, and the angel-on-my-shoulder feeling that comes with finding, against all odds, a great bite of watermelon. Having picked watermelon for the Phelps family as a boy, I know what it can taste like, and the present rarely lives up to the past.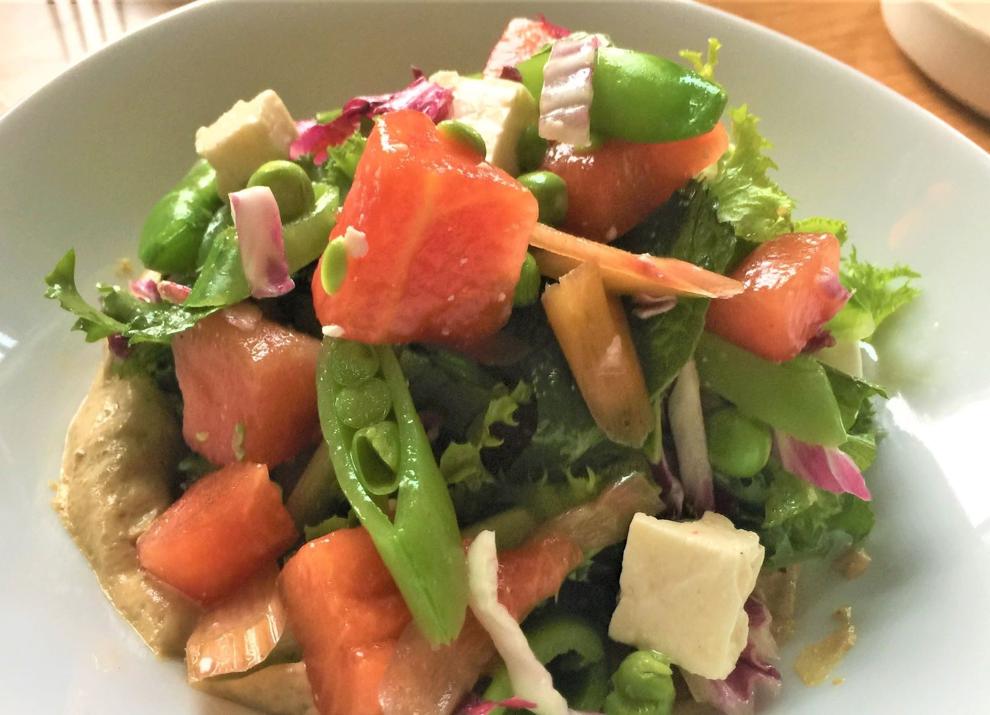 At West Rose, scarlet cubes were tossed with sugar snap peas, bitter purple radicchio, and diced feta bearing a faint wisp of smoke. Pistachio vinaigrette lining the saucer offered nutty richness, but I was already happy. If it was sheep's milk feta, they would have had to scoop me off the rafters with a net.
You can't have it, though. When I called back, Petrilli said the local watermelon was done. That's the bittersweet lure of locally inspired restaurants, the love-and-loss cycle that is attractive in its own way. Now it's strawberry and basil gazpacho with focaccia croutons in that menu slot.
As in Hamburg, hummus with housemade flatbread ($13) is a vegan banger that should be on every vegward-leaning table. Blistery bread baked to order, earthy chickpea puree tarted up with hazelnut-centric spice and seed mixture and chermoula, intense North African pesto with preserved lemon.
Porcine partisans, on the other hand, should plump for the pork belly ($12), matchbox-sized lozenges of carnal pleasure whose crisped surface and creamy insides offered pure hog heaven. Glazed, bescallioned, showered in toasted sesame and rosy Aleppo pepper on a bed of rice, there was enough to share.
The kale Caesar ($9) was robust, but its foliage could have benefited from a nice massage (Carmelo's will spoil you). Roasted cauliflower ($10) with mint, pickled chile and tahini could have used more time in the roaster.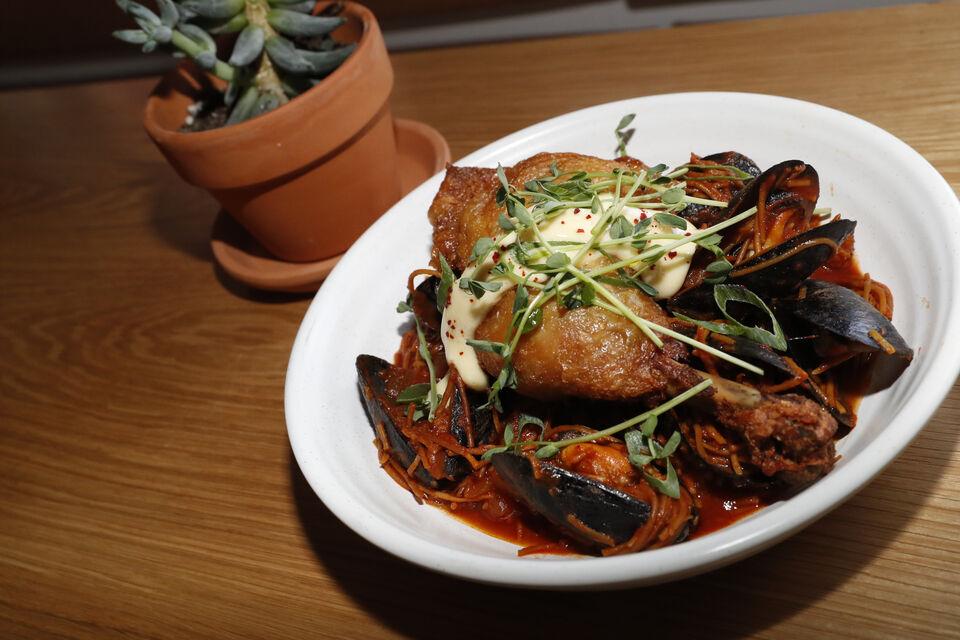 Fideo with confit chicken introduced guests to the tomato-soaked Spanish-style seafood spaghetti ($29). This version carried mussels in the shell, tomato-saffron broth and sherry aioli, making it an unusually seductive dish of spaghetti. That chicken, though – confited, crisped – would be welcome in any context.
Three-cheese pizza ($17) with caciocavallo, mozzarella and pecorino romano, plus parsley, over garlic cream, got touched up with chile honey and forested in arugula before it arrived. Tender-crisp crust had improved noticeably since my December visit.
A dark chocolate tart with and intoxicating, aromatic red raspberry sauce made me slow down with each spoonful, to let its twin natures fuse into a pleasureable union. Tiramisu arrived in a syrup meant to echo coffee and orange notes, but tasted like maple syrup when eaten with the ladyfingers and mascarpone filling.
I was made as soon as I walked in, but I hope other customers have experienced the nurturing feeling of having someone handing you a new napkin before you even noticed yours is on the floor.
The only thing that really went south at West Rose was the noise. When our masked server tried to confirm our order, bare ceilings, walls and floors turned customer enthusiasm into sonic chaff. I've had easier conversations while punk bands were playing.
As problems go, though, it's rather like Marilyn Monroe's mole. At West Rose, the beauty shines through.
Hours: 4:30 to 9 p.m. Wednesday through Saturday, 10:30 a.m. to 2:30 p.m. Sunday brunch.
Prices: snacks, $4-$32; vegetables, $8-$13; meat and seafood, $12-$56; pizza, $14-$19.
Atmosphere: puts the din in dinnertime.
Wheelchair accessible: yes
Gluten-free options: many dishes, but not pizza.
(Plate scores are suspended until restaurants can return to full occupancy.)