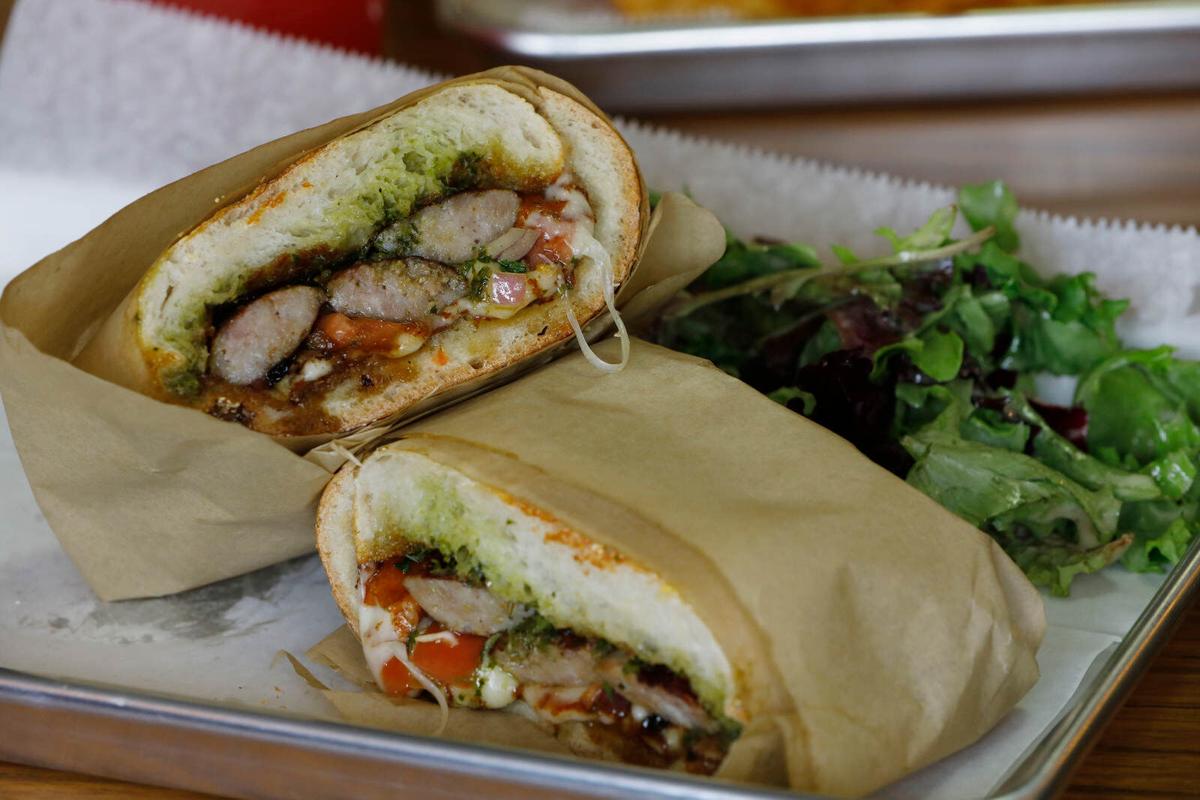 What a joyous day indeed when a restaurant starts offering the distinctive tastes of another culture, allowing me to get out my critic's crayon and color in another nation or two on Buffalo's atlas of eating.
Despite the last decade's arrival of broader and deeper Mexican offerings, South and Central America has been largely terra incognito on the restaurant landscape. Then in November, Tortuga Sandwich Shop opened next to a used record store in Sanborn. It's operated by Andrew Smiedala, from Tonawanda, and his wife Carla, who is from Bolivia and introduced her husband to a new world of flavors in the southern hemisphere.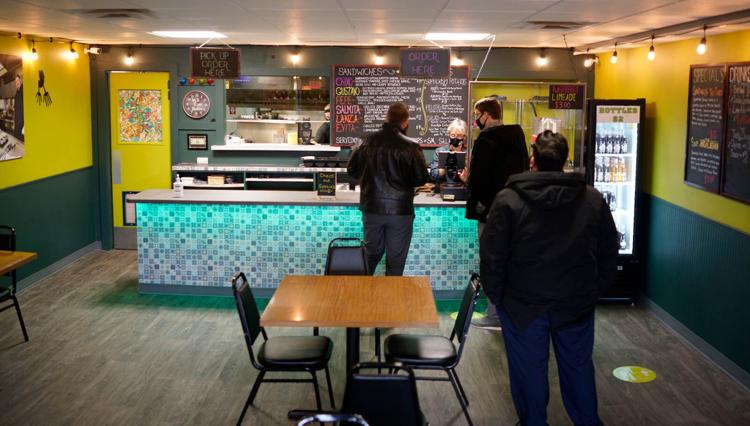 Normally, I would hesitate to write about a counter-service sandwich shop in this space, but these are not normal times. When a remarkable destination appears, I'll bring it to your attention.
What's remarkable is the range, and the verve, shown in the shop's brief menu. Six regular sandwiches plus a weekly special might not sound like much of a range, but these cover ground like seven-league boots. Echoes of Argentina, Bolivia, Peru, Mexico and Spain emerge in dishes, all under $15.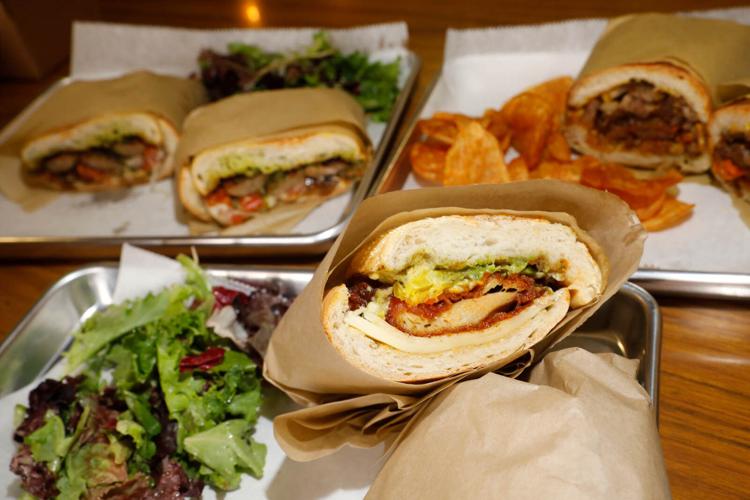 Lanza ($12) is a sandwich of Argentine sausage, split and griddled, fresh tomato salsa, a slab of grilled provolone cheese, and lashings of chimichurri. Pesto's more raucous cousin, chimichurri is a coarse sauce of cilantro, parsley, garlic, and jalapeno that jump-starts the party. Luigi's Italian bread is the standard, and a small salad or housemade potato chips come with sandwiches.
Fans of Peru's famed lomo saltado can find comfort in its sandwich counterpart, the Chino ($14). A dish from Peru's Chinese community, it's a stir-fry of beefsteak, tomatoes, French fries and more.
At Tortuga, the Chino piles marinated strip steak, sautéed onions and red peppers, with blistered tomatoes, crispy potato sticks and spicy cheese sauce.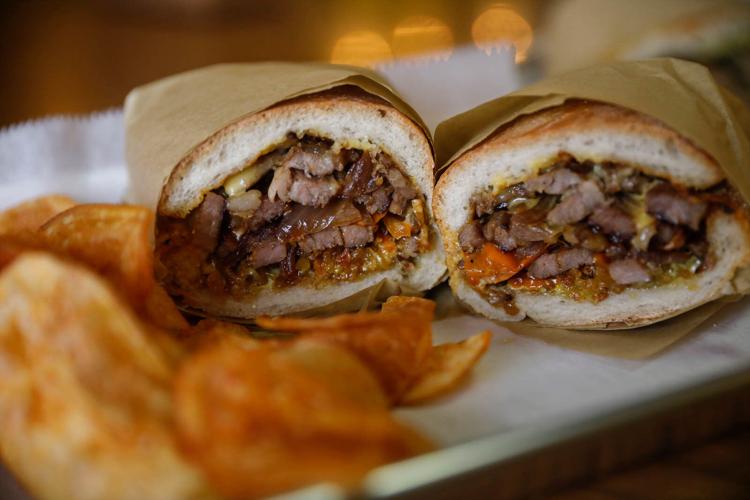 In a nod to Nashville chicken, Smiedala offers the Gustavo ($14), lined with crispy Southern-fried chicken breast tossed in a dark, smoky chile sauce, atop a mash of fresh avocado, with jack cheese, sweet jalapenos, and aioli.
A vegetarian offering, the Salmita ($9), dresses grilled zucchini with salsa Veracruz, which includes capers, whipped goat cheese and dressed greens.
It gets as simple as the Evita ($8), grilled provolone and chimichurri on a broad swath of griddled garlic bread.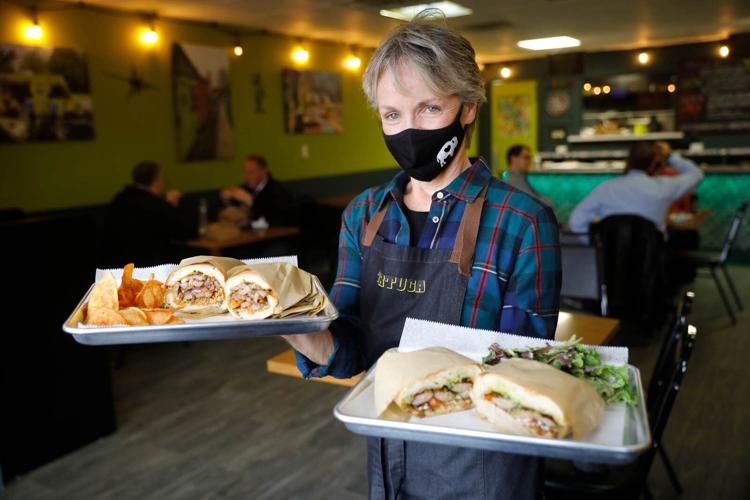 The special sandwich of the week is to be reckoned with, as well. During my visit, a sandwich of cochinita pibil ($12) was on offer, extending Tortuga's reach into the Yucatan peninsula. That part of Mexico is famed for the intricate dish of pork marinated in sour orange, herbs, spices and achiote, before being roasted in banana leaves.
The result: silky shredded pork, juicy and tangy with citrus, was packed onto another Luigi's loaf, topped with pickled red onions and slices of buttery avocado. Alongside came a cup of orange habanero sauce that kicked everything into high gear. That's a lot of cooking for $12.
Yes, it is a sandwich shop, but note that the main events can also go breadless, served as bowls, over gluten-free saffron rice.
Speaking of which, you have to get the pelotas ($6), a Spanish riff on the arancine. These balls of saffron rice are fried to a crisp with cores of molten Manchego, and served three to an order. Cracked open and dunked into the spicy-smoky tomato brava sauce and garlic mayonnaise, they're a budget indulgence worthy of a rare splurge.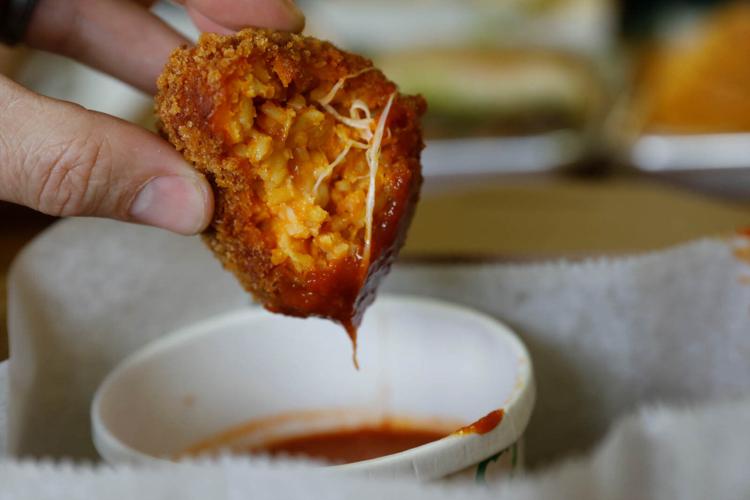 The mountains of fried potatoes at Tortuga are monuments to those who first farmed the fertile tuber: Peruvians.
Andes style ($5) brings a shoebox of wedges fried to a crisp, laced with dull green Peruvian herb aioli and a spicy cheese sauce called huancaina, starring the aji Amarillo chile.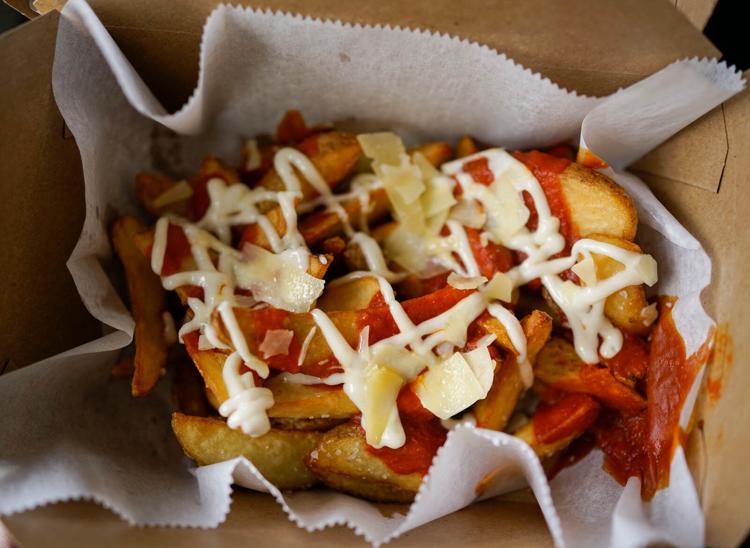 Madrid style ($5) is a nod to patatas bravas, the Spanish tapas of fried potatoes, garlic mayonnaise and spicy-smoky tomato sauce. Wedges get both sauces, plus shavings of Manchego cheese.
Drinks are only soft for now, but a daily limeade ($3) is on the menu, like the tasty prickly pear version I got to try.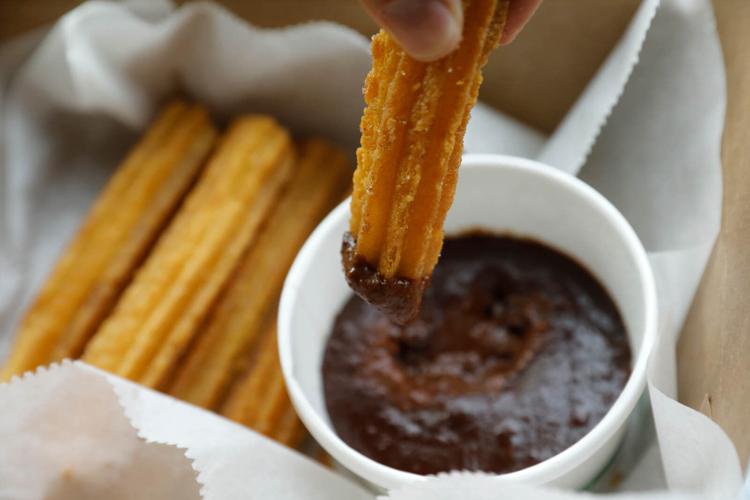 Sweets aren't an off-the-shelf afterthought at Tortuga. Desserts like alfajores ($3.50), dulce de leche caramel sandwich cookies rolled in finely shredded coconut, offer focused pleasure. The classic extruded doughnut, churros ($5), comes with faintly bitter dark chocolate sauce.
Pizza, wings and chicken parm have their native constituencies across the map, but Tortuga will have to build its coalition of customers one at a time. If it attracts the audience it deserves, eventually its menu could cover even more of the map.
Among all the things to be thankful for this holiday season, I'm grateful Andrew Smiedala brought his love home to Western New York.
Hours: 11 a.m. to 7 p.m. Tuesday through Saturday. Closed Sunday, Monday.
Atmosphere: quiet tropics
Wheelchair accessible: yes
Gluten-free options: rice bowls, potatoes, salad.