Mexico has 31 states, but you would never know it from the menus of Mexican restaurants of Western New York. The complexities of a country of plains and rainforest, seacoast and mountains get boiled down to Americanized best-hits collections.
In 2003, Francisco Rosario, a Mexican farm worker who had returned from Oaxaca season after season to work in the Lake Ontario fruit belt, opened a store in Medina with his family to give his compadres a taste of home. They named it Monte Alban, after the millennia-old ruined city overlooking the fertile Valley of Oaxaca.
In 2011, his brother Leonel Rosario opened the full-service restaurant Mariachi de Oro. Its Mexican-American standards, plus an unusually broad array of moles, the sophisticated Mexican mother sauces, caught on with locals and travelers alike. In 2017, the Orleans County Chamber of Commerce named Mariachi de Oro Business of the Year.
Encouraged, Leonel Rosario opened Maizal Mexican Kitchen and Mezcaleria in Amherst with a bid for Oaxacan respect. In the former Trattoria Aroma East Amherst space, a visit shortly after the August 2019 opening had ups and downs.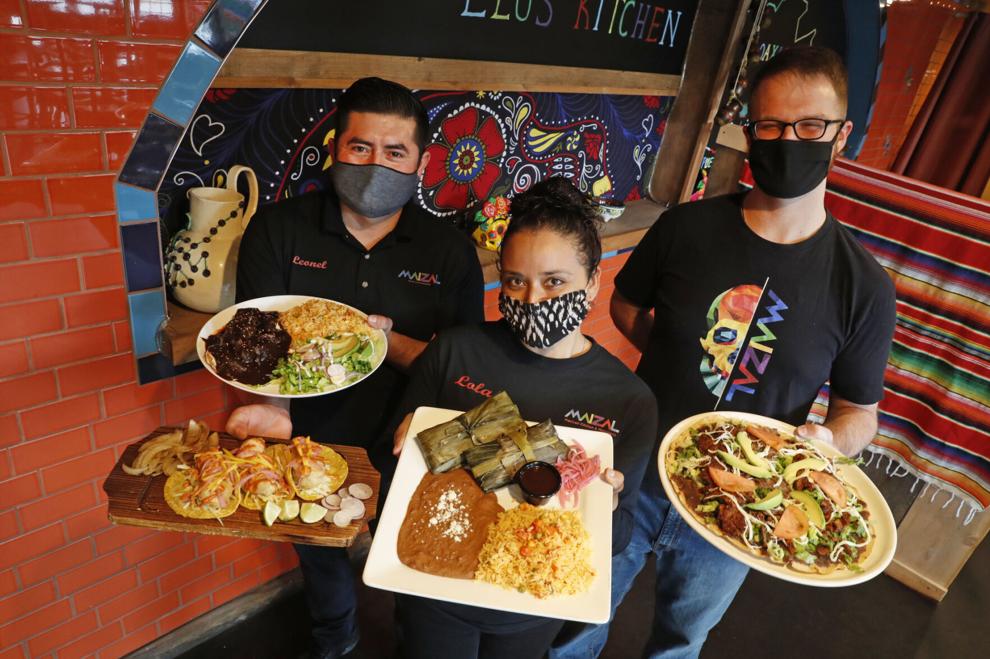 After the pandemic time out, Rosario pared down the menu to essential Oaxacan specialties backed up with a safety net of recognizable, fully flavored dishes from the Mexican-American playbook. He also dropped the prices a couple of dollars.
First, to drinks. Tequila is made from fermented juice of agave, a desert plant. Mezcal is what you get when you roast the agave first, adding smoke like a peaty whiskey, and Rosario says Oaxacan clans make their own.
Here, there is a collection of more than 60 varieties, available in cocktails like the Cura Todo with fresh lime, mezcal, agave, pineapple, chile salt ($8.95) or Mezcalerita with mezcal, fresh lime, orange liqueur, house sour mix. Or explore the fact that mezcal is sippin' not shootin' booze, and order a flight ($15-$19) to explore the varieties of honeyed spice, laid-back notes of pinon and mesquite campfire. Our cocktail server offered helpful tasting notes.
Maizal means cornfield, and many of its specialties stemmed therefrom, starting with the tlayuda ($18.95). Think of a single nacho chip as big as a hubcap, wafer thin but sturdy enough to bear the payload to its target. It gets brushed with refried beans flavored with yerba santa, plus a meat riot: steak, chorizo sausage, cecina salted beef. Add lettuce and tomato, avocado and strings of queso fresco cheese that pulls like the freshest mozzarella. It's a fun, fast first course to share, brushing off any pretense of daintiness at table.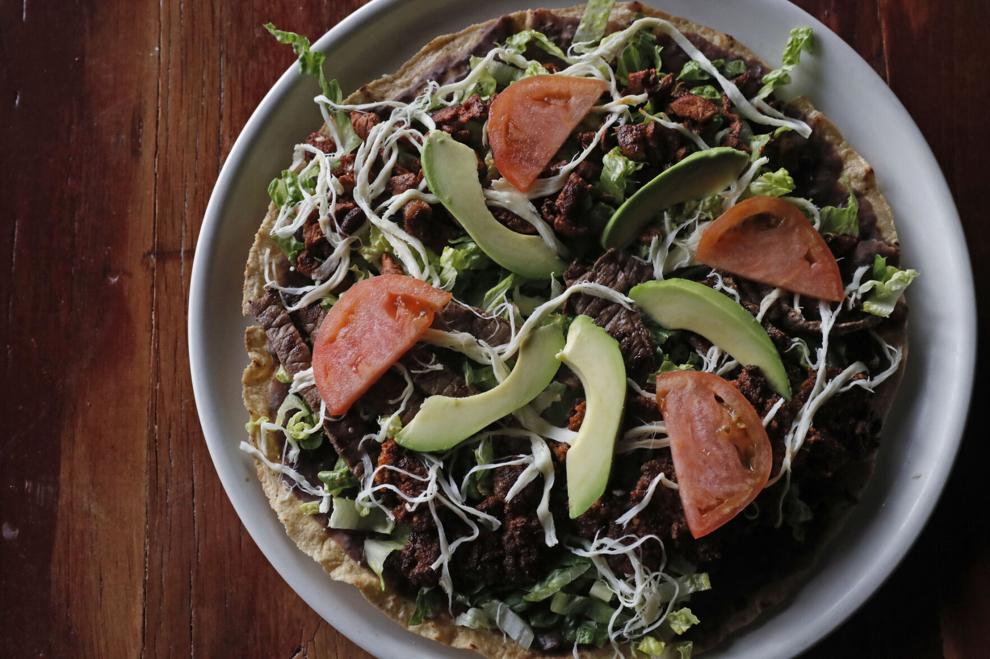 Follow it with tamales Oaxaqueno ($12.95), two smartphone-sized packets of fluffy corn dough around a filling of shredded chicken breast and mole negro. Its banana-leaf wrapper imparts subtle vegetal green-banana perfume into the proceedings.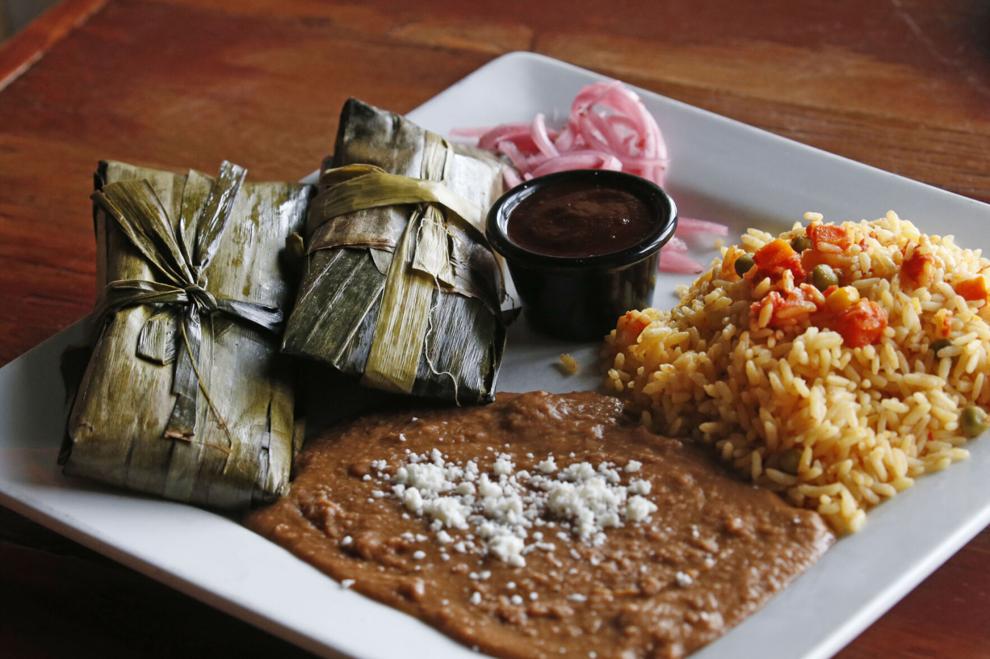 Mole negro is the menu's remaining mole after simplification, and it stars in roles throughout the menu. Its tarry, smudgy character – carrying notes of raisin, cherry, clove and chocolate, sweet chords backed with a wail of bitterness – is an Oaxacan point of pride.
Mole negro with shredded chicken ($14.95) is the classic platter. It is served with rice, salad, avocado and tortillas, so you can wrap your head around the fact that Mesoamerican cuisine has made it to East Amherst. Mole enchiladas ($12.95) are a bit of an off-speed pitch, mellowed out with cheese and red onion, and mole chilaquiles find the inky sauce soaking into tortilla chips, with onion, sour cream and Oaxacan cheese ($8.95).
Another Oaxacan number is the sopes ($13.95), palm-sized ovals of corn dough, thick as toast, topped with choice of protein, beans, fresh-cut pico de gallo, queso fresco, sour cream and smoky chipotle salsa. (On weekends, Rosario's cousin makes tamales ($6 for six – sold at Monte Alban groceries in Medina and Batavia.)
Tacos and burritos abound, in vegetarian and carnivorous guises. The beer-battered shrimp in the Baja burrito ($11.95) is snuggled up against fresh mango, chipotle salsa, citrus slaw, rice and pickled red onions.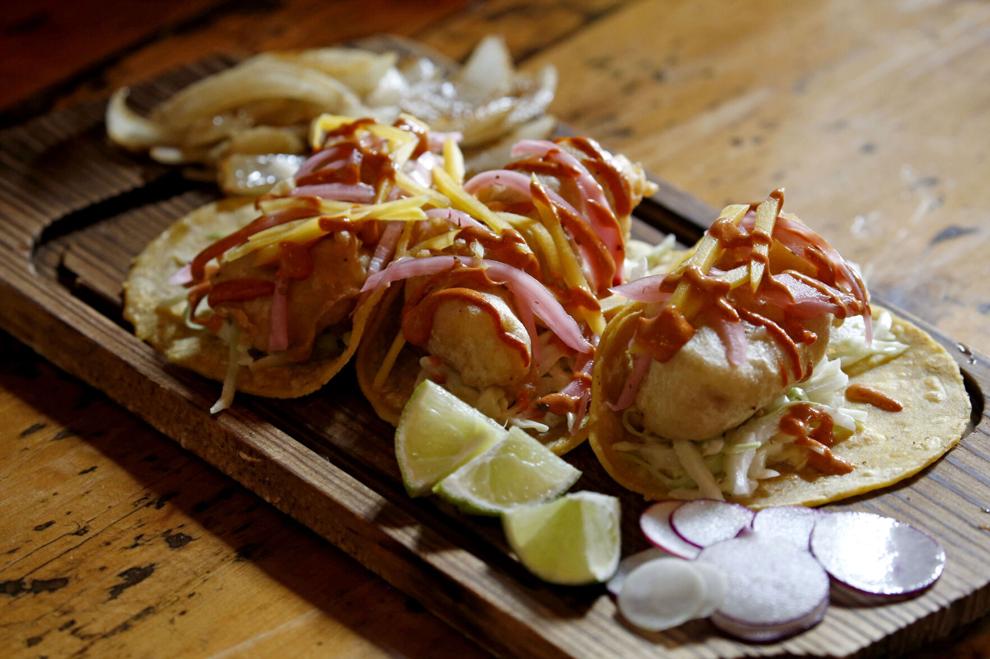 Baja fish tacos ($11.95) were a seafood hit. Three Snickers bar-gauge hunks of mahi-mahi were battered and fried to a crisp with racy chipotle salsa, match-sticked fresh mango and pickled red onion.
Entrees were solid as a group, with special nod to the braised pork carnitas in salsa verde ($10.95), the rousingly tangy sauce of tomatillo, cilantro, green chile, lime and garlic.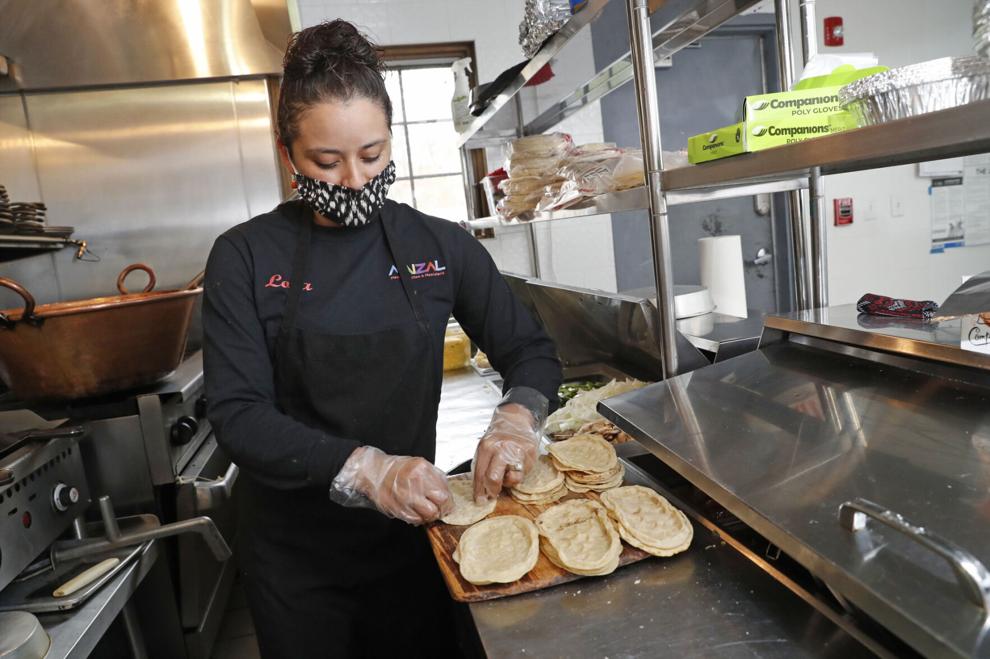 The night had gone so well I considered not spoiling it by ordering dessert. There was a fried ice cream, you see.
At Chi-Chi's, a million years ago, the hot-but-cold, melty-but-crunchy pleasure-sphere seared into my appetite index. A dozen attempts to recapture that glory have fizzled on my plate, leaving me wary.
Not at Maizal. This was fried ice cream ($4.95 ) done right, rolled in cinnamon-sugared flour tortilla crumbs, then deep-fried to a crunch.
Not for a long time – not since I was a boy – have I been so happy in a cornfield.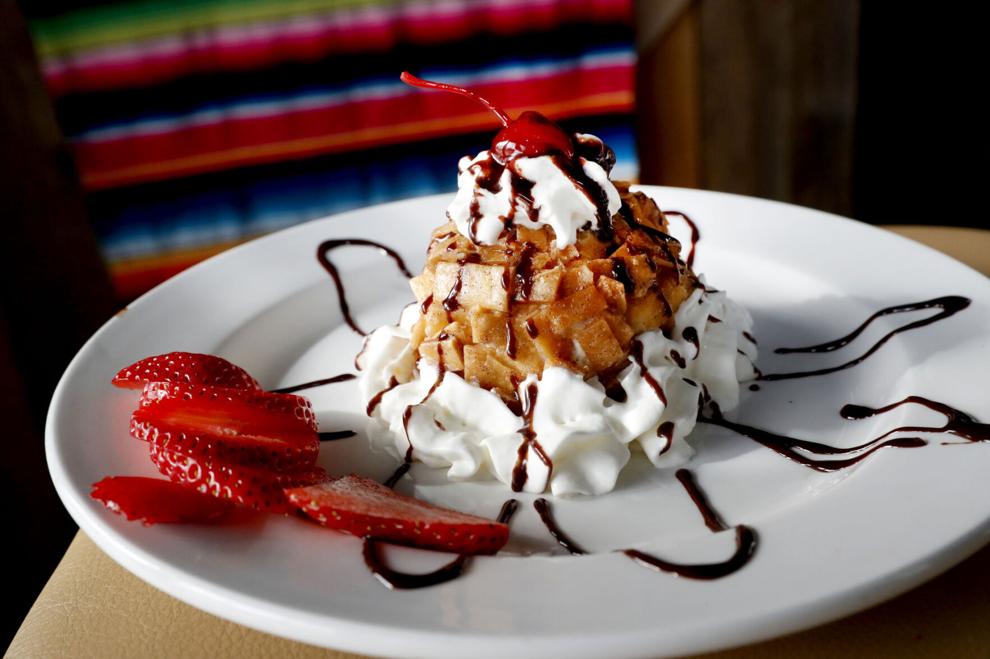 Maizal Mexican Kitchen and Mezcaleria
Hours: 4 to 8 p.m. Tuesday and Wednesday, noon to 8 p.m. Thursday through Sunday. Closed Monday.
Prices: appetizers $4.95-$13.95, entrees $9.95-$18.95
Atmosphere: high-ceilinged town square
Wheelchair accessible: yes
Gluten-free: many options