Restaurant listings show at least 10 local spots holding themselves out as practitioners of Japanese cuisine. Another 30 sell sushi to the public – and that's not counting grocery stores.
Yet we still have nothing else quite like Kuni's.
It's Japanese sushi, serenely simple and straightforward. Stripped of pretense, it presents fresh seafood on a stage of precisely cooked and seasoned rice, making their subtle characters the center of attention. Master sushi chef Kuni Sato's work in the Elmwood Village, for going on 25 years, needs no squiggles of spicy mayonnaise, no barbecue sauce, nor bacon bits to make his case.
Nigiri sushi is the axiom about "plenty of fish in the sea" come to life, at $3 to $5 for a careful slice riding a finger-sized lozenge of rice.
Enjoy the meek, buttery richness of salmon, or the brassy burst of seabreeze in a silver-skinned slice of lightly vinegared mackerel ($3.50 each), the fish's assertive slap tamed by its tangy treatment.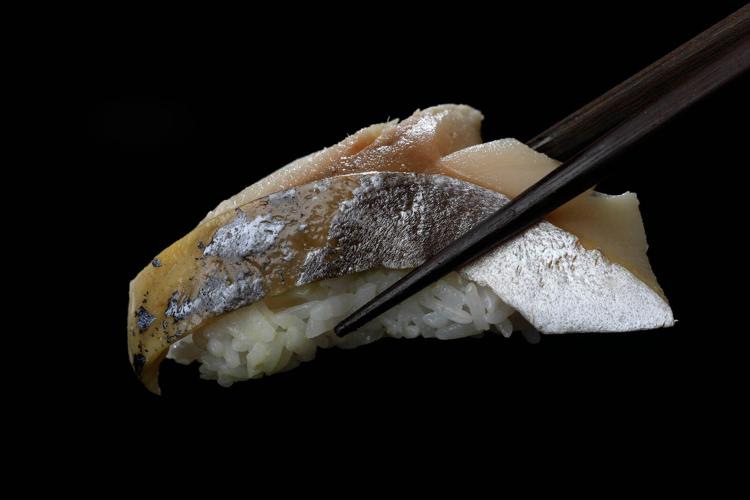 Explore the ocean without leaving your table: amberjack ($4), lean and racy, poached octopus ($3.50), firm, mild and – paradoxically – less chewy than Swedish fish (the candy).
Grilled eel ($4.50) is one of the only sushi to be sauced, with a sticky soy glaze. It's so lush that it's one of the pieces I needed two bites for – pork belly of the sea. The foie gras of the sea, Kuni's ankimo, or monkfish liver torchon, is not available for takeout, like I needed one more reason to wish all of this (gestures at everything) was over.
A sampler pack of seafood slices sans rice is nuta ($9), which refers to the dressing that comes in a cup to be applied at will. Salty, sweet and savory from miso, mirin and sake, we dabbed it on pieces of octopus, mackerel, gently poached shrimp and seared scallion.
Rolls are the starter sushi for lots of beginners, because they're mostly rice, and like nigiri sushi, there's plenty of cooked choices. Six bites to a roll, and it's fine to use your fingers.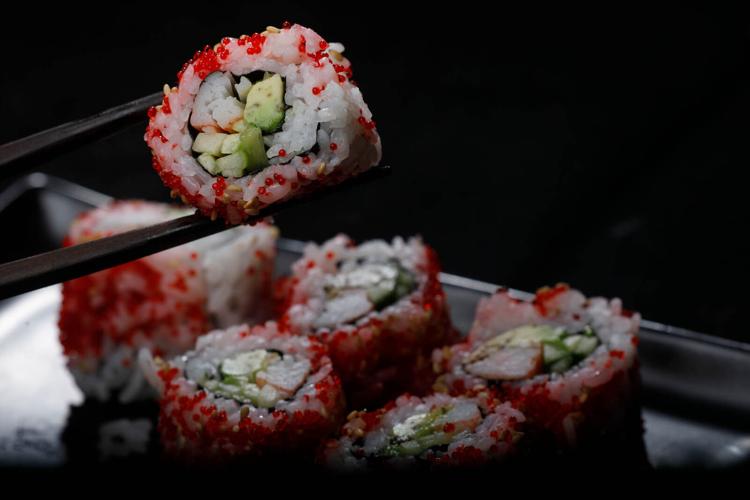 Eel and avocado ($5.50) magnify each other's lushness, with sweetness from a dab of sauce. Mackerel and ginger ($4) offers another take on taming the stronger fish, a tussle worth experiencing.
While excellence in pristine ingredients has been a hallmark of the Kuni era, a recent takeout meal reminded me of another skill set that distinguishes Kuni's: fire. Grillwork transforms a foot-long squid ($14), twice as big as your average calamari-caliber specimens, into satisfying marine barbecue.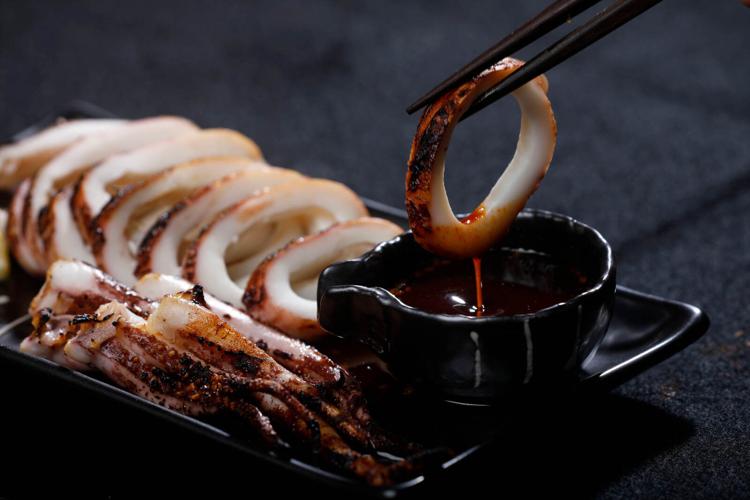 The contrast between charcoaled interior and tender insides brought backyard grilling to mind, and the spicy ginger soy dip made everything more interesting. Tentacle tips crisped to a deliciously dark crunch were a highlight, but I've always been a sucker for squid arms done right.
No less the grilled baby octopus ($8.50), whose thumb-sized centers made their crispy-tentacle-to-fuselage ratio just right for poppin'.
Yet the grilled seafood star of the night was the hamachi kama ($17), the neck bones and surrounding flesh of a hamachi, or yellowtail. Turning it over a hot fire singes the edges while loosening mild, almost creamy whitefish that's smoky and juicy with fat. The result is as close as I've gotten to the caveman-rooted pleasures of pulling apart a grilled chicken and cleaning its bones, with an aquatic dance partner. It comes with a pink strand of pickled ginger stem that you can chew up between nibbles, a useful combination of palate-cleanser and toothpick.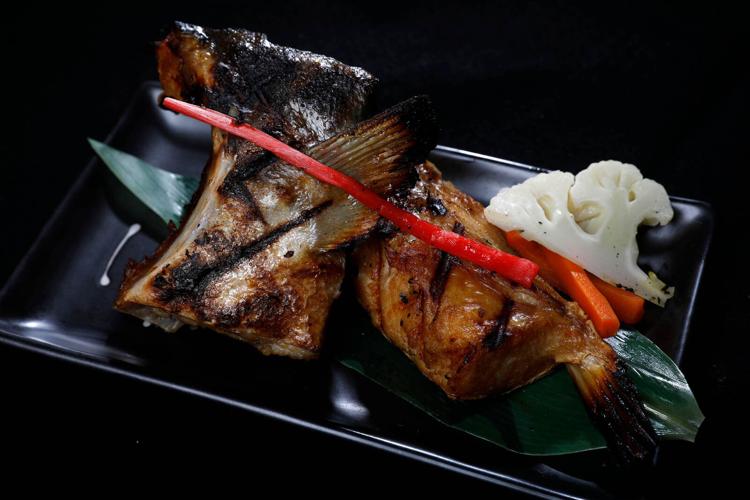 Simplicity is the secret of the gossamer Japanese slaw ($7), pastel shavings of Napa cabbage, carrot, red onion and translucent daikon radish, crowned with a burst of daikon shoots. A touch of rice vinegar, a soupcon of oil to highlight their voices, making it a refreshing detour between fleshier morsels.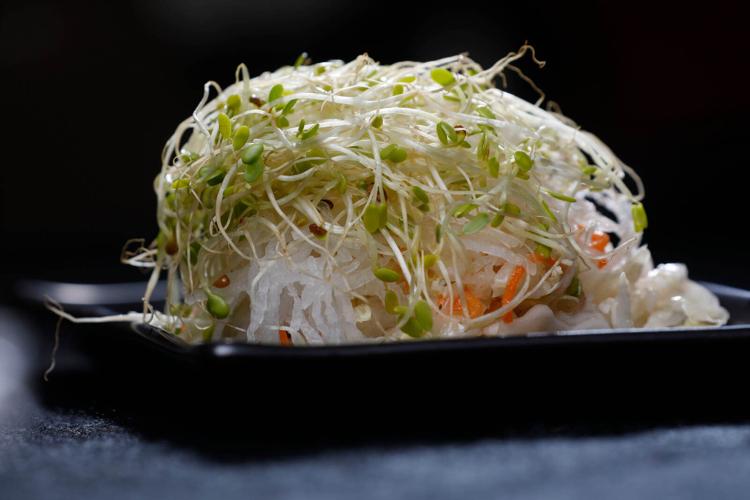 Like the tonkatsu ($12), a pork cutlet panko-crumbed, quick-fried to a crisp, and chopped into chopstickable strips. With a cup of Japanese-style barbecue sauce at its side, it's a tasty snack that will serve double duty as pacifier for those of your party who scrunch up their face when they hear "sushi."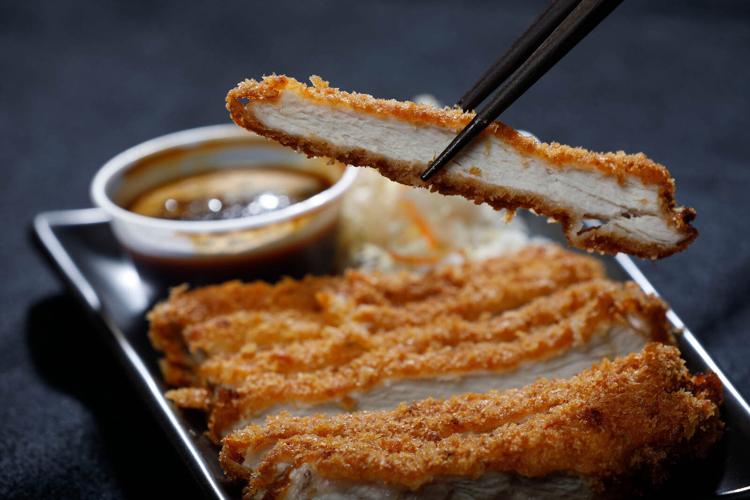 Vegetarians and vegans can enjoy agedashi tofu ($9), fried tofu with scallion and snow peas, vegetables fried in a light tempura coat ($9), miso soup and vegetable sushi.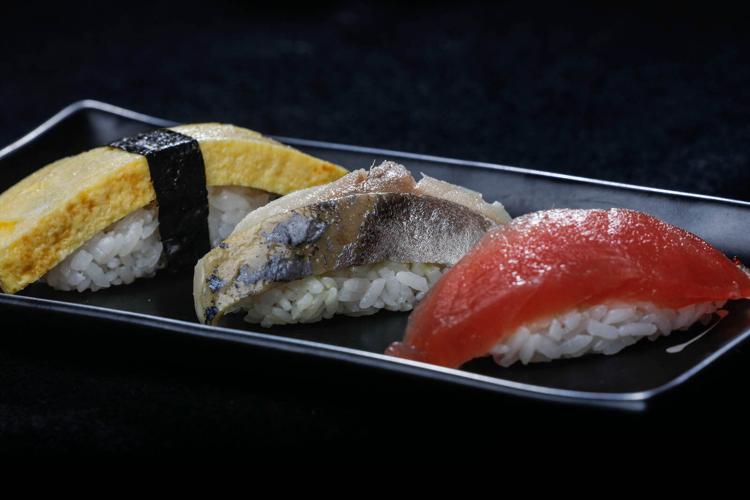 What's left? How about sushi for dessert? Tamago ($3) is a sweet omelet that's served as a nigiri, in slices over rice. The striations in the omelet where it was folded over and over before it set is part of its charm. If dessert omelet is too weird, think of it as a slice of custard with no mistake about the eggs.
Kuni Sato has to leave sometime, as he deserves, for a well-earned retirement. It would be my hope that before that day, he can pass on the standards he hath wrought. In the meantime, please treat Kuni's like the gift it is.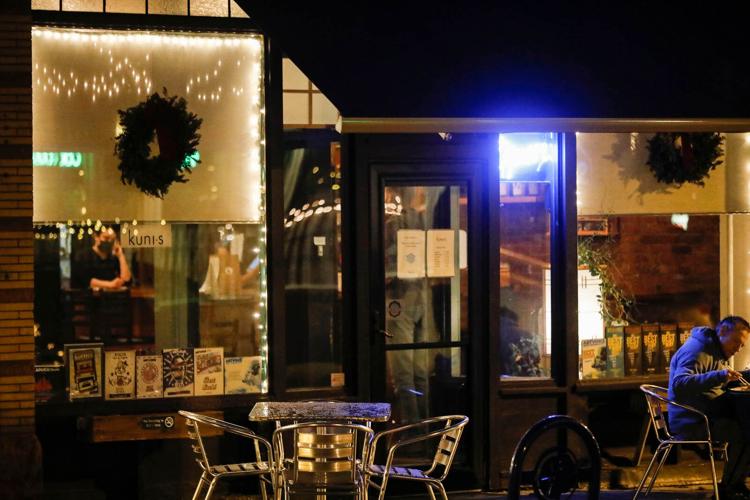 Hours: Takeout only from 5 to 8:30 p.m. Tuesday through Saturday. Closed Sunday and Monday.
Prices: Sushi pieces and rolls, $1.50-$9.50; dishes, $2.50-$20
Wheelchair accessible: yes
Gluten free: many choices