The motto for Inizio, the temple of fresh pasta on Elmwood Avenue, is Tutto fatto a mano, Italian for "everything by hand."
The obvious link is to the restaurant's specialty: housemade noodles, made fresh daily in shapes like creste di gallo, mafalde, casarecce and rigatoni.
Chef-owner Michael Gibney and his crew add thoughtful touches and grace notes that elevate the dining experience above and beyond a former Joe's Deli location on Elmwood Avenue. It's done up nice but not fancy, with lots of white tile, ivory walls and sturdy bentwood chairs. Tables are bare, but the napkins are cloth.
If you're one of the Buffalo diners who believe you're entitled to free bread with your pasta, I'd recommend you pay the $6 to have your attitude adjusted. What arrives is a loaf the French call pain d'epi, wheat stalk bread, for its resemblance to a ready-to-harvest ear of grain.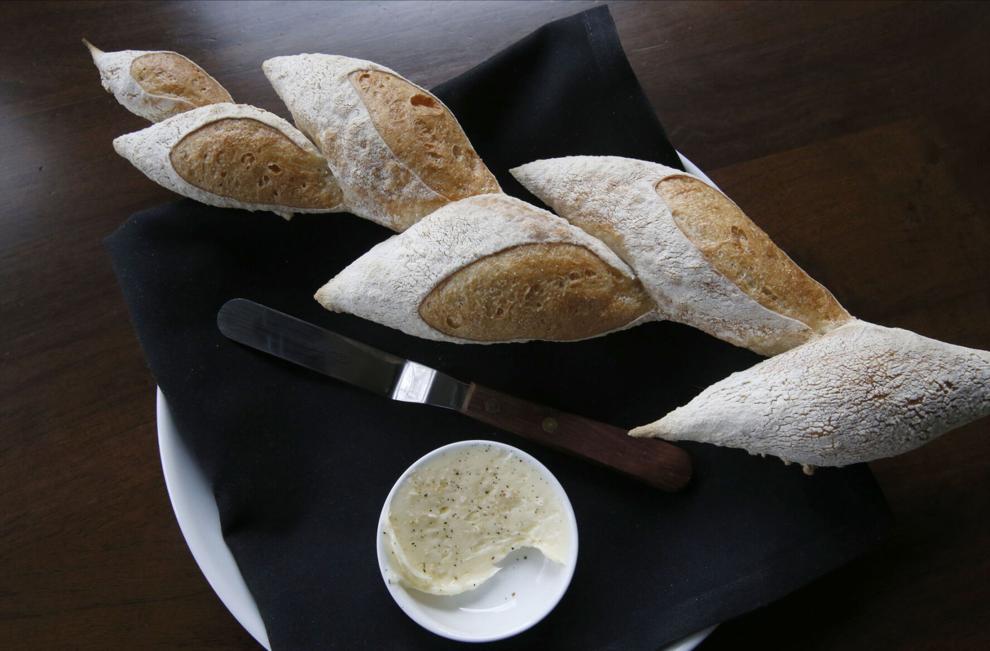 It arrives warm and crackly, urging diners to take matters into their own hands, pull off a segment, and have themselves a moment. It might take you back to that little café or boulangerie where you discovered that you've been getting a pale imitation your entire life.
Dab on some of the cultured butter alongside which Gibney makes too and the revelation is complete.
How to sum up the one-page Inizio menu? To paraphrase an observation my predecessor offered on chicken wings: "There isn't a lot there. But what there is, is choice."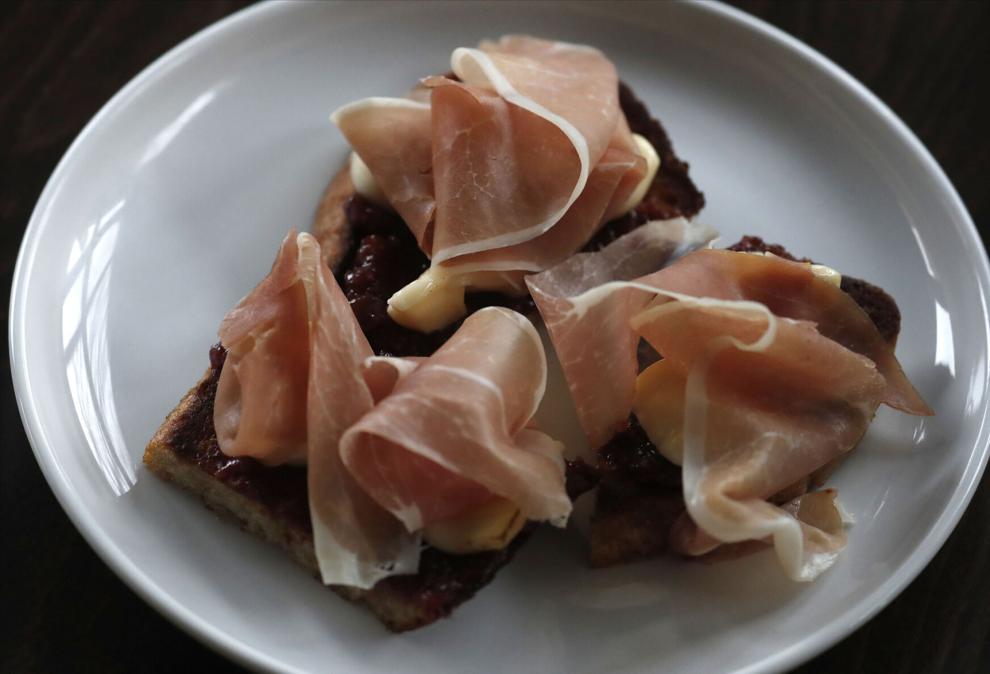 Bruschetta ($12) isn't chopped tomato, but prosciutto and taleggio cheese on toasted BreadHive sourdough that's been lavished with fig jam. Olives ($3) are Castrelvetrano. House pickles ($3) included red grapes, cauliflower, onion and mushroom.
A saucer of fresh housemade farmer's cheese ($8), anointed with saba and olive oil that smacked of sunshine, came with crostini toasted to the perfect snap.
Charred broccolini ($12) was scorched judiciously, enough to add smoke to round out the bowl of verdant bitterness. With garlic aioli, parmigiano and crunch from marcona almonds, it made eating your vegetables positively rakish.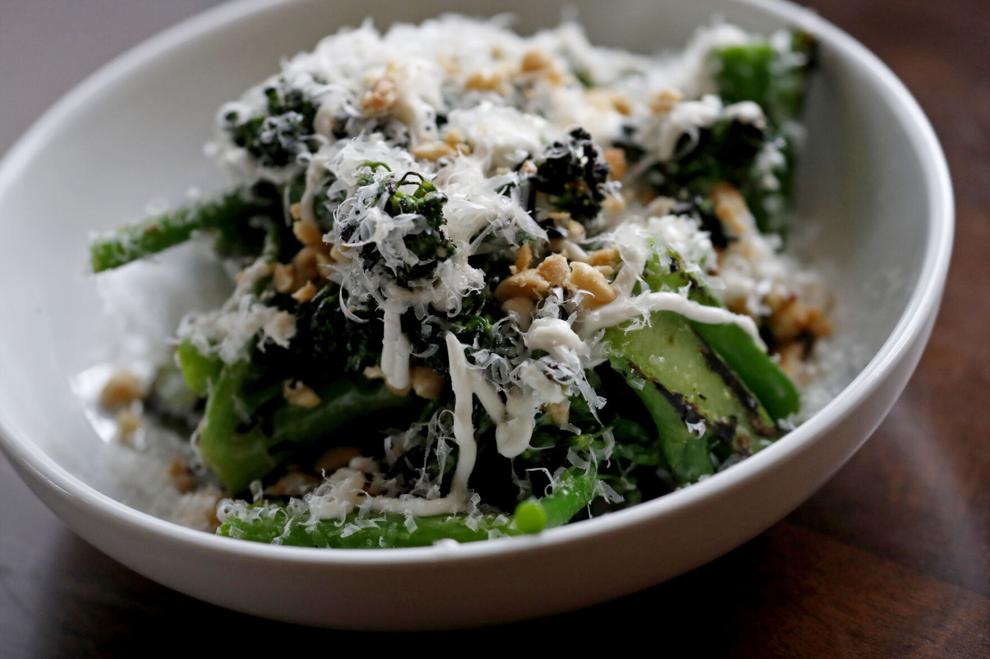 The hanger steak ($18), rubbed in espresso, with smoked potatoes and saffron aioli, was more precision work, arriving rosy as requested.
Such mastery of detail set the bar high for the parade of pasta that followed. Fresh pasta is a subtle game, based on the core attraction of springy noodles, livelier on the chew and more open to marrying with sauces.
Topography makes a difference, as with the mafalde ($19), a ribbon with crinkly edges, here wed to cacio e pepe, of pecorino romano, pasta water, black pepper. The elemental sauce turned its contours into a symphony in simplicity, cheesy noodles made by expert hands.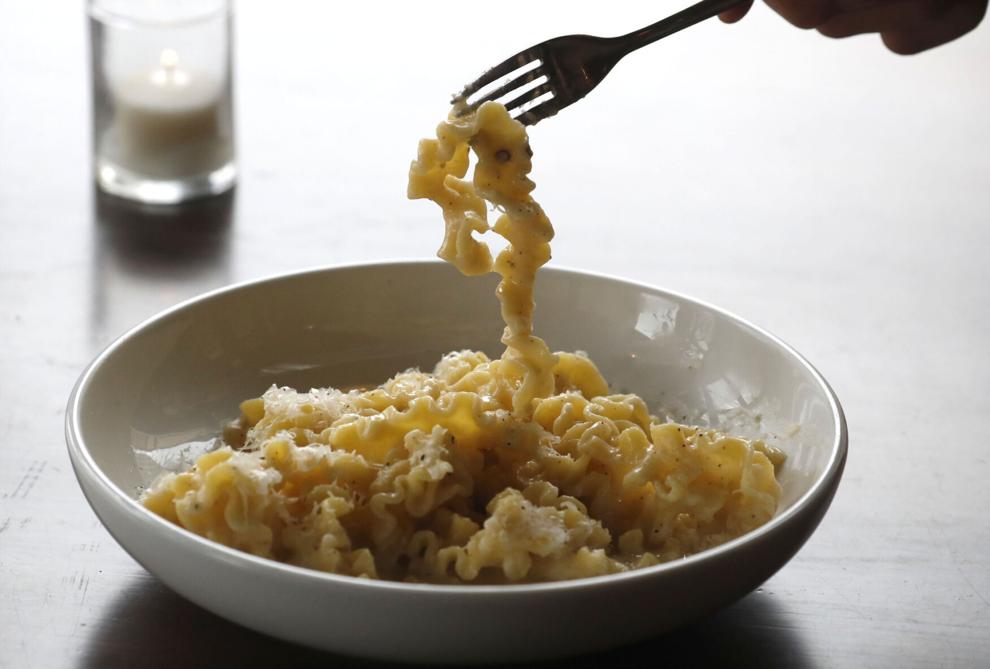 Creste de gallo ($20), or cockscomb pasta, gets the creamy, husky vodka tomato sauce with a blush of chile heat. There was enough fresh basil perfuming the vicinity of the warm dish to make me think of summer, when the roll-up windows facing Elmwood Avenue could open for the breeze.
If you want to go full basilhound, get the fusilli ($21), pasta coils emerald with refreshing pesto that zooms past basil to include mint, peas and pistachios, dressed with islands of oozy stracciatella cheese – and more fresh basil.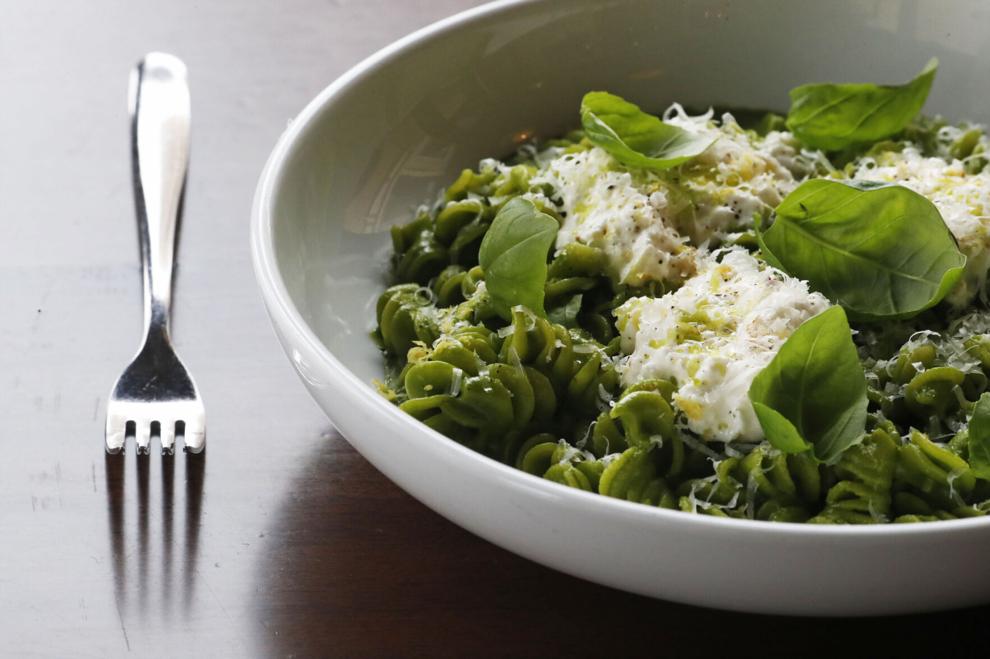 The noodles that really nearly got me to abandon my job and just go to town was the bowl of smoked paprika linguine ($25) in nduja butter and crumbled rendered pancetta. Which is smoke plus fat plus chile, subtle as a hand grenade, and a direct hit on my baser instincts. The fact that it included seafood, chopped rock shrimp, didn't soften that impact.
For the most expensive dish on the menu, Gibney tosses the big ridged tubes called rigatoni with bites of king crab amid garlic cream, with spinach and artichokes. Splurgy calorie-wise, maybe but at $26? Not money-wise, not in 2021.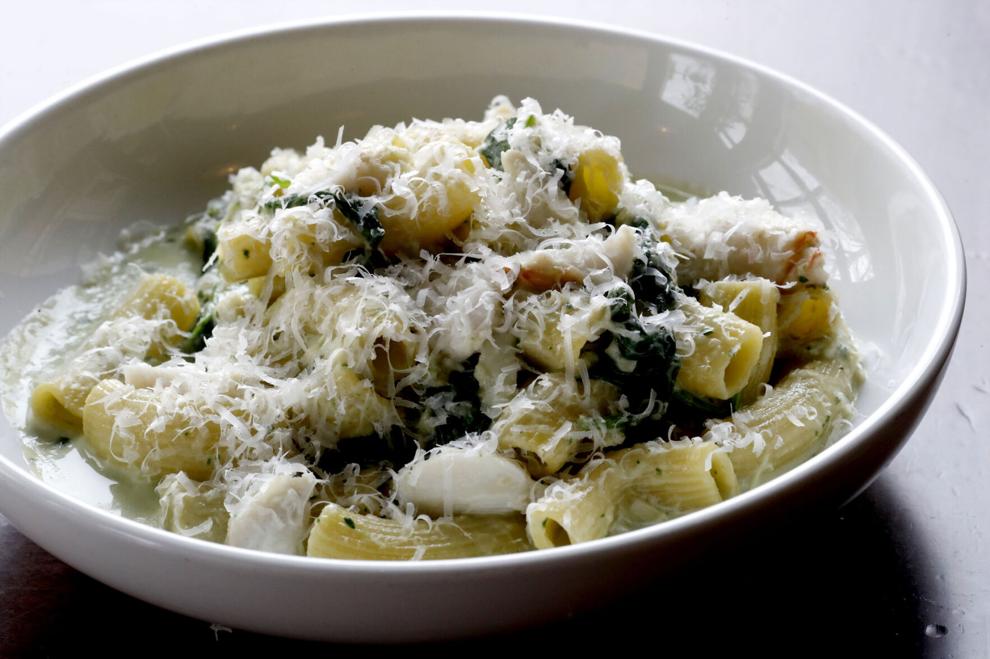 I was enjoying the pleasant bite-to-bite roulette – you can't tell crab nugs from artichoke without peering – when I realized that there was nothing I'd put in my maw that I hadn't enjoyed.
If you can still fit in a sweet by the end, Inizio has a tempting offer: the smallest cake you ever saw. Its almond cake ($7), baked to order, arrives warm alongside an orb of saffron-orange ice cream. It's just the one-two punch to knock out the table's appetite for good, at a heaping spoonful apiece.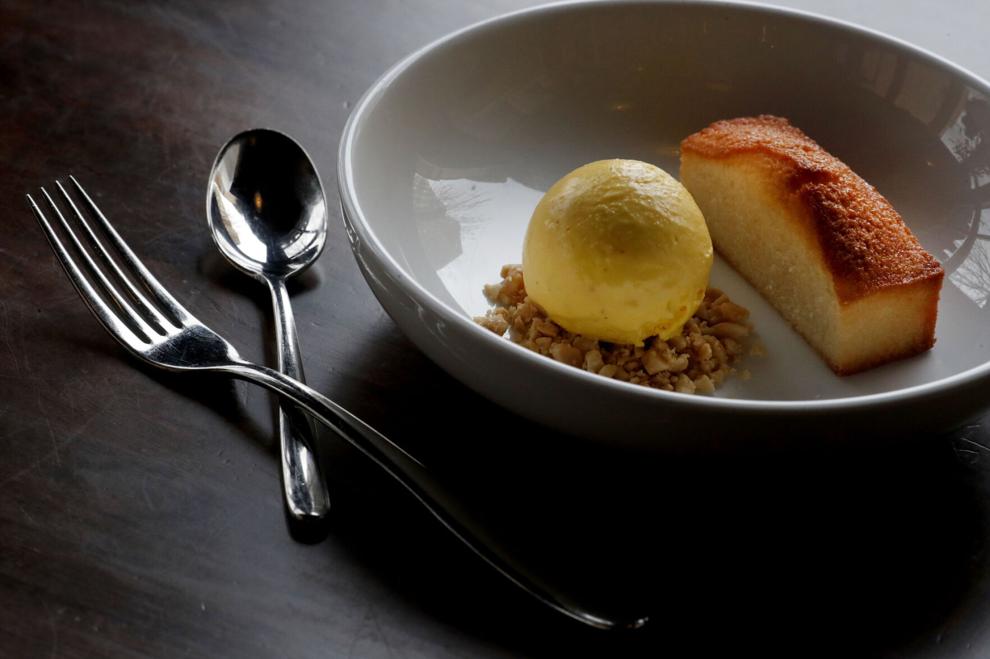 Drinks include a snazzy lineup of custom cocktails, a brief wine list, and four draft beer taps.
What's it worth to find a reasonably priced restaurant where you pretty much can't miss?
Go to Inizio, a restaurant where you can relax, let down your guard, and put yourself in their hands.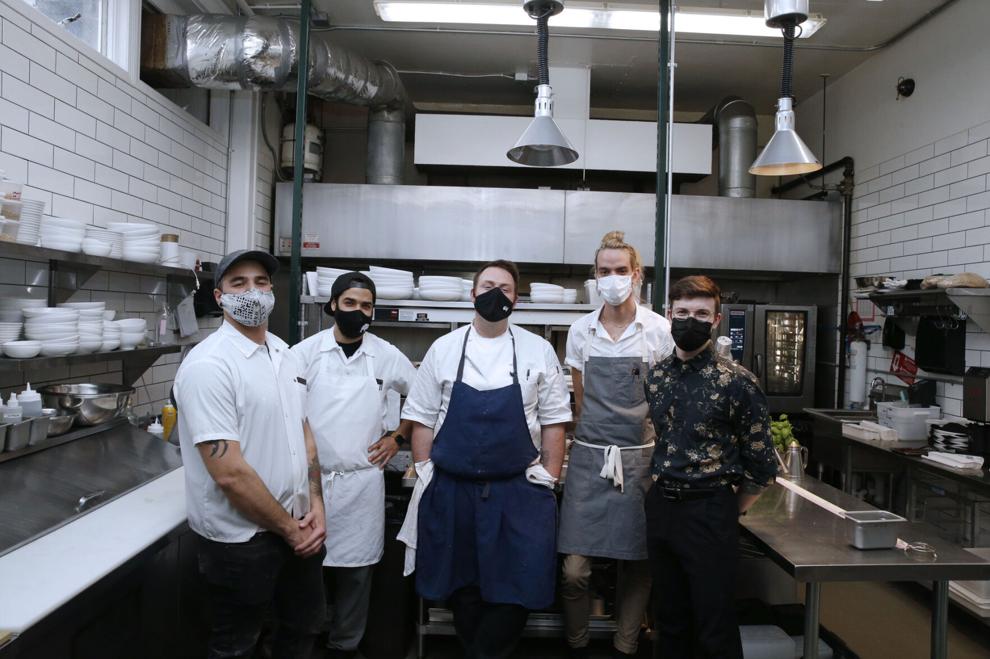 Hours: 5 to 10 p.m. Wednesday through Saturday. Sunday brunch served from 11 a.m. to 3 p.m.
Prices: plates $3-$18, pastas $12-$26.
Atmosphere: relaxed conversation.
Wheelchair accessible: yes, lift.
Gluten-free options: risotto, vegetables.