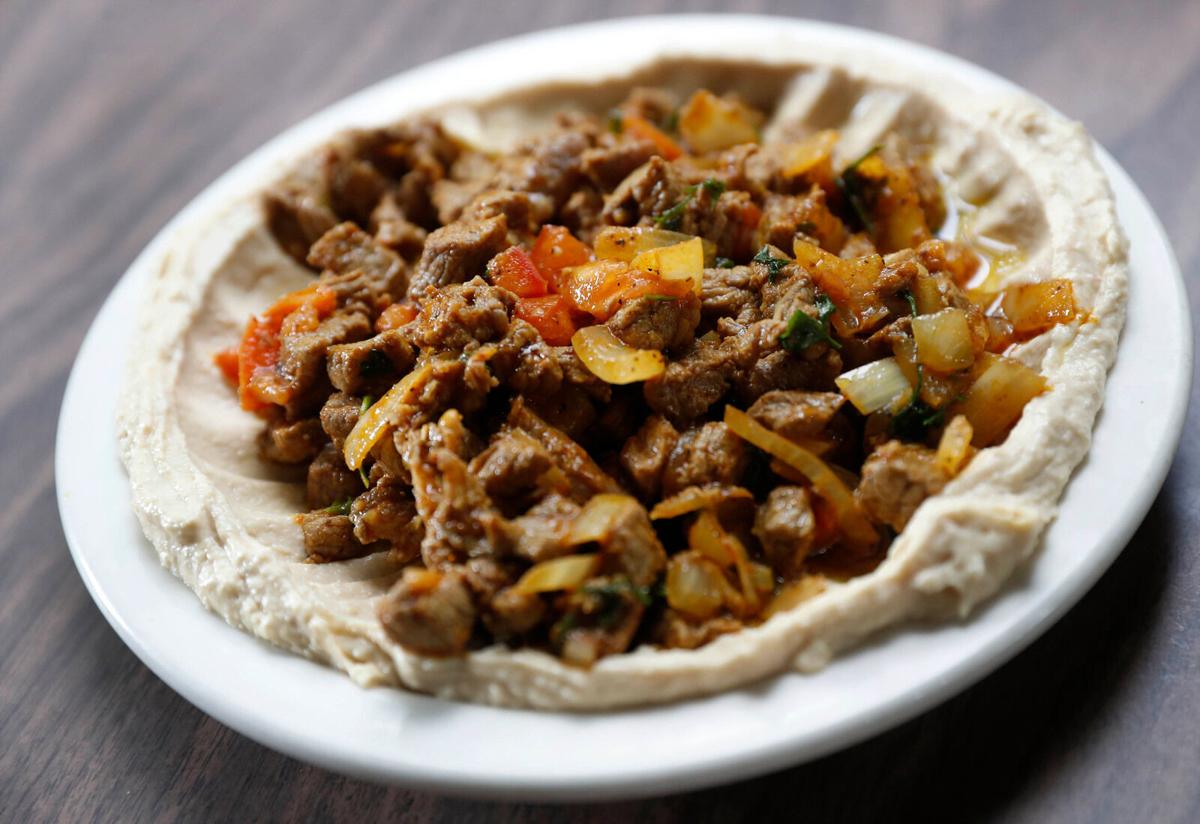 Everybody digs restaurants named after people, even if there's no Denny or Wendy on staff. So let me flip that around and introduce you to Latif Abdullah, a real cook who runs a restaurant called Crave King, in Lackawanna.
Latif Abdullah is from Yemen, and he's a real whiz at turning out the nation's beloved stews, kebabs, pilafs and other characteristic dishes. A vegetarian, he's particularly adept at the spicing that brings grandeur to basic vegetables. In fact, the reason I'm writing this review is that a vegetarian colleague laid siege to me to eat at Crave King, promising me the best vegetable stew of my life.
"Damned with faint praise," I thought, walking in.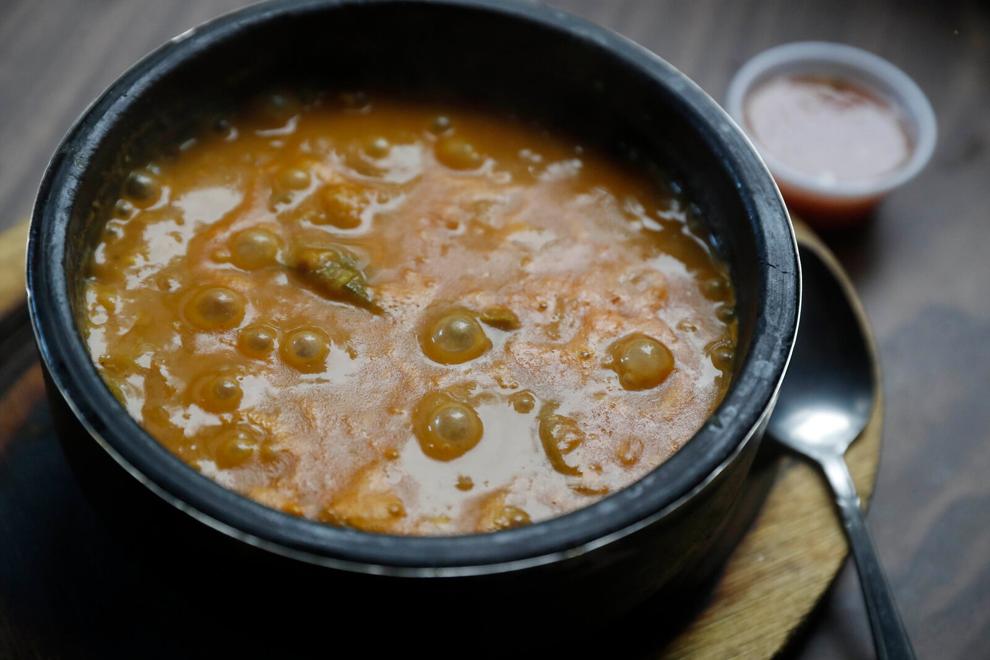 How wrong I was. The stew, called salta ($7.99) came out bubbling in a battered black cauldron. Abdullah set it down and went to make the pita bread ($2), fresh to order as always.
Here's the most important thing to know about Crave King: it's usually a one-person operation. Owner Muneer al Gahdari might be there, but usually it's Abdullah who cooks, gets drinks, brings your food, calculates your bill and answers any questions you might have.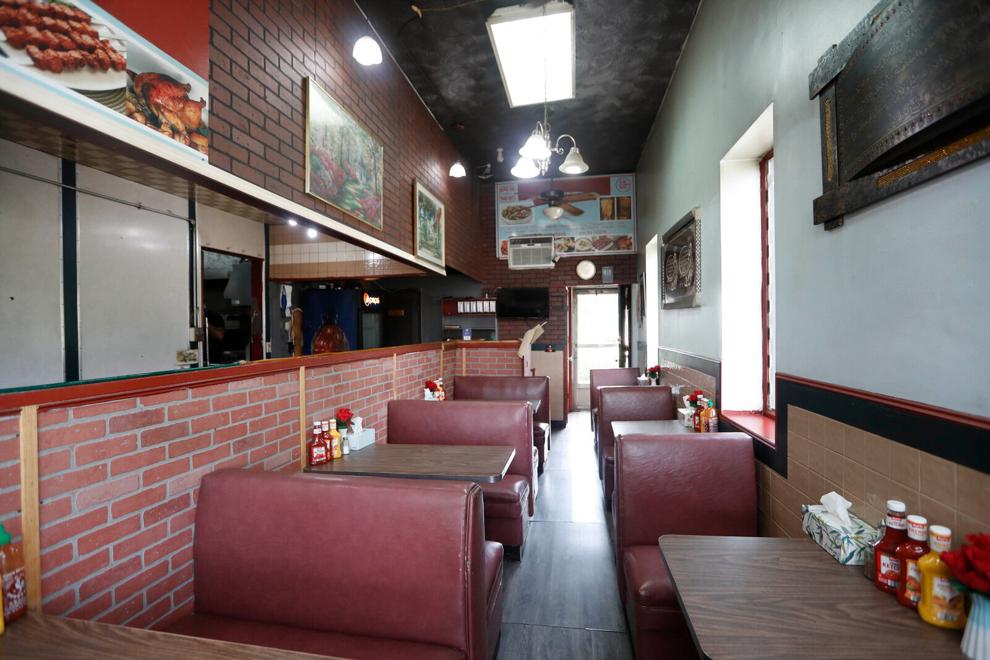 That means things take as long as they take. Use the passage of time to your advantage, or absorb it with good cheer. Either way, do not go to Crave King and hassle Abdullah to speed up, because I guarantee he's working as fast as he can. And I did warn you up front.
One thing you can do to kill time is spot the percolator by the front door. It contains what Yemenis call red tea, which tastes like it contains black tea, cardamom and sugar in equal amounts. It's free to guests, a gesture of hospitality, so try some.
Since the tandoor oven is behind the dining room counter, you can watch as he stretches dough with practiced flips and slaps it inside the cylindrical chamber.
As soon as it hits the table, it's time to tear and dunk into salta's marigold-colored broth, seasoned with turmeric, garlic and more, around chunks of potato, carrot, okra and other vegetables.
The pairing is simply, profoundly satisfying – homey, in the best way. It's one of the greatest vegan meals under $10 in the jurisdiction, and stands as the only vegetable stew ever to draw me back under its own power.
Vegans and vegetarians have much to celebrate here. Foul, fava beans mashed and cooked with garlic and cumin ($7.99), is a hearty Middle Eastern potage that's satisfied for centuries. Fasolia, kidney beans with garlic, cumin, tomato ($7.99) leaves the beans whole and goes for more of a stewy consistency.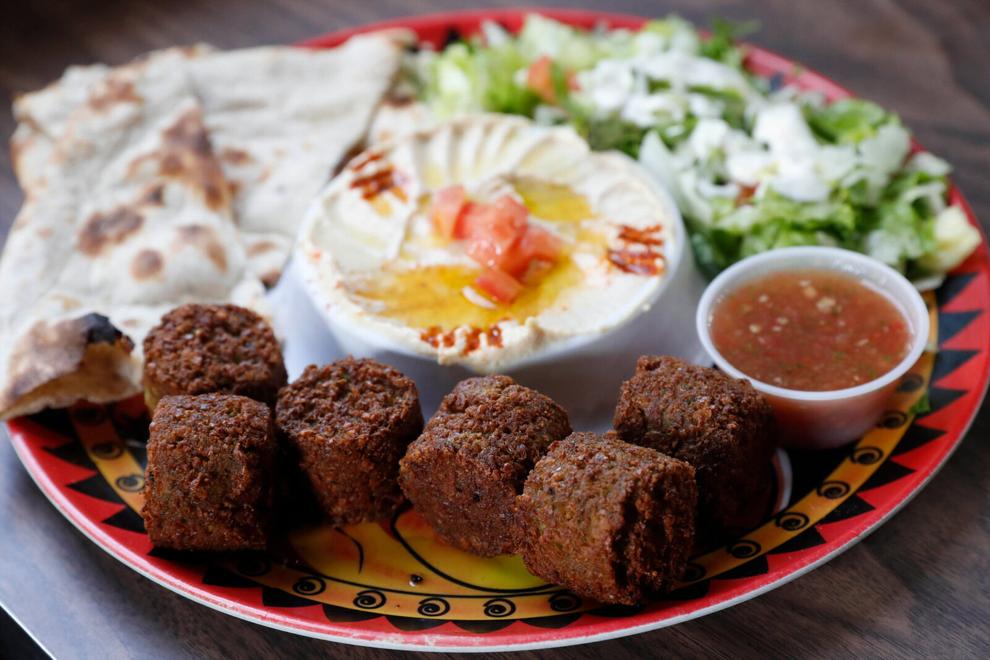 Shakshooka ($6.99) isn't like the Tunisian tomato stew version, but rather scrambles eggs with tomato, parsley, onion and spices, for a breakfast-y saute that's another excellent reason to order that bread.
There's falafel in sandwich ($5.99) and platter form ($10.99), hummus ($5.99), tabouli ($4.99) and fattoush ($4.99), the green salad topped with fried pita bread.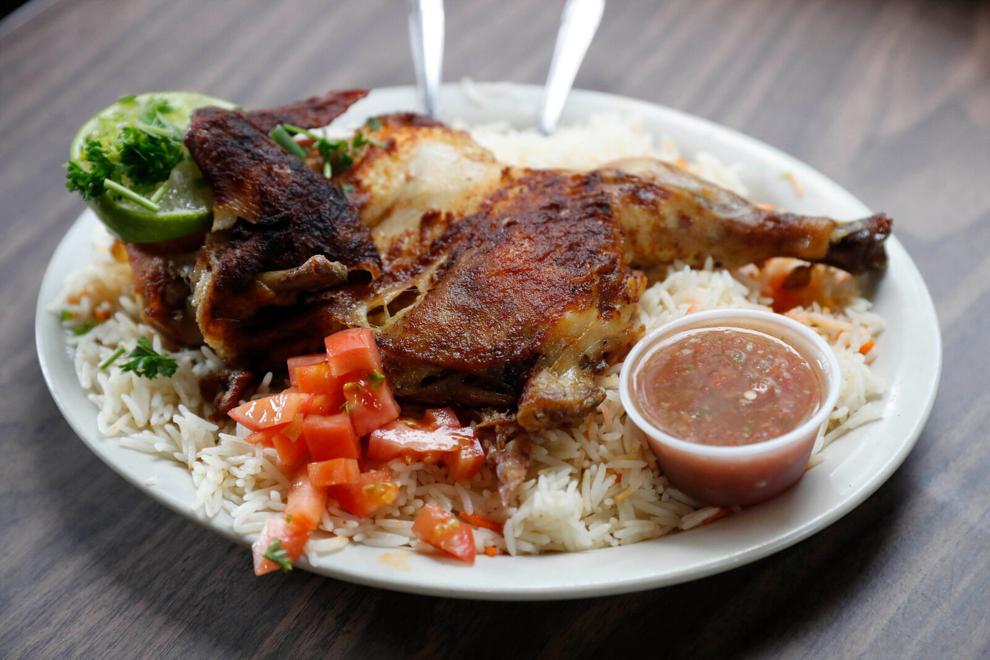 Now let's talk about the meaty options.
Fahsa ($10.99) is meat stew, usually lamb, with vegetables, traditionally topped with a fenugreek foam that gives a slight maple cast.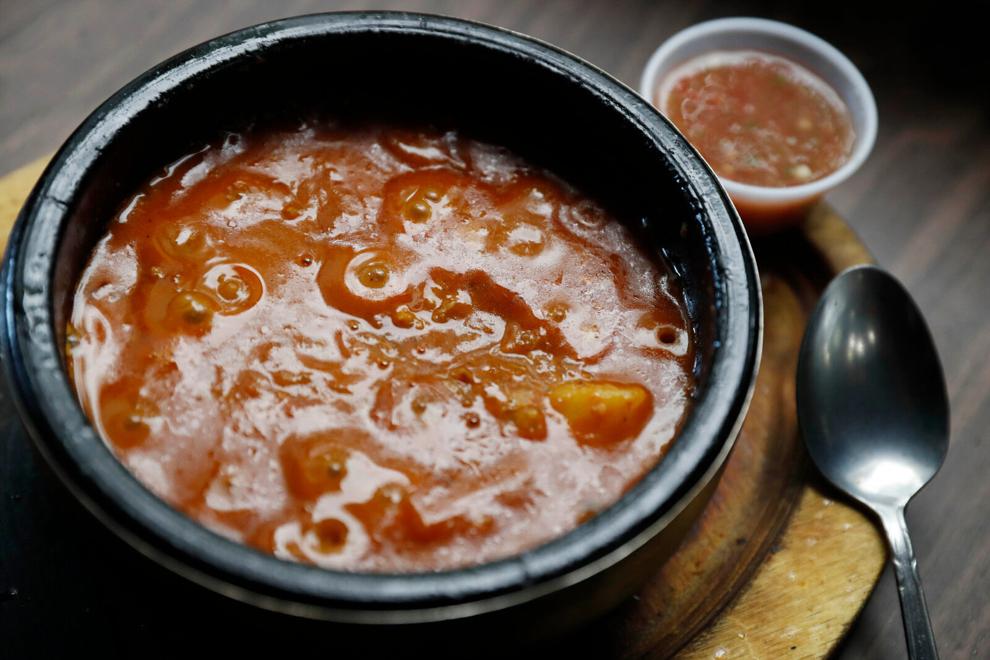 Chicken shawarma over rice ($12.99) might be Crave King's most popular dish. Marinated chicken breast is grilled, chopped and served over rice and salad, with a garlicky mayonnaise sauce.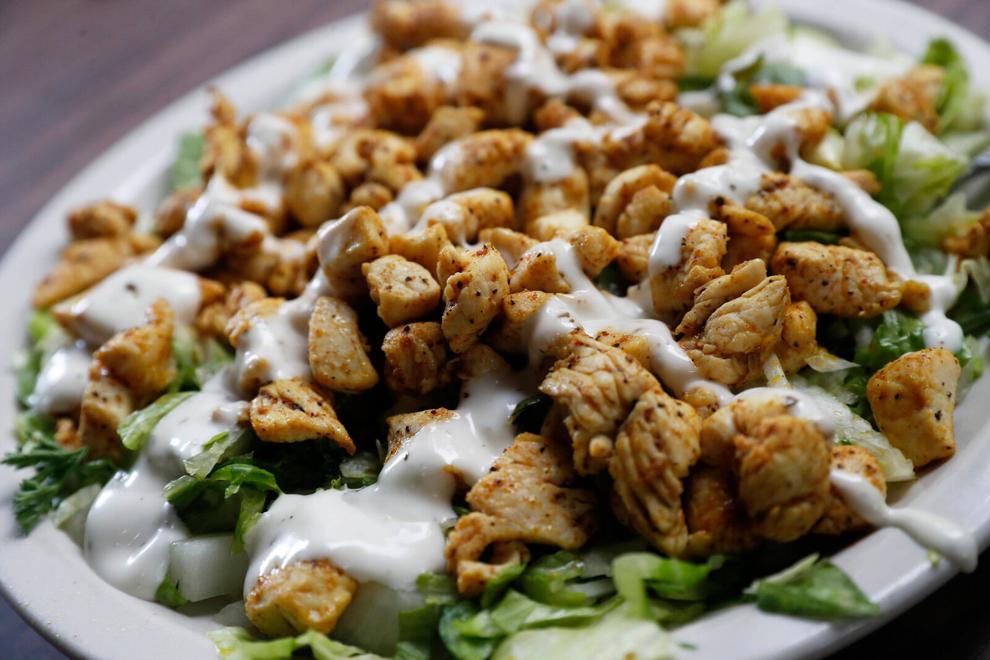 As with most Middle Eastern kabab arrays, choose from chicken and lamb in ground, seasoned varieties (kufta) and solid chunks of meat (kabab).
Lamb ghallaba is a saute of lamb with peppers, onions, tomato and spices. It's served over rice ($13.99), or my favorite, over hummus ($11.99), creating magnificent pita scooping opportunities. If you'd like a little more pizzazz on your plate, ask for some of the tomato-jalapeno salsa, which adds a hum of fresh heat.
People who are open to liver might ask for kibdah ($10.99), chopped lamb liver sautéed with turmeric, garlic, chile, tomatoes and peppers, taming the meat's offal flavor.
Tilapia ($14.99) and grilled shrimp over rice ($13.99) are the menu's seafood entries.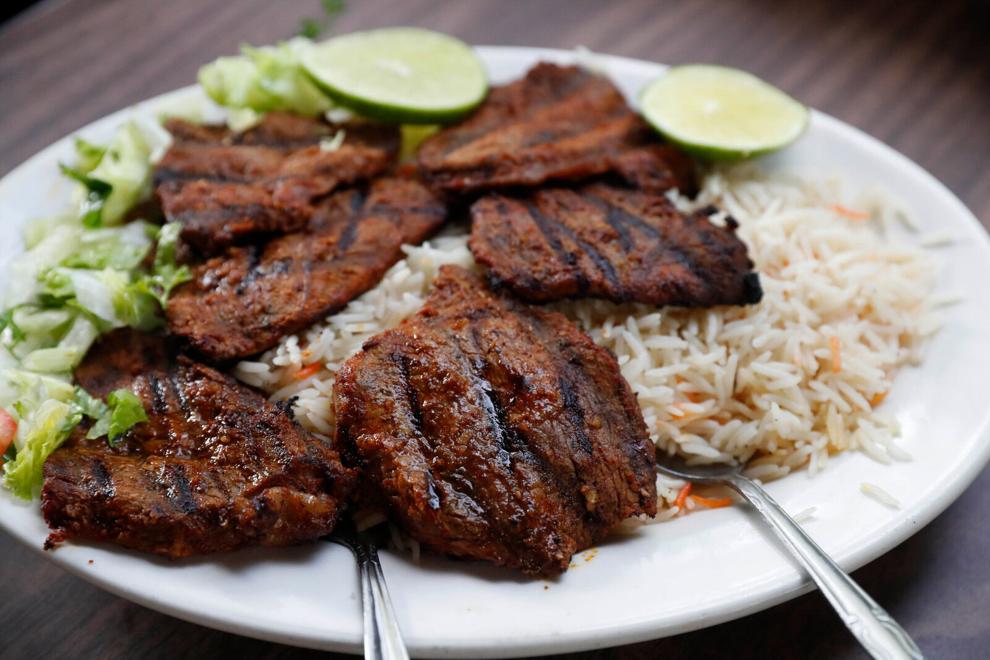 Soft drinks and smoothies like a mango-yogurt shake are available; there is no alcohol. Dessert is fatah ($6.99), leftover pita bread mixed with chopped dates, honey and clarified butter.
As long as you keep in mind where you're headed, you can enjoy a meal at Crave King. The place is clean, but water comes in bottles, and there's boxes of facial tissues on the table instead of napkins.
Call those measures part of Crave King's individuality. In other words: This ain't Denny's. Welcome to Abdullah's.
2693 South Park Ave., Lackawanna
Hours: 11 a.m. to 9 a.m. daily.
Prices: salads, $2.99-$5.99; stews, $7.99-$10.99; plates, $7.99-$21.99.
Atmosphere: relaxed diner
Wheelchair accessible: yes
Gluten-free options: salads, stews, kababs.