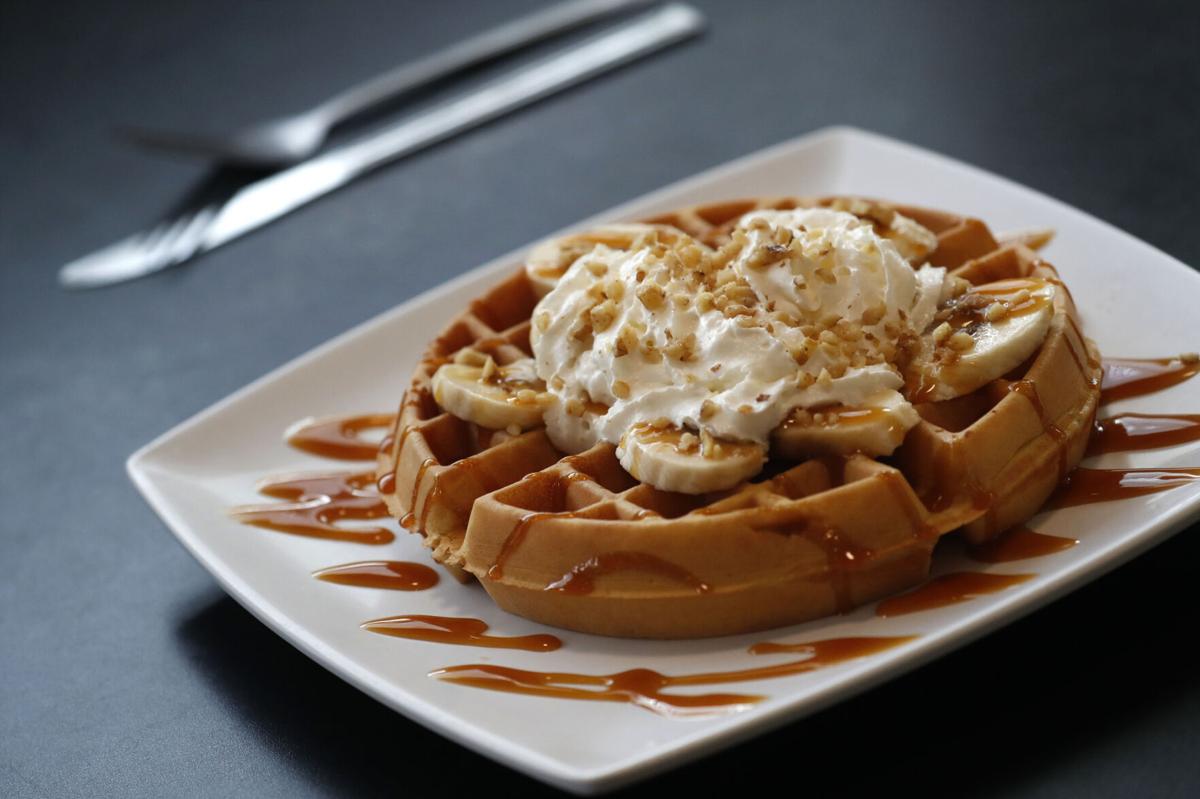 During the current unpleasantness, going out for simple meals has become such a hassle that lots of smaller cafes have shuttered. The Poked Yolk seems to be busier than ever.
Often the wait is less than estimated, partly because the servers move so fast you would swear they were wearing cleats. At this West Seneca breakfast-lunch hot spot, dividers screen tables for safety, and the menu of amped-up breakfast plates with touches of Mexico and Disneyland, comes out lickety-split.
What owners James and Kristyn Vaughan have done in their two locations (a second opened in Orchard Park) is a commendable work of breakfast alchemy that echoes the success generations of Greeks have had making a living from selling eggs, potatoes and pancakes. Turns out that running restaurants in Las Vegas for a decade can teach you some useful ways to differentiate your product.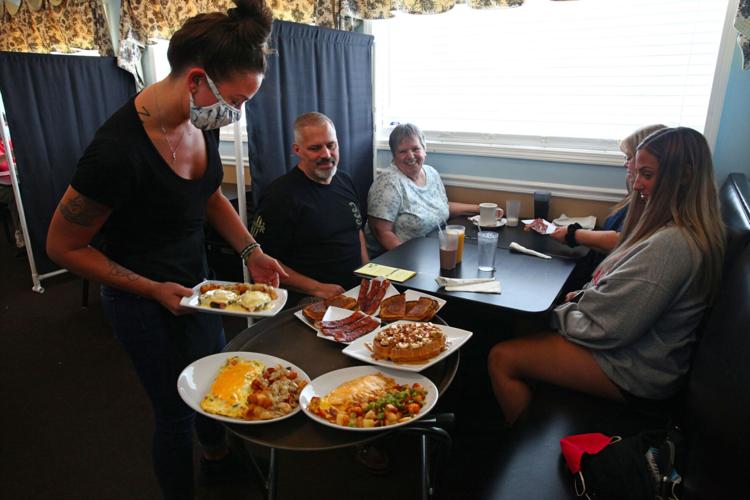 Instead of feta and oregano as grace notes, Vaughan draws from Mexican staples like salsa verde, the tangy emerald blend of tomatillo, chiles, garlic, onion, cilantro and lime. He isn't just opening containers in the kitchen, he's building flavors. The verde ingredients get roasted before pureeing, caramelizing and intensifying flavors.
The difference is apparent when asking for the Jose Benny, Poked Yolk's better-than-eggs-Benedict-breakfast superstar with a Southwestern bent. Toasted twin English muffins carry patties of the chile-laced housemade sausage, topped with poached eggs, salsa verde and enough sour cream to gloss the well-browned spud-nugget home fries alongside.
For $7.99, I get to close my eyes and dream of Albuquerque, where every morning was Christmastime, salsa rojo and salsa verde sharing a plate of eggs or breakfast burrito.
The level of work being put into these $10 plates is astounding.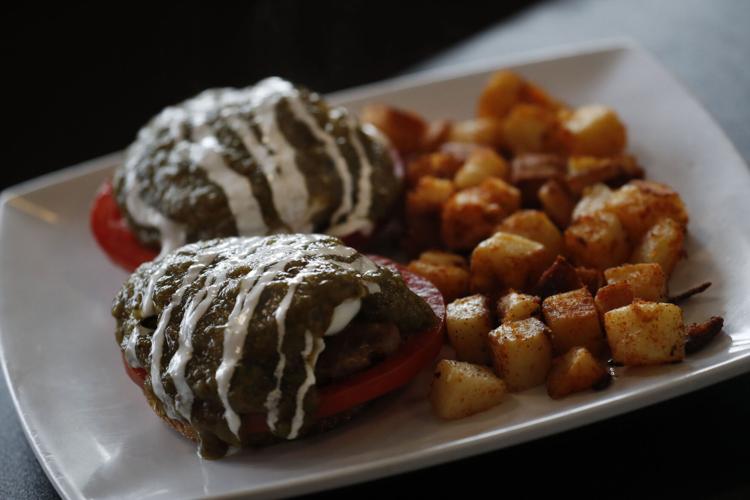 No wonder a server greets you at the door, where there is no lobby, asks the number of your party, and sends you on your way again after getting your phone number. The first text message confirms the estimated wait time. The next summons you to sit down.
The savory side of the menu is shot through with Poked Yolk tweaks. The place makes its own chorizo, massaging rehydrated dried chiles into a matrix of ground pork.
What a relief, after case after case of chorizo counterfeiting that I've encountered. (I'm talking about the Mexican loose seasoned pork, not the Spanish chorizo, which comes in links.) There are restaurants with Mexican in their name selling ground beef mixed with dried spice packets, which is as insulting as watering down Heinz ketchup and calling it nonna's marinara.
Cooked with home fries, it forms the foundation of the namesake Poked Yolk ($7.99), with toast, and cheddar jack cheese instead of salsa. (Yolks poked upon request.)
Simple chorizo with home fries ($4.99) is a breakfast hymn sung in the key of pig.
Corned beef for the house-made hash is house-cured and comes with two eggs and toast ($8.99). Vaughan makes his Canadian bacon and it cost me all of $1.50 alongside a waffle.
A big grilled sourdough "pig in the grass" sandwich stuffed with roast pork, fresh spinach, roasted peppers gets smoked gouda ($8.49). Sandwiches and wraps get choice of house-made chips, fries ("best I've ever had," a guest said), slaw or home fries.
Chicken breast paillard simmered in wing sauce gets a similar treatment, except it's blue cheese crumbles here, onion and celery inside ($8.49). Bacon, lettuce, tomato and Cajun ranch in a wrap is a guilty pleasure from the get-go, stuffed with enough vegetables to nourish your conscience ($7.99).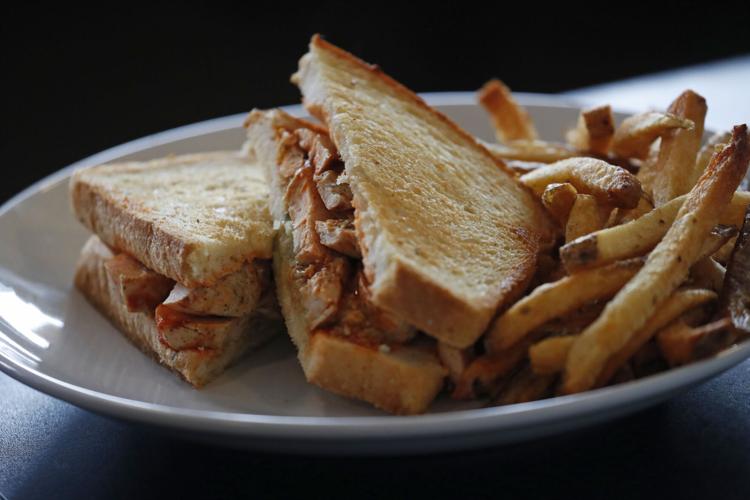 The Special K omelet made eating your veggies easier than falling out of a boat and hitting water. Egg whites hit with turmeric brought back yolky golden color with more earthy flavor. Kale, sautéed until softened but in no way limp, was mixed with sweet bits of onion inside.
That kale comes out to play in the vegetarian hash ($7.99) as well, with mushrooms, onions, green peppers, roasted red peppers and feta cheese, with two eggs and toast, making it an all-around vegetarian shortlister.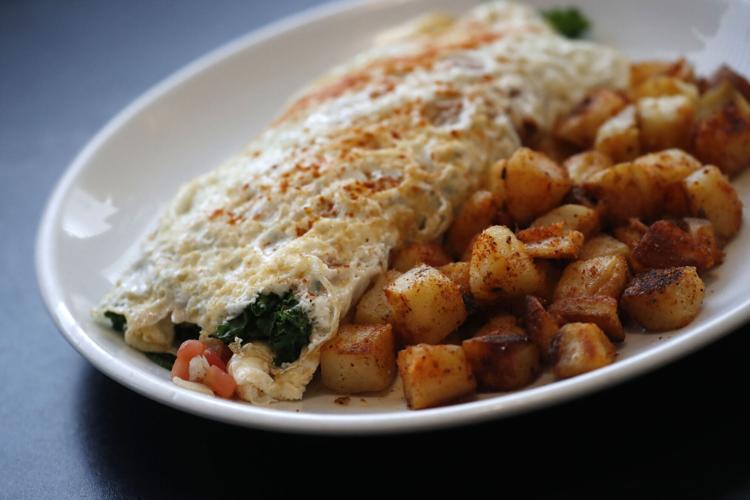 There is a sense of play gilded with decadence in the monthly sweet breakfast specials. August's pancakes were pina colada, with toasted coconut and creamy pineapple sauce.
September's raspberry jam and white chocolate pancakes ($6.99) are made with full-flavored house-made raspberry sauce. Fluffer-nutter French toast ($7.49) was even more childhood-channeling than I expected.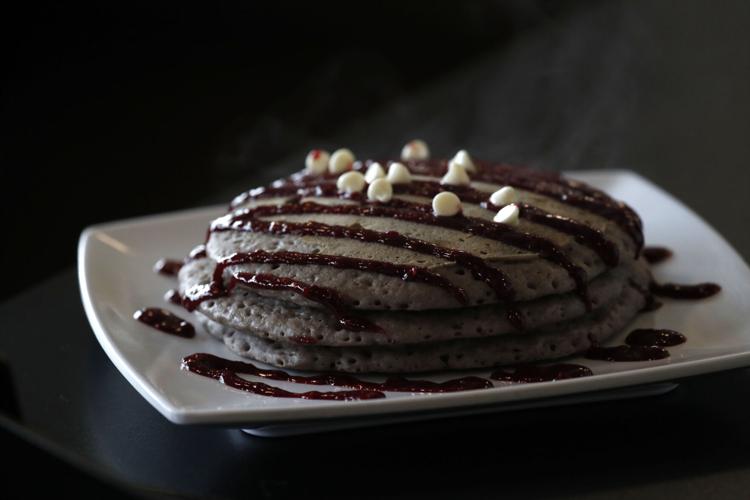 Service is ninja fast. No words wasted. But you get all the coffee you could ever want.
People keep coming back to the Poked Yolk because it does the little things well, and gives you big helpings of real flavors for not much money. You think you're too good to wait in a parking lot? Yolk's on you.
(Also 3698 Abbott Road, Orchard Park; 822-9655)
Hours: 7 a.m. to 3 p.m. daily
Prices: eggs to $6-$11; pancakes and waffles, $5.99 to $8.99; sandwiches and burgers $7.99 to $8.99.
Atmosphere: voices muffled by food.
Wheelchair accessible: yes
Gluten-free options: extensive
The Buffalo News: Food & Drink
Get what you need to know about Western New York's dining and bar scene, including restaurant openings and closings, delivered to your inbox every Wednesday.