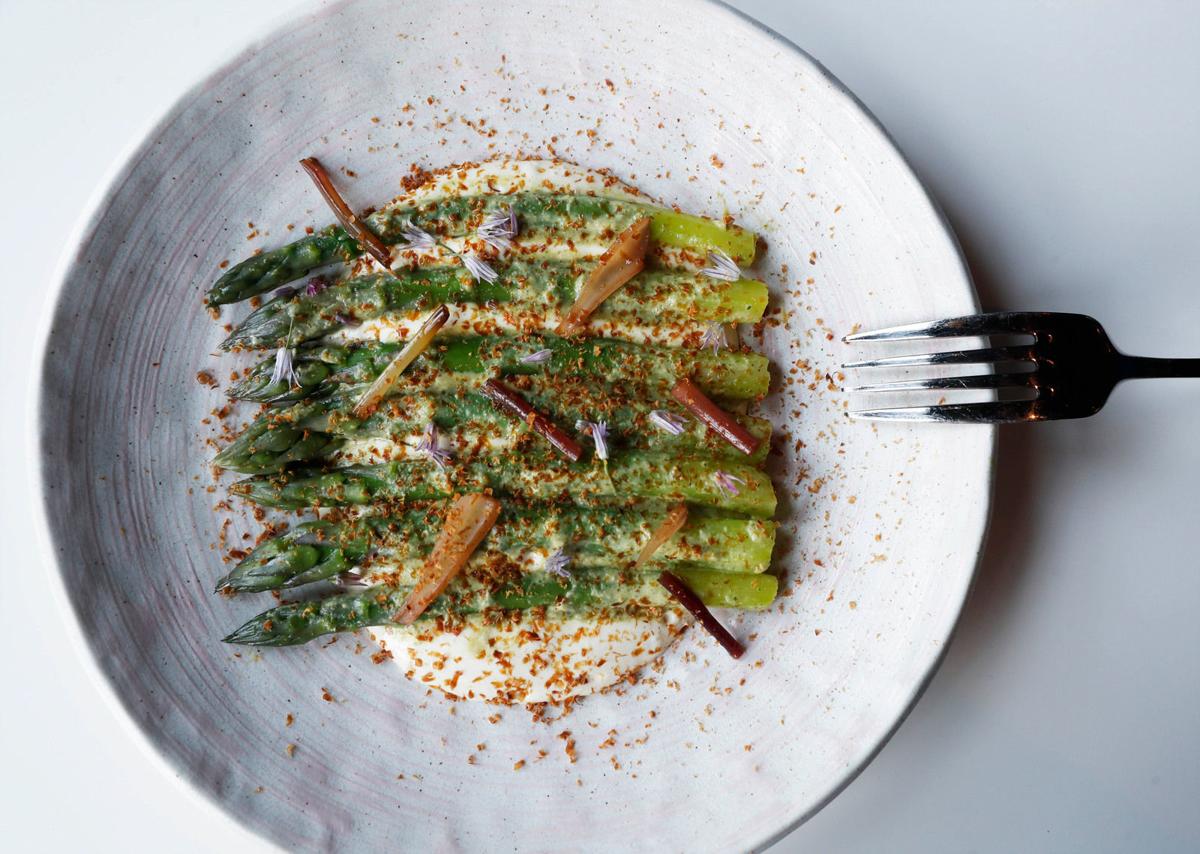 If you're a Buffalo-area diner with even a molecule of adventurousness in your DNA, Waxlight Bar a Vin ought to be on your reservation calendar.
If you enjoy getting lit up by a dish that expands your sense of what is possible, you should book a table at 27 Chandler St. and prepare for liftoff.
Waxlight is a restaurant, sure, but it's also an artists' studio with craft packed into practically every ingredient, many leveraging local farms or foraging. Joseph Fenush, ex-Toutant, and Edward Forster, remembered for stints at Mike A's at the Lafayette and opening Buffalo Proper, bring a relentlessly creative approach to food, curing and preserving ingredients to broaden their toolbox.
Violets turn up in mustard, spruce tips in an egg-based sauce called gribiche, halibut is coated in mayonnaise fortified with dandelion blossom powder and sumac before pan-searing.
None of which means a fig unless the food tastes like it's worth the effort. But this stuff is often revelatory, and always at least excellent, so I like their chances.
Skilled doesn't mean snooty. A shot of bourbon and OV ($6) anchors the drinks list, and bar snacks include potato chips with chicken skin dust ($5).
Little plates and booze wizardry make even a snack at the bar rewarding. Besides the spot-on chicken skin potato chips, pork rillette croquettes with black garlic mustard ($3.25 each) and grilled beef meatballs with spicy, herby green harissa ($8) offer eminent munchies opportunities.
Drinks include a far-ranging wine selection by the glass ($10-$13), and a champagne of the day. Sommelier-partner Jessica Railey presented three glasses that did a first-class job supporting and amplifying aspects of the dishes we had chosen. The last time that I got that kind of wine advice was at Gramercy Tavern in Manhattan.
Her partner, Tony Rials, offers slates of custom cocktails ($12) built along themes. Daisy is a refreshing tipple of salted lime cordial, gin blend with a vibrant purple-blue hue and dried lime chip floating in the glass. Fermented passionfruit or pineapple, pistachio and rhubarb all make appearances in one of Buffalo's leading cocktail lineups.
Spirit-free sodas of Rials's design ($7) broaden the beverage adventures even further. There's blood orange, bergamot and tepache, a fermented pineapple drink with vanilla, nutmeg, clove and Oles Farm honey.
If you thought that was weird, grab your wig.
Strawberries and beef were the pairing of the evening.
Housemade cavatelli pasta ($16) came coated with a glossy, cooked-down sauce that clung to the noodles. Shreds of pot-roast-tender beef was suspended in vibrantly strawberry gravy, astonishingly right, heightened by a proliferation of basil buds that breathed their anise character into the equation.
Tomato is a fruit, I remembered, wide-eyed, hanging onto the table as my fruit versus meat frame of reference table recalibrated.
It was even better the second day.
The chance of getting a dish that feels life-changing for $16 is why I cannot recommend Waxlight more highly. I would encourage you to venture into Black Rock to see what this preposterously talented fivesome have to offer. (Jeff Yanuzzi is the fifth partner.)
While other white-tablecloth places disappoint with pallid tuna appetizers, Waxlight's version ($12) offered garnet cubes of pristine fish with spicy giardiniera celery salad, black olive oil crisps, sesame seeds and more basil flowers, little blasts of forest-green aroma on the palate.
English peas grilled over honeysuckle ($8) was a bowl of freshly shelled peas that gained herbal smokiness over a fire of bintochan charcoal and dried honeysuckle vines. Submerged in a consommé of pea pods, they constituted the most moving celebration of this vegetable I have ever experienced.
The broth smacked of pea essence so distinctly I was reminded of shelling peas with mom on the porch while the emerald pearls crunched and swam in spoonfuls of freshness.
Offerings might be as small as two or three bites. White anchovy eggplant ($4) a two- or three-bite treat, posits the briny filet atop smoky, jammy eggplant riding an ingot of crunchy brioche. It's why-didn't-I-think-of-this delicious.
The pork porterhouse ($32) was served sliced in its full-fat, faintly pink glory and planted on a hillock of sprouted lentils and crunchy with chicharrones dust. It will anchor a meal for two people. Its slices were enriched with garlic scapes that had been cozying up to bacon and honey for a year. Waxlight uses time as an ingredient.
It was an existential delight.
Notable desserts included a tart of cultured coconut cream and local strawberries ($8), and a swoonfully deep chocolate mousse with caramel macerated apricot ($8).
When I visited Waxlight in December, too many dishes needed better editing, with menu descriptions not always borne out in flavors. On my most recent visit, the hits flowed with plate after plate exploring new angles on familiar ingredients, each arrival like turning a corner at a gallery show and marveling at what you find.
At Waxlight, there are so many fantastic things happening that it seems small to comment on the bathroom. But if you want to see the world's smallest bathroom sink, get a reservation and call the Guinness people.
Bathroom fixtures nonwithstanding, Waxlight's thoughtfulness makes it the place I'm going to show off to every visiting food writer I can. The creativity and level of execution makes it a unique restaurant – not just in Buffalo, but in the United States of America.
Chandler Street marvel: Peek around Waxlight
Waxlight Bar a Vin, run by six powerhouses in the Buffalo restaurant and beverage business, is open at 27 Chandler St. in Black Rock, at the edge of North Buffalo. Take a gander at the interior and the food.
RESTAURANT REVIEW
27 Chandler St. (waxlightbaravin.com, no phone)
Hours: 5 to 10 p.m. Wednesday through Saturday, bar until midnight; 5 to 9 p.m. Sunday, bar open until 10 p.m.
Prices: snacks $4-$8, small plates $7-$14, large plates $16-$32
The Buffalo News: Food & Drink
Get what you need to know about Western New York's dining and bar scene, including restaurant openings and closings, delivered to your inbox every Wednesday.