On the heels of a second straight AFC East crown for the Buffalo Bills, chances are high you need to restock your beer fridge for this weekend as the Bills take on the Patriots on Jan. 15. And you're going to need a lot of beer on hand as you watch the Bills finally expel the ghosts of New England once and for all.
Luckily for all of us, there is not a shortage of Bills-themed brews to fill our glass come kickoff.
There are the staples of course: Let's Go Pils (from Community Beer Works), A Little Bit Lager Now (Hamburg Brewing), Pills Mafia (Thin Man), Make Me Wanna Stout (Big Ditch Brewing) and Circle the Wagons (Resurgence Brewing). But this list digs a little deeper to find beers to fuel numerous table dives, multiple renditions of the "Shout!" song and screams of "Let's Go Buffalo" at the top of your lungs.
So, as you settle in for wild-card weekend, consider reaching for these Bills Mafia-approved brews as Josh Allen slings another touchdown to Stefon Diggs.
First Line Brewing teamed up with Bills star kicker Tyler Bass on Kickin' Bass, a session IPA brewed with all Citra hops. It's hazy, but drinks light, with an initial punch of citrus and subtle stone fruit that finishes dry. A portion of proceeds will go toward P.U.N.T. Pediatric Cancer, which provides local families facing pediatric cancer financial, practical and emotional support. Availability: Cans, draft. Brewery location: 4906 S. Buffalo St., Orchard Park (740-8621).
Buffalo has become Allen Town, so naturally, an IPA of the same name would be on this list. Steelbound's Allen Town IPA is light bodied and easy drinking at 6% with notes of hops, citrus and dry tropical fruit. Availability: Cans, draft. Brewery locations: 6600 US-219, Ellicottville (699-2042) and 243 W. Main St., Springville (794-3555).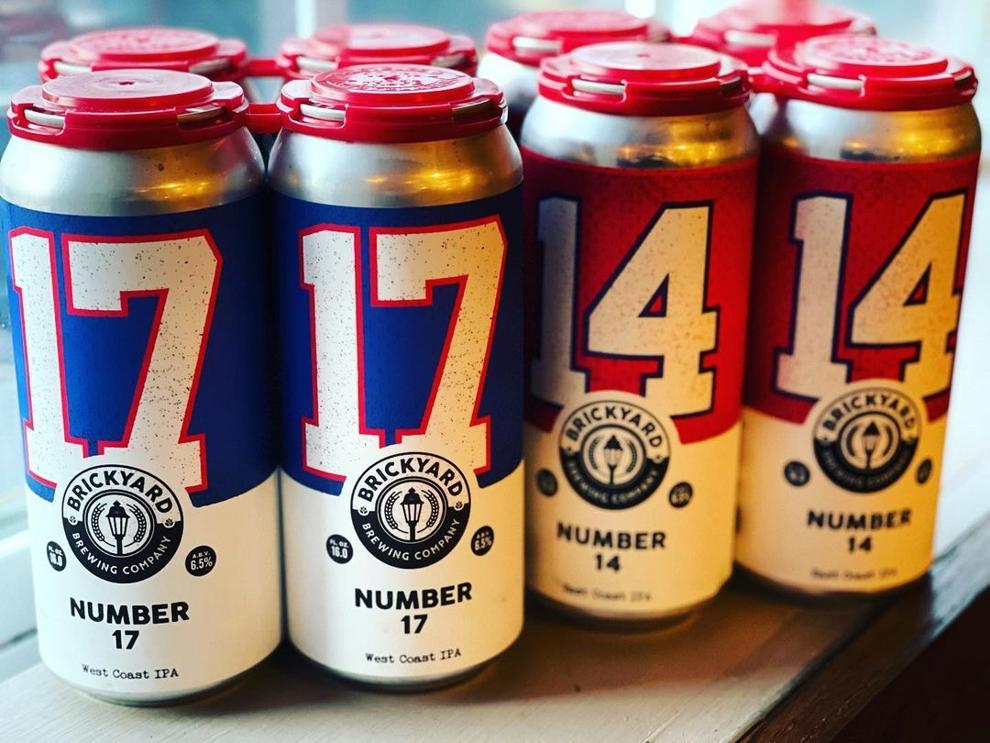 Josh Allen and Stefon Diggs are numbers 17 and 14 on the field and No. 1 in our hearts. Number 17 is brewed with El Dorado, Simcoe and Chinook hops and features a clean, dry finish with a touch of bitterness forged from years of heartbreak. Meanwhile, Number 14 is the perfect accompaniment – a soft and creamy IPA with notes of peach-forward stone fruit and citrus. Nothing beats Allen to Diggs. Availability: Cans, draft. Brewery location: 436 Center St., Lewiston (754-7227).
What to drink in honor of Bills Victory Monday is a question I've asked myself many times this season. Well, Rusty Nickel has answered that conundrum with a new brew of the same name. This New England IPA, which features notes of orange citrus and tropical fruits with a pillowy soft body, is the perfect choice not only come game time, but also for the following Monday. Availability: Cans, draft. Brewery location: 4350 Seneca St., West Seneca (608-6155).
When you can't decide between an East or West Coast IPA to satisfy your thirst, grab Thin Man's Fandemonium mixed-pack IPA series that features one of each. 12+83=6 Old School IPA is a classic West Coast IPA brewed with Chinook, Mosaic, Citra and El Dorado. 17+14=6 New School IPA is a haze monster brewed with Citra, Vic Secret and Mosaic for maximum juiciness. Fandemonium gives you the best of both worlds. Availability: Cans, draft. Brewery locations: 492 Elmwood Ave. (923-4100), 4401 Transit Road (633-9630), 166 Chandler St. (393-4353).
We all have a favorite sweater or other piece of clothing to wear come game day, right? It's not just me, I hope. CBW celebrates this timeless superstition with Bill's Vintage Sweater Oat Cream IPA, a soft and smooth hazy IPA with juicy hops and flaked oats. Grab your dad's old Bills Starter jacket and crack a few cans of this nostalgic brew. Availability: Cans, draft. Brewery location: 520 Seventh St. (759-4677).
Is there a better named Bills-themed brew than this Flying Bison golden ale – especially this season? Championship Caliber is 5%, goes down incredibly easy and checks all the boxes – light, crisp and crushable. Availability: Cans, draft. Brewery location: 840 Seneca St. (873-1557).