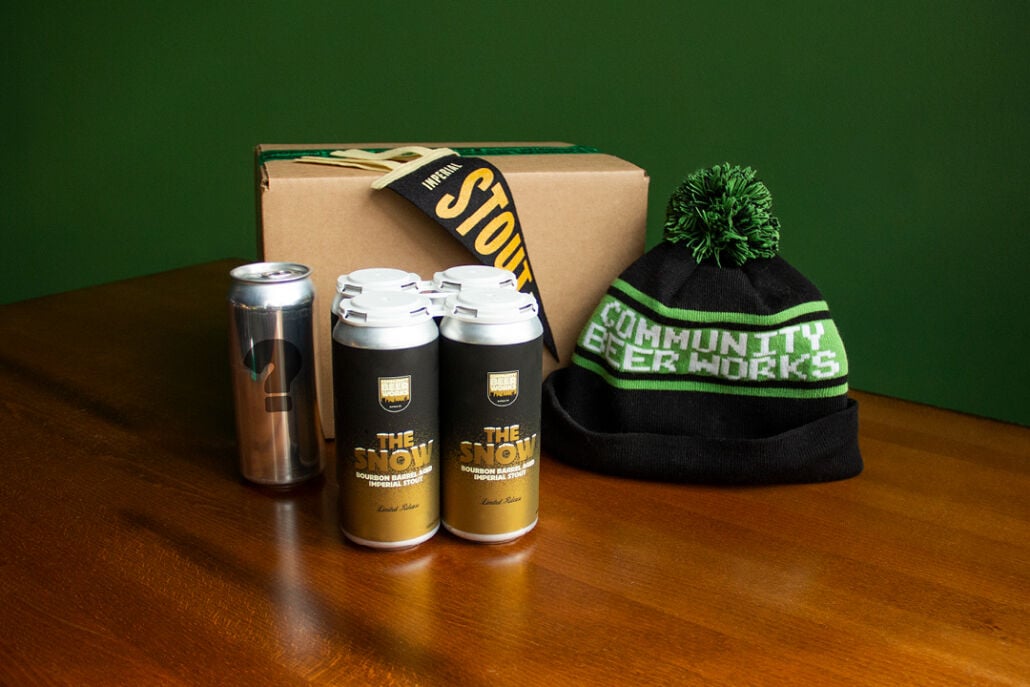 Beer drinkers aren't hard to shop for. If all else fails and you run out of time or ideas, buy a simple four-pack or six-pack or a brewery gift card will suffice. But if you really want to dazzle that craft beer fan on your Christmas list, then look no further than these suggestions.
Community Beer Works Beer Box
Unlike the Jelly of the Month Club, CBW's Community Beer Box is a gift that keeps on giving the whole year that you actually want. Each box comes with an exclusive beer, limited edition beer pennants made by Oxford Pennant, a special item showcasing great stuff from Western New York and a mystery beer. You can sign up for a three-month (save 10%), six-month (save 15%) or 12-month (save 25%) subscription. Each Community Beer Box will go out for delivery on the first Wednesday of every month. Order yours at shop.communitybeerworks.com.
Now through Christmas, at Brickyard Pub & BBQ in Lewiston, you can grab a four-pack of Christmas in Munich, a Munich Dunkel that features notes of dark fruit, allspice and nutmeg, and a Brickyard Brewing Christmas T-shirt for $25. While you're there, buy $100 in gift cards and you'll get $30 free ($10 to spend January through March).
Annual Mug Club Membership
Mug clubs are offered by bars, breweries and restaurants as a way to show appreciation for, and reward, customer loyalty, keep customers engaged, and offer a level of exclusivity for those customers seeking it. They come in all shapes and sizes, and offer everything from free beer, exclusive releases and custom personalized swag, to discounts and access and invites to private members-only parties and gatherings.
Among the beer clubs you can join are the 42 North Brewing Vagabond Society, New York Beer Project Beer Project Mug Club, Rusty Nickel Brewing Mug Club, Buffalo Brewpub Mug Club, Eli Fish Brewing Mug Club, Southern Tier Brewing Mug Club, Hofbrauhaus Buffalo Stein Master Club, Fattey Beer Mug Club and First Line Brewing Chug Club.
It doesn't get much easier than prepaid pint cards. You pay one price for a card, give it as a gift to someone you care about, then they reap the benefit of free pints. You can purchase prepaid pint cards at Pizza Plant, Mr. Goodbar and Gene McCarthy's.
Habitat for Humanity has once again collaborated with a number of area bars, cideries, meaderies, breweries and distilleries for the House Beer Built Tour, which features coupons for free beer and cocktails at more than 35 local establishments. You can get free beers from 12 Gates, Pressure Drop, Resurgence, Big Ditch, Flying Bison, Hofbrauhaus and Community Beer Works to name a few, as well as free drinks, cocktails, cider, mead and more. Cards are $40 and can be preordered online.
When you purchase a WNY Beer Trail 2022 Trail Pass program booklet, you'll enjoy two half-price beers during your first visit at more than 40 breweries, bars, bottle shops, distilleries, cideries, meaderies and restaurants. New for 2022 is a map to track your progress and a mobile check-in feature. Passes are available at the Totally Buffalo Store in Amherst, Buffalo Gift Emporium in Tonawanda and wnybeertrail.com.