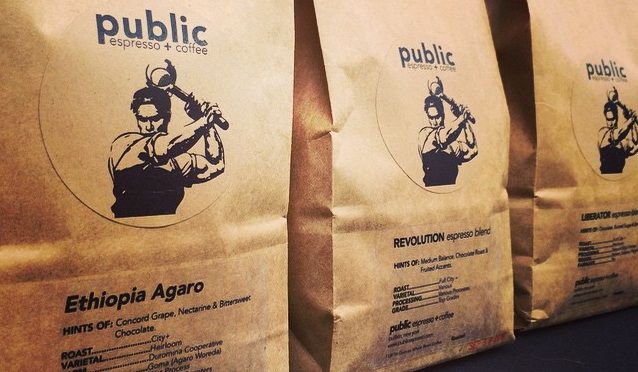 Public Espresso, a local coffee roasting company that started selling its beans a year ago, is opening its own shop on Grant Street.
Public Espresso will aim at being an everyday hangout spot that happens to sell a world-class cup of coffee. The 40-seat room at 368 Grant St. aims to open before New Year's. They'll be serving coffee at "Peace, Love and Grant Street," the Dec. 4 holiday shopping event, at any rate.
"That will be our flagship location, with roastery, espresso shop and slow bar coffee shop," said owner Sam Scarcello, who is partners in the venture with Matt and James Rayburg.
If you don't recognize the term "slow bar," you must not be a coffee nerd. Slow bars are places where your drip coffee is prepared while you watch. It can take five minutes, hence the term "slow." Slow bars tend to draw people who think properly administered drip coffee is the best coffee, people who can talk about beans and terroir like wine lovers talk grapes and vineyards.
The shop will sell faster coffee as well. It also will sell coffee beans, roasted in small batches from the best beans Scarcello and his partners can find. Its labels contain a wealth of information on its contents – not just what country it's from, but the farm, processing method, and whether it is "Fair Trade," generally meaning the farmers got paid a premium.
There will be some sort of food available, probably including BreadHive's baked goods, but that's not settled yet, said Scarcello. There will not be the usual pump bottles of flavored syrups.
The company started selling coffee in November 2013, at the winter market in the Horsefeathers building on Connecticut Street. It still does, Scarcello said.
Why did they choose Grant Street?
"We knew it was an up-and-coming neighborhood," Scarcello said. "The building meets all our needs, for a roaster and retail site. And while working Taste of Diversity festival this summer, the response from that community, and the wide array of people in that neighborhood, really sold us on wanting to be a part of that."
Closing one, working on another: The Pizza Plant in Williamsville's Walker Center will close after business Sunday, ending a 20-year run.
"We couldn't come to terms with the landlord on a lease," Pizza Plant owner Bob Syracuse said of the Main Street restaurant.
What will happen to all the beer? "Ideally, we're going to run out," Syracuse said. There might also be a customer appreciation night on Sunday night, coinciding with the restaurant's last day of business.
That will leave Pizza Plant's Transit Road location the only store of the pizza and beer specialist open – for now.
Plans for a 4,000-square foot Pizza Plant restaurant downtown at 1 Canalside, across the street from HarborCenter, are progressing, Syracuse said.
"We signed the lease, but I'm still waiting for the approval on financing," said Syracuse. "We're 99.9 percent sure on the financing, but I'd like to be conservative in that area in case something happens and I have to go to plan two."
Architectural drawings are done, as well as mechanical, plumbing and electrical plans, Syracuse said. The kitchen design is underway, and the signage has to be worked out, Syracuse said. "There's a plethora of things to do."
Delayed: Further construction delays have pushed back the opening of Lackawanna's The Mess Hall until mid-November.
"I'm going to play it safe and say Nov. 18," said owner Joe Jerge. "That is the day I would say we will definitely be open to the public." The weeks before Thanksgiving might be one of the worst times of the year to open, but "it'll give us time to work out the kinks." The doors could open sooner, but that's a conservative estimate, he said.
The breakfast and lunch place, from Mulberry Italian Ristorante and Brick Oven Bistro owners, will be at 717 Ridge Road, formerly Victoria Square. Renovations have removed the suspended ceiling, opening up the space, Jerge said. A bar topped by butcher block has been installed, as well.
A draft menu includes chicken fried steak, plus an offbeat collection of sandwiches including the chivito, muffaletta and Hot Brown, the pride of Uruguay, New Orleans and Louisville, Ky., respectively. But it's under construction too.
"It's too long right now," Jerge said. "We're going to whittle it down after we start cooking in the new place, and figure out what works in the new kitchen."
Closed: Angry Puddems, the sandwich shop at 679 Niagara Falls Blvd., has closed.
Stay up-to-date on what's happening
Receive the latest in local entertainment news in your inbox weekly!