When patrons walk into the new Pour Taproom at 490 Pearl St., any concern about how a self-serve taproom works will be somewhat alleviated by the sight of an employee at a check-in stand.
Owners Matt Prime and Joe DiCenzo, who discovered the self-pour concept in North Carolina after a hiking trip to celebrate their 30th birthdays, will be happy to explain the process to customers as well, following the July 8 opening in the former Cabaret.
But since the no-bartender concept is new to Buffalo, here's the approach to getting drinks and food at Pour Taproom:
• Customers climb a few stairs to the check-in stand/cash register area, where they present a credit card to start their tab. In return, they're given a "VIP pass" with a QR code that essentially acts as currency. One credit card can be a tab for multiple people.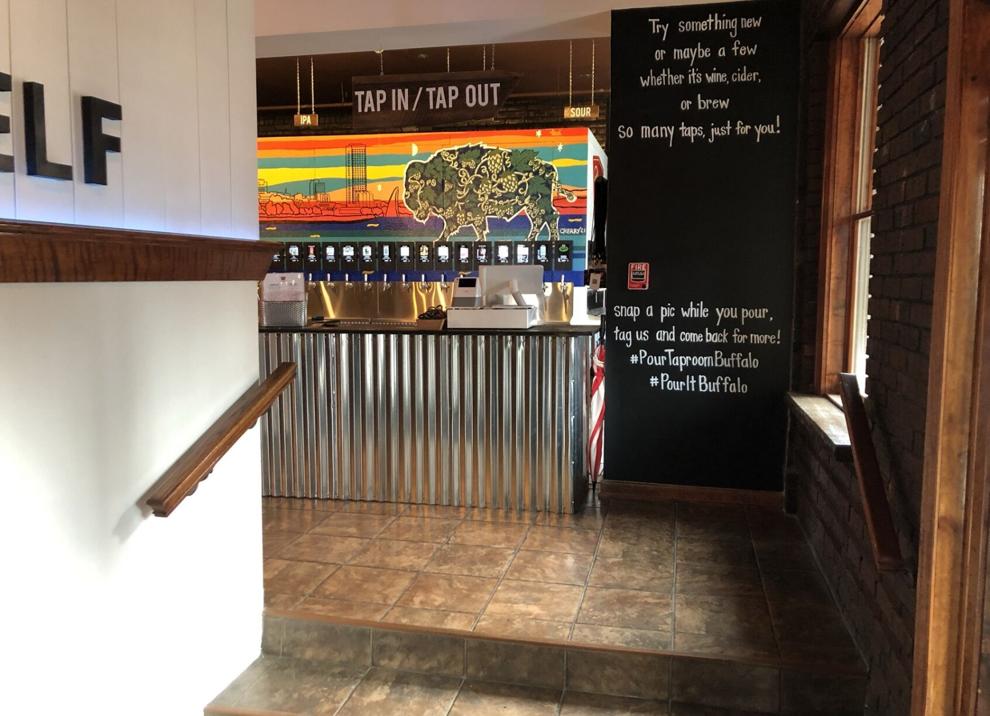 • Pick a drinking glass from two tables next to check-in. The glasses vary in elegance and use, but don't cost anything. Approach the 56 taps against the northern wall, which sit below a colorful mural of the city skyline and two hoppy buffaloes created by Nicole Cherry.
• Patrons can peruse craft beer, wine, hard cider and seltzer options from the long line of taps. Taps are organized by style and the owners plan to adjust seasonally for balance and to suit tastes. At opening, the style groups were dark, seasonal, light, IPA, Belgian and sour.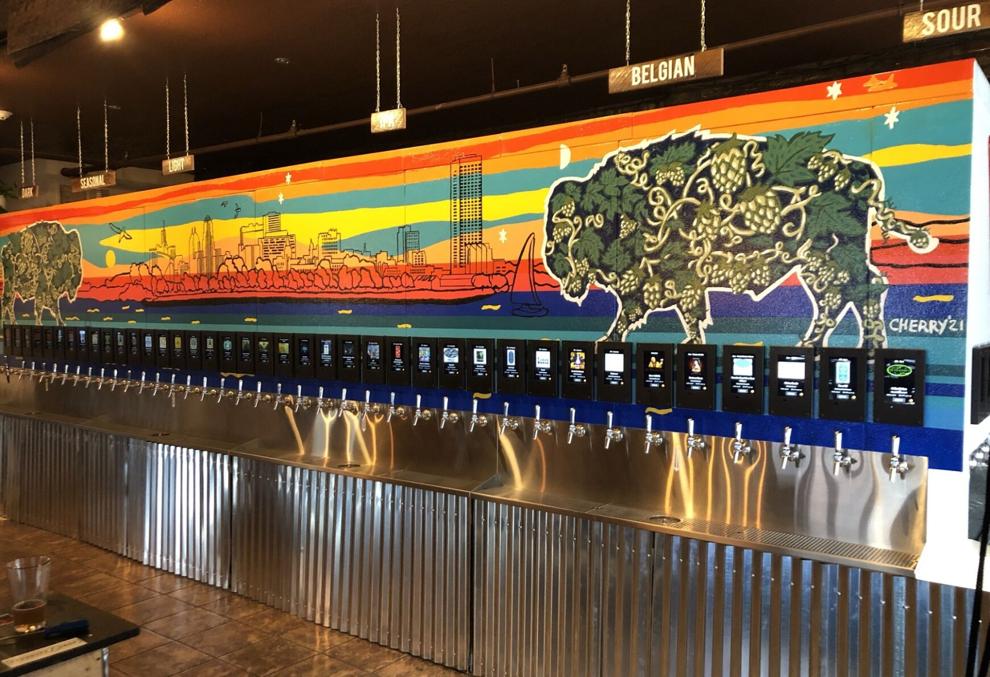 • Since Pour's concept centers around sampling a range of beers without committing to an $8 or $9 glass of something risky, considerable information is available pre-pour. Each tap has a video screen displaying the style, beer name, brewery, alcohol by volume and cost per ounce. Customers may also touch the screen for a pop-up to learn more about the beer's flavor and background. 
• Once the desired beer is determined, customers select "Beer Me" on the screen, which prompts the buyer to hold the VIP pass QR code in front of a camera. Scanning this QR code connects the beer pour to the credit card and tracks how much beer is poured. Each tap will close after 12 ounces are poured of beers under 10% ABV, or 10 ounces of beers with an ABV exceeding 10.
• If there's any concern over proper pouring technique, a taproom host will be nearby to help. Customers pour their beer – and can even take a quick swig to see if they like it – with the opportunity to add more. The average pour is 5 or 6 ounces, Prime said.
• The general range per ounce is 38 cents to 50 cents. Extrapolated to a pint, that's between $6 and $8 per full beer. Genesee's Ruby Red Kolsch, one of summer's in-demand beers, is the cheapest per ounce on the menu.
• Customers can return to the tap wall as often as they'd like, but once 32 ounces are poured for one VIP pass, the customer must check in with the Pour Taproom staff before they're able to pour again. This check is to keep customers under control and safe.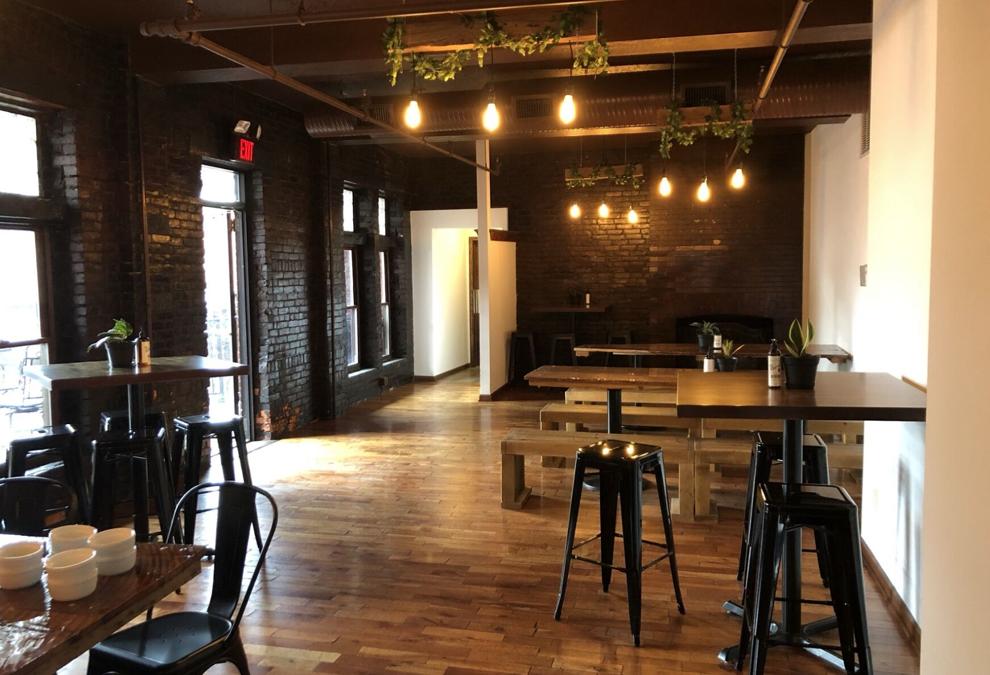 • To order food, customers approach the check-in stand, select food choices with a dry-erase marker on laminated menus and have their order scanned to their VIP pass. The customer is then given a numbered placard so food can be delivered to the appropriate place. The menu is based around pub fare, handhelds and shareable plates; Prime mentioned taco logs and corn bites as uncommon offerings. 
• For entertainment, an oversized Connect Four leads a group of games. An old-school popcorn machine has been added for a salty snack. An outdoor patio accommodates roughly 40.
• When customers are done drinking and eating, they approach the check-in stand once again with their VIP pass to finalize payment.
INFO: Pour Taproom, 490 Pearl St. Open 2 to 11 p.m. Wednesday, noon to midnight Thursday through Saturday and 11 a.m. to 4 p.m. Sunday.