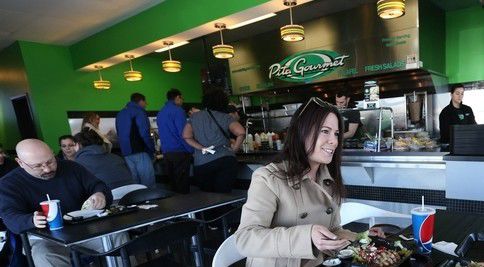 On busy Transit Road sits a delicious slice of pita bliss. Priding itself on serving authentic Greek and Mediterranean cuisine, Pita Gourmet will give you your Greek craving even when you're in a rush. When I arrived, I noticed a seating area available to stay and enjoy your meal at the restaurant. I was immediately greeted by friendly staff, ready to answer any questions I might have about the menu and help me place my order at the counter.
I'm a big fan of Greek restaurants and had a difficult time deciding between all of their options. If you like a variety like I do, consider giving the Tour ($8.99) a shot. The Tour is complete with tabuleh salad, falafel, hummus, baba ghannouj and grape leaves served with a grilled pita pocket and side of tahini. There's something so satisfying about digging the warm, doughy pita into the creamy cold hummus. The different textures and tastes on this platter will swat that craving you have for Greek food right out of here.
Their baba ghanouj is a gratifying spread of roasted eggplant and garlicky heaven. The deep green, generously stuffed grape leaves and crispy fried falafel are the perfect pairing for the spreads and coarse tabuleh salad. If you'd prefer something else, there's a variety of Greek and Mediterranean options to choose from.
The Breads & Spreads ($8.99) is a perfect snack option. It includes a grilled pocket, grilled wrap and pita chips, served with hummus, baba ghannouj, tzatziki and dill sauce to dip them in. This is a great dish to share.
The Souvlaki Supreme ($5.99) is your choice of marinated grilled chicken or beef, choice of tzatziki or dill sauce, choice of veggies, feta cheese and Greek dressing in a wrap (traditional Greek-style grilled pita) or a pocket (although locally baked here in Buffalo, this round pocket sliced at the top that can hold in all your fixings is a popular trend in Mediterranean cuisine).
Feeling a bit more adventurous than your average chicken and beef? Try Pita Gourmet's Authentic Gyros Wrap ($5.99). Gyros are a seasoned blend of beef and lamb, slow roasted and steamed then topped with Pita Gourmet's tzatziki sauce, tomato and onion. Lamb can taste "gamey," but when you blend it with beef, it's not so pungent.
Combo meals are available with any Signature Pita or Platter. You can choose a side item and a medium fountain drink to go with your pita or platter for an extra $3.99.
Pita Gourmet is a local, family-owned and operated company that takes pride in crafting delicious food. While you're sinking your teeth into the tender gyros wrap, always remember what Pita Gourmet stresses to its customers; "We are not fast food, we are great food served fast."
Where: 6733 Transit Road, Lancaster (633-3303)