There's a special greeter outside the first Buffalo location of Paula's Donuts that's perhaps drawing more attention than the round desserts themselves.
Doughnut Girl, a roughly 6-foot-tall public art piece with a pink-frosted doughnut torso covered in sprinkles, large eyes and a dollop of whipped cream for hair, was a popular backdrop for selfies and group photos at the July 15 grand opening at 872 Seneca St. in the Larkin District.
Lisa Hoppel, manager and daughter of owner Paula Huber, said her mother has joked in the past about placing a big doughnut sculpture on the roof of a future Paula's, and the doughnut mosaic on the floor of the Southgate Plaza location in West Seneca only whets palates for more doughnut-themed decorations. The mission of the city Paula's location? A doughnut version of Canalside's Shark Girl.
The Larkinville spectacle, a full three-dimensional sculpture finished with painted fiberglass was Huber's brainchild, but designed and fabricated by Tom Stringham of imagineFORM, a business from East Bethany, just south of Batavia. Doughnut Girl has produced amusing photos already, with kids eager to peek through the doughnut's hole.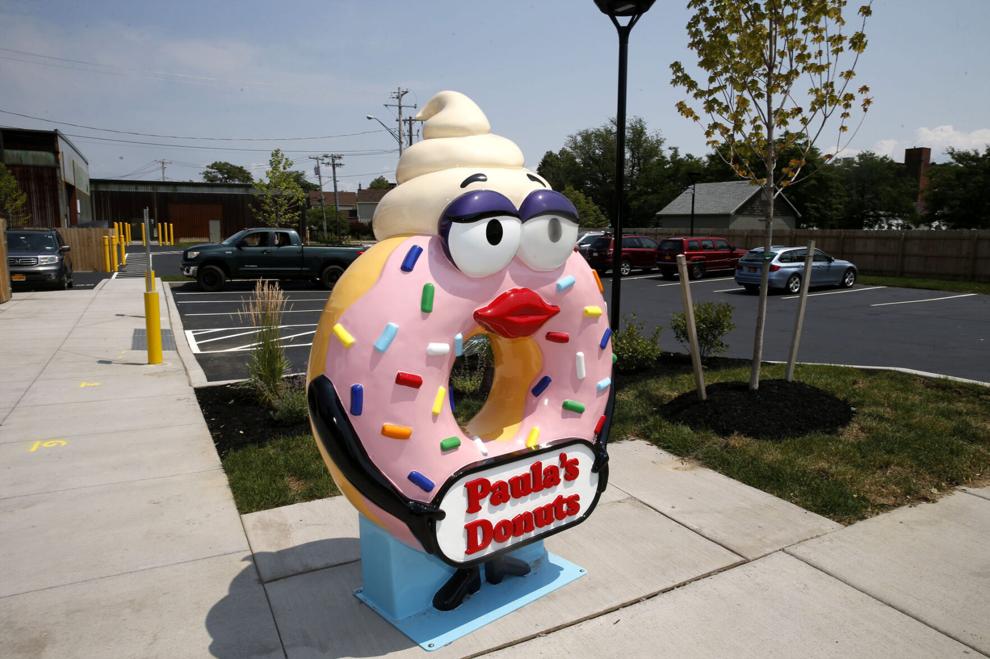 Hoppel detailed five other key differences to know about the long-awaited Larkinville Paula's Donuts.
Hoppel was pleased by the customer flow of the design, which dedicates the majority of its interior space to a long, snakelike waiting line – at its other locations, the doughnut shop is no stranger to floods of customers. 
For further efficiency, there's a separate entrance for online ordering and pickup, a roughly 40-space parking lot to the east of the building and a small outdoor seating area for more of a café feel.
• A self-serve cooler and retail area situated to the left of the doughnut wall is a new feature, with packaged julienne salads, a range of overnight oats, plus eggs by the dozen, milk, loaves of bread and four packs of butter as quick-shop grocery store items to appeal to nearby apartment dwellers in the Larkin District. There's no grocery store in the immediate vicinity. 
• As far as doughnuts are concerned, the offerings mimic that of Paula's other shops. But two of the most recent flavor additions, the Nutella cannoli doughnut and cannoli doughnut, can be made to order daily.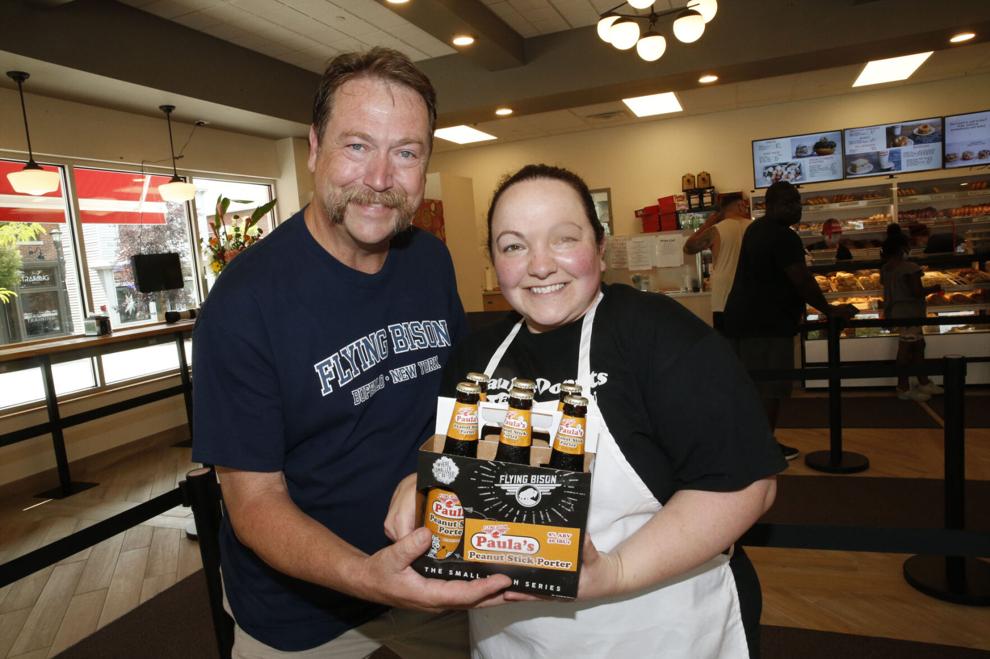 • Past collaborations with Flying Bison Brewing Co., situated just down Seneca Street, have included three doughnut-themed, limited-edition beers in peanut stick, cannoli and red velvet flavors. Hoppel teased a future ticketed pairing dinner to kick the partnership up a notch, where Paula's doughnuts are paired with beers from Tim Herzog's brewery over several courses.
• Leslie Zemsky, "director of fun" at Larkin Square, hand-painted the design for the doughnut wallpaper that adorns the hallway to the bathrooms and the side of the self-serve cooler in Paula's. Zemsky, who loves painting singular food images, also has produced wallpapers for Larkinville restaurants Hydraulic Hearth and Swan Street Diner.