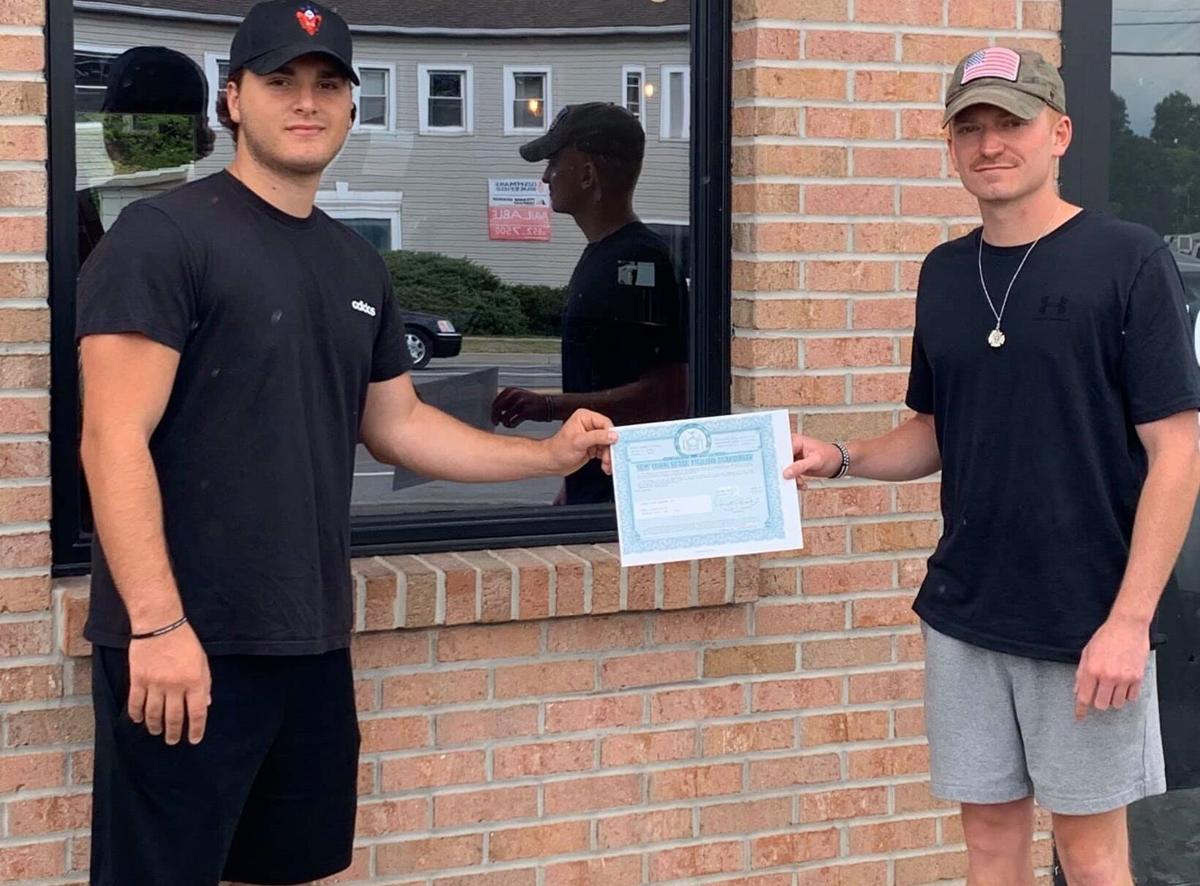 Compared to neighbors East Aurora and Hamburg, Orchard Park has been a bystander for the bar-restaurant boom of the last five years. 
Reliable businesses such as Mangia, Byrd House and OP Social still drew customers – and Kaylena Marie's Bakery attracted a rabid following thanks to gargantuan cinnamon rolls – but, aside from Homegrown Bistro, few new food-and-drink forays have sprouted. 
A pandemic might seem an odd time for a surge, but First Line Brewing, Fattey Beer Co., Prohibition 2020 and Off The Wall Sandwiches represent four locally owned newcomers to Orchard Park this summer.
Ecstatic about the influx, Orchard Park Chamber of Commerce executive director Don Lorentz laid out the overarching goal: to create more of a "destination" feel to Orchard Park by making the most of unused lots.
"The big thing is the town, village and chamber – we've all been advocating for many of the buildings that have been sitting vacant here to be repurposed," he said. "There's been a strong urge for building owners to do something with their properties."
Here is a short breakdown of the four businesses that just opened or will open soon.
4266 N. Buffalo St., Orchard Park.
Hours: Noon to 10:30 p.m. daily.
Fattey Beer Co. is a prime example of what the Chamber's Lorentz meant in filling old vacant lots: Nik Fattey planted his third taproom/craft beer shop hybrid at the site of the former Don Tequila, a Mexican restaurant that closed after a fire in 2012 and lay empty since.
This location will differ from the Hamburg and downtown spots primarily in its wine selection, with 12 varieties offered by the bottle. Craft beer sourced from around the globe remains the major allure, with at least 200 to 300 varieties presented in cans, coolers and on tap.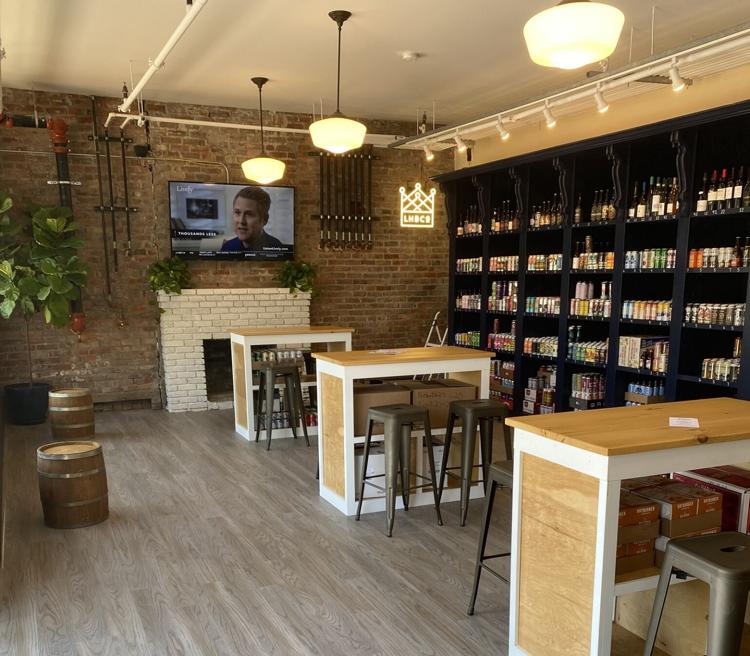 While customers are invited to bring their own food, Fattey has introduced a fried chicken sandwich to all three stores, in the same style as Popeye's and Chick-Fil-A, for $6. It comes with a bag of chips.
And, like the other Fatteys, there's a mug club, it's dog friendly in an especially walkable district, and will have outdoor seating.
"It seems like the Village of Orchard Park is very restaurant-friendly for outdoor seating," Fattey said, referring to the creative and effective layouts of Mangia and Byrd House. Chris DiCesare, Matt English and RJ Friedman are Fattey's partners in this Southtowns project.
The Orchard Park location can seat 36 customers at 50% capacity.
3847 Southwestern Blvd., Orchard Park.
Hours: 4 p.m. to 4 a.m. Monday through Friday, noon to 4 a.m. Saturday and Sunday.
Replacing the former Biergarten at Orchard Park is a new concept guided by a familiar name, as Ben Bell, a former partner in Biergarten, introduces a bar-restaurant named Prohibition 2020. 
Bell's mission is focused on the simple pleasures of beer, spirits, wings, burgers and fries but with intriguing twists. For instance, 20 wing sauces and rubs include salt-and-vinegar dry rub, loganberry barbecue, maple-bacon-caramel glazed and teriyaki orange. Fresh-cut french fries may be tossed in seasonings ranging from Old Bay and Frank's RedHot to salted maple and cheddar. 
Prohibition even touts its own specialty housemade blue cheese dressings, amplified by bacon, garlic, horseradish and more for an additional $1.
The burgers are 10 ounces of Angus beef adorned with onion rings on the rodeo burger, infused with au jus on a kummelweck roll for the beef-on-weck burger, and topped with French onions and provolone cheese for the French onion burger.
There's indoor and outdoor seating, and lunch hours are expected to be added soon.
4906 S. Buffalo St., Orchard Park
When: Opening in the second half of August.
Former Orchard Park High School baseball teammates Michael Maiorana and Shane Stewart have been striving to open a brewery – Orchard Park's first – since 2018, with a summer 2019 Kickstarter campaign pushing the friends $21,000 closer to making it a reality.
First Line is a tribute to service members, from the military to emergency personnel to police. The cause is personal: Stewart is an EMT and volunteer firefighter in Orchard Park, and both co-founders have family members who serve in various roles. Once the brewery begins to make money, Maiorana said First Line plans to donate to service-focused charities, both local and national.
The duo intends to roll out unusual flavors of beer to fill its seven taps dedicated to house brews.
One highlight is a New England IPA with Fruity Pebbles cereal incorporated during secondary fermentation. Maiorana explained the sweetness of the cereal pairs nicely with the fruit flavors imparted by the hops, a snug fit within the still-burning hazy IPA craze.
"We think it will sell very well, maybe even our best seller," Maiorana said of the Fruity Pebbles beer.
Other beer styles will include citrus IPAs, fruit ales and stouts.
At 50% capacity, 18 patrons can be seated inside. First Line is in the latter stages of securing approval for outdoor seating, too.
4068 N. Buffalo St., Orchard Park.
When: Grand opening is Sept. 9.
Tentative hours: 11 a.m. to 9 p.m. Sunday through Thursday, 11 a.m. to 10 p.m. Friday and Saturday. 
Although they've worked in the restaurant industry for the bulk of their lives, husband-and-wife duo Christian and Elizabeth Sparcino have never owned their own restaurant. Christian was the sous chef at Shanghai Red's on the Lake, the fine-dining predecessor of Templeton Landing, and Elizabeth was a manager at Buffalo RiverWorks.
Inspired by the city's great burgers and classic Buffalo fare, the Sparcinos are close to opening Off The Wall Sandwich Company, inside a former Yotality. Ryan Bratek, who worked with Elizabeth at RiverWorks, will be the head chef.
"We're trying to keep the roots here in Buffalo," Christian said, referring to a comfort food menu that wields everything from Costanzo's rolls to Sahlen's hot dogs on burgers to names such as a Bills Mafia Burger and the Eternal Flame Burger.
After noting some of his favorite burger locations – such as Grover's in East Amherst – Christian recognized a dearth of options in his hometown. "We wanted to bring something back to the Southtowns. There wasn't a place to get burgers and different grilled cheeses, different appetizers," he said.
The specialty burgers and grilled cheeses ($12-$15) are not bashful in the ingredients. For most burgers, a ground steak blend raises the level of the classic hamburger patty. (Beyond Burgers and black-bean burgers also will be available.) Here's a smattering of examples:
• The Quaker Burger: sharp cheddar, onion rings and a fried egg.
• The Eternal Flame: crushed red pepper in the patty, a coating of Flamin' Hot Cheetos, pepper jack cheese and a housemade habanero pepper relish.
• Bills Mafia Burger: cheddar, chicken wing dip, blue cheese, a chicken finger tossed in Frank's.
• Grilled Elvis: An Elvis Presley fan, Elizabeth ensured this grilled cheese, with peanut butter, bananas and bacon, wasn't left off the menu.
• Southtowns Snowdrift: Grilled cheese with triple-stacked sourdough bread, mozzarella and provolone cheeses, thick-cut bacon and garnished with grated parmesan - to represent snow.
For the hungry, competitive types, the Off The Wall Burger Challenge is daunting. The OTW Burger starts with a grilled cheese on the bottom, then a 4-ounce patty, bacon, a chicken finger tossed in Frank's, Flamin' Hot Cheetos, another patty with cheese and bacon, and then another grilled cheese.
Competitors also must finish a half pound of french fries smothered in a housemade beer cheese sauce. To add difficulty, competitors must finish the meal within a predetermined time limit to get the burger for free and a small prize. Otherwise, the meal is $25 if it's not finished.
At 50% capacity, Off The Wall can seat between 20-25 patrons, and takeout, curbside pickup and delivery will be offered.
Stay up-to-date on what's happening
Receive the latest in local entertainment news in your inbox weekly!