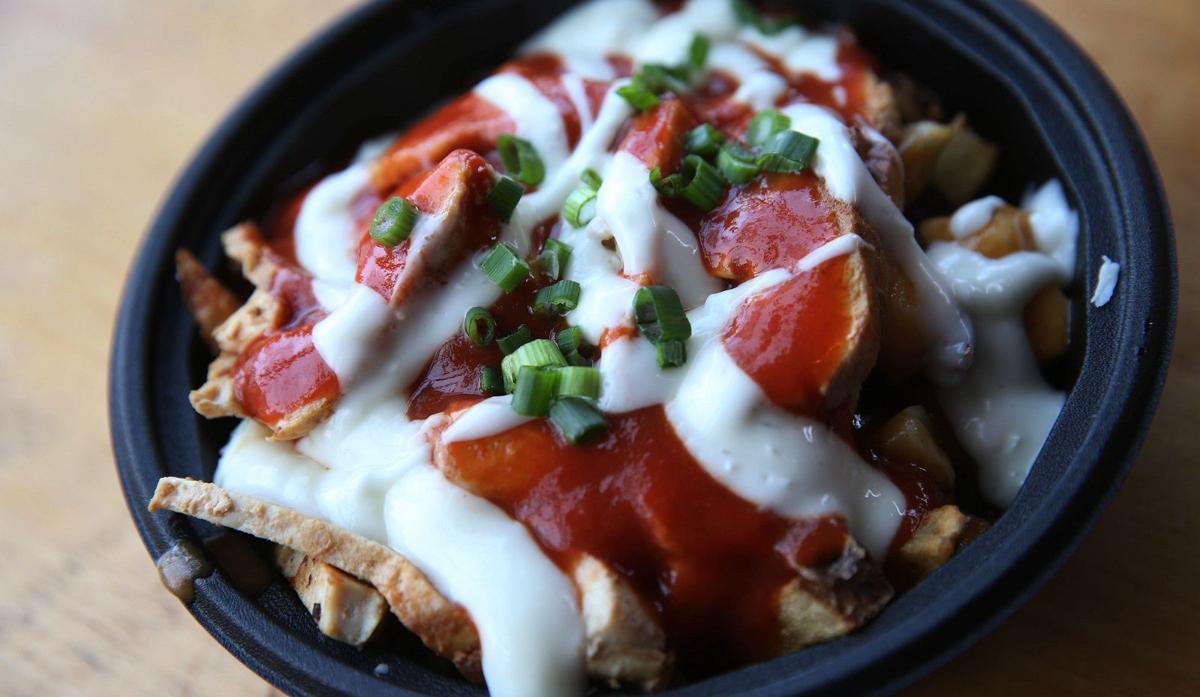 One wonders about the conversation between U.S. customs officers and Canadian restaurateurs Jake Fraser and Konstantine Kentros as they crossed the border to open Allen Street Poutine Company.
We like to imagine border patrol granting them immediate access and the keys to the city after tasting this Quebec import of fresh-cut fries topped with gravy and cheese curds.
Poutine may look a mess, but that's the beauty of the dish that ASP has taken to the next level in its interesting space that includes a community table and a wall decorated by customers with dry erase markers.
Traditional ($4.95/$5.95) is one way to order poutine, but if you are going to make French fries a meal, why not try one of the other categories (pork, beef, chicken or specialty). Prices range from $8.20 small to $10.95 for something called "Boss" — fries topped with steak, chicken, pulled pork, ground beef, bacon and veggies plus the curds and gravy. Most large choices are $9.20.
Ingredients are key. In addition to fresh-cut fries, ASP uses local Yancey's Fancy cheddar curds and makes its gravy in-house. Classic to interesting topping choices include pulled pork and Sloppy Joe along with Grandma's (chicken, mushrooms, onion, peas, green pepper) and Montreal Smoked Meat (beef brisket with pickles).
Poutines with a local slant include Beef on Weck (beef, caraway seeds and course salt), Buffalo Chicken and Pierogi (pierogi, bacon, sauerkraut and green onion).
All the combinations we tried were really good and filling. It really boils down to your individual taste.
The special of the day (and funny) Steph "Curry" chicken-topped fries reminded us of chicken tikka masala with its creamy and nicely spiced sauce. 
The Buffalo Chicken had a definite heat to it, but the gravy balanced it out. Normally coming with blue cheese, our eater requested ranch instead, noting the poutine was really good and not overwhelming at all.
The General Tao also was done with chunks of chicken in a slightly sweet and spicy Asian sauce, topped with fresh jalapenos, giving the dish extra kick. Once again the gravy acted as a good foil for the sweeter sauce.
Because all the fries get gravy, they start crispy on top but get soggy the further down you eat. Not bad, but something to note for folks who don't like soggy. The lower curds are more "melty," too.
The richness of poutine started to hit about three-quarters of the way down the pile. Yet, we soldiered on to try another Canadian import, a tasty Nanaimo Bar for dessert ($3). This no-bake bar is layered crumb crust, topped with custard and then chocolate.
For those not interested in poutine, ASP offers sandwiches made from some of the toppings (pulled pork, Sloppy Joe, Montreal smoked meat, beef on weck) for $9.95, with fries. For the health-conscious, a spring mix salad is $5.95; a little naughtier is the Pittsburgh salad with fries for $6.95 (add chicken or steak for $2).
ASP got us in and out on our lunch hour — an added bonus to the fun food we enjoyed. In short, this poutine is not routine, and well worth the trip to Allen Street — day or night.
Where: 242 Allen St. (allenstreetpoutine.com)
Hours: 11:30 a.m. to 1 a.m. Tuesday through Thursday; 11:30 a.m. to 4 a.m. Friday and Saturday; and 11:30 a.m. to 1 a.m. Sunday. Closed Monday.
Drink: Local craft beers on tap. Soft drinks include Loganberry.
Extra: Wednesdays N64 Game Nights 8 to 10 p.m. and South Park Trivia.
Did you know: Poutine restaurants are called "poutineries." The poutine story goes a restaurateur proclaimed, "ça va faire une maudite poutine" (it will make a damn mess) when a customer requested the odd combination in 1957.
The Buffalo News: Food & Drink
Get what you need to know about Western New York's dining and bar scene, including restaurant openings and closings, delivered to your inbox every Wednesday.