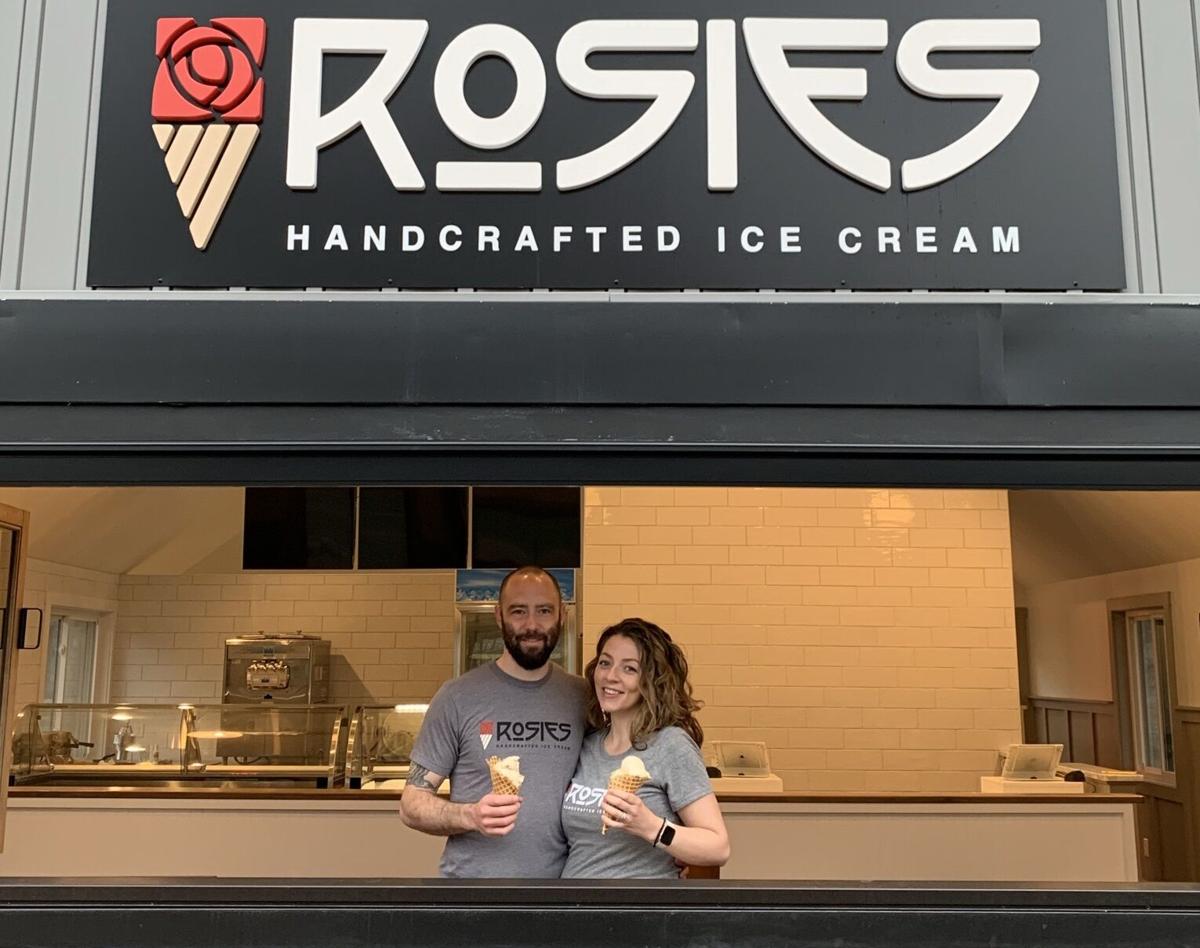 Deacon and Cassie Tasker have known for at least three years they wanted to open an ice cream shop in their hometown of East Aurora, the general setting for dessert jaunts with their families as kids. The couple's dream to re-create those nostalgic experiences for others arrives on April 8 when Rosie's Handcrafted Ice Cream (431 Main St.) opens, the reward for pressing on after nearly two years of setbacks.
How precise are these childhood memories? Deacon said he can still name each of his relatives' orders, including his grandfather, who was hooked on an unusual chocolate malt and molasses combination. Cassie recalls joyful summer visits to George's for a hamburger, followed by a scoot to Nick Charlap's in Boston for ice cream before enjoying the treats from a Chestnut Ridge hill to watch the sunset. That adventure is a tradition the Taskers have carried on to their three kids.
Nearly everything at Rosie's will be made in-house, including as many as 24 super premium ice cream flavors, freshly made waffle cones and ice cream sandwiches crafted by the Taskers and production manager Ashley Tupper, a Niagara Falls Culinary Institute graduate who spent the last 7½ years in Germany, with a large portion of the time as an executive pastry chef.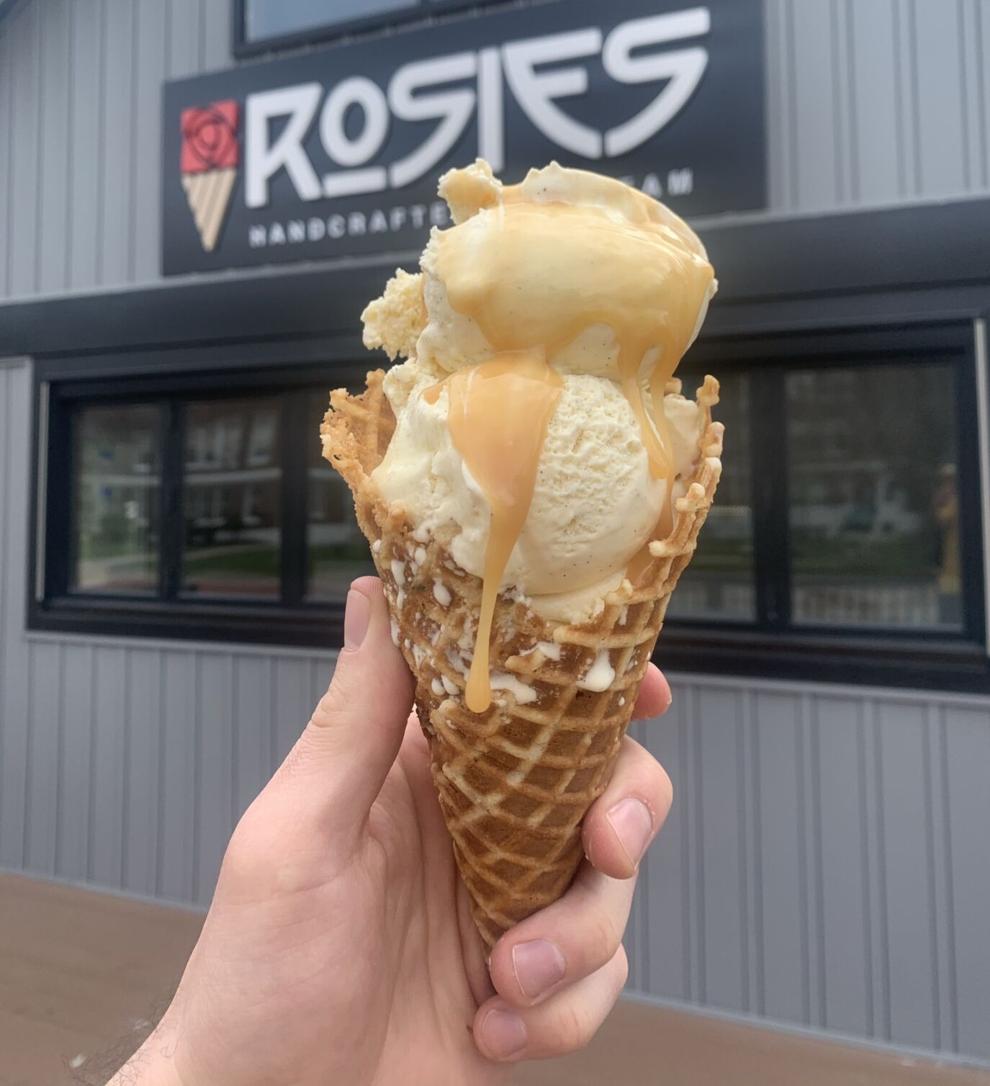 Here's a sampling of small-batch ice cream flavors, roughly half of the 24 possible flavors that will be ready opening day, confirmed Tasker, the oldest son of Buffalo Bills' legendary special teamer Steve Tasker:
• Bada Bing Bada Bourbon: Caramel ice cream, salted caramel swirls and pretzel pieces covered in a chocolate-bourbon toffee.
• Breakfast Special: Maple syrup ice cream with local maple syrup-candied bacon and cinnamon-walnut streusel.
• Roseberry: Strawberry ice cream with a rose essence and white chocolate pearls.
• Invisible Ink: Lemon-lime squid-ink ice cream, lime curd swirl and lemon shortbread. This may not be available at opening.
A lavender-honey ice cream, the Honey Lou, is another special flavor with extra meaning for Cassie. Her mother bought her first ice cream maker, a Cuisinart, in 2009 after watching "It's Complicated" featuring Meryl Streep, where Streep's character concocts a honey-lavender ice cream. At the time, lavender-flavored ice cream was tough to find, and to some degree still is, in the area.
Along with these outside-the-box flavors, the Taskers said they are proud of their vanilla and milk chocolate ice cream recipes. The vanilla has a generous amount of high-end Madagascar bourbon vanilla and is churned with ground vanilla beans; the milk chocolate doesn't skimp on cocoa powder. The usual ice cream vessels, like sugar cones and bowls, will be spruced up by scratch-made waffle cones offered in specialty flavors, such as cinnamon and birthday cake.
Soft serve, gluten-free and dairy-free ice cream options will be available with housemade oat milk ice cream and sorbets using seasonal fruit. A regular cone with a scoop is $4.50, with each additional scoop an extra $1.
Gourmet ice cream sandwiches excite Tupper. The standard will be built between two housemade chocolate chip cookies with a milk chocolate and dark chocolate ganache spread on both and Rosie's vanilla ice cream stuffed inside. A more flashy option is the Bada Bing Bada Bourbon ice cream sandwich, with the caramel specialty ice cream between two fudge brownies.
"It's like holding two bricks of fudge," Tupper explained, with a laugh.
The Taskers and Tupper have spent much of the last of couple months taste testing their recipes, sometimes beginning as early as 8 a.m. (Tupper says she defends the practice by bringing baby carrots for lunch).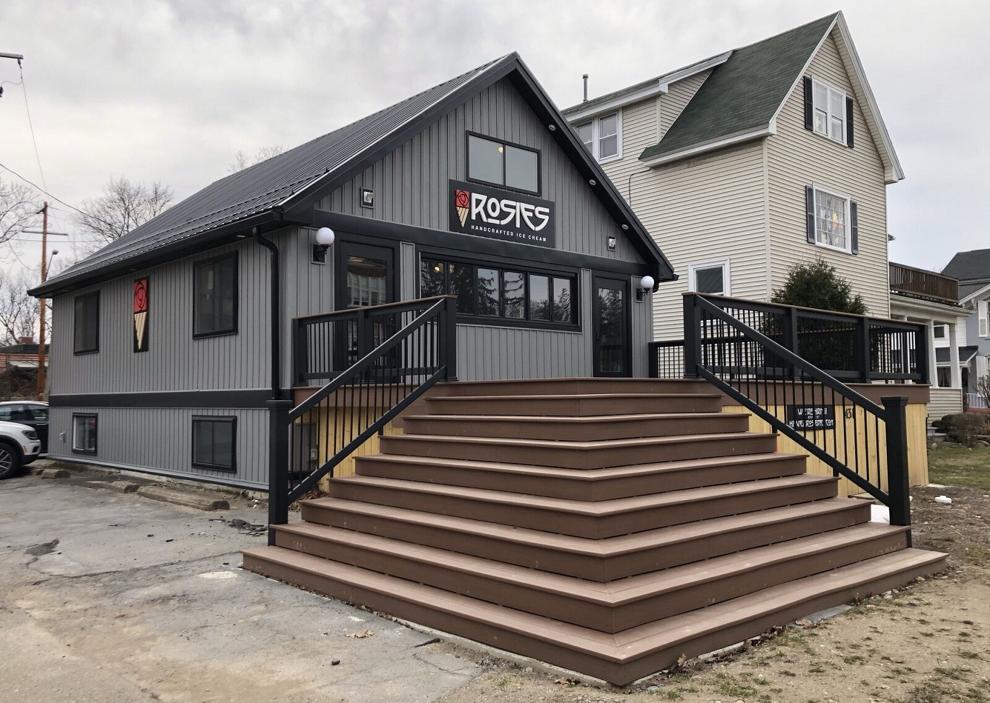 The owners said they had three different properties under contract at different times, but finally settled on a run-down office building adjacent to the Roycroft campus and across Main Street from East Aurora Middle School. The pandemic stalled contract work in rehabbing the former East Aurora Chamber of Commerce, and the Taskers briefly mulled the decision to open last summer, before choosing to hold off until this spring.
The wait fueled the Taskers' hunger to learn more about ice cream. Sampling the wares of ice cream producers around the region with the intent to source their main product, the Taskers fell in love with the craft. Thanks to instruction from Penn State Ice Cream Short Course, Scoop School in Missouri and a bevy of conferences, they learned the intricacies of the ice cream-making process and dabbled in dairy science. Tupper's culinary background, with an emphasis in desserts and production, furthered the owners' knowledge.
"We wanted to be as educated as we possibly could," Deacon said.
The decision to make their own ice cream in-house was in part due to the desire for a more natural product, Cassie said. "We wanted control over the ingredients – we didn't want artificial colors and flavors." It also allows them to produce their own signature flavors and collaborate with other local food and drink businesses.
The ice cream shop has a capacity of around 50 people at 100%, with a sizable front patio overlooking Main Street. Parking is available in the lot. Hours will be noon to 9 p.m. Tuesday through Thursday and Sunday, and noon to 10 p.m. Friday and Saturday.