Lago 210 owner Audrey Zybala knows customers will be drawn to her new restaurant-bar on the Lake Erie shore for the intense sunsets and panoramic views of Buffalo and Canada. But Zybala, who also owns Sweet Pea Bakery in the Village of Hamburg, wants to capitalize on nature's serenity by hooking patrons on uncommon, fresh small plates from a classy waterfront eatery.
"It's upscale, but it's not fine dining," said Zybala, whose restaurant (4038 Hoover Road, Hamburg) opened May 11 and will serve into October before plans for fall and winter are determined. "We want you to want to try everything, to share."
Zybala and chef Matt Russell, with inspiration from local chef and private dinner host Darian Bryan, have crafted a menu that celebrates seasonality, eco-friendly practices and an emphasis on seafood shuttled as quickly as possible from water to table.
Shrimp and crab pop up regularly on the dinner menu, appearing in crab cake sliders ($18), on flatbreads ($10) and in a seafood-centric entrée section, starring the surf-and-turf risotto (crab cake, sliced beef tenderloin, lump crab and shrimp over Parmesan risotto and finished with truffle oil, $32).
Living in Pensacola, Fla., taught Zybala how to track dock reports to find the freshest seafood, making her "immovable in terms of quality." Both the types of seafood and their preparation will change due to the market. Zybala teased diver scallops for the future, but wouldn't force any seafood onto the menu if it didn't meet her standards.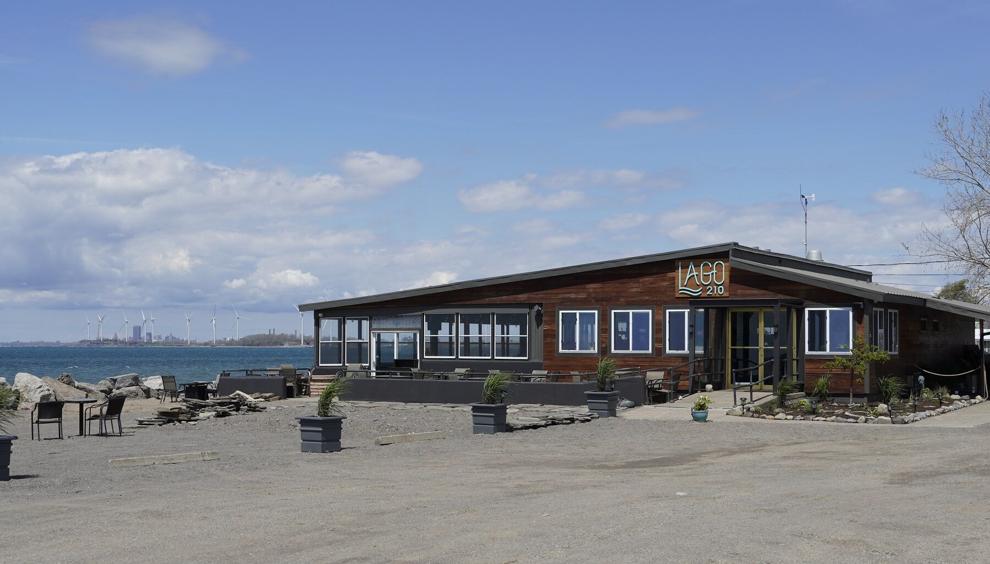 Additional luxury in shareable form appears in the Lago bone marrow ($16). A thick beef bone is cut horizontally and broiled, exposing the buttery marrow for presentation's sake. "It feels decadent and indulgent," said Zybala of her favorite dish on the menu. The delicacy is topped with a peppery shishito jam and is served with naan toast points for scooping.
A range of skewers, from tenderloin to barbecued carrots, show off the kitchen's grilling skills, representing strong sharing options that can be eaten easily inside or outside.
There's comfort food, too, with Russell's care evident in the Low-Country Poutine ($22). Fresh-cut fries are topped with andouille sausage, shrimp and a house Creole sauce, with melted cheese curds finishing a dish that somehow connects Canada and Louisiana.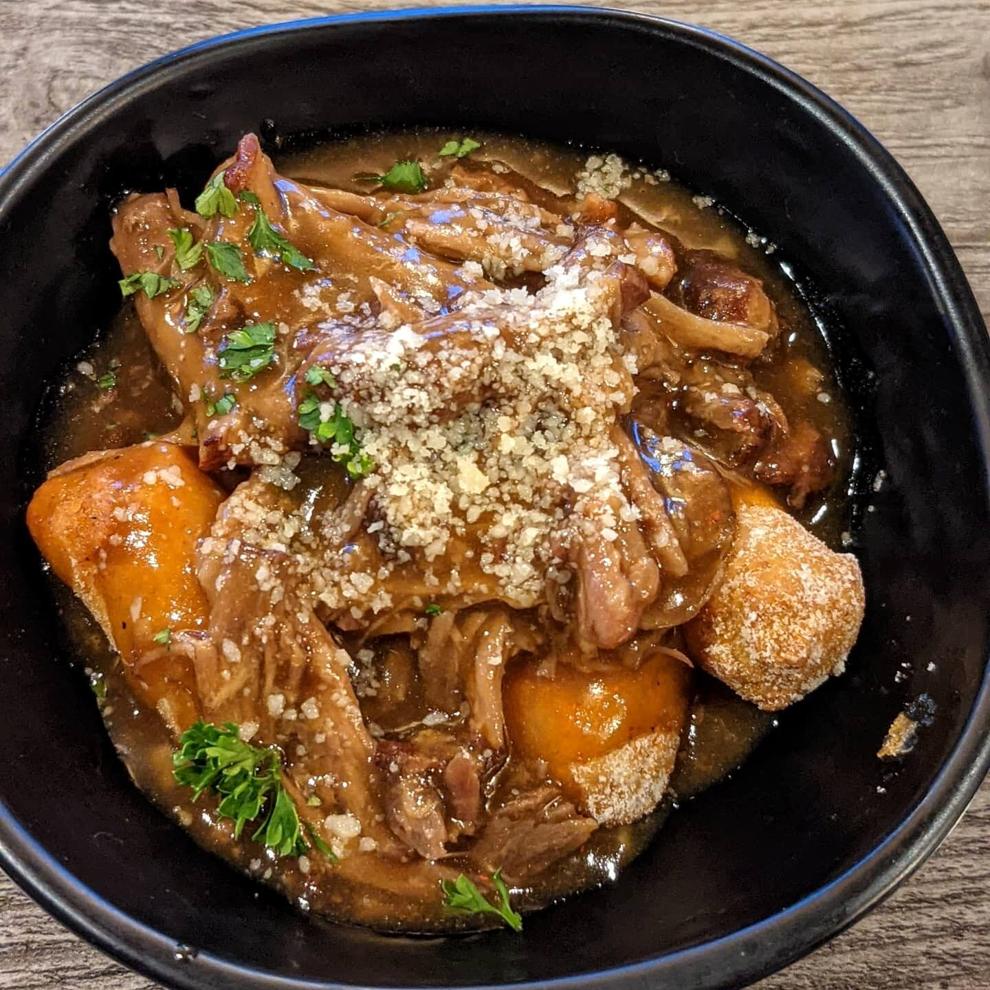 The Southern touches extend to brunch, served from 10 a.m. to 1 p.m. Saturdays and Sundays, with shrimp and grits ($22) boasting a Gouda-driven cheesiness and a poached egg. Among the four different Benedicts, the Creole Benedict ($18) has shrimp and andouille sausage, the Creole sauce from the poutine, and is served on fried green tomatoes. Tender oxtail, another Southern comfort, finds a place in a brunch Benedict ($18) and on top of fried gnocchi ($26).
Desserts provide a perfect bridge between the bakery Zybala has led, with the help of four other women, for the past five and a half years. Sweet Pea will supply treats featuring rotating cheesecakes that include blackberry almond and a vegan and gluten-free cake option.
Wine will be the focus of the beverage program, led by Amanda Krouse. The mission is to offer both impressive and accessible wines among the 30 options; the most affordable glass is $9, reserve bottles approach $100. Big Ditch and Hamburg are among the local breweries on the beer list.
There are four areas for customers to choose from, with reservations required for the outdoor fire pits and strongly encouraged for indoor dining.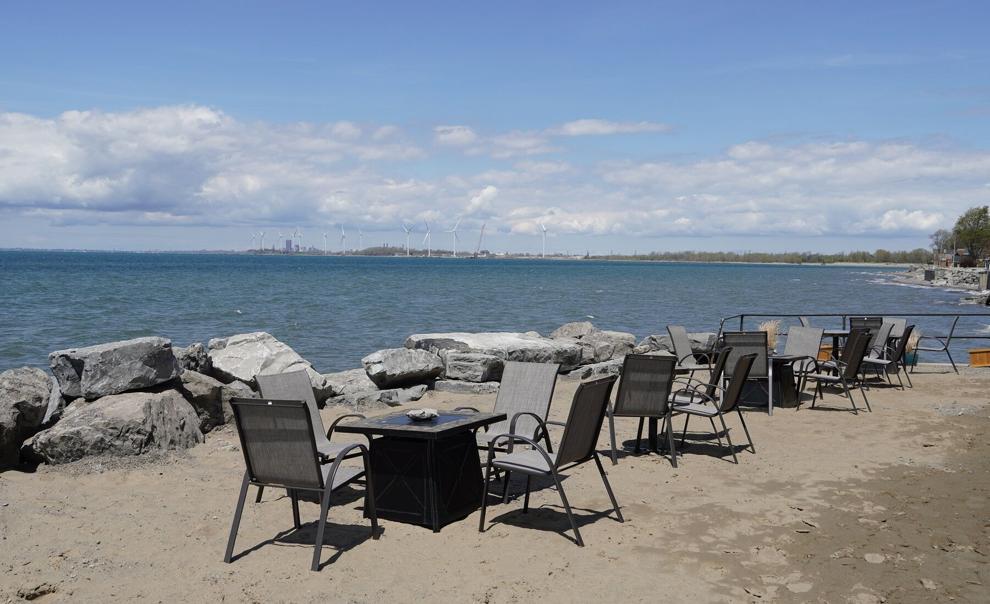 Indoor dining: Roughly 15 to 20 seats inside are surrounded by large windows for views of the water, while a fireplace offers warmth on cooler nights. 
Outdoor fire pits: Three fire pits, with room for six patrons at each, are in the small space between the restaurant and Lake Erie. Zybala expects reservations for these to be popular, especially for sunset viewing. 
Patio seating: Zybala built out a patio just outside the entrance, which she calls a "blank canvas" of seating. Fifteen four-top tables will be the rough arrangement.
Beach bar: At the south end of Lago's small parking lot will be a beach bar focused on wine, beer, cocktails, seltzers and a limited food menu. The weather-dependent seating area will be used from 3 p.m. until dusk Tuesday through Saturday. Large rocks provide natural steps to the beach below, of which Lago can use 450 feet along the shore. The State Liquor Authority has approved alcohol consumption on the beach, Zybala said. While it's a cool experience to be close to the water, it doesn't make sense to bring swimming attire.