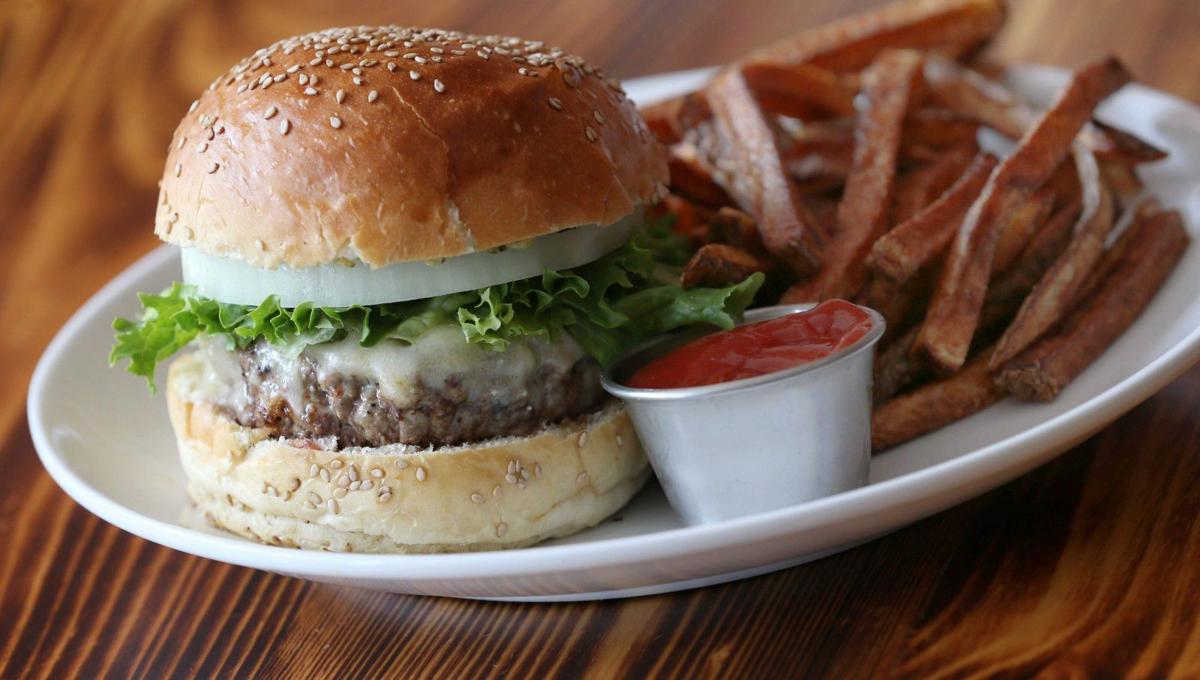 This is a season of exuberance in the Buffalo restaurant world. Like the Gold Rush brought eager crowds with dollar signs in their eyes to stake out California claims, restaurateurs have been risking their stakes on real estate, bringing life and light to spaces long dark. A constellation of new restaurants have dawned in downtown blocks that once seemed destined to meet the wrecking ball.
Marble + Rye, which opened a year ago in a former paint store around the corner from Toutant and SeaBar, is one of its shining stars. The name promises meat and booze, and the restaurant delivers.
Christian Willmott and Michael Dimmer knew when they started the Black Market food truck in 2013 it was the means to an end: their own restaurant. After being recognized, I got the comfy table by the tall front window. The deep dining room has a wall of red brick and a bar on the other side, backed with a bottle display showcasing a concentration in rye whiskey.
The custom cocktail list has become standard in Buffalo restaurants. Marble + Rye's is particularly elaborate. It includes a large-format punch, available by the glass or bowl, and a medium-sized glossary of Google-search-inspiring ingredients. (If you could already define cynar, tepache and byrrh, fill out an application.) The Teenage Wedding ($10) listed gin, rose-infused pisco, lime-cardamom cordial, Sichuan peppercorn and absinthe bitters. Its flavor was almost as intriguingly complex as its description, if a little sweet.
A sign lists eight local farms whose products Marble + Rye has offered in the last nine months. Like other New-School Buffalo places, its owners put a premium on using local meat and vegetables Next to the reception stand is a bottle locker, where customers can store their own bottles, to draw covetous gazes though illuminated display windows.
As I was wondering if substance or style ruled at Marble + Rye, a basket of potato chips ($3) arrived to vote for substance. Housemade crinkle-cut potato chips were fried to a crisp bronze and lavished with an intense spice mix including whole coriander and fennel seed, alongside oniony sour cream dip for dunking. It was a tasty makeover for a classic snack.
More of those potato chips, sans spices, surround a rosy steak tartare ($16), crowned with a yolk that was startlingly orange, from a free-range hen. Australian Wagyu beef was chopped and gently anointed with lemon, extra virgin olive oil, Worcestershire, fish sauce and shallots. The browned chips and flavored raw beef was a sneakily refined way to enjoy elevated meat and potatoes.
A Swiss chard salad ($9) judiciously dressed in roasted garlic vinaigrette was a green oasis, satisfying with goat gouda, buttery, crunchy rye croutons and thinly sliced raw pears.
A smoked chicken leg appetizer ($12) over earthy sweet carrot puree had crispy skin and hickory breath, the tender meat coming off the bone easily. It left a better impression than the octopus on romesco ($16) with pickled jalapeno and scallion, whose tentacles were tender but not charred, atop meek roasted red pepper nut sauce.
Marble + Rye's minimalist menu has four entrees: fish, chicken, beef and pasta.
The fish ($27) was a whole roasted bream, arriving with a browned polenta cake, kale salsa verde and roasted carrots and fennel. The fish was properly roasted but underseasoned and lacking connection to its side players. The pasta ($23) was pleasantly al dente housemade fettuccine with chicken cacciatore, home cooking delivered by a server in a pinstriped apron.
Chicken ($30) was half a Plato Dale Farm chicken, brined and roasted to come out with moist meat and golden skin. Its side was cannellini beans braised to smoky tenderness with bacon, topped with bread crumbs, favorably evoking of a starter cassoulet.
Steak Plato Dale grass-fed, pasture-raised N.Y. strip ($40) was served on celery root and shaved brussels sprouts, onion confit and a mushroom puree. The steak, seared and served at a proper medium rare, was plenty tender while packing the beefier, halfway-to-venison flavor of grass-fed beef.
If there is only one meat dish on your table, make it the burger. At $17, it's a splurge burger that aims to kill you with luxury, not size. Bun, meat and toppings are meticulously calibrated to harmonize in a moment of peak cheeseburger experience. The 8-ounce patty was a blend of house-ground brisket, chuck and short rib with a shot of bone marrow.
The housemade sesame-seed bun, a cross between brioche and a schoolhouse roll, is soft enough to mold around the fillings. When I was done with my share, in a state of bliss, I didn't mind the beef fat running down my fingers.
Desserts ($8) included a housemade candy bar (cookie, nougat, caramel, peanuts, chocolate coconut dip) whose quality components made it better than factory candy. A carrot bread pudding was admirably light, but left a lingering tannic note from nut skins.
Doughnuts topped with crushed pistachios and filled with whipped double-cream cheese, but it registered as whipped butter. Coconut custard pie with lime mousse was my favorite, backed up with bright strawberry sorbet that made me look forward to strawberry season.
Marble + Rye's relatively compact menu could leave some diners feeling underserved; there is no vegetarian entrée, for example.
But its thoughtful dishes, quality ingredients and overall high level of cooking make Marble + Rye a restaurant to be reckoned with.
Thoughtful cooking helps downtown place stand out in rush to new restaurants.
WHERE: 112 Genesee St. (853-1390)
HOURS: 5 to 10 p.m. Tuesday through Thursday; 5 to 11 p.m. Friday and Saturday. Closed Sunday and Monday.
PRICE RANGE: Small plates and snacks, $3-$16; burgers, $14-$17; and entrees, $23-$40.